Wingnut Wings | #32020: 1/32 Sopwith Snipe Early
Reviewed by Kevin Futter
The relentless pace with which New Zealand firm Wingnut Wings has been releasing kits of late has left many a modeller breathless trying to keep up. The pace continued in early 2013 with the release of a pair of Sopwith Snipes, one 'early' and one 'late'. And so now we come to examine the 'early' kit (#32020).
Wingnut Wings has by now established a very successful formula, and this kit is typical of their approach. The box is sturdy and practical, and adorned with box art that truly deserves the name. One LSP member has even taken to framing them! But of course, it's inside the box where all the action is.
Plastic Sprues
The kit's plastic sprues also typify the company's meticulous approach, with each one separately packed in its own clear plastic bag. There are seven sprues in all: six in mid-grey polystyrene, and a small fret moulded in clear plastic. Sprue 'D', containing wheels, guns and bombs, is included twice to make a full set of parts.
The moulding quality is exceptional. There are no visible flaws on any of the kit parts, and there are practically no ejector pin marks anywhere. Sprue attachment points vary in size but are generally modest, and should pose no problem if handled in the usual way. The upper and lower wings are each moulded as one-piece affairs with built-in dihedral, and feature the most incredibly subtle fabric texture effect I've ever seen. So subtle in fact that you only realise it's there because the fabric areas contrast noticeably with the shiny wing ribs. Amazing! The ribbing effect on the fuselage is also suitably subtle and itself quite impressive.
---
Sprue 'F' (below) represents the main differences between the 'early' and 'late' releases of this kit.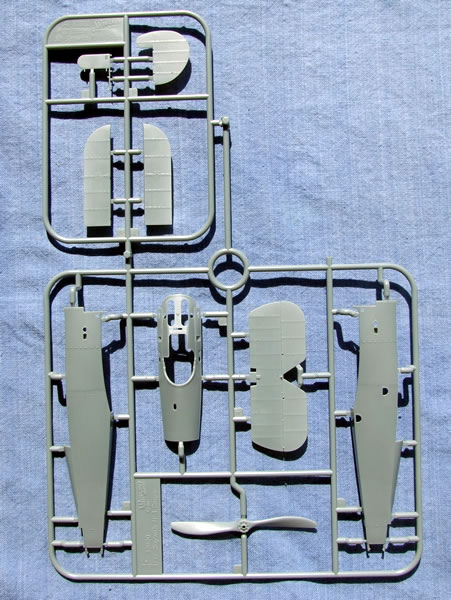 The upper left section of the sprue contains the parts for the early tail planes and rudder. In the late kit this section is missing, with the 'late' parts contained on the section that is missing here. This is really clever tooling from Wingnut Wings, as it allows them to produce a single mould for both kits, and simply 'gate off' whichever section doesn't apply to the intended version. While this has no direct effect on the quality of the kit itself, is does speak to the company's thoughtful approach to all aspects of kit production.
Photo-etched Fret
Inside the bag that houses the decals is small photo-etched fret (labelled "P") that contains some parts for the cockpit (mainly seat harness parts):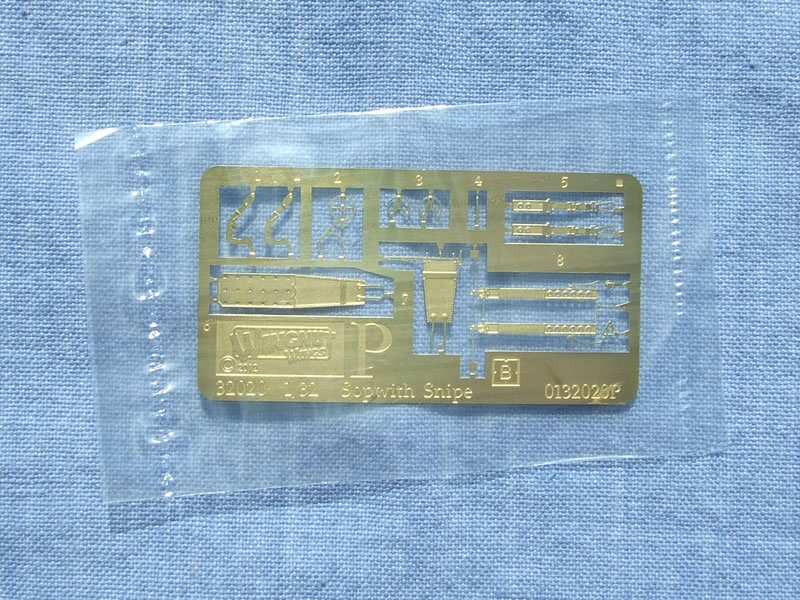 Decals and Markings
Unlike other Wingnut Wings kits I have seen, only one decal sheet is provided in the kit, though it still contains complete markings for five aircraft. The sheet is printed to a very high standard by Cartograf, with perfect registration and good colour density. They also appear to be remarkably thin, which is great once they're on the model, but can make application a little tricky. As mentioned earlier, the decal sheet is packaged in its own plastic bag, and covered with a protective paper sheet.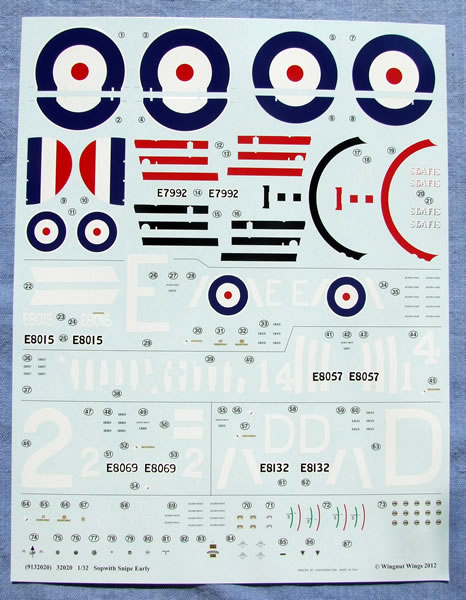 The five aircraft featured are:
Sopwith Snipe E7992, South Eastern Area Flying Instructors School, 1918-19
Sopwith Snipe E8015 "E", E Mulcair, A Flight 43 Sqn, October-November 1918 (2? victories)
Sopwith Snipe E8057 "1 - 4", B flight 70 Sqn, 1919
Sopwith Snipe E8069 "2", TCR Baker B Flight 4 Sqn AFC, October 1918 (12 victories)
Sopwith Snipe E8132 "D", A flight 208 Sqn, November 1918
This is the first Wingnut Wings kit I've come across that features any schemes that were operational post-war. All the schemes in the 'late' kit are in fact post-war; does this signal a new willingness on the part of Wingnut Wings to explore aircraft types of the immediate post-war period? Only time will tell.
Instruction Booklet
The instruction booklets supplied in Wingnut Wings kits have become legendary, and with good reason. The production values are equivalent to a glossy magazine, and to refer to them as mere instruction booklets does them a grave disservice.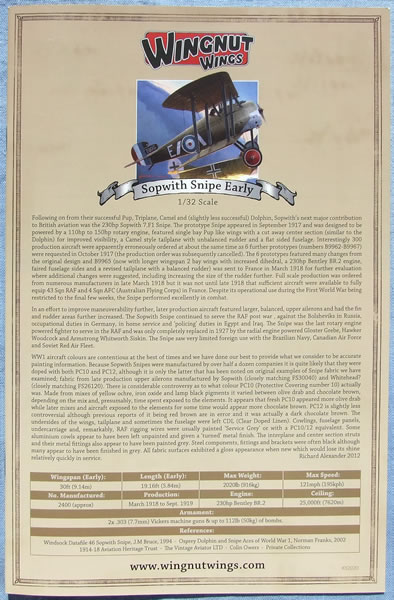 The cover features a potted history of the type, and a specifications table at the bottom. This material is also available on the Wingnut Wings webpage for the kit.
The content features colourful and highly-detailed annotated assembly drawings, complemented by captioned reference photographs and painting instructions. It's worth noting though that, unlike other Wingnut Wings releases I've encountered, the instruction booklet in this one is not housed in its own plastic bag.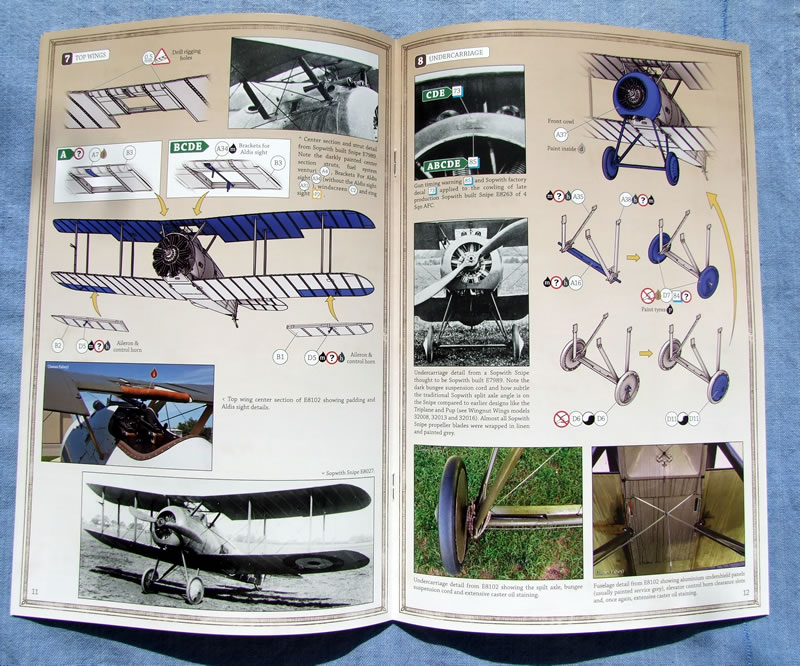 Conclusion
This kit is less ambitious and expansive than some of the company's other recent releases, but it still represents everything we've come to expect from Wingnut Wings: exceptional moulding quality, excellent detail, superb decals and industry-leading documentation. What more could you ask for? Highly recommended.
Review sample supplied by Wingnut Wings.
© Kevin Futter 2013
This review was published on Wednesday, March 20 2013; Last modified on Wednesday, June 29 2016