Wingnut Wings | #30010: Fighting Fokkers Part 5
Reviewed by Kevin Futter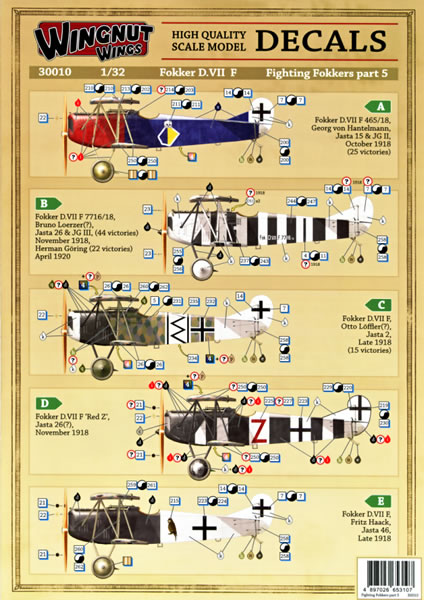 By now most modellers will be aware of New Zealand firm Wingnut Wings (WnW) and its magnificent range of World War One kits in 1/32 scale. What is perhaps less known is that the company also has a small range of aftermarket decal packages available. This range was extended in fabulous style in late 2012 with the release of not one, but four simultaneous releases for their Fokker D.VII kits.
Since that time, Wingnut Wings has also extended its Fokker D.VII series of kits by releasing a BMW-engined D.VII F kit, and an accompanying decal package: 30010: Fighting Fokkers part 5, which is the subject of this review.
The image at the top of the page shows the included four-page booklet, which is presented in the same style as the instruction booklets in the company's kits. The front cover features profiles of the five markings options included, with each profile doubling as a decal placement guide for the fuselage markings.
The five aircraft covered are:
Fokker D.VII F 4065/18, Georg von Hantlemann, Jasta 15 & JG II, October 1918 (25 victories)
Fokker D.VII F 7716/18, Bruno Loerzer(?), Jasta 26 & JG III, (44 victories) November 1918, Herman Göring (22 victories)
Fokker D.VII F, Otto Löffler(?), Jasta 2, Late 1918 (15 victories)
Fokker D.VII F "Red Z", Jasta 26(?), November 1918
Fokker D.VII F, Fritz Haack, Jasta 46, Late 1918
The inside and rear pages of the booklet contain the painting and placement guides for the wings and tailplanes of each aircraft, plus some historical notes about each one. Photos of the actual aircraft are included in each case, rounding out a thoughtfully designed and thoroughly researched document that I suspect most people will keep long after the decals have been used.
The decals themselves consist of two sheets, one roughly half the size of the other. The smaller of the two contains mostly national markings and stencils, while the larger one contains the specialised markings for the individual aircraft depicted, as well as some more national markings.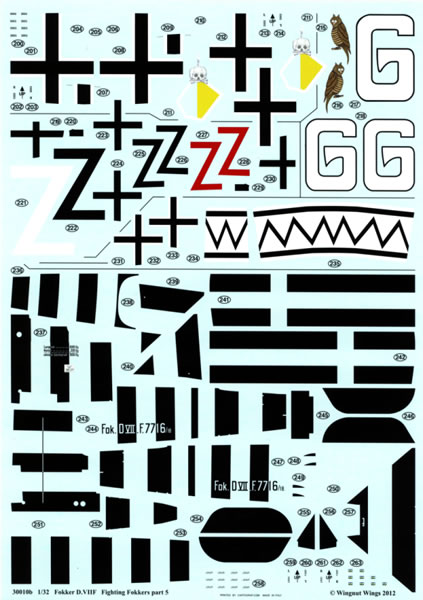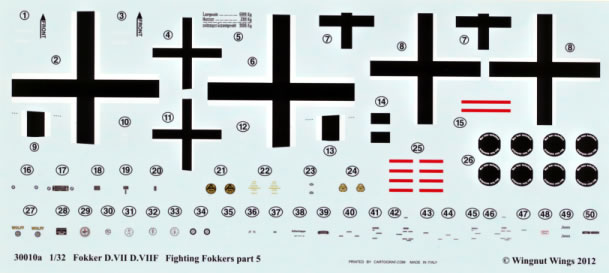 Printing of both sheets is by Cartograf, and they are glossy, crisp and in perfect register. All but the tiniest of the stencils is legible under the appropriate level of magnification. To the naked eye they look a tad thick on the backing paper, but not as thick as, say, Tamiya's kit decals. I for one am sure they'll be fine if applied with the requisite care.
Conclusion
I can do nothing but highly recommend this package to anyone who is looking for something other than the options Wingnut Wings has included in the kit itself. In a sense, they expand those options from five to ten, and given the rampant popularity of these models, that's a very good thing indeed!
Thanks to Wingnut Wings for the review sample.
© Kevin Futter 2013
This review was published on Wednesday, April 17 2013; Last modified on Wednesday, May 18 2016