Tamiya | 1/32 Vought F4U-1 Corsair "Birdcage"
Reviewed by Kevin Futter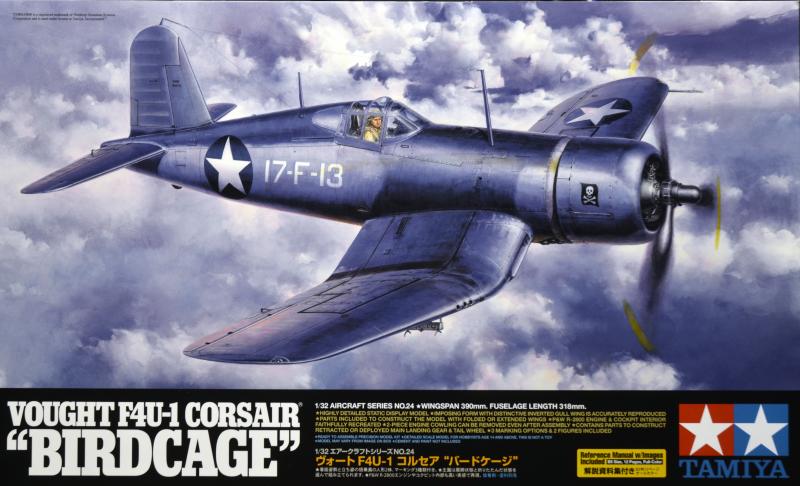 The Wait is Over!
The LSP modelling community has been salivating over the prospects of an F4U wünderkit from Tamiya ever since it released the magnificent Zero kits a decade or so ago. Rumours have been swirling for several years now, and once the Mustang kits were released, it seemed a dead certainty that we'd see a Corsair from Tamiya next. And so it has come to be. Now that it's here, let's take a look at what's in the box.
The Kit
The box is packed to the brim with sprues, booklets, photo-etched parts and more. Here's the breakdown:
14 sprues in grey styrene;
2 sprues in clear styrene, including one that duplicates the grey cowling sprue;
1 sprue in black styrene (display stand);
2 decal sheets and a pair of stickers for the display stand;
1 pre-printed sheet of masking material for the canopy;
1 bag containing a pair of vinyl tyres, a tiny Phillips head screwdriver and some fittings for the display stand;
1 instruction booklet;
1 colour painting guide;
1 colour reference booklet;
2 frets of photo-etched metal.
This kit is the "export version", for which Tamiya has provided a duplicate of the cowling parts moulded in clear styrene. I'm not convinced this is really necessary, as I suspect those people who wish to expose the engine detail will either leave the cowling side panels off or remove the cowling altogether. In any case, they're included should you be inclined to use them, and may perhaps even be put to use upgrading a Trumpeter or Revell kit (I'll be attempting to see if this is practical myself in due course).
Check out the photo gallery below for a close look at the sprues:
---
A Closer Look
The level of detail here is really quite incredible, matched only by the finesse with which it has been moulded. External rivet detail is especially exquisite, so much so that it may well disappear altogether under a coat of paint: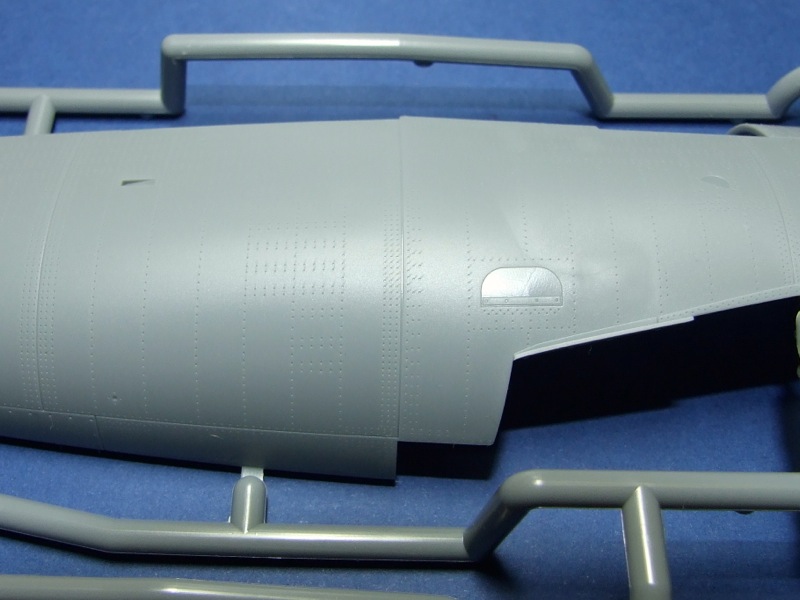 Here's the corresponding area on the Trumpeter F4U-1D kit for comparison: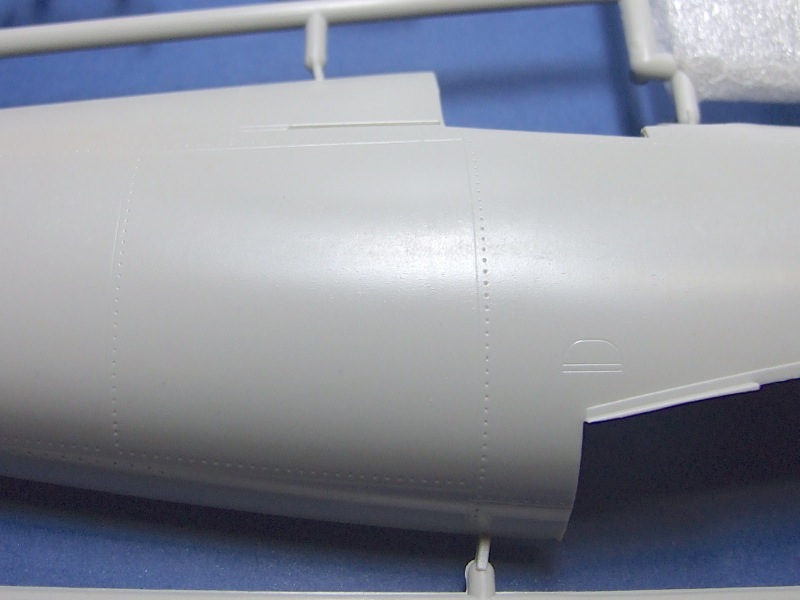 ---
What a difference ten years makes! Internal detail is just as petite: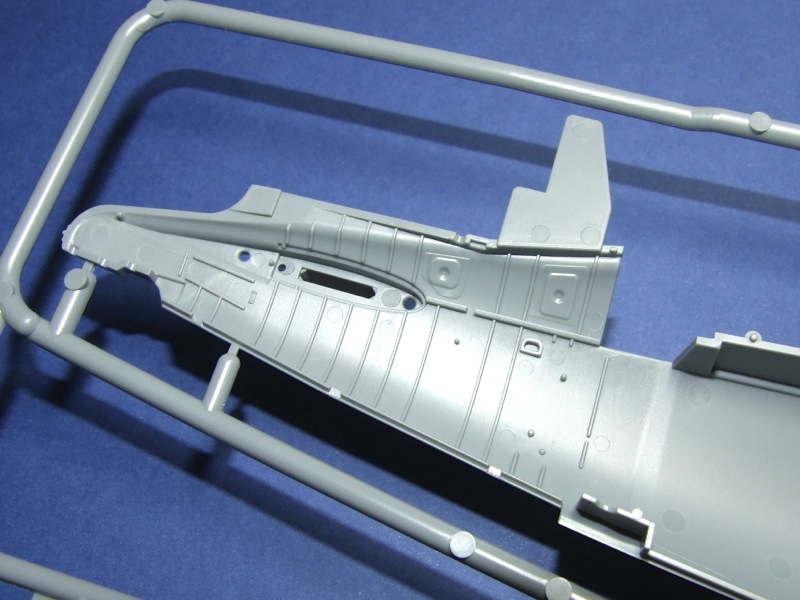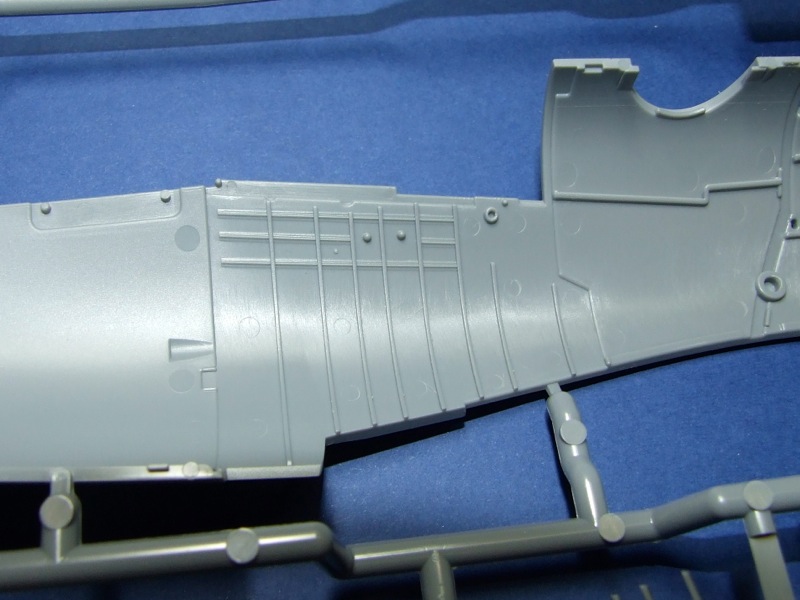 And again, a comparison with the Trumpeter kit: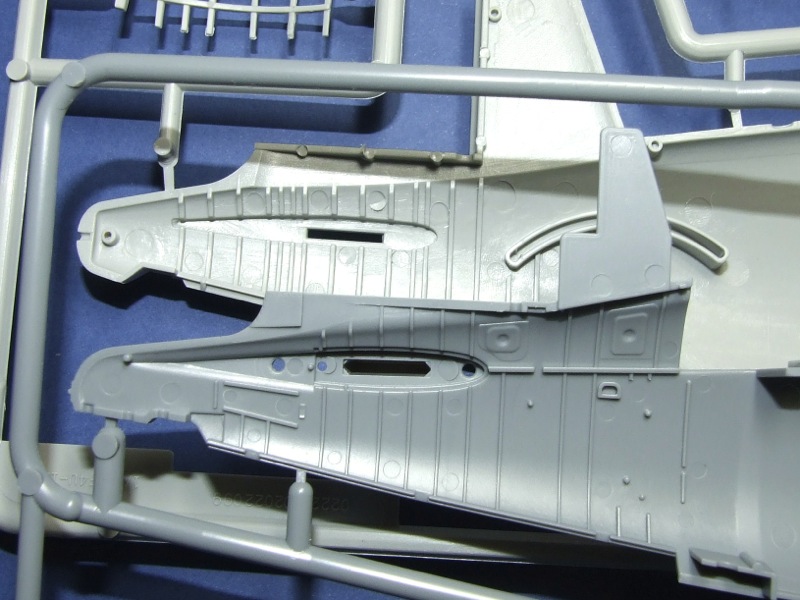 Even the ejector pin marks are small, neat and even compared to Trumpeter's!
While I had the Trumpeter kit out, I thought I might tape their respective fuselage halves together for interest's sake, and see how they compare dimensionally:

---
Length-wise they're pretty close, though a direct comparison is difficult given the more modular breakdown of Tamiya's fuselage. I felt that the Trumpeter fuselage looked rather more chunky than the Tamiya one, and this becomes evident when the two are compared side on: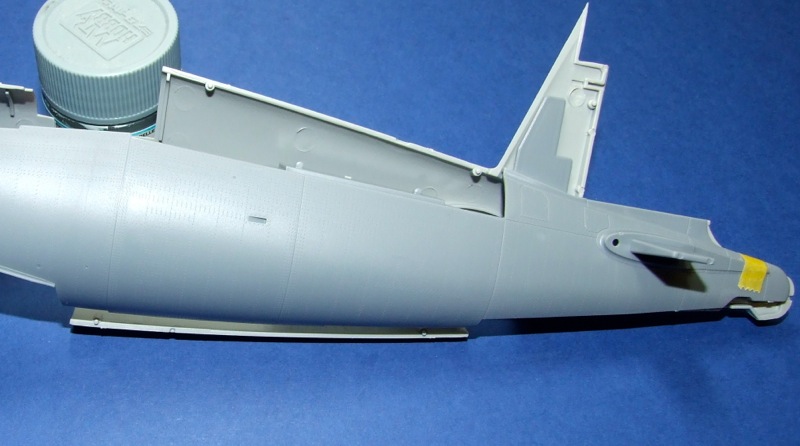 It must be noted that the Tamiya fuselage has a separate one-piece spine that is not attached in this photo, so it's impossible to compare the profiles of the two fuselage spines, and therefore impossible to know whether the Trumpeter spine would be correspondingly lower than the Tamiya one. On this evidence however, Tamiya's Corsair is substantially less corpulent than Trumpeter's offering.
But what about the old Revell kit? Is the Trumpeter kit the odd one out, or are they perhaps all different? I was curious enough about this to pull my Revell kit out of the stash and compare it to both the newer kits. Firstly the Revell and Tamiya fuselages taped together:

---
Very similar results to the earlier comparison, suggesting that the Trumpeter and Revell fuselages are very close dimensionally. Let's compare them directly: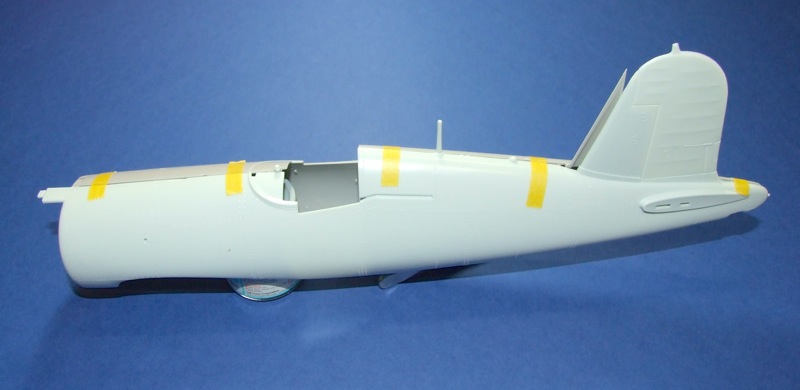 And indeed they are very close! Just some disagreement around the leading edge of the fin. There's still some minor doubt about what the drop-in spine will do to the overall height of Tamiya's fuselage, but I'll only be able to make that measurement once the fuselage is fully assembled. Of course, the benefit of the doubt has to go to Tamiya based on reputation alone. Let's return now to examining the Tamiya kit.
Parts breakdown looks a little intimidating at first, but given Tamiya's reputation for engineering excellence, I'm sure assembly will present very few problems. It certainly looks likely that we'll see subsequent versions of the early Corsair come from this kit. Tamiya does not give a parts count anywhere that I can find, but there appears to be at least as many parts as in the Trumpeter kit, which the box lists as having 355 plastic parts.
The vinyl tyres are still there, and I'd really like to see Tamiya at least provide an alternative plastic set for those modellers who don't like them. This would seem to me a far more useful duplication than clear cowling parts! In any case Barracuda Studios has just announced several sets of resin replacement wheels, so these should satisfy any modeller wishing to replace the kit's tyres.
Clear Parts
There are two sprues of clear parts in the kit. One contains the expected canopy parts, but as mentioned earlier, the other is a duplicate of the grey sprue containing the cowling parts: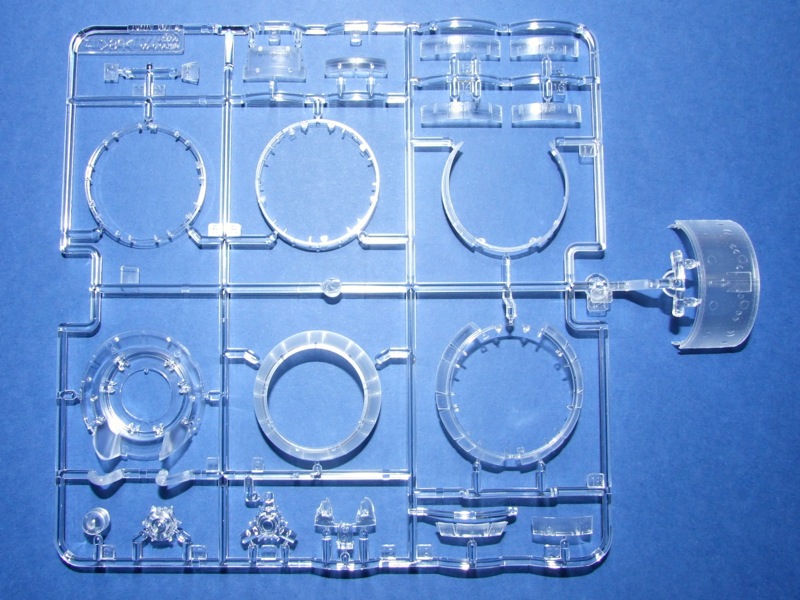 Whether this is of any real value is of course subjective, and I'll leave readers to make up their own minds. Tamiya do at least provide the modeller with some guidance with regard to using these parts: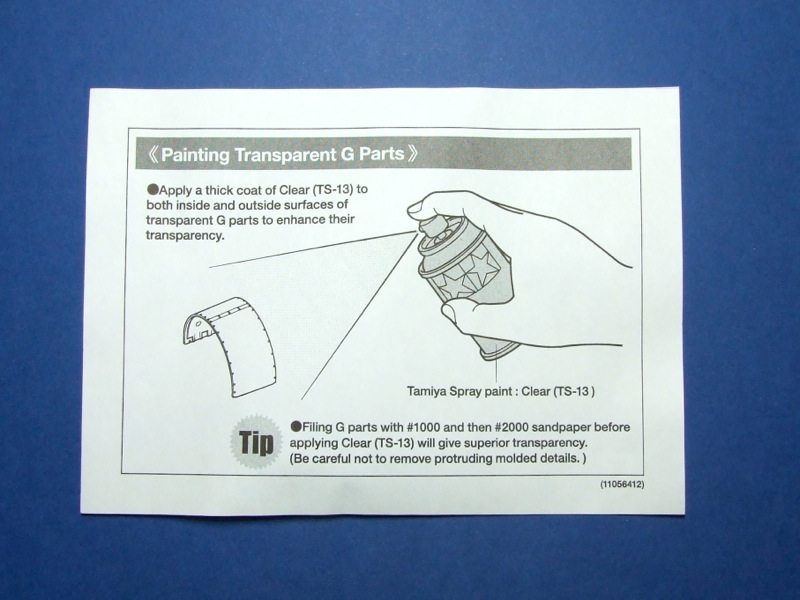 Of more interest is the more traditional clear sprue of canopy parts, which are beautifully moulded, crystal clear and practically distortion-free: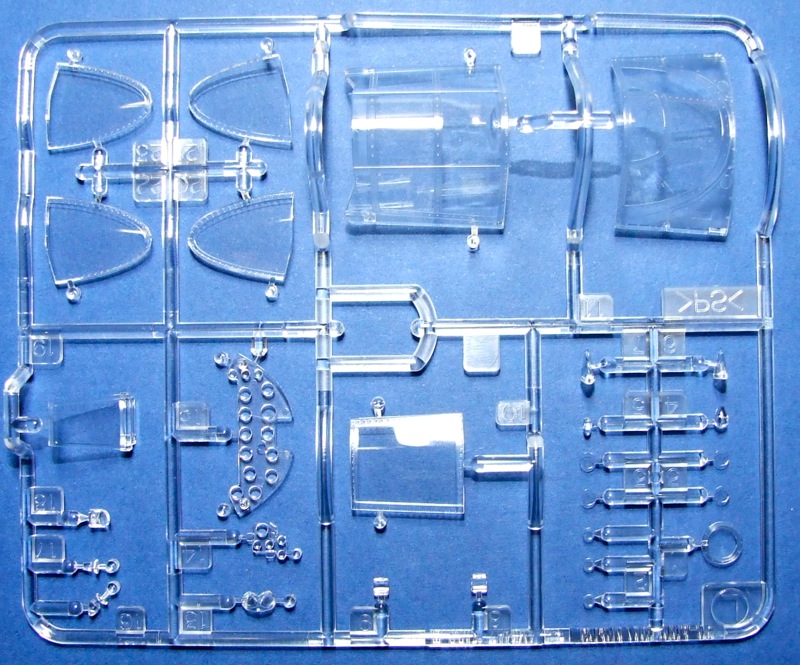 ---
As with Tamiya's other recent 1/32 kits, a sheet of pre-printed masking material is provided for the canopy: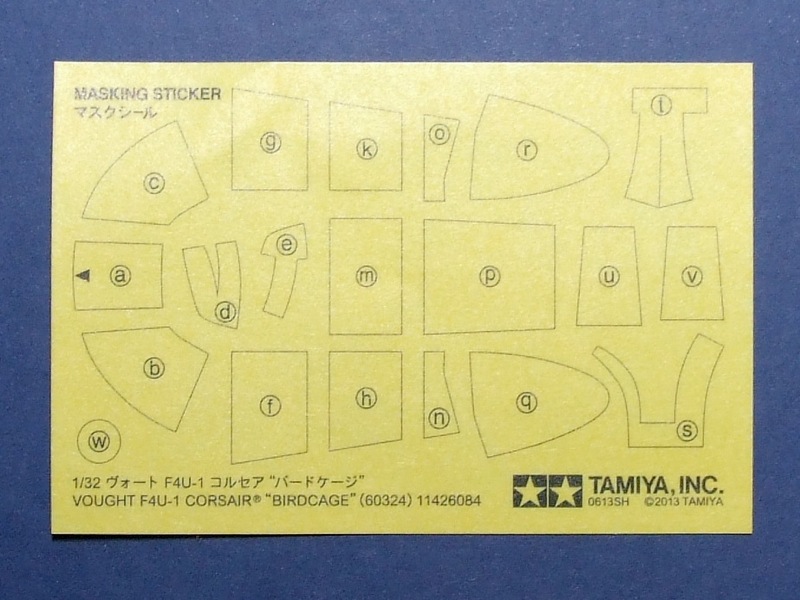 These are not pre-cut in anyway, so using them will require some careful work with a #11 blade. While this may sound potentially disastrous, my experience using them with Tamiya's A6M5 Zero kit proved to me that they're still a better option than having to manually cut and apply pieces of tape.
Photo-etched Parts
Tamiya provides two frets of photo-etched detail parts with the kit, intended primarily for the cockpit and wings. Despite the slightly golden colour of the photos below, the metal is silver-coloured, though I have no idea what it is specifically.
---
Whatever it is, it's much tougher and stiffer than the traditional brass used by most manufacturers. I'm not a fan of photo-etched seat belts and harnesses to begin with, but furnishing them in this type of material makes them even less useful in my opinion. This leaves a nice gap for the aftermarket guys to step into - one of the few the kit provides!
Documentation
While certainly not in the same league as those provided by Wingnut Wings, Tamiya's instruction booklet is very, very good.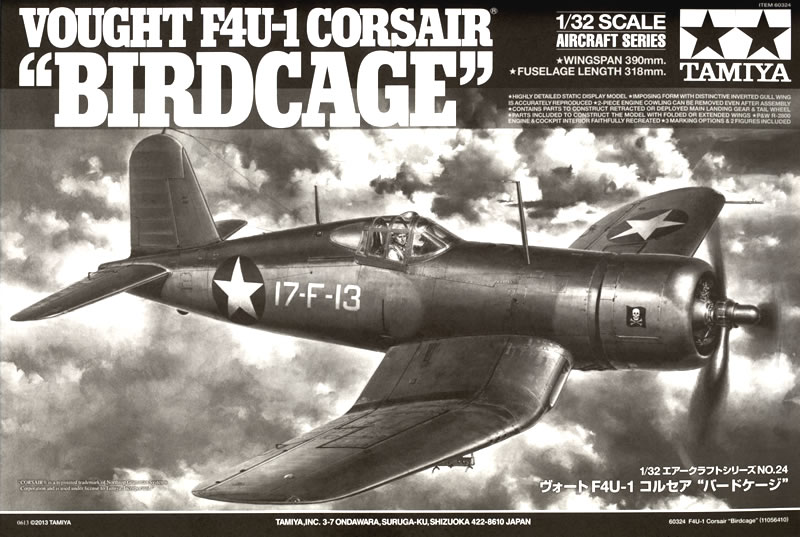 The diagrams are clear and well-notated, with colour call-outs obviously given using Tamiya paints. There are separate sections within the booklet that deal with the different assembly sequences required for folded and unfolded wings.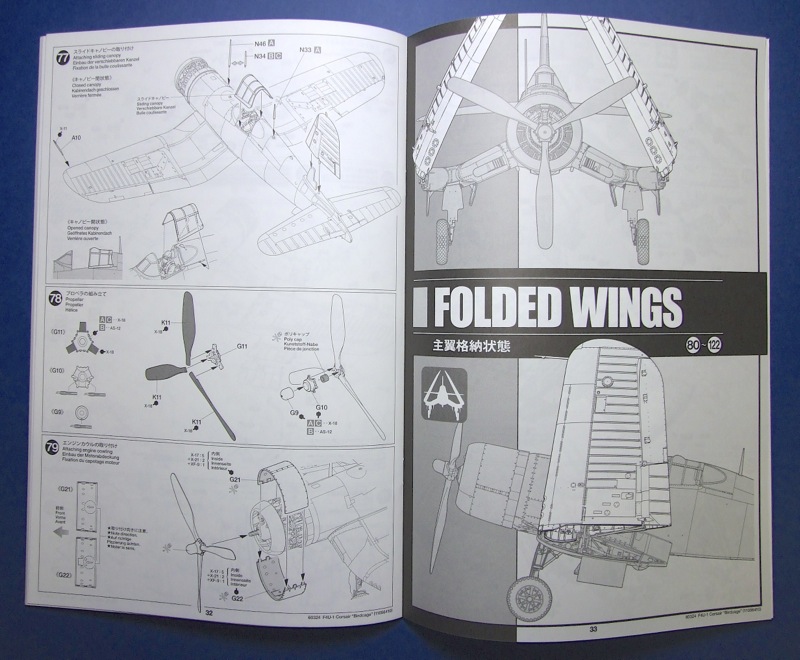 Supplementing the assembly booklet is a glossy, full-colour painting and markings guide, though it only covers one of the three options provided by the kit:
The other two options are illustrated in the rear section of the instruction booklet, along with a handy stencil placement guide.
A surprise - but very welcome - inclusion is a 12-page reference guide, packed with photos, illustrations and explanations of the various marks of Corsair.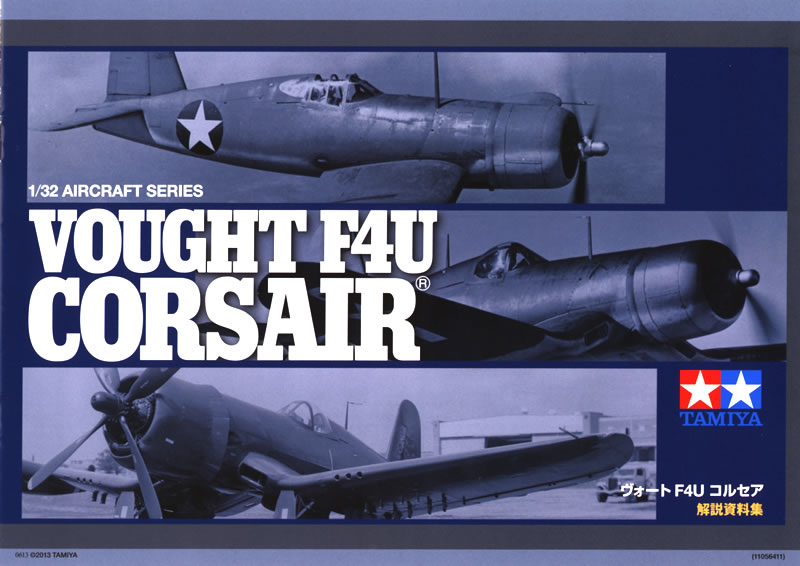 ---
Decals
Two decal sheets are provided in the kit, one for the main national and aircraft markings, and the other for stencils and placards.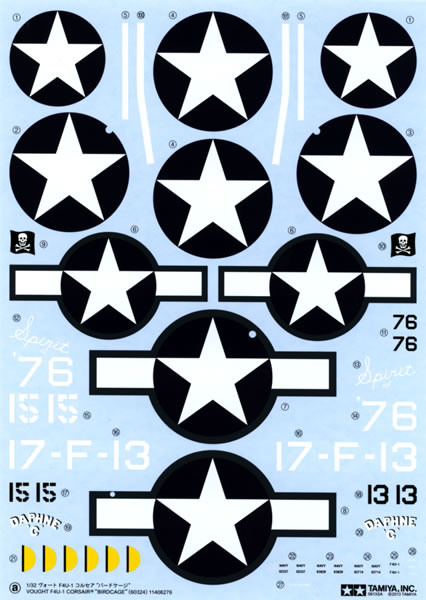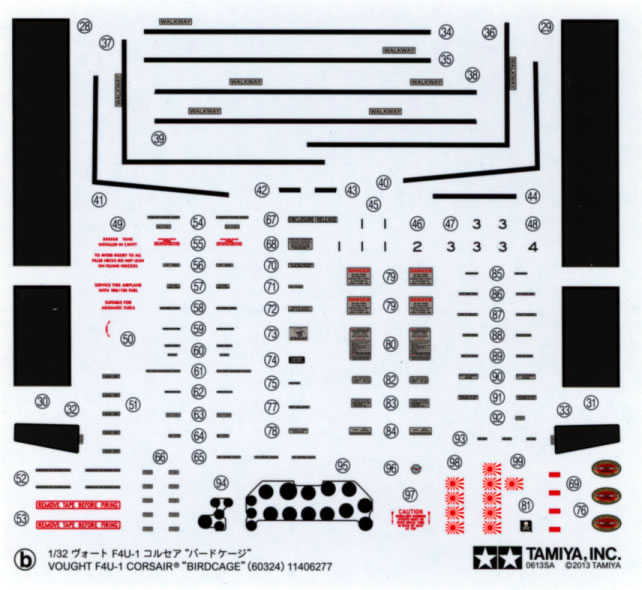 These look like typical Tamiya decals: thick, glossy and extremely well-printed. If you don't like them, or any of the options they represent, I'm sure the aftermarket will provide plenty of alternatives (Eagle Editions already has three sheets available).
The options represented are:
17-F-13: U.S. Navy VF-17, USS Bunker Hill, 1943;
DAPHNE 'C': U.S. Marine Corps VMF-213, Munda, Solomon Islands, 1943;
Spirit of '76: U.S. Marine Corps VMF-215, Munda, Solomon Islands, 1943.
Conclusion
Tamiya has hit another home run with this kit. Detail is exceptional, and while assembly does look complex, Tamiya's assured kit engineering should ensure that it isn't difficult. The only areas for improvement that I can see are the lack of a plastic alternative for the tyres, canopy masks that are not pre-cut, and the industrial-strength photo-etched seat harness. Tamiya's decals are not up to aftermarket quality either, but nor are they terrible.
Those minor quibbles aside, Tamiya continues to define the state of the art, and this kit is highly recommended.
© Kevin Futter 2013
This review was published on Friday, August 09 2013; Last modified on Monday, March 21 2016