ADH Publishing | How to Build Revell's Messerschmitt Bf 109 G-6
Reviewed by Thierry Laurent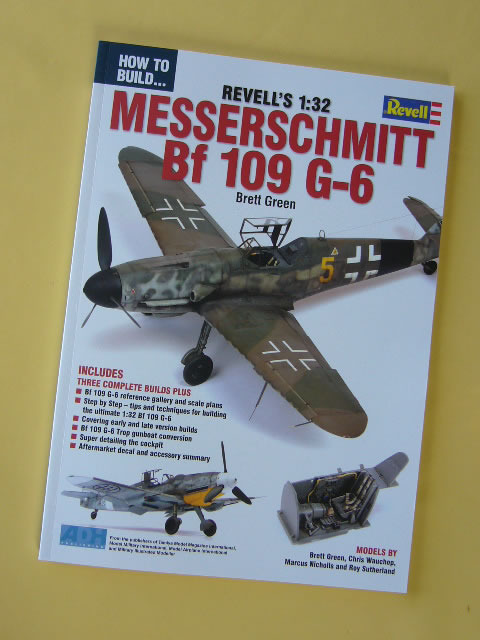 The book is quite reasonably priced (£11.95) and I've to say that the value for money is excellent!
This softbound 82 pages book edited by ADH is divided into different coherent chapters:
Chapter 1: a good closeup of the last G6 in original colors: the Canberra museum one. A short part of the section is dedicated to the NASM airframe. The chapter gives a lot of good pictures, factual information and analysis of the various colors observed on the airframe. (10 pages).
Chapter 2: a good summarized analysis of the Hasegawa, Trumpeter and 21st century G6/14 1/32 kits (4 pages).
Chapter 3: 4 pages of excellent scale plans drawn by Radu Brinzan. One caveat: the plans look to be in quarter scale. I understand the will to keep the cost down but giving the plans in 1/32 scale would make more sense!
Chapter 4: a review of the Revell kit contents (4 pages).
Chapter 5 & 6: an OOTB step-by-step assembly & painting of the kit late version (14 pages by Green + 6 pages by Wauchop).
Chapter 7: a detailed Bf109G6-U4-R6 kit (12 pages by Nicholls)
Chapter 8: a detailed G6-R6-trop (Italian scheme) kit (16 pages by Green)
Chapter 9: a detailed cockpit (7 pages by Sutherland)
Appendix 1: one page of recommended aftermarket items
Appendix 2: one page of recommended references
Note: no kit was built with the Revell decals as the modellers used test shots.
The step by step approach with large pictures is excellent and I appreciated the fact that some improvements were done with parts from other kits or aftermarket whereas some other ones were made from scratch. This clearly shows different options to solve the same issue.
Brett Green has a good knowledge of the topic (he already wrote different books about similar topics for Eagle Editions and Osprey). With modelling help from Chris Wauchop, Marcus Nicholls and Roy Sutherland, the results are quite convincing. I'm not always fond of such books but in this specific case, a quick comparison between the price and the contents results in a terrific ratio!
---
Highly recommended.
© Thierry Laurent 2013
This review was published on Tuesday, August 20 2013; Last modified on Tuesday, August 20 2013