Red Pegasus Decals | Mike Grzimek's "Serengeti" Do-27 1956-59
Reviewed by Kevin Futter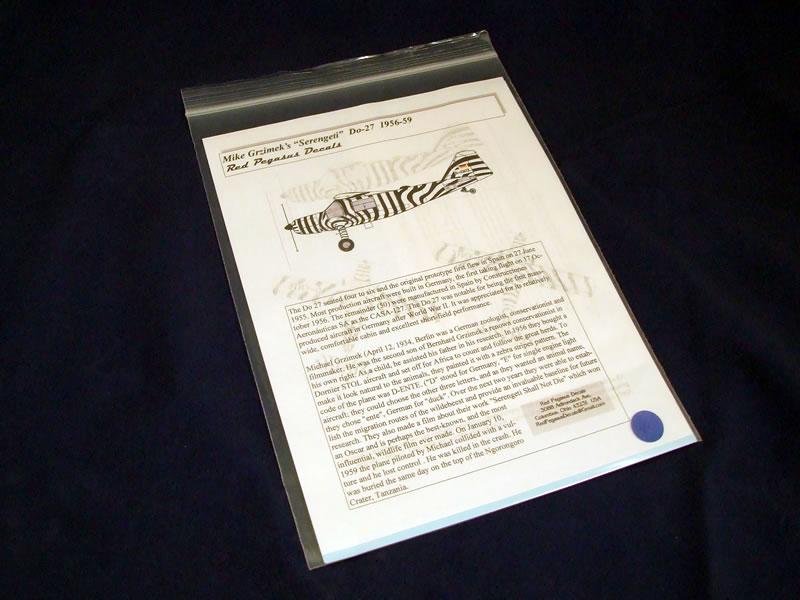 Red Pegasus Decals has released this very interesting decal set for Revell's 1/32 Do 27 kit. According to the information sheet supplied with the set, Mike Grzimek was a German-born zoologist who purchased a Do 27 with his father in 1956 for use in Africa, painting it in the striking zebra pattern featured in this set in order to make it appear more natural to the herds they shadowed. Mike was killed in 1959 while piloting the aircraft when it crashed after colliding with a vulture.
It's worth noting that Revell's #04745 release of its Do 27 kit also contains these markings in the box. Not having seen them, I can't directly compare this set from Red Pegasus with Revell's own rendition, nor can I assess the relative accuracy of each. I am reliably informed however that Revell merely provides a painting plan for this scheme, rather than decals for the stripes, so in that regard this set fills an obvious shortcoming in Revell's approach.
The decals themselves consist mainly of the zebra stripes, and span three separate A4-sized sheets:
---
A tips sheet supplied with the set explains that they're ALPS-printed on continuous decal film, and recommends coating them with a protective agent prior to handling and application. It also details the optimal process for working with the decals, which is a welcome inclusion given the boutique and possibly unfamiliar nature of the product.
The printing is very crisp and opaque, and while the colours are mostly black, the third sheet features some stencils and other markings in a variety of colours, including quite a convincing data plate in silver.
There's no doubting however that the sheer complexity of the markings will make these decals a challenge to apply, and I would have liked to see some more explicit directions about how to assemble what is likely to be quite a jigsaw puzzle. Thankfully the decals are laid out in discrete blocks in a roughly coherent order, so with adequate care and attention the process should pose no real problem to the experienced modeller.
Conclusion
This set offers the opportunity to build a unique and interesting subject, the results of which are likely to be quite striking.The current retail price for the 1/32 set is US$49, which is obviously not cheap, but probably fair value for a set of decals this extensive. Due to the complexity of the markings themselves, I wouldn't recommend this set to a beginner, but modellers with a modicum of experience should be fine, and to those modellers I highly recommend it!
Thanks to Red Pegasus Decals for the review sample.
© Kevin Futter 2013
This review was published on Tuesday, August 27 2013; Last modified on Friday, August 30 2013