Barracuda Studios | BR32126 F4U-1 Corsair Early Engine Upgrade Set
Reviewed by Ray Peterson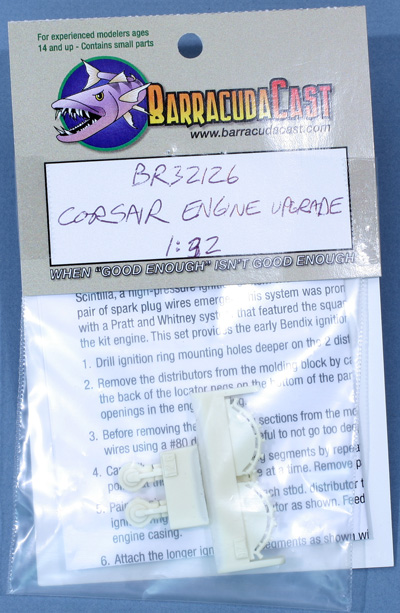 Barracuda Studios has just released their latest resin correction set for the new Tamiya F4U-1 "Birdcage" Corsair. It is a set of new distributors and ignition ring for the R-2800-8 engine. Note that in the instructions it lists the engine as the R-2800-21. All my references list the engine progression as R-2800-2 in the prototype, R-2800-8 in the Birdcage and early F4U-1As, then R-2800-8W, and following with the R-2800-18W in the F4U-4. I don't know if this is a typo or not, but the detail set is correct for the early -8s.
From the instructions:
"The R-2800-21 Double Wasp that powered the early models of the F4U-1 Corsair was fitted with the Bendix Scintilla, a high-pressure ignition system with a tubular ignition ring that had stub openings through which a pair of spark plug wires emerged. This system was prone to failure in flight, so was replaced in later variants with a Pratt & Whitney system that featured the square section, liquid filled, cast ignition ring as modeled in the kit engine. This set provides the early Bendix system as fitted to all Birdcage Corsairs."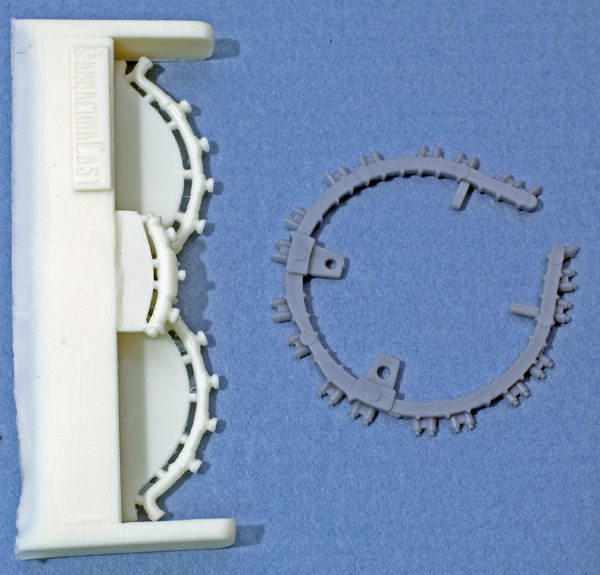 I checked my references and verified the difference. In fact, the Bendex system shows up on some photos of later F4u-1s (As and Ds) so I am not sure at what point the Pratt & Whitney system should be used. Frustratingly, most photos, even from the front, don't give a good view of the ignition system.

The resin is perfectly cast, and the ignition ring even includes miniscule depressions in the stubs for wiring. These depressions are to be drilled out with a #80 drill bit for the wire. Being so small, you could probably get by with a single larger hole and drop in both wires with some super glue if desired. The distributors are also expertly cast.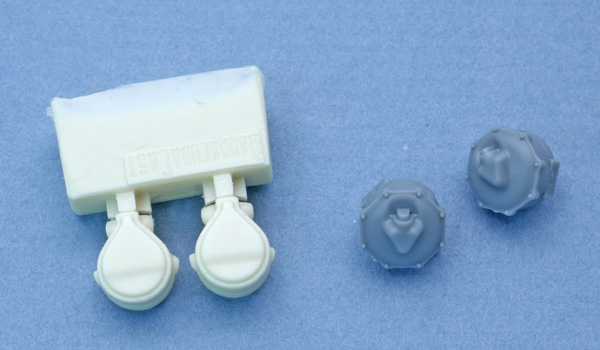 Also included is a 5-1/2"x8-1/2" instruction sheet in color with descriptions and pictures of the installation and even includes a reference photo.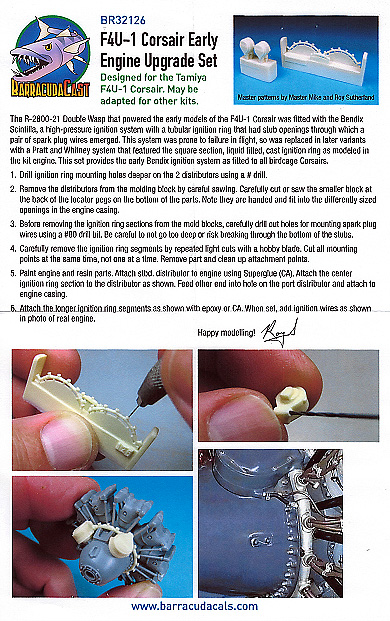 In summary a well done correction set for the detail-oriented modeler. Highly Recommended.
Thanks to BarracudaCast for the review sample.
Find them at: http://www.barracudacals.com.
© Ray Peterson 2013
This product is available from the following LSP sponsors

This review was published on Thursday, August 29 2013; Last modified on Thursday, December 29 2016