Contact Resine | CR 32039: Me 262 Cockpit
Reviewed by Mark Proulx
Contact Resine has released a new cockpit detail set for the 1/32nd scale Me 262 from Trumpeter.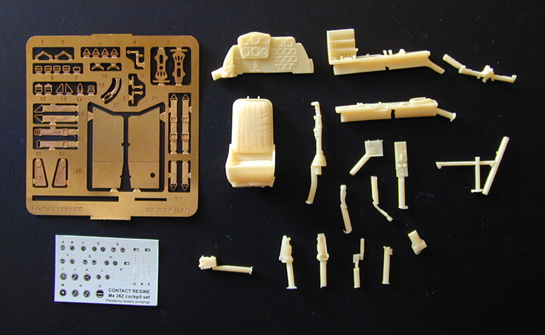 The set consists of a number of resin parts, photo etch fret, decals and instructions. Pieces appear to be nicely cast in tan resin. Large items such as side and instrument panels matched closely to photos in Aero Detail 9 on the Me 262.
A large instruction page is included. Unfortunately, the color instructions don't include any kind of parts breakdown. Also, tan colored resin parts don't photograph well on a tan background making identification of some of the smaller resin parts impossible. This also makes it difficult in trying to determine how to correctly place some parts. Painting instructions are not included.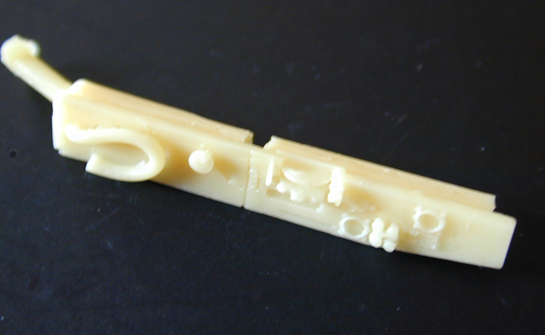 As stated earlier, the resin parts are nicely cast. A complete replacement cockpit tub isn't provided. The Trumpeter part is more than adequate. Contact-Resine does provide new resin and photo etch details for the cockpit's side panels. Details cast on the surface look identical to those photos in Aero Detail. This includes such items as throttle levers and a map case on the right side panel.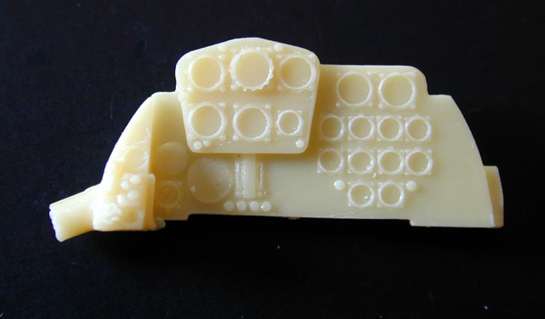 The instrument panel includes the correct layout for all instruments and matches photos perfectly. Instrument faces are included as decals and they appear in perfect register. A separate bomb release sub-panel is also included for schemes incorporating that design feature. A Revi 16B gun sight and mounting frame complete the forward panel. The instructions make no reference to the fact that a clear lens needs to be fitted to the sight. New photo etch rudder pedals are provided attached to resin actuators.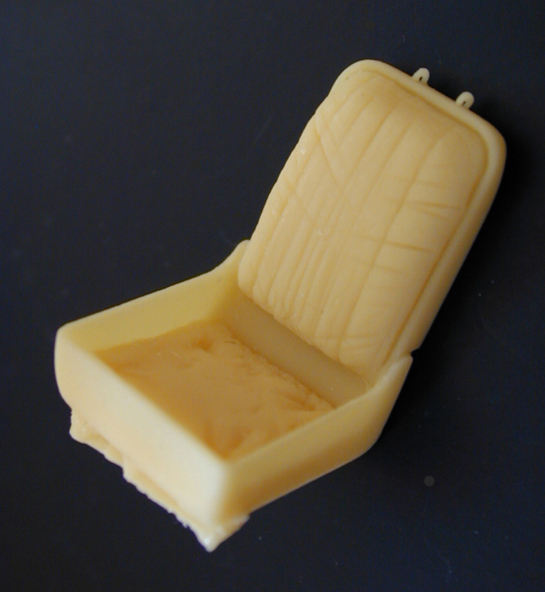 Contact-Resine provides a nicely detailed seat complete with molded on cushions. It displays much better detail than that supplied by Trumpeter. Small tabs are evident to attach the photo etch harness. Optional harnesses are provided. Modelers can make their own harness from paper or foil or use the completed sets provided. Unfortunately the instructions don't identify the harness option, nor do they indicate how the harnesses are to be constructed.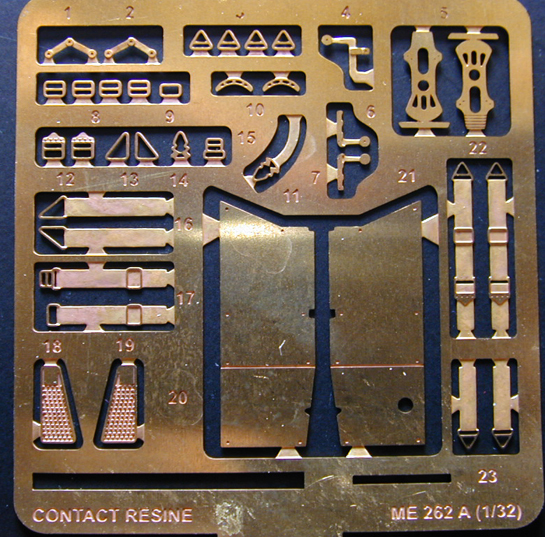 The resin parts are nicely cast with minimal prep work required. Photo etch and decal details also look very good. Unfortunately, the lack of good instructions will likely make this conversion set difficult to build. Consequently, I believe that additional references will be required.
Review Sample Compliments of Design and Marketing Int'l
© Mark Proulx 2006
This product is available from the following LSP sponsors
This review was published on Saturday, July 02 2011; Last modified on Wednesday, May 18 2016