Red Pegasus Decals | #44 2009: Jelly Belly P-51D
Reviewed by Kevin Futter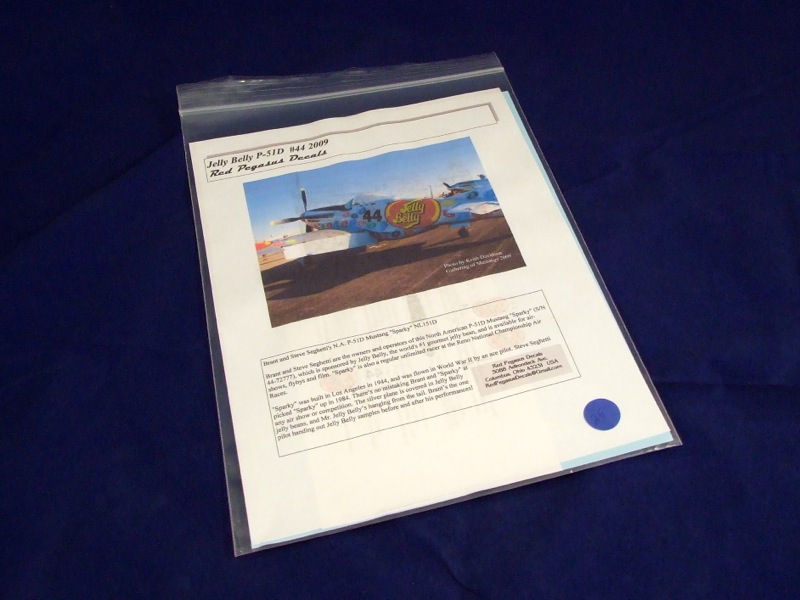 Red Pegasus Decals has released a decal sheet for this über-colourful P-51D. According to the information supplied with the package, this P-51D was built in 1944 and now owned and operated by Brant and Steve Seghetti as "Sparky". The aircraft is sponsored by the Jelly Belly company, and is festooned with colourful jelly beans and other sponsor artwork.
The decals themselves are ALPS-printed on continuous decal film, and the supplied tips sheet recommends coating them with a protective agent prior to handling and application. It also details the optimal process for working with the decals, which is a welcome inclusion given the boutique and possibly unfamiliar nature of the product.
The printing is very crisp and opaque, with perfect registration and strong colours: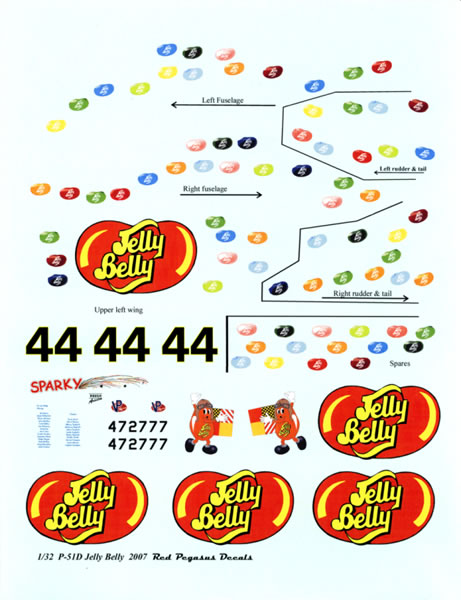 Note the year on the bottom of the sheet says 2007; while this review sample is new to us, I'm not certain whether that date refers to the year the package was produced, or that the sheet represents what "Jelly Belly" looked like in 2007. Since there's no copyright symbol associated with the date, I'm assuming it means the latter.
The instructions merely note that the aircraft is silver, but it's not certain whether that means it was painted silver or left in a natural metal finish. This probably isn't terribly relevant when it comes to producing a model, since it appears in photos to feature a fairly uniform finish regardless.
There are no airframe stencils provided on the sheet, but careful study of an photos of the real aircraft will be necessary to determine whether any exist on the prototype.
Conclusion
The quality of this package is beyond doubt, so if you're interested in the subject matter, or just want to do something unusual and colourful with your Mustang kit, this set is for you!
Thanks to Red Pegasus Decals for the review sample.
© Kevin Futter 2013
This review was published on Friday, August 30 2013; Last modified on Wednesday, February 24 2016