Barracuda Studios | BR32129 F4U-1 Corsair Cockpit Stencils & Placards
Reviewed by Ray Peterson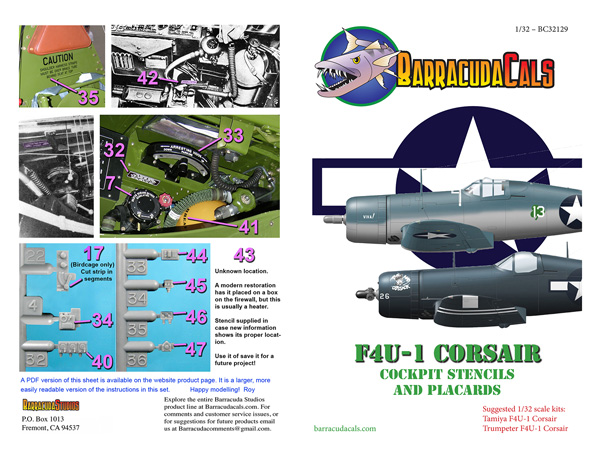 Barracuda Studios has just released a new set of cockpit stencils and placards for the new Tamiya F4U-1 "Birdcage" Corsair, or any other F4U-1 variant, from the -1 to the -1D. They include many of the miniscule markings to go on the cockpit sides, instrument panel, and consoles of the Corsair.

From the instructions:
"The cockpit of the Corsair is covered with stencils and placards reminding the pilot of which switch does what. This sheet supplies all of these markings, with a number of markings that are specific to certain Corsair subtypes from the F4U-1 Birdcage through the F4U-1D. It is up to the modeler to determine which marking is appropriate for his specific model."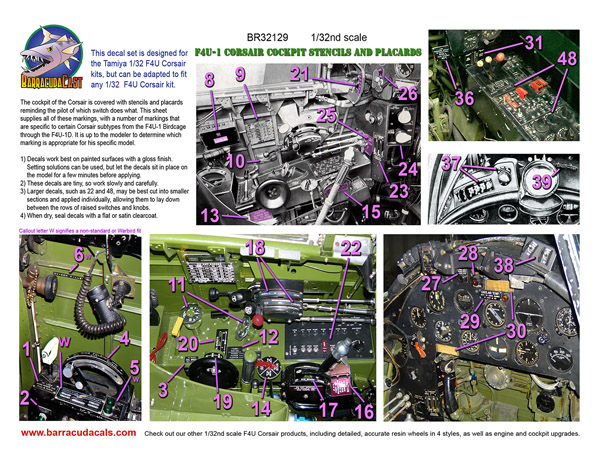 The decals are provided on a small, approximately 1-1/2" x 5-1/2" sheet. They are small! Still, most of the larger stencils are quite readable. Many consist of two parts, so alignment is up to the modeler.

The instructions consist of two 8-1/2"x 11" sheets in full color which can be downloaded from the BarracudaCals website. While some reference material is required, BarracudaCals definitely helps by providing a dozen photos illustrating where the stencils go. While most of the pictures are of the -1A, they do note some which are -1 Birdcage specific. The decals are printed by Cartograph and many are readable though very small. It will be a decaling challenge to use them all, but will help create a spectacularly detailed cockpit.
In summary a well researched decal set for the detail-oriented modeler.
Highly Recommended.
Review sample graciously provided by BarracudaCals.
This product is available from the following LSP sponsors

This review was published on Monday, September 02 2013; Last modified on Thursday, December 29 2016