Eduard | #32774: B-17G Interior Part 1
Reviewed by Nigel Frampton
This is Eduard's Cockpit set for the HK Models 1/32 B-17G, part number 32774. The set consists of three frets, two are pre-painted and one is natural unplated brass. I'm really pleased Eduard have moved away from plating their brass frets, as this makes Soldering so much easier.
Fret One covers the Instrument panel, centre console and some other gauge / switch panels. All the printing appears to be in register, and something they have finally got right, the green parts are a very good match for Gunze H58, US Interior Green. I think we have all grumbled at least once about the colours of Eduard's pre-painted interiors. No such grumbling required here!
This fret measures 70mm x 60mm and contains 26 parts, most of which are self adhesive.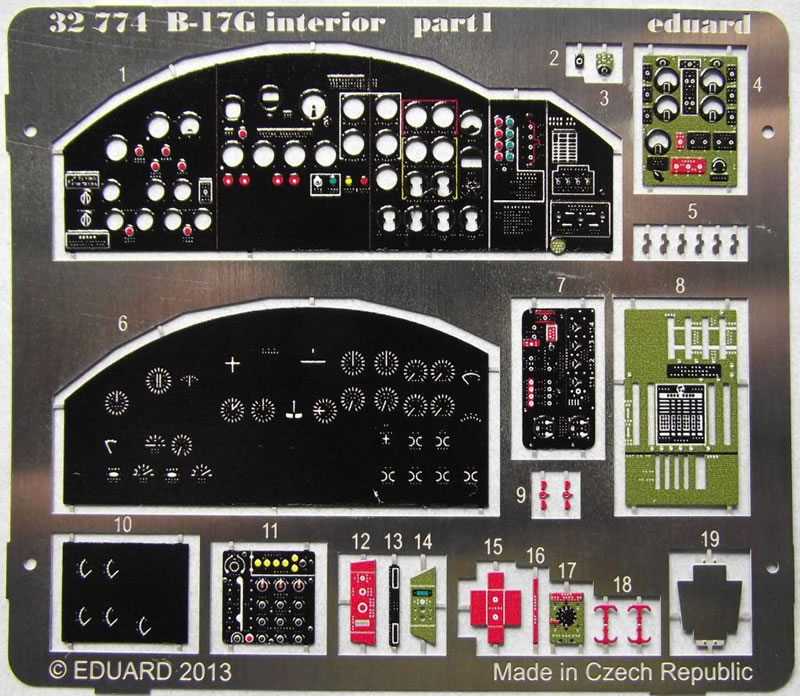 The second fret is also pre-painted and self-adhesive. It contains parts for the overhead console, various switch gear and the Yellow Dinghy's for the seats. Quite how one can make these flat brass items look accurate is beyond me. No doubt HGW will come to the rescue with a belt and dinghy set.
This fret measures 70mm x 68mm and contains some 54 parts. Note the brush painted Gunze H58 at the top right and bottom left of the fret.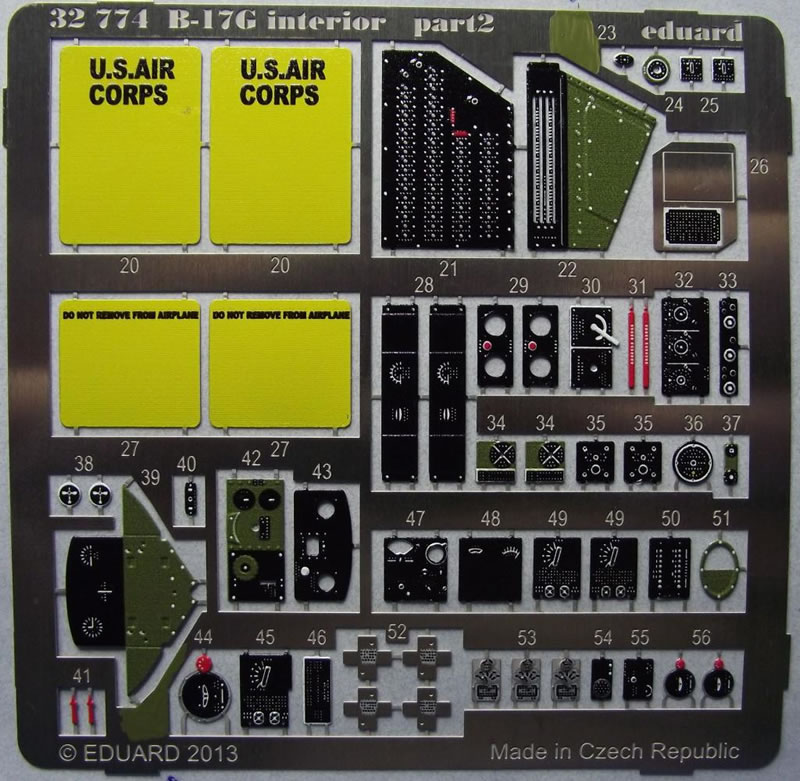 The third and final fret is in natural Brass and covers the floor and various other structural elements of the cockpit.
This fret measures 116mm x 70 mm and contains 133 parts.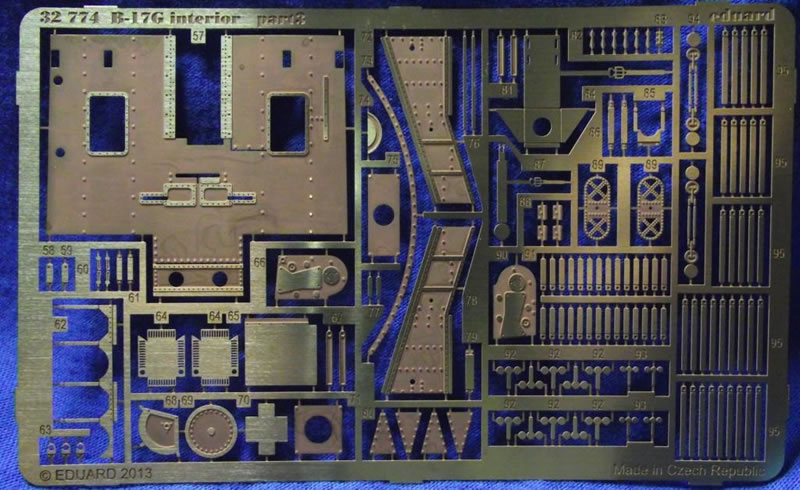 So, now we've seen what we get, let's look at these parts in a little more detail...
The instrument panel appears pretty accurate according to my limited references, even though it's been made to fit the HK models part, rather than have the correct "flattened" top portion. If you wish to correct your kit instrument panel, it will be a simple job of filing this part to suit. Once the front panel has been stuck over the gauge panel, some Tamiya Clear Gloss should be dropped into the gauge faces to depict the glass, this will really bring this lovely panel to life!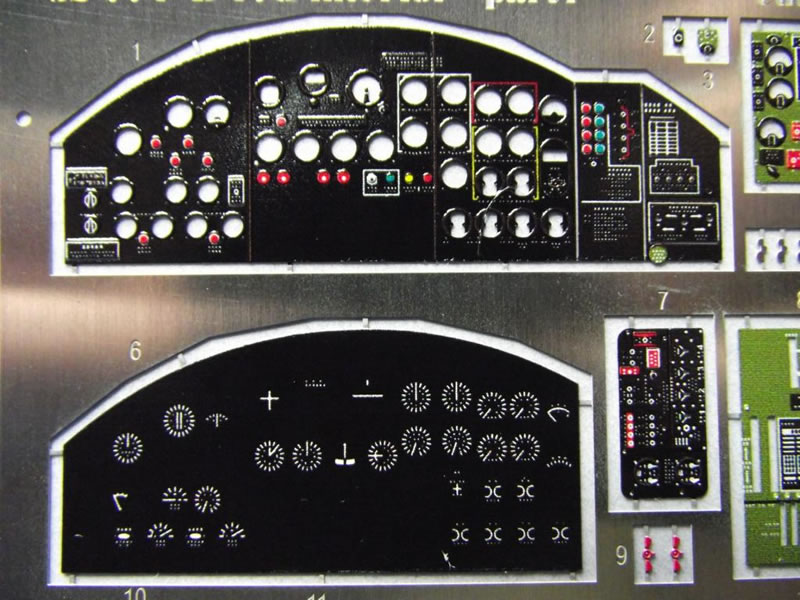 The centre console will be very visible through the windscreen and side windows, and Eduard have made sure you have the opportunity to provide some Eye candy here. With some careful assembly, this area will be absolutely stunning with all the stencilling and levers depicted in pre-painted etch, brass structures and separate levers.
Just look at this detail: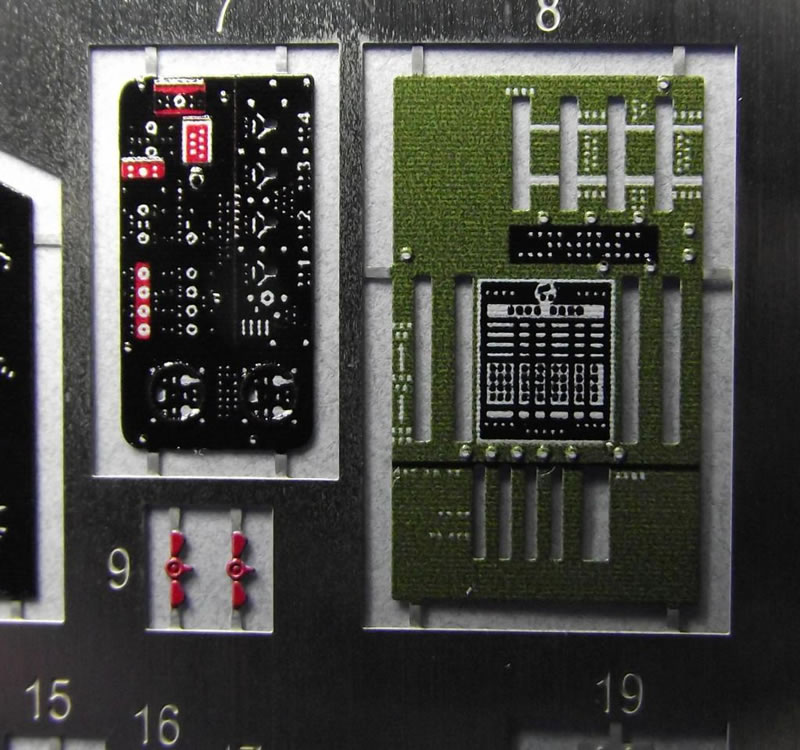 The overhead console is also beautifully depicted in this set. A lot of folding and the addition of some plastic rod is required in this area, but it will look stunning if done well.
More amazing detail here: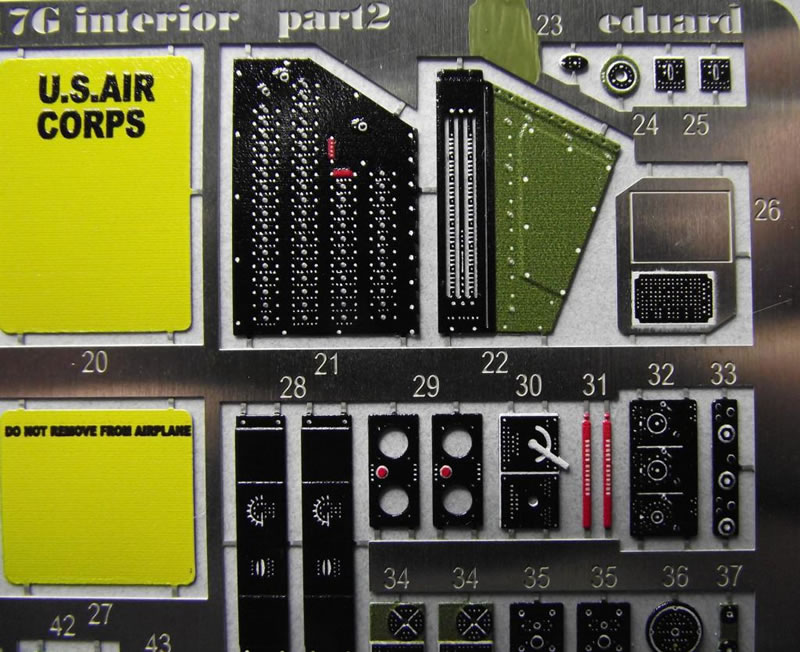 The cockpit floor was a flat (unpainted?) section of aluminium and this has been rendered well by Eduard with all the framework and rivet detail depicted as raised detail.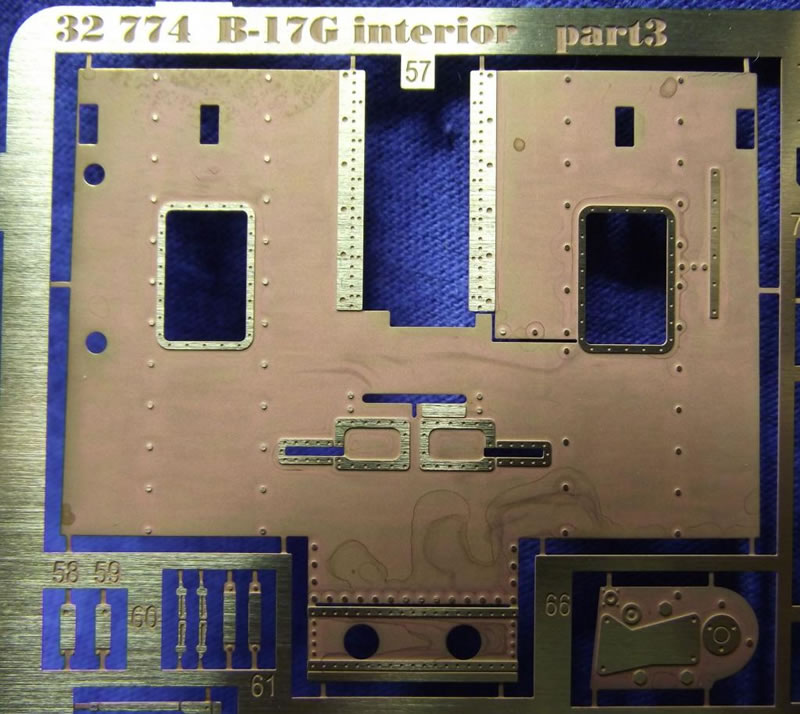 Other parts of the cockpit structure are depicted on this fret, these are the parts used for supporting the centre console and dressing the sides of it. With some careful painting, weathering and highlighting, these parts will turn your cockpit into a masterpiece.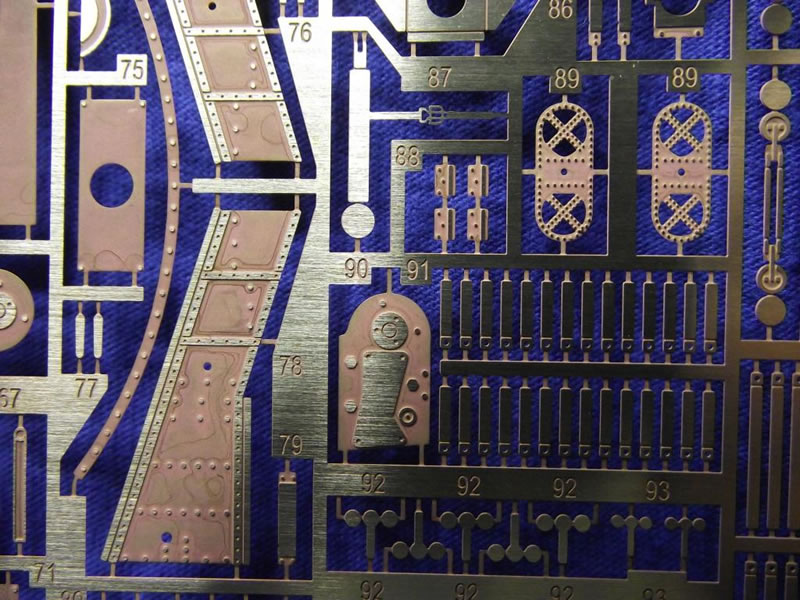 The Instructions are covered by 5 sheets, printed in black and white on A5 paper, however, one can print these sheets out in colour as I have done here, on A4 paper.
Sheet 1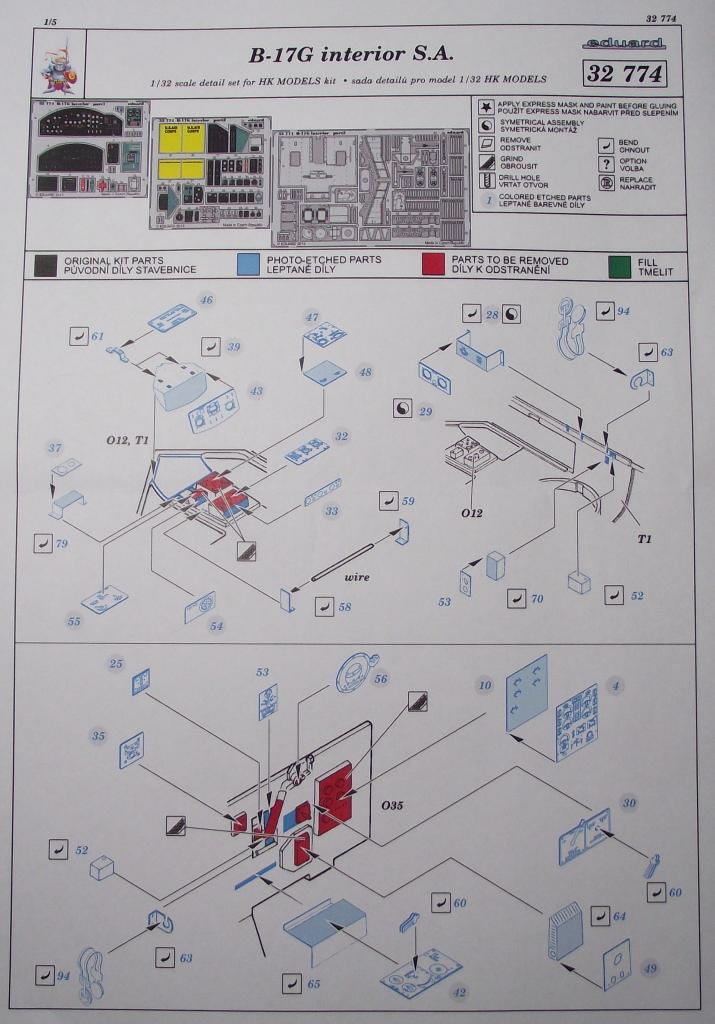 Sheet 2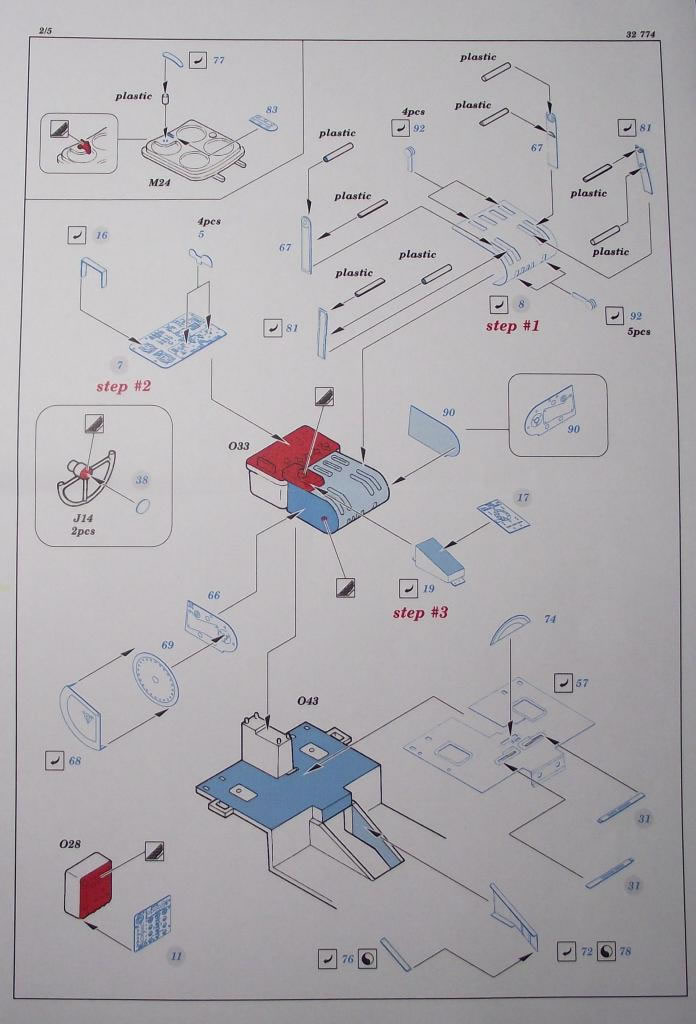 Sheet 3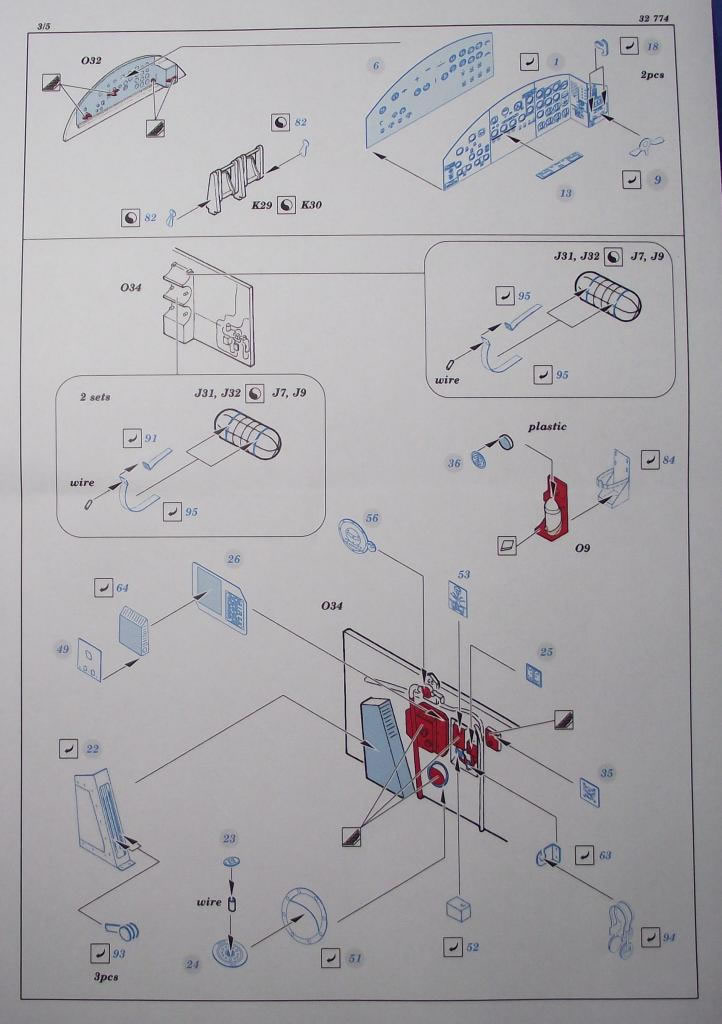 Sheet 4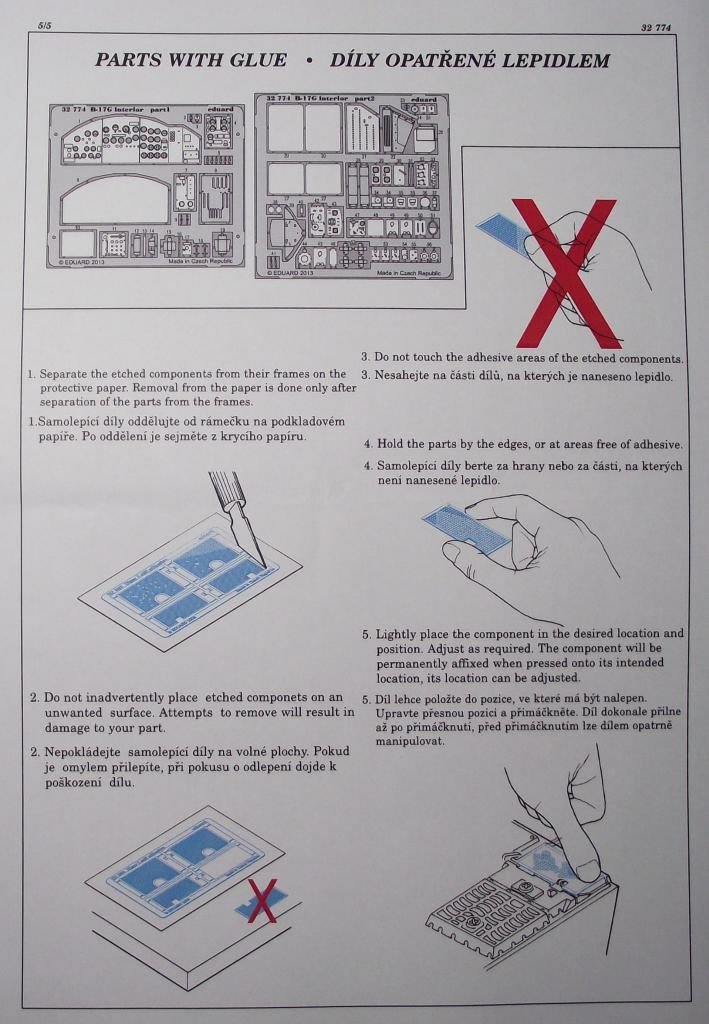 Sheet 5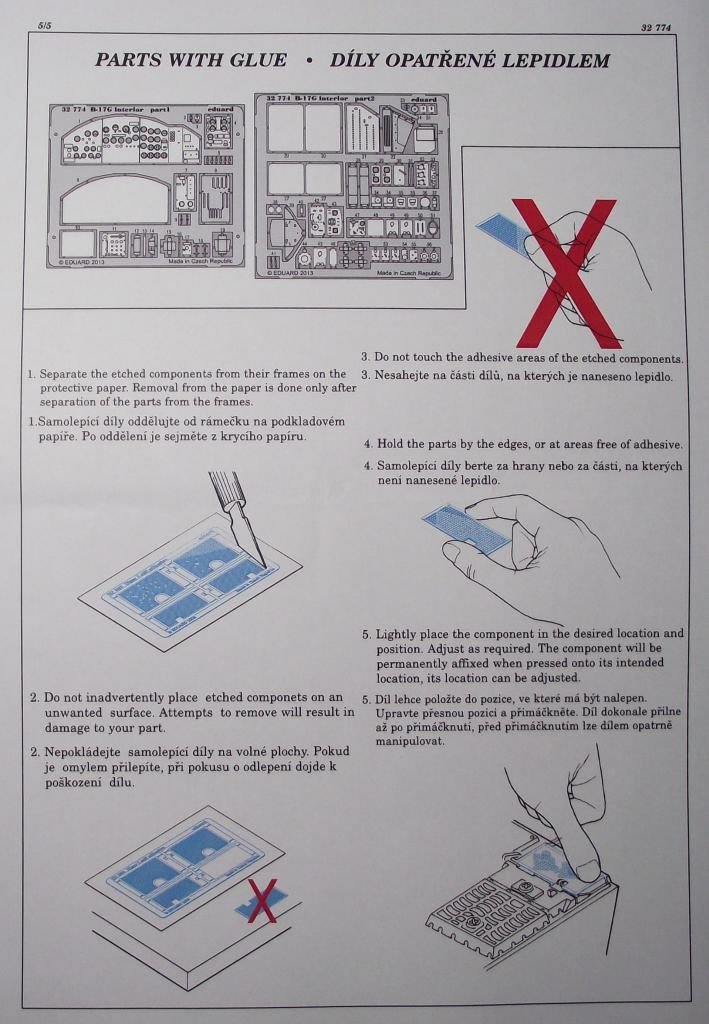 If you study the instructions and the Frets you will soon realise that this is a very comprehensive set for the cockpit of the HK Models B-17G. Every single panel is covered in glorious etch, front to back, side to side and top to bottom! I cannot comment at this time on the sets accuracy to a wartime B-17G, however it would appear nothing has been left out? There are even headphones hanging on little PE hooks included!
This set is available in the UK for £22.50 and, in my opinion is worth every single penny. Just replace those awful dinghy parts, buy some belts and you'll have one stunning cockpit on your hands.
Thanks to Eduard for producing this set and thanks to my wallet for buying it.
© Nigel Frampton 2013
This review was published on Saturday, September 07 2013; Last modified on Monday, February 22 2016