Contact Resine | MiG-3 Cockpit
Reviewed by Dan LoRusso
Contact-Resine from France continues with their growing line of detail sets.
Design & Marketing International, based out of Houston, has become the exclusive importer for all of North America with a number of interesting product lines, including Contact-Resine. Finally these sets are a bit more readily available on this side of the pond!
The MiG-3 Super Detail Set is designed for the Trumpeter 1/32 MiG-3 kit.
I've decided to show a side by side comparison with the kit parts with my photos. I hope this gives one a better idea of the extra detail included in the Contact Resine set.

The set consists of 16 very nicely cast resin parts that provide a whole new cockpit interior,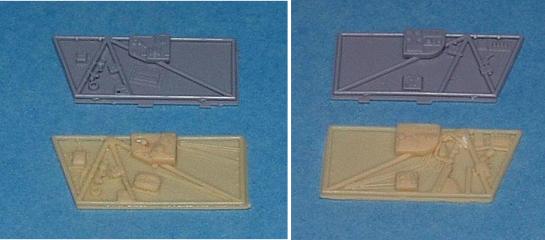 including pilot's seat, new propeller blades and spinner,

a radio deck behind the pilot, and new tail control surfaces. The replacement elevators and rudder have a more subtle, authentic-looking fabric surface compared to the kit parts.

Three frets of photo-etch brass are also included to help dress up the interior and exterior of the aircraft. The details include new landing flaps, gear door details, landing gear oleo scissors, radiator details, seat belt buckles, instrument panel (with decal instruments), other assorted cockpit details, and rocket fins and fuses.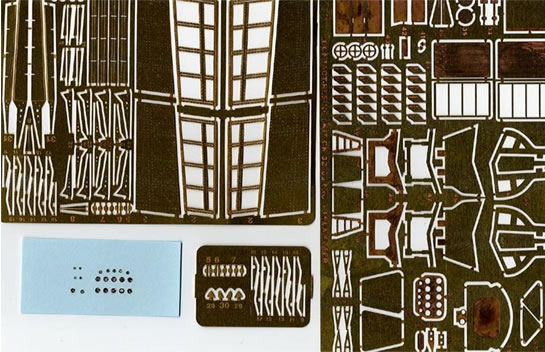 To round off the MiG-3 set, a complete sheet of masks for the canopy and windscreen exterior and interior are supplied. This should enable you to paint the canopy inside and out for a more realistic appearance. ( not shown because it just doesn't scan well, but it's nice, really! )
The only drawbacks I can see with this set is the cockpit floor and the side panels. The Contact Resine floor has much more detail than the kit supplied floor but, (as Thierry pointed out in his great "Tweak List" ) it also suffers from the raised floor panel details. If one wants to get anal, I guess you could carefully Dremel these spots out for total accuracy. The cockpit side panels are flat like the kit parts and not curved as is the fuselage, but they do have much crisper details as well as some added wires and such not included in the kit parts. The seat is however a work of art, and worth the cost of the detail set! (Well, almost!) It's GREAT! Various kit parts are used in conjunction with the resin bits for the balance of the cockpit.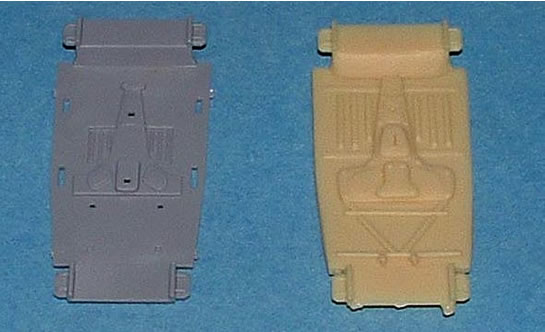 I can highly recommended this set despite the minor glitches. You can purchase it , as well as other Contact-Resine items, online from Design & Marketing International.
Thanks to Design & Marketing International for this review sample.
© Dan LoRusso 2005
This product is available from the following LSP sponsors
This review was published on Saturday, July 02 2011; Last modified on Wednesday, May 18 2016