Meng | 1/32 Me 163B Komet
Reviewed by Andrew Birnie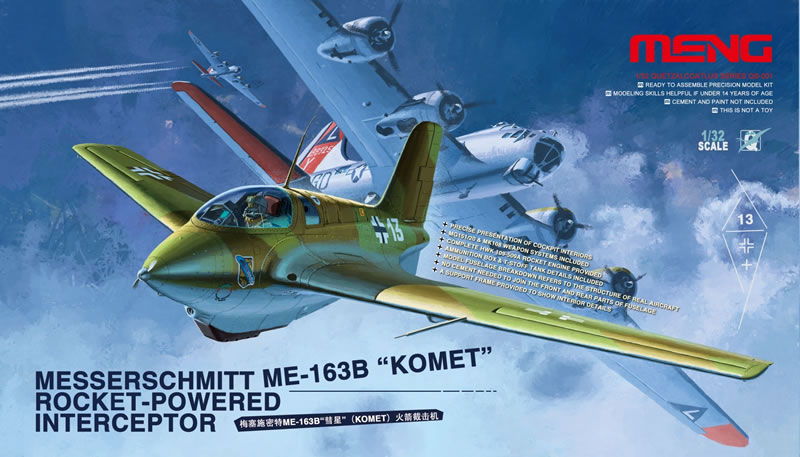 I've always had a fascination for the Me 163, probably initially as it was such a revolutionary design as well as being small and cute, then more so when my Dad bought me the book by Mano Ziegler when I was about fifteen, and not long after I built the Hasegawa 1/32 kit, complete with stub brushed mottle!
Fast forward a few years, and we have a state of the art release from Meng. In a box a little smaller than the Tamiya Spitfire's is packed five dark grey sprues, one black, one clear, three rubber parts for the tyres and two poly caps, and two sets of etch parts, together with a very nice instruction booklet, in Chinese, English, Japanese and Russian, with clear easy-to-follow illustrations, and finally a decal sheet printed by Cartograph in Italy. No half measures here.
The parts break down is extremely well thought out for example allowing rivet detail on the seat made up of two parts. The instrument panel is provided either by a plastic part with nicely moulded detail, or a plastic and etch reproduction, one plastic part, four etch, and both have decals for the instrument faces.
A full interior is provided, the cockpit tub is attached to the T-Stoff fuel tank, which in turn is affixed the engine. The wing root is cut out on the main fuselage parts into which goes a part not dissimilar to that found when the aircraft is wingless, not exactly the same, but not a bad jumping off point if you were making an aircraft so. Though maybe there will be an aftermarket part made. I imagine that which can be seen will be more than adequate if you were to assemble the aircraft with the gun bays open, two different armaments are provided; Mk 108 and Mk 151/20, the latter protruding the wings, both have hollow ends and have different parts for the wing edge.
The rubber tyres are very nice, there is a seam down the middle of the main wheels and it does look like they are a bit misaligned, but I think it's more to do with the manufacturing process that the thread flanges out towards the seam on one side, and cleaning up with some sandpaper and a file would produce a nice result. The tyres provided are not atypical to those seen on most Komets, these being similar to the later Bf 109-type found on the G-10/K-4, and those produced by Barracuda look to be almost as good as the real thing, though the inside hub is different to the photograph below.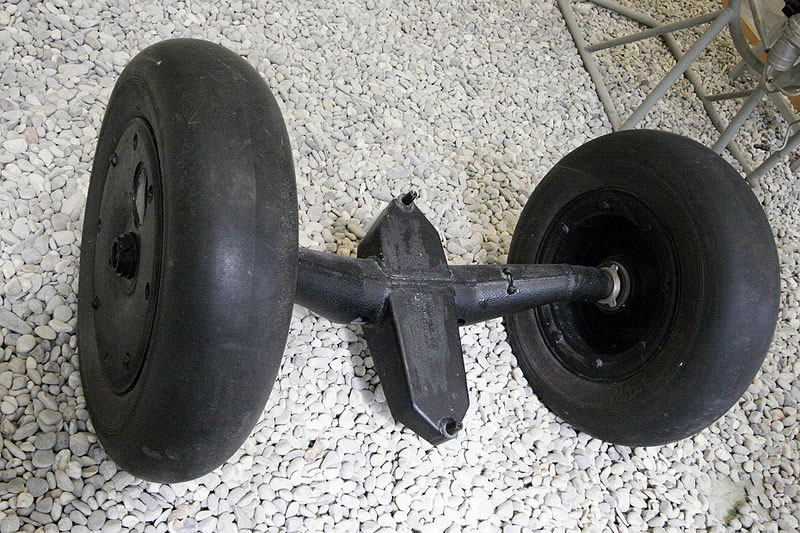 The ammunition box which sits atop the T-Stoff tank has bullets for both types of armament. The moveable wing surfaces are provided by separate parts, with the airbrakes being in etch.
Supports are provided for the rear fuselage, should you choose to leave it off to expose the engine, and another which props the engine/front fuselage up to a horizontal position.
The surface detail is wonderful, with restrained rivets of various kinds as I'm assuming you would find on the actual aircraft, and I think it compares favourable with the best 1/32 kits available, especially on price. Vallejo colour call outs for painting are provided, as well as the relevant descriptions.
The decals give three options; White 13 of 2 /JG 400 based at Brandis, in a RLM 82/83/75 scheme, the all red V-41 piloted by Wolfgang Spate on 13th May, 1944, and finally an aircraft test flown by Eric Brown (RAF) at Farnborough 7th July 1945, though this was unpowered, Brown did fly a powered Me 163 flight, without permission, from Husum, Germany around 17th May 1945 aided by Luftwaffe technicians.
A very nice model can be made out of the box, and aside wheels - for those with a fear of rubber, and decals I don't think the model needs much in the way of after market, there is already a Mk 151/20 and pitot set available from Master, though there are two different pitot tubes provided in the kit, and the option which is armed with Mk 151/20s has the earlier pitot tube, master provides the later type.
A fantastic first venture in to 1/32 aircraft by Meng, and I hope it won't be long before the add another to their catalogue.
---
© Andrew Birnie 2013
This review was published on Friday, October 11 2013; Last modified on Friday, October 11 2013