HpH Models | #32023R: Messerschmitt Me 410A-1
Reviewed by Kevin Futter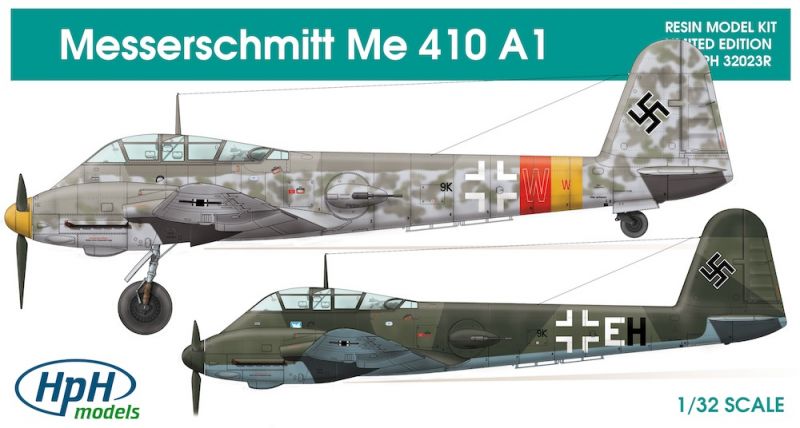 HpH Models hails from the Czech Republic, and produces an extensive range of resin aircraft kits in a variety of scales. The company has a particular focus on 1/32 scale, and its latest offering is an impressive Messerschmitt Me 410A-1.
The kit ships in a large, flat box, and my first impression upon receiving it was just how thin the box is, being a mere 5cm in height. I wondered how HpH could fit a 1/32 Me 410 in such a box!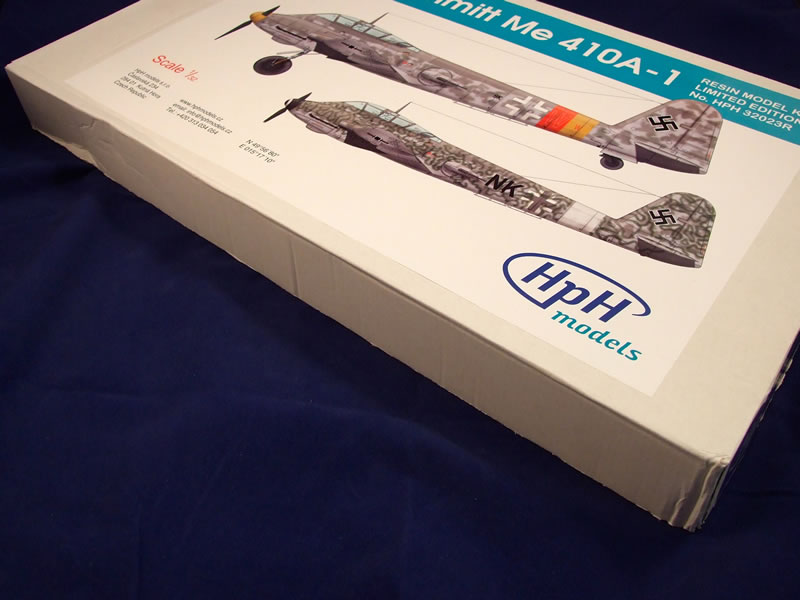 Upon opening it however, all became clear. Internally the box is divided into five main sections, each densely but neatly packed with one or more bubble-wrapped sets of components.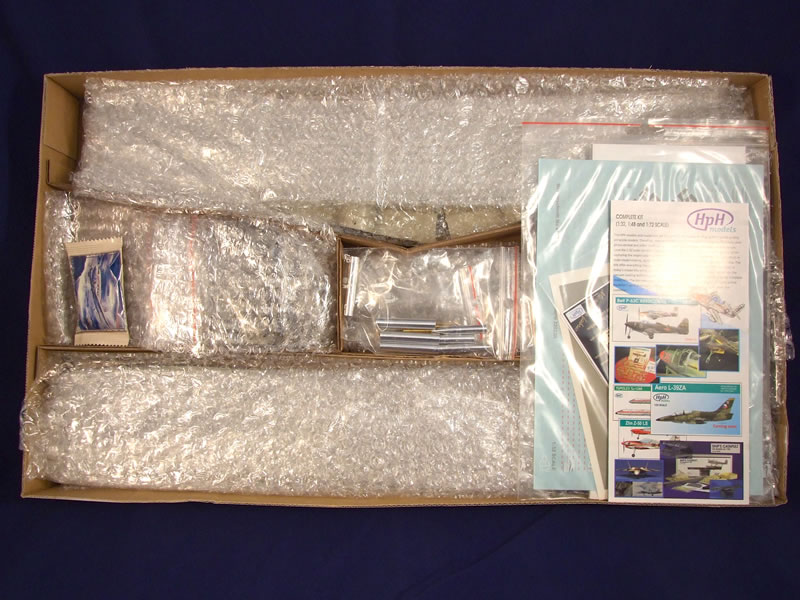 Also present is a resealable bag containing the decals, canopy masks, seat belts and photo-etched sheets. The instruction manual is provided on CD as a PDF, and also as a series of JPEG images (should you have any issues with the disc, these JPEG images are also available on HpH's website). Rounding things out is HpH's now famous inclusion of a Belgian chocolate!
---
Major Components
The breakdown of the kit is largely conventional, with two full-length fuselage halves, a full-span lower wing and two upper wing sections. This is fleshed out with a vast array of resin and metal airframe and detail parts, distributed among several more resealable bags.
The Fuselage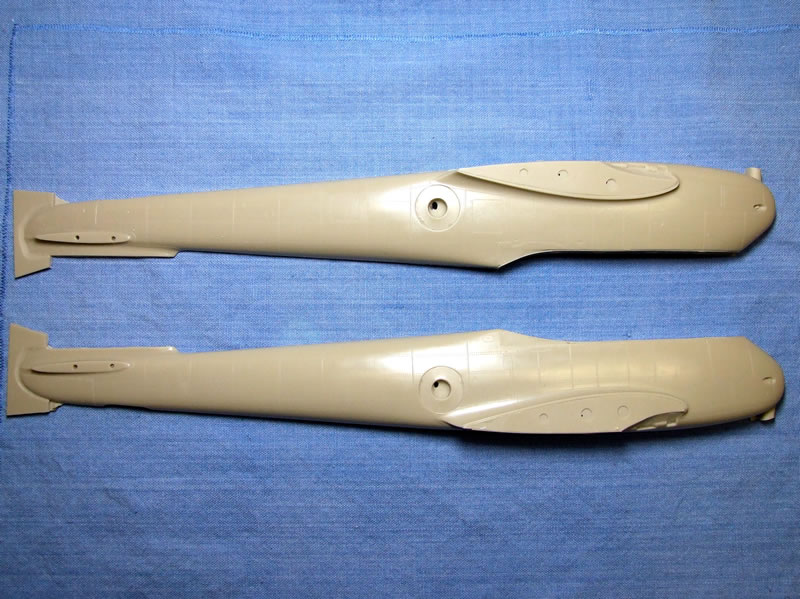 Surface detail is exquisite, and defies expectations of what can be achieved with a resin kit. Panel lines are crisp, petite and even, and the riveting equally so. Impressive!
---
Internal details are also very nicely done, with stringers, ribs and other structural elements in place around the cockpit and tail wheel bay.
---
Note how impressively thin the castings are. Wall thickness is similar to a standard injection-moulded kit, if not a touch thinner. This kit is certainly no resin lump, and the completed model should not be excessively heavy for its size.
There are pre-marked cut lines in the nose that indicate where to cut should you wish to expose the weapons bay, for which a full set of detail parts is provided in the kit.
The Wings
As mentioned above, the wings are broken down into a single-piece lower section and two upper sections.
---
There are some fairly sturdy casting blocks that will require careful removal, though they do provide additional strength and rigidity for shipping. Despite this, the lower wing in my example did suffer some minor damage: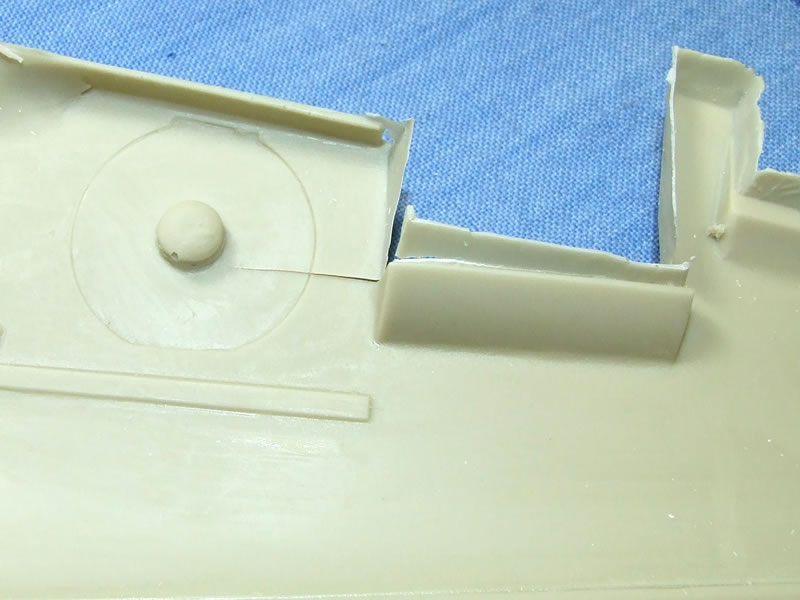 This is not particularly serious, and should be easily dealt with during the build.
Surface detailing on the wings is on par with that seen on the fuselage:
---
And just to confirm that HpH's goal is to emulate an injection-moulded kit in resin, they've literally put their stamp on the product: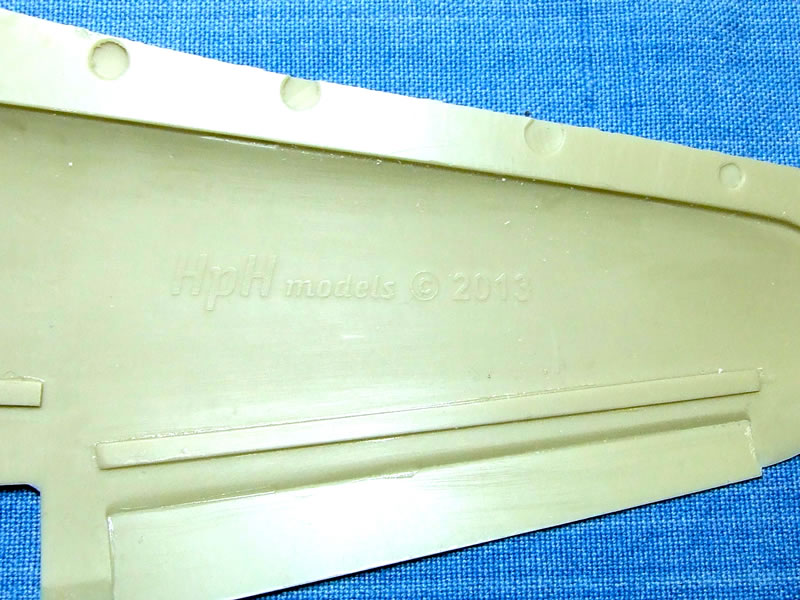 Detail Components
This is where things get serious with this kit. The breakdown is as follows:
4 resealable bags of resin components
1 resealable bag of canopy components in clear resin
2 resealable bags of turned brass and aluminium components
2 photo-etched frets of detail components
1 set of laser-cut seat belts from HGW
1 set of pre-cut vinyl canopy masks
Engine Nacelles
---
Though it's difficult to discern in the photos, these are labelled with "L" and "R" respectively on their insides.
Resin Bag #1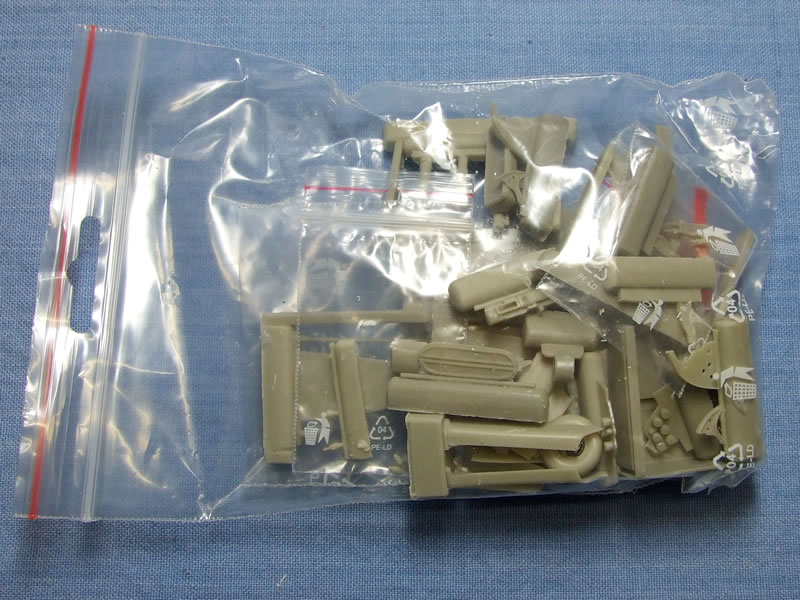 ---
One of the radiator housings in my example seems to be either short-shot or damaged. It appears to have broken away from its casting block, which is completely missing from the bag. This could be a challenge to overcome, though HpH should be able to address any issues of this nature by issuing replacement parts.
It's worth noting that the main undercarriage legs are reinforced with a metal core.
Resin Bag #2 - Clear Parts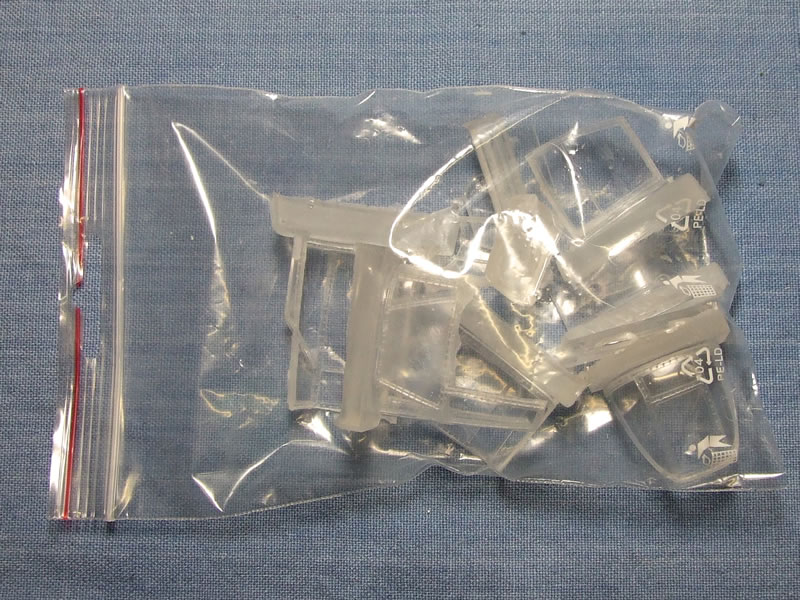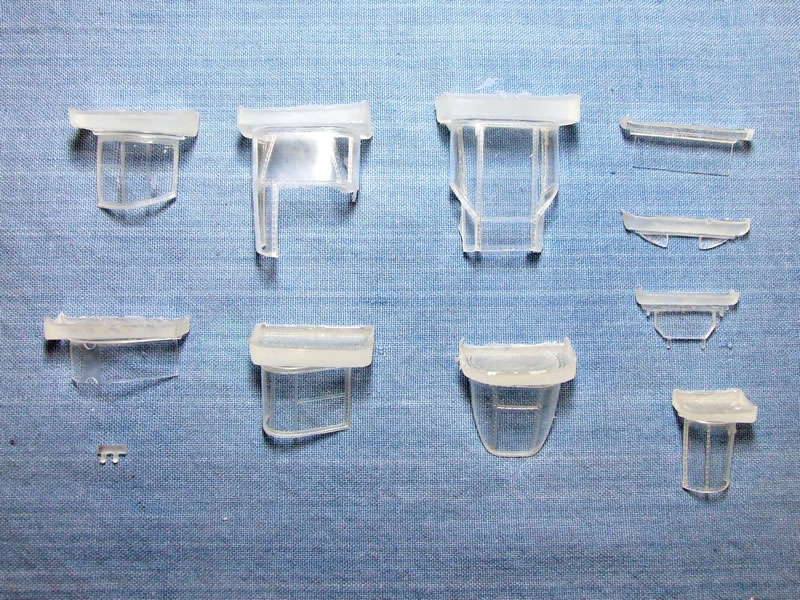 The canopy parts are supplied in clear resin, and are quite sturdy. They should be much easier to deal with than a set of vacuform parts! While relatively clear and distortion-free, they're not quite up to the standard of the best injection-moulded parts in this regard. The top panel of one section is in fact slightly cloudy, but some minor polishing and a dunk in floor polish should see these parts sparkle.
Assembly does appear to be a little complex, but this only reflects the complex nature of the real canopy, rather than any over-complications on HpH's part.
In addition to the expected canopy components, this bag also contains the clear-view panel for the cockpit floor, and the wing-tip navigation lights.
Resin Bag #3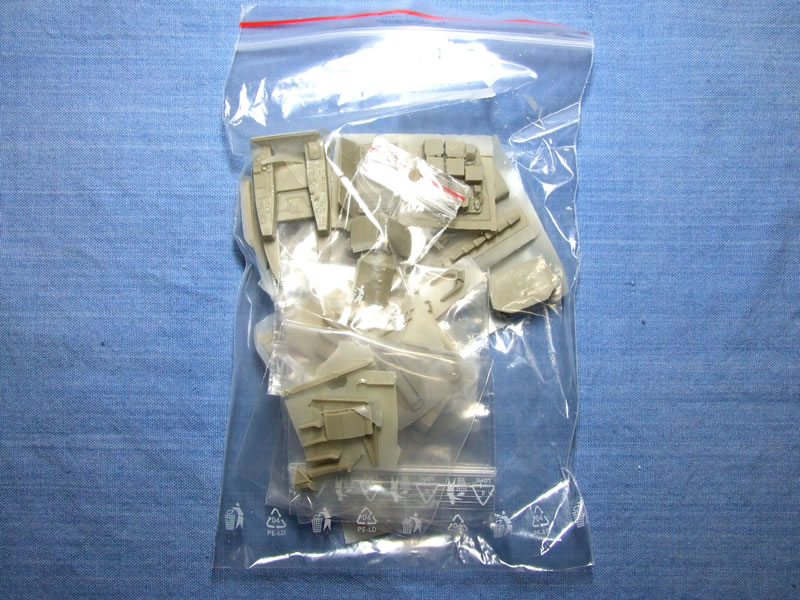 ---
This bag contains a myriad of small components, many set out on ultra-thin resin wafers. This wafer layer is so thin that it barely contains the parts, and should pose no problem at all for parts removal.
I was pleased also that the exhaust parts have hollow ends: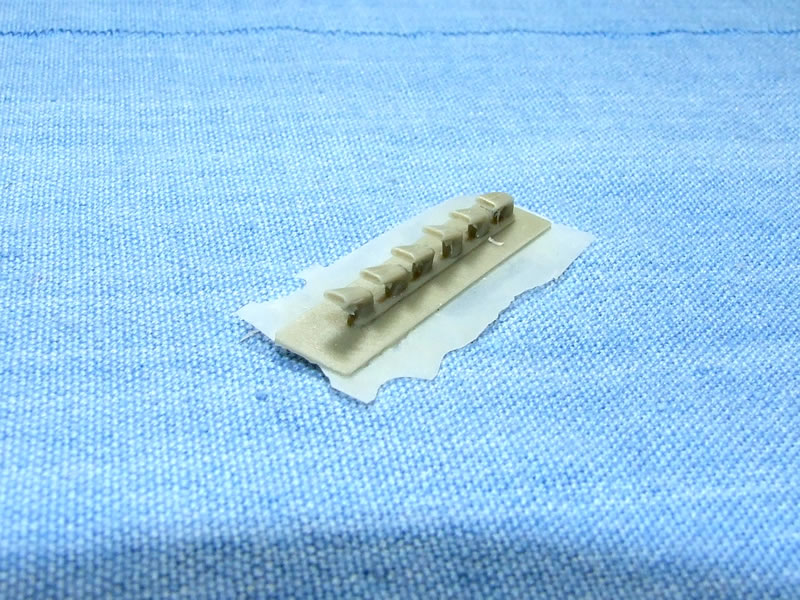 Resin Bag #4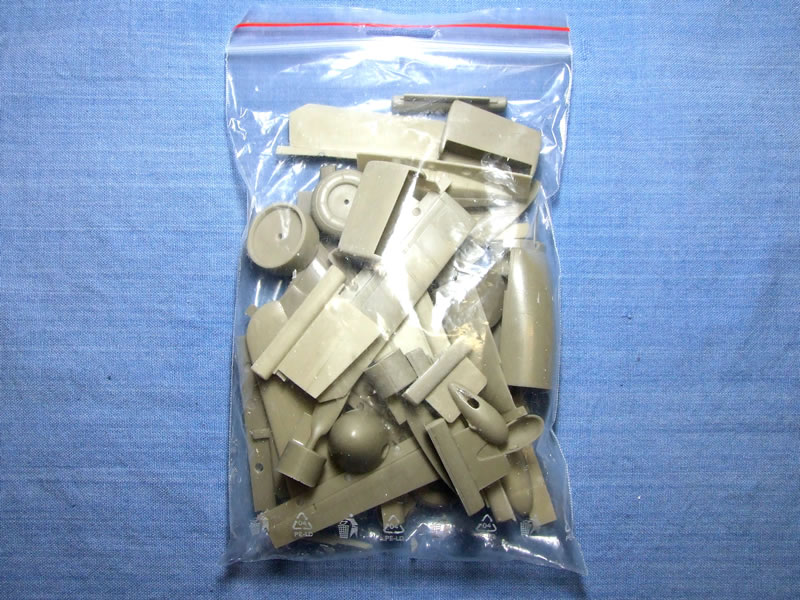 ---
This bag contains the remaining airframe components, as well as wheels and propellors. All parts are very cleanly and crisply moulded, though due care will need to be taken when removing parts from their casting blocks.
Of particular interest is the round jig provided for drilling a centred hole in the otherwise solid spinners; this ensures that the hole is perfectly centred and circular. I can only assume that HpH was concerned that a pre-moulded hole for the mounting tube may be adversely affected by resin shrinkage or inadequate tolerances.
Turned Metal Parts
---
Two resealable bags contain turned metal parts in a mixture of aluminium and brass. These include the main components for two sets of Wfr. Gr. 21 rocket assemblies, the aforementioned spinner mounting tubes, remote barbette gun barrels, barrels for the nose guns, and the pitot tube.
Photo-etched Parts
The kit provides two frets of photo-etched parts by Eduard. The first is a pre-coloured set specifically for the cockpit, and features instrument panels and console details.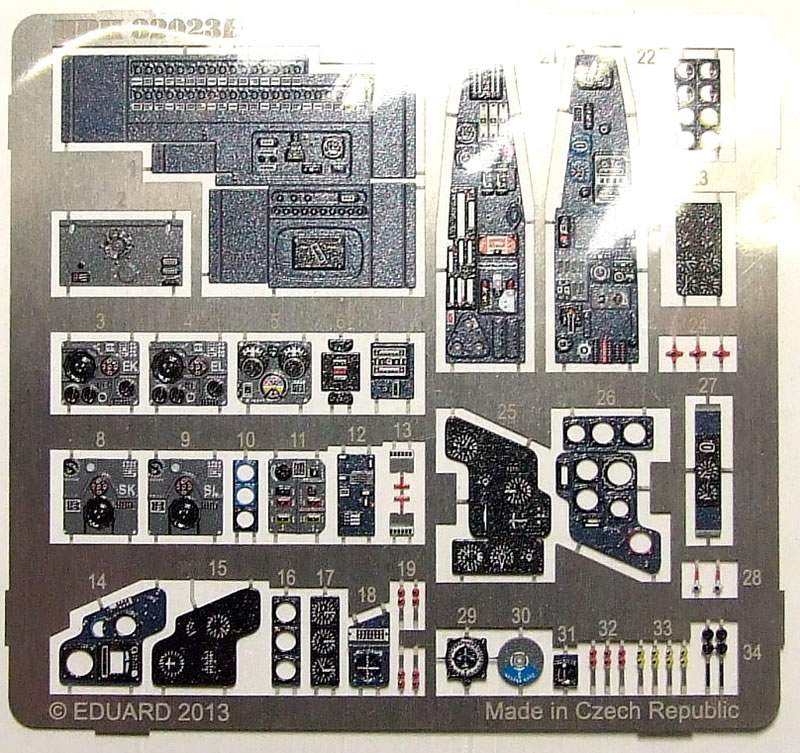 The second, larger fret is not pre-coloured, and contains various detail components for the cockpit, weapons bay, radiator flaps, and other areas.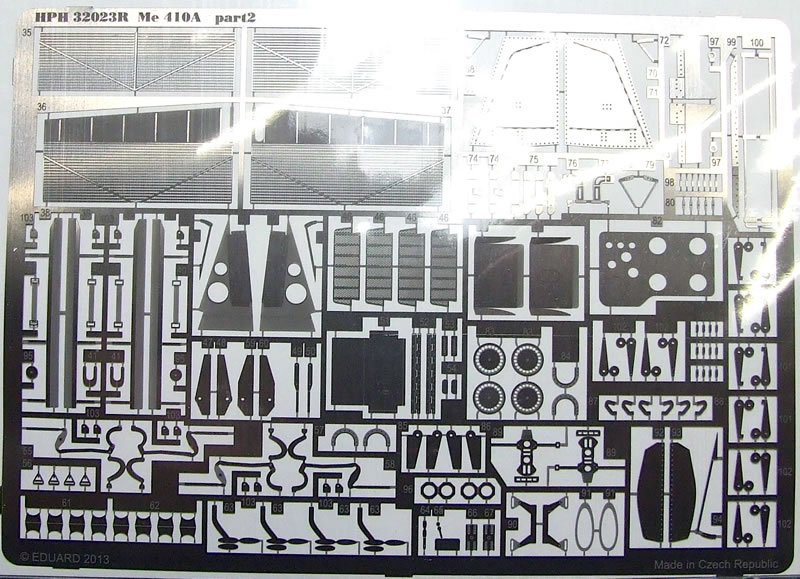 Canopy Masks
A full set of pre-cut vinyl masks is provided for the canopy, which should make masking that complex canopy a great deal easier. There is no indication on the sheet that this has been provided by a third party, so I'm assuming it's an in-house production. Masks for the navigation lights are also provided on the sheet.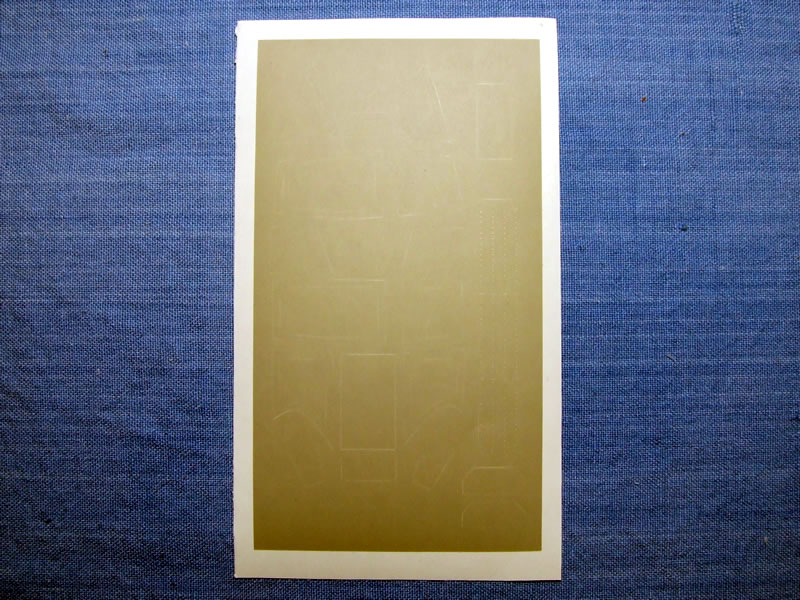 Seat Belts
A set of custom laser-cut seat belts has been provided by HGW, which is a very nice touch. It would have been easy for HpH to simply add seat belt parts to one of the photo-etched frets, but these laser-cut textile harnesses provide a much better result, and HpH is to be congratulated for their inclusion.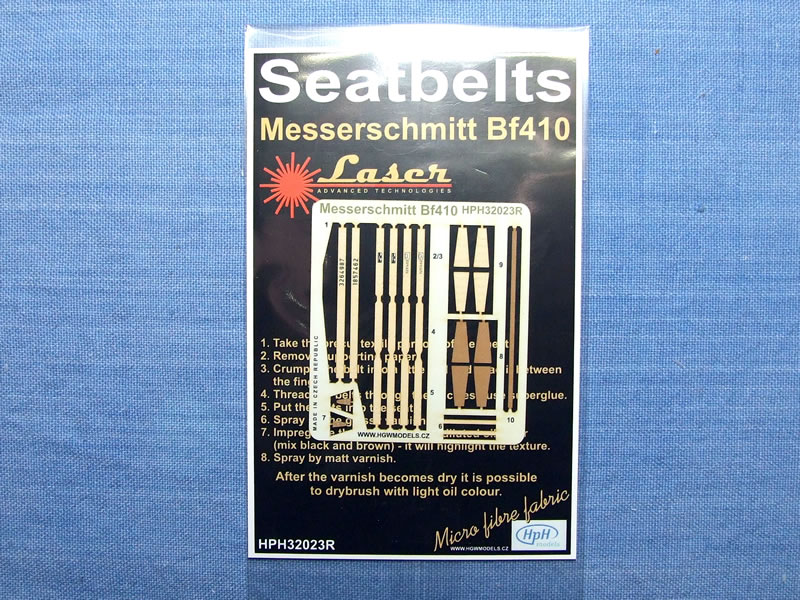 Decals and Markings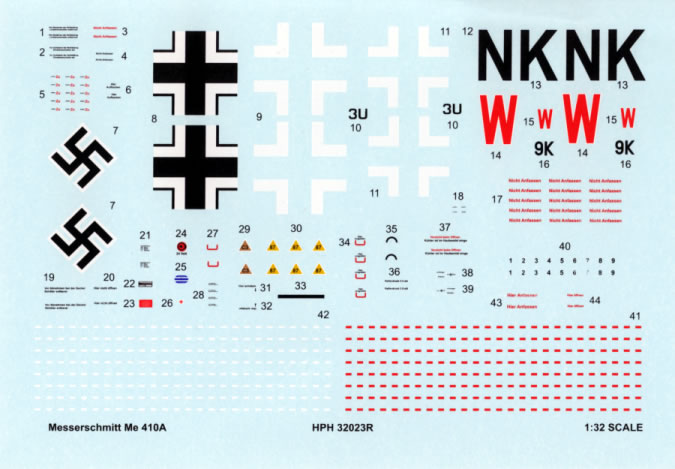 Decals are provided for two Luftwaffe machines:
Messerschmitt Me 410A-1 of the Erg. Gruppe/KG 51 (Jagd), Germany, 1944
Messerschmitt Me 410A-1 of the 5./ZG 26, Königsberg, Germany, July 1944
---
There is no indication on the sheet that this has been provided by a third party, so I'm assuming it's an in-house production. Printing is crisp and clear, colours are strong and look nicely opaque. The decals appear to be silk-screened, as each marking occupies its own little island of carrier film. How they perform is unknown at this stage, but they certainly look the part. I'm a little surprised that the main markings haven't been supplied as paint masks, but plenty of options already exist for generic Luftwaffe markings in that format if you prefer that approach.
Instructions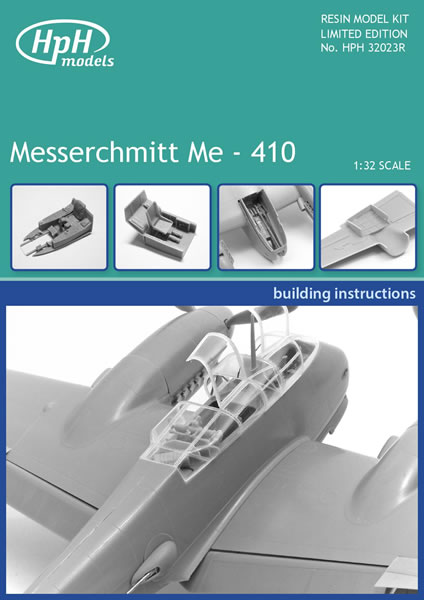 As noted earlier, the instructions are provided in digital format for reading and printing from your computer. They are excellent, and put the efforts of some mainstream manufacturers to shame. Most of the assembly sequence, with the exception of the HGW seat belts, is shown in photographs using the actual kit parts. Each sequence is extensively labelled and annotated, with warnings, hints and tips aplenty. This instruction booklet has been very thoughtfully produced, and is a real testament to the approach HpH takes with its kits.
---
Conclusion
While it's true that, by its very nature, this kit will be a challenging build, HpH has done everything possible to ensure that it's as straightforward and trouble-free as possible. Sure, it's an expensive kit, but if you want it and can afford it, the combination of top-shelf resin parts and best-of-breed accessories makes it a must in my opinion.
I couldn't (and wouldn't) recommend this kit to a beginning modeller, but for everyone else, and especially those who desire a 1/32 scale Me 410, it gets my hearty recommendation.
Thanks to HpH Models for the review sample.
© Kevin Futter 2013
This review was published on Saturday, October 26 2013; Last modified on Friday, April 08 2016