Tommy's War | 54mm RFC Pilot Figures
Reviewed by Andrew Birnie
Tommy's War have been producing British related 1/32 (54mm) subjects from the Great War for a couple of years or so, and have just graced us with a couple of pilot figures.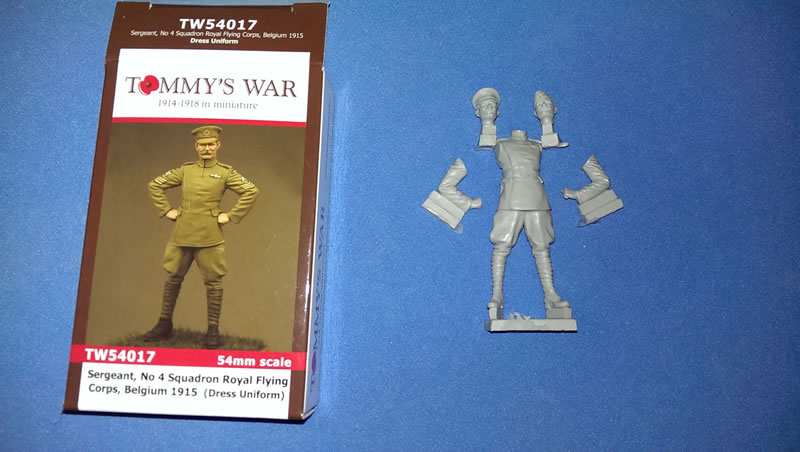 ---
The first is a Sergeant from No. 4 Squadron Royal Flying Corps, Belgium 1915 in dress uniform, arms jutting out, fists in at his waist, very much self assured, confident, and looking hard to impress. The figure comes with a choice of two heads, one with a service cap, the other a side-cap, both of the same mustachioed chap with bags of character.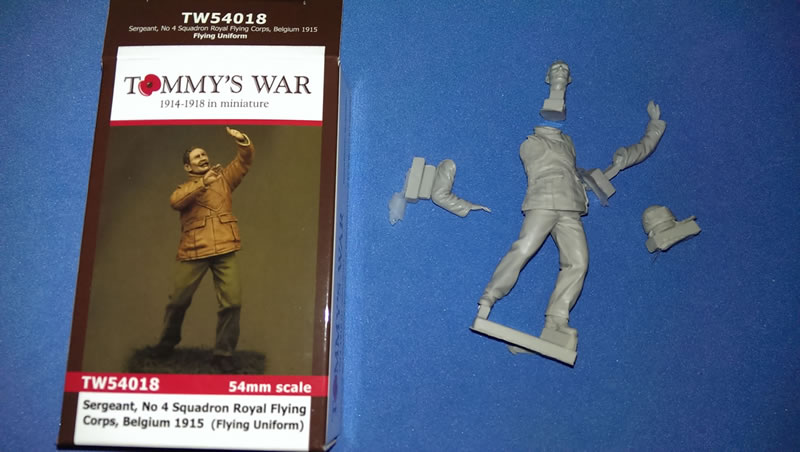 ---
The second is also a Sergeant from No. 4 Squadron Royal Flying Corps, Belgium 1915 in flying uniform, acting out a recent engagement, and has the look of one fully lost in his imaginings. Only one head this time but the figure comes with a separate Roold Helmet.
I have quite a collection of figures and none are better than these. Wonderfully sculpted by Nino Pizzichemi, they have very little clean up required, I couldn't find any casting seams on the main body parts, a testament to the design and casting.
The only thing placing the figures specifically in 1915 is the Roold Helmet, so if you wish to pose the figures later, just leave out the helmet, and they could be placed beside any RFC Squadron aircraft.
Tommy's War also produce a Douglas 1915 Pattern Motorcycle which would no doubt look pretty nifty next to a Britisher aircraft of that time, or a little later.
Fantastic products, and I certainly look forward to Tommy's War next aviation-related releases, though I might have to treat myself to their superb "L" Battery RHA and the Battle at Nery set first!
© Andrew Birnie 2013
This review was published on Sunday, November 24 2013; Last modified on Sunday, November 24 2013