Wingnut Wings | #32059: 1/32 Salmson 2-A2 "USAS"
Reviewed by Kevin Futter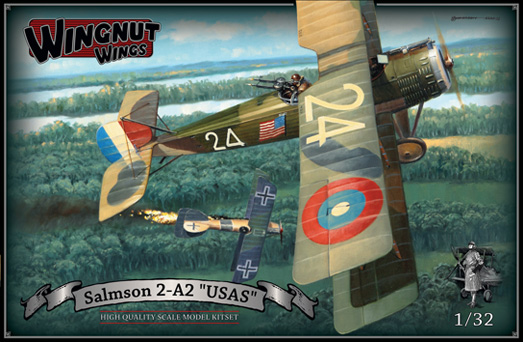 The Salmson 2-A2 is one of a trio of kits released by New Zealand firm Wingnut Wings at the end of 2013. And what a way to end the year! The kit is presented in the company's now-familiar style, with terrific box art and a packed-house of quality parts inside.
This kit has been released in two versions simultaneously, and this one features the 'USAS' version, as used by the Air Service, United States Army during 1918.
What's in the Box?
Parts breakdown is as follows:
7 x grey plastic sprues
1 x clear plastic sprue
1 x photo-etched fret
3 x decal sheets
1 x sumptuous instruction manual
Plastic Sprues
The quality of moulding is on par with the expected high standard from Wingnut Wings, being clean, crisp and free of any noticeable moudling imperfections.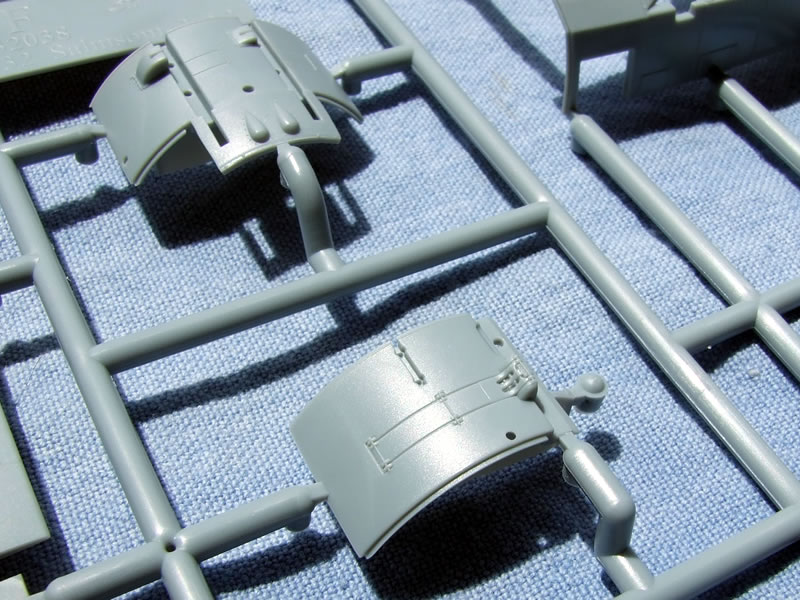 ---
Photo-etched Fret
Inside the bag that houses the decals is small photo-etched fret (labelled "P") that contains some parts for the cockpit: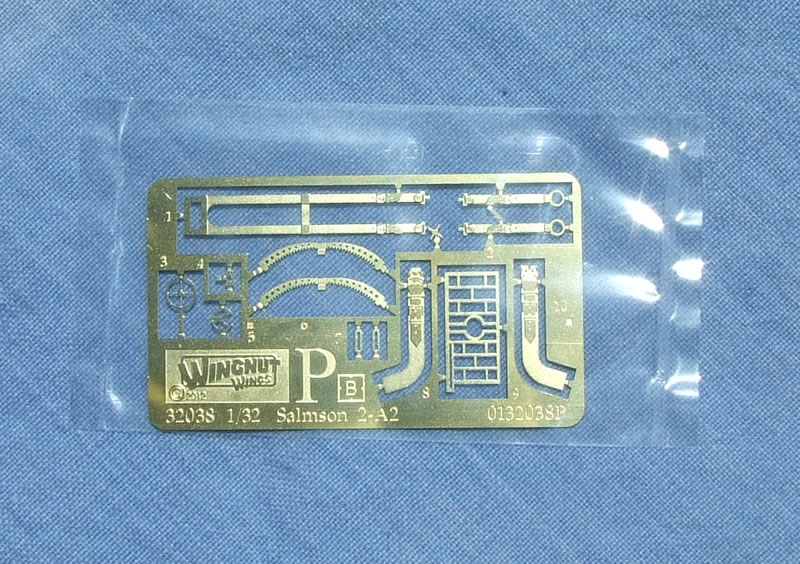 Decals and Markings
The kit's markings are supplied on three decal sheets - one large sheet plus two smaller supplementary sheets.
---
The largest sheet carries all the main markings for each option in the kit, while the very smallest sheet consists of a few serial numbers. The sheet in the middle is actually printed by Cartograf and contains some of the individual aircraft markings. Interestingly, the very small sheet simply duplicates some of the serial numbers on this sheet, though it isn't clear why.
There are five markings options covered by the decals:
Salmson 2-A2 '24', 1st Aero Sqn, AJ Coyle (1 victory), JW Corely (3 victories), AE Easterbrook (5 victories), October-November 1918
Salmson 2-A2 1319 '6' 'Old Carolina IV', 12th Aero Sqn, DH Arthur & HT Fleeson (2 victories?), Late 1918
Salmson 2-A2 '18' (3 victories), 91st Aero Sqn, K Douglass, LC Hammond (1 victory) & AM Seymour, Late 1918
Salmson 2-A2 '17', 186th Aero Sqn, HC McCaslin, Mid 1919
Salmson 2-A2 5464 '8', 1st Aero Sqn, WP Erwin (8 victories), AE Easterbrook (5 victories), June 1919
Instruction Booklet
The instruction booklets supplied in Wingnut Wings kits have become legendary, and with good reason. The production values are equivalent to a glossy magazine, and to refer to them as mere instruction booklets does them a grave disservice.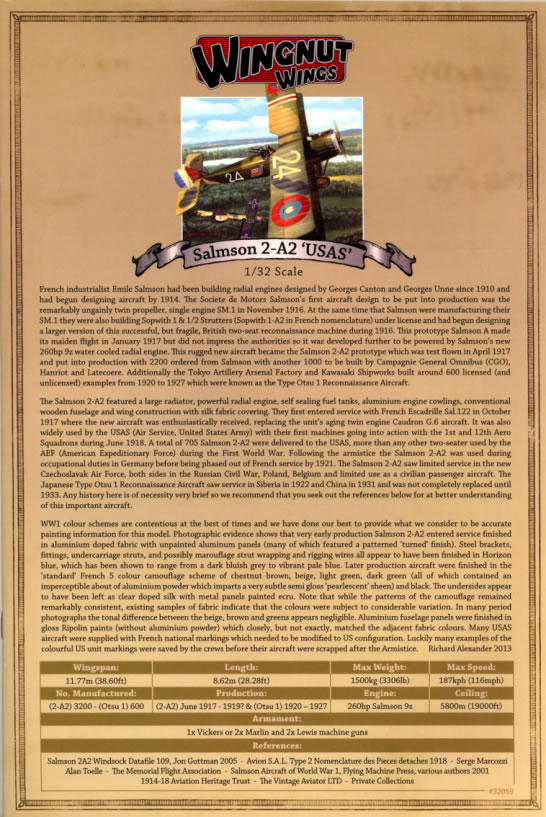 The cover features a potted history of the type, and a specifications table at the bottom. This material is also available on the Wingnut Wings webpage for the kit.
The content features colourful and highly-detailed annotated assembly drawings, complemented by captioned reference photographs and painting instructions. It's worth noting though that, unlike some other Wingnut Wings releases I've encountered, the instruction booklet in this one is not housed in its own plastic bag (perhaps this approach has been discontinued).
Conclusion
This kit represents everything we've come to expect from Wingnut Wings: exceptional moulding quality, excellent detail, superb decals and industry-leading documentation. What more could you ask for? Highly recommended.
Review sample supplied by Wingnut Wings.
© Kevin Futter 2014
This review was published on Wednesday, January 01 2014; Last modified on Saturday, October 03 2015