Black Ops Models | 1/35 Little Bird MH-6M Conversion
Reviewed by Floyd S. Werner, Jr.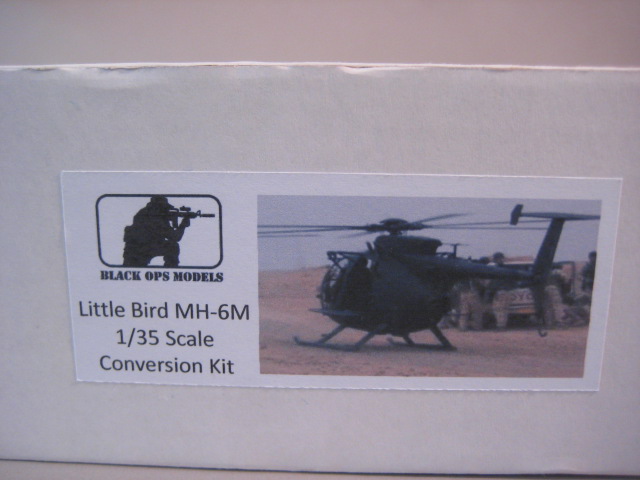 Manufacturer Website: www.blackopsmodels.com
The MH-6M Little Bird is the latest transport version of the A/MH-6 family. Used solely by Task Force 160th. What sets the MH-6M apart from the previous versions of the helicopter is the six bladed main rotor and four bladed tail rotor. An enlarged rear door opening and internal fuel tank makes this an ideal 'operator' delivery system. Typically you will see four to six 'operators' sitting on the side plank seats with fast rope supports to rappel. This is the fastest way to get them to precise location on the target.
Until now we couldn't do this helicopter without considerable scratchbuilding. Thank God for Black Ops Models. They have come to the rescue and boy, have they ever. Based on the Dragon AH-6J kit, this conversion comes packaged in a sturdy cardboard flip top opening lock box my MH-6M arrived perfectly packed with foam peanuts to protect the contents. Upon opening the box you are treated to EIGHT separate small zip lock bags. This will help them when it comes time to do the AH-6M. Each bag is labeled.
Bag A- Interior Details
Bag B-Instrument Console
Bag C- Rear Bulkhead
Bag D- Operator Bench Seats
Bag E- 4 Bladed Tail Rotor and Wide chord Tail
Bag F- Fast Rope Brackets
Bag G- Aerials
Bag H-6 Blade Rotor Hub
The resin is perfectly casted in light grey resin. The separate bagging safeguards the parts and none of my parts were damaged. There were no bubbles or blemishes anywhere. The pour stubs were very small and will prove easy to clean up.
The instructions are on ten 8.5 x 11" pages with large photos and descriptions. There is an inventory list that shows 52 parts. There are 69 parts in all that need to be applied to the conversion. There are some spares as well just in case the carpet monster strikes. The H-6 series is not that big of an aircraft. What an amazing level of detail. The instructions are some of the best I've ever seen. They offer parts breakdowns, tips, and measurements for each step. The instructions incorporate the Dragon drawing instructions with their parts. Very nice and easy enough to understand.
The opening of the rear door area could be daunting if it weren't for the accurate measurements that Black Ops provides. This will alter the look even more than the six bladed main rotor. A nice touch is the inclusion of the M4 rifles on the inside of the front doors.
This is an all encompassing conversion for the latest transport version of the Little Bird. The level of detail and professionalism is evident in all aspects of this conversion. Everything about this conversion screams quality. I can't wait to start my conversion. I also can't wait to get the AH-6M conversion that Black Ops has announced. This is an excellent product of a SpecOps helicopter we are not likely to see any other way. It is not for the beginner but an experienced modeler can make this into a jewel of a model.
---
Highly recommended.
Thanks to Black Ops Models for the review copy. You can only obtain yours by contact them at www.blackopsmodels.com. Let them know you heard about it here.
© Floyd S. Werner, Jr. 2014
This review was published on Monday, January 20 2014; Last modified on Monday, January 20 2014