Special Hobby | 1/32 Fiat G.50-II Freccia "Finnish Aces"
Reviewed by Kevin Futter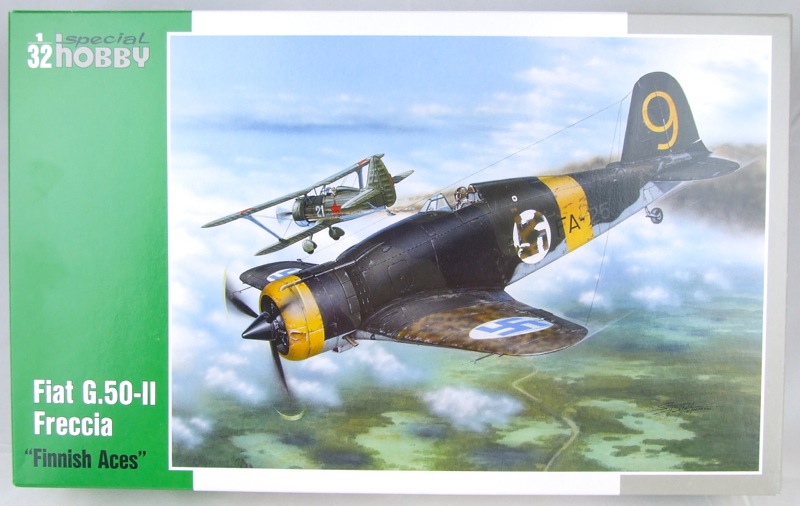 Late in 2013 Special Hobby released a new version of its 1/32 Fiat G.50 kit, SH32044 Fiat G.50-II Freccia "Finnish Aces". Not being familiar with earlier versions of the kit, I don't know to what extent this release differs from its predecessors, other than that all markings options feature Finnish aircraft. With that said, let's take a look at what you get in the box:
4 sprues in grey plastic
1 sprue in clear plastic
1 resealable bag of resin detail parts
1 photo-etched fret
1 decal sheet
1 instruction booklet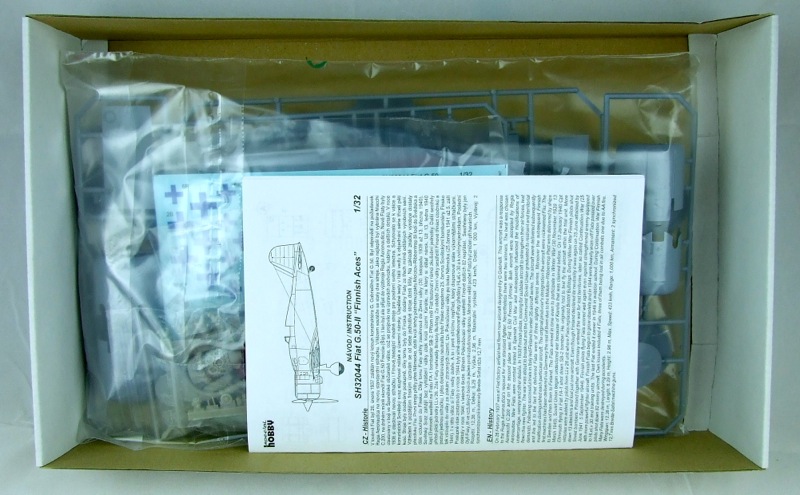 Unfortunately all of the kit's constituent elements, apart from the instruction booklet, are bagged together in a single plastic bag, so the potential for damage to some parts is higher than if they were individually bagged and protected: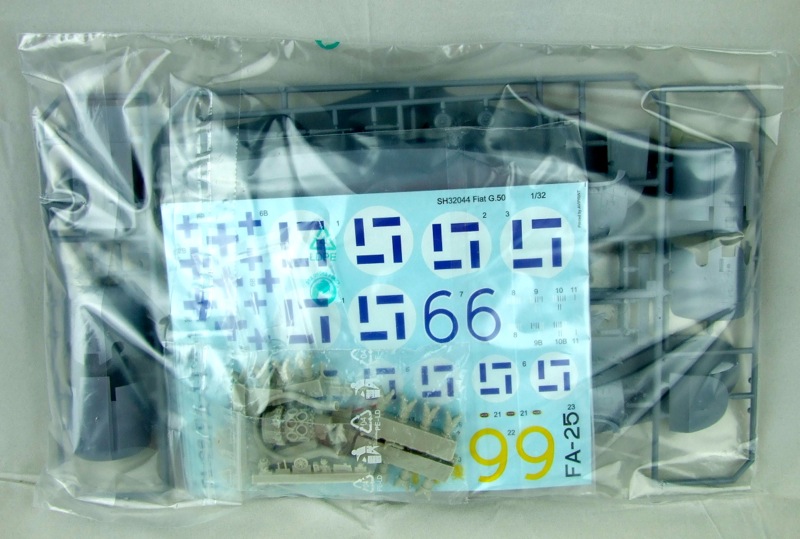 This is a 'limited run' injection-moulded kit, which means that there are no locating pins on the main airframe parts to assist with assembly, so care will need to be taken in this regard.
Plastic Sprues
The 4 sprues of grey plastic are very nicely moulded, with fine, crisp surface detail and no noticeable moulding flaws.
---
Being a product of limited-run moulding technologies, the surface finish of the major parts features a subtle but noticeable texture. While this is in contrast to the more usual highly-polished surface finish of modern injection-moulded parts, it should present no issues during either the assembly or painting stages of completing the model. I've attempted to capture the effect in the photo below: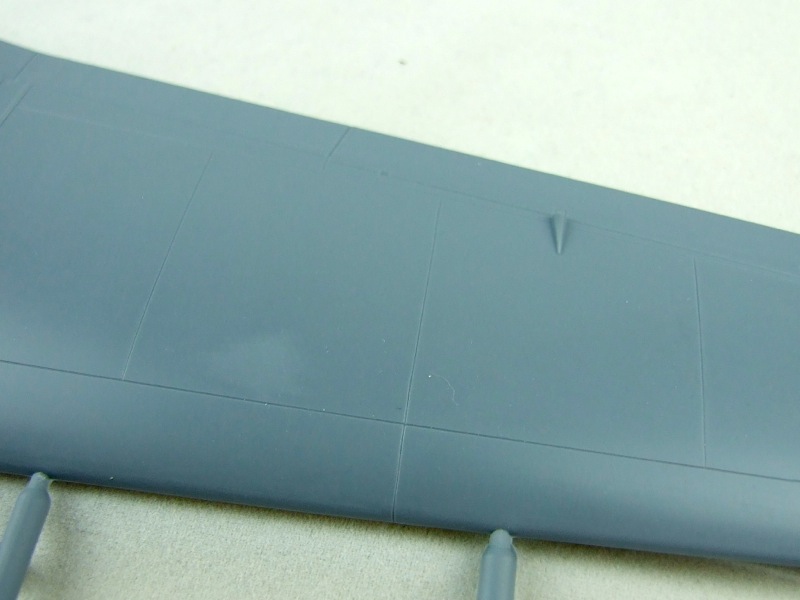 A light polish with a polishing stick or your preferred polishing medium should be all that's required to tame it.
The clear parts consist of a single canopy piece that features a windscreen with integrated side panels, as well as 3 small pieces for landing lights. Only 2 of these appear to be mentioned in the instructions however. The canopy itself is a little thick, but admirably clear and free of distortion: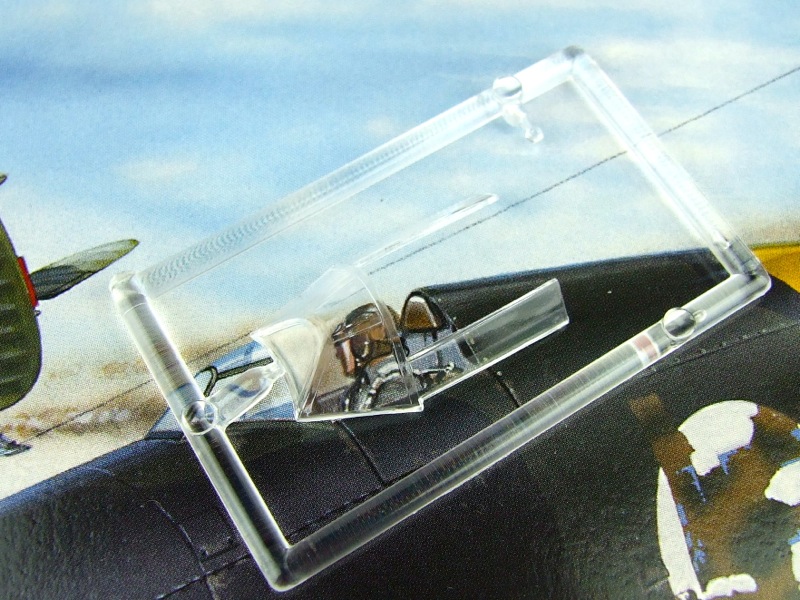 Resin Parts
The detail parts for the cockpit and especially the engine are supplied in resin (marked as "PUR" - for polyurethane resin - in the instructions). These are contained in a single resealable clear plastic bag: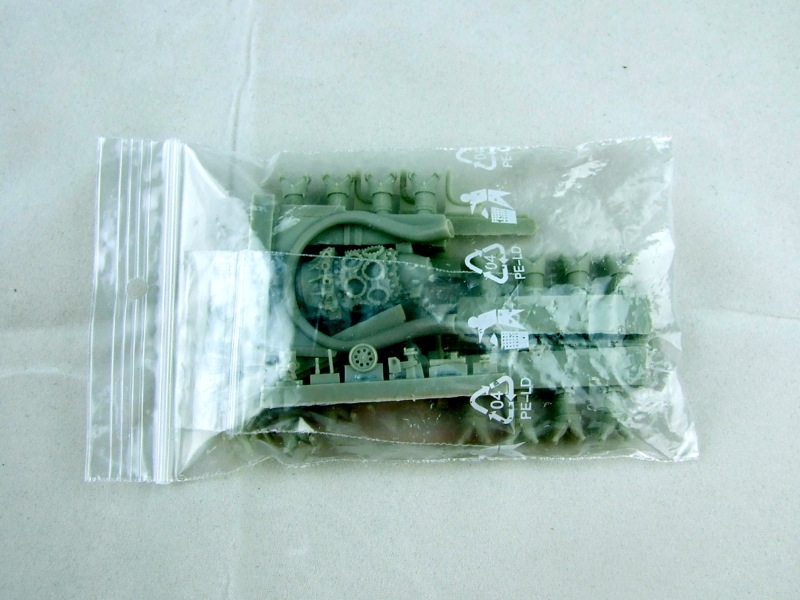 The resin parts are highly detailed and very nicely cast:
---
Photo-etched Fret
The kit supplies a single, small photo-etched fret of detail parts, mostly for the cockpit.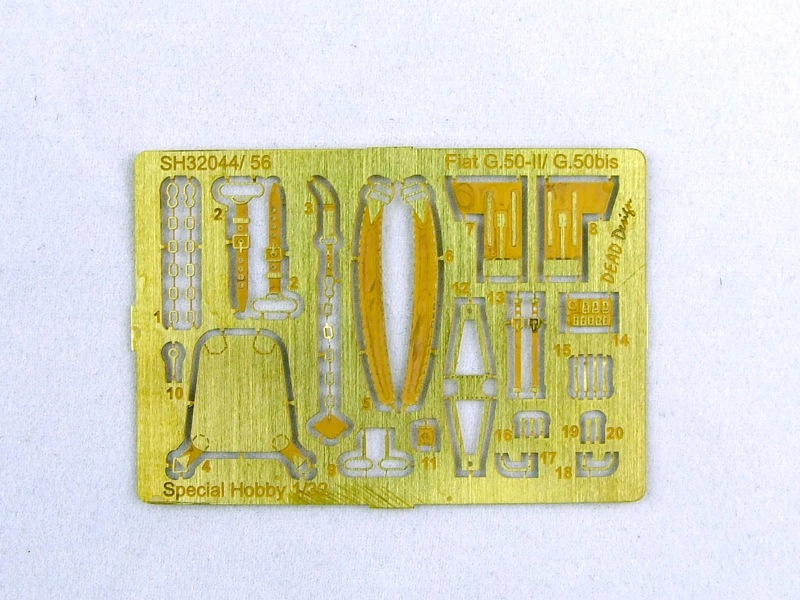 Acetate Sheet
Lurking innocuously inside the bag with the decals is a tiny acetate sheet with a couple of identical printed shapes ont it: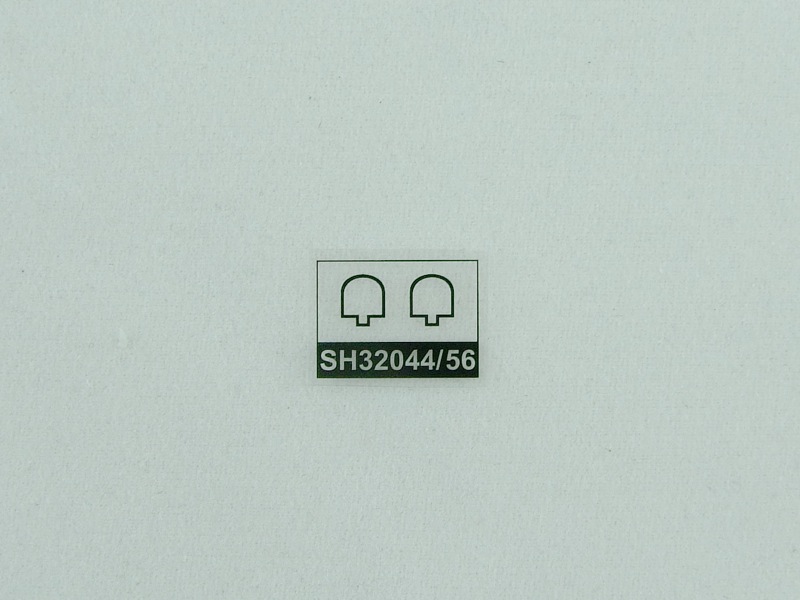 These are actually the 'glass' parts for the gun sight - one plus a spare. Great for scale fidelity, but possibly a little fiddly to cut out. It's not clear from the instructions whether the black outline is meant to be kept or discarded.
Decals
As mentioned at the top, all 5 of the supplied markings are for aircraft flown by Finnish aces.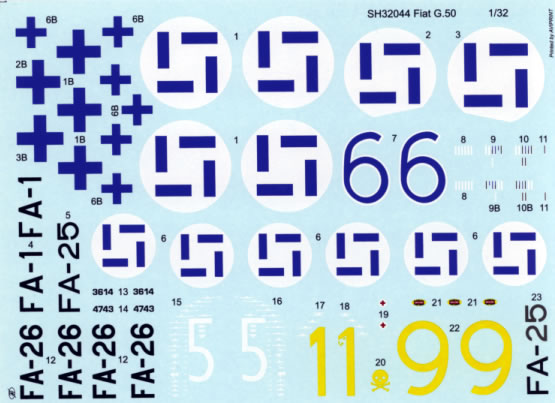 They are listed in the painting guide as follows:
Fiat G.50-II, FA-25, M.M. 3614, Yellow "9", LLv 26, Malmi airbase
Fiat G.50-II, FA-25, M.M. 3614, Yellow "1"
Fiat G.50-II, FA-26, M.M. 4743, Blue "6", 1/LLv 26
Fiat G.50-II, FA-26, M.M. 4743, White "5", 1/LLv 26
Fiat G.50-II, FA-26, M.M. 4738, 3/LeLv 26, Immola airbase
The drawings in the painting guide are in greyscale, but a very small note on the last page directs you to the CMK website, where you can download the painting guide and instructions in full colour (link). A welcome touch.
Instructions
The instruction booklet is a traditional, slightly old-fashioned black-and-white affair, with exploded assembly drawings in a numbered sequence. The layout is quite busy, so some careful study of the instructions prior to starting the build will pay dividends, as all the lines darting here and there can be confusing at first glance.
---
Conclusion
The real test of any limited-run kit is in the building, but from what I've seen in the box this kit gives you every opportunity to build an outstanding model. I wouldn't recommend this kit to beginning modellers, but those with a modicum of kit building experience should have no problems with it.
Review sample courtesy of MPM Productions.
© Kevin Futter 2014
This review was published on Saturday, January 25 2014; Last modified on Sunday, January 26 2014