Kitty Hawk Model | KH32001: North American T-6G Texan
Reviewed by Kevin Futter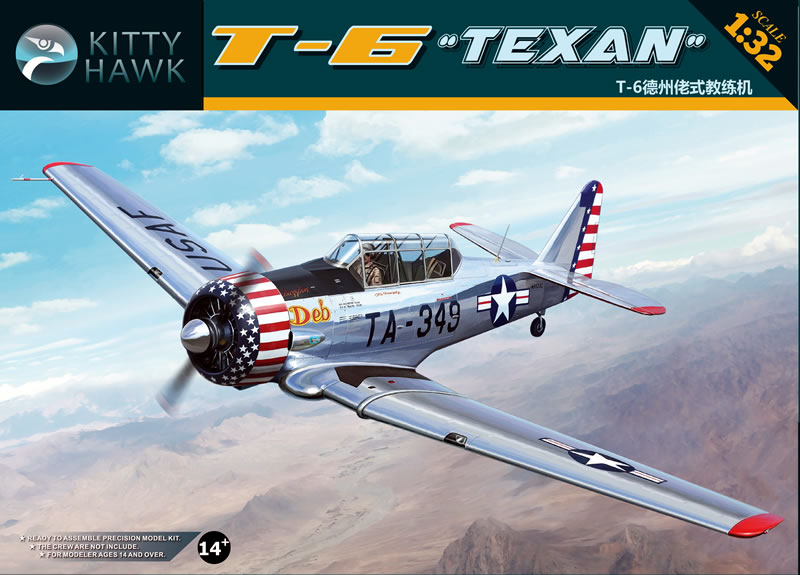 Kitty Hawk Model is a relative newcomer to the model manufacturing scene, having launched in 2009 alongside its sister company, Panda Hobby. While the latter company specialises in armour models, Kitty Hawk's focus is on aircraft, and after a string of increasingly well-received 1/48 kits, it has finally released its first effort in 1/32 scale. This, of course, is the North American T-6G Texan.
The kit comes in a sturdy box of the traditional 'shoe box' design, adorned with terrific box art and stuffed full of sprues and parts: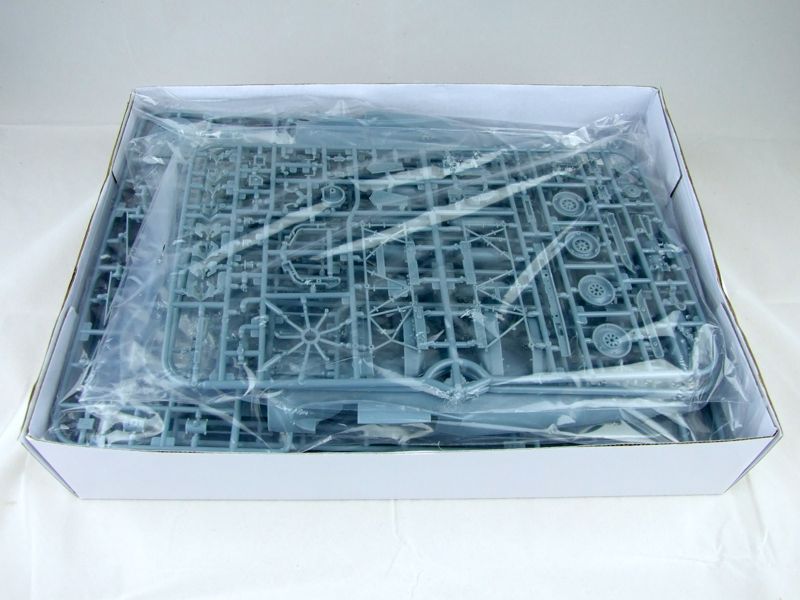 So, what do you get in the box?
6 sprues in grey plastic
1 sprue in clear plastic
2 (identical) photo-etched frets
3 decal sheets
1 instruction booklet
Plastic Sprues
---
The plastic parts in this kit are emblematic of the kit as a whole, in that they feature some really positive elements alongside some oddly problematic ones. For example, the moulding is crisp and detailed, and the surface detail is subtle and petite, as befits a 21st century tooling: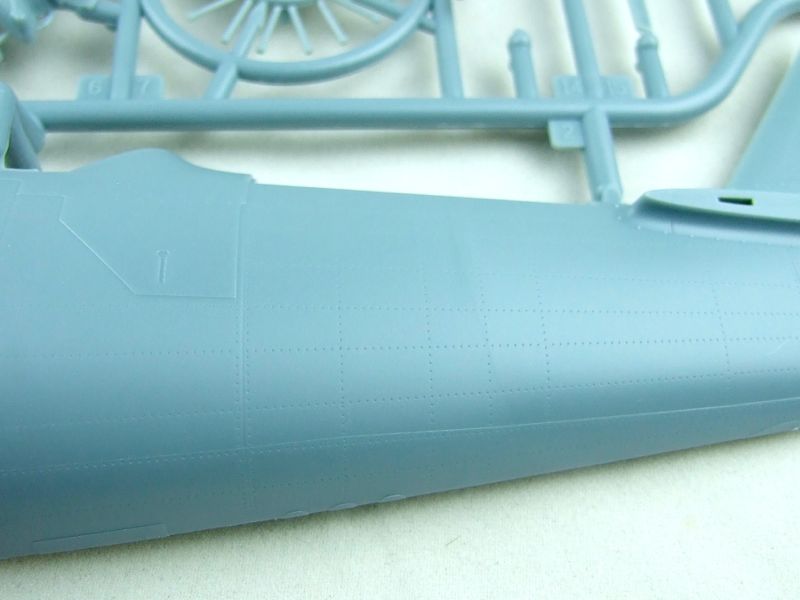 On the other hand, there is a surprising amount of flash in some areas, particularly the sprue containing the engine parts: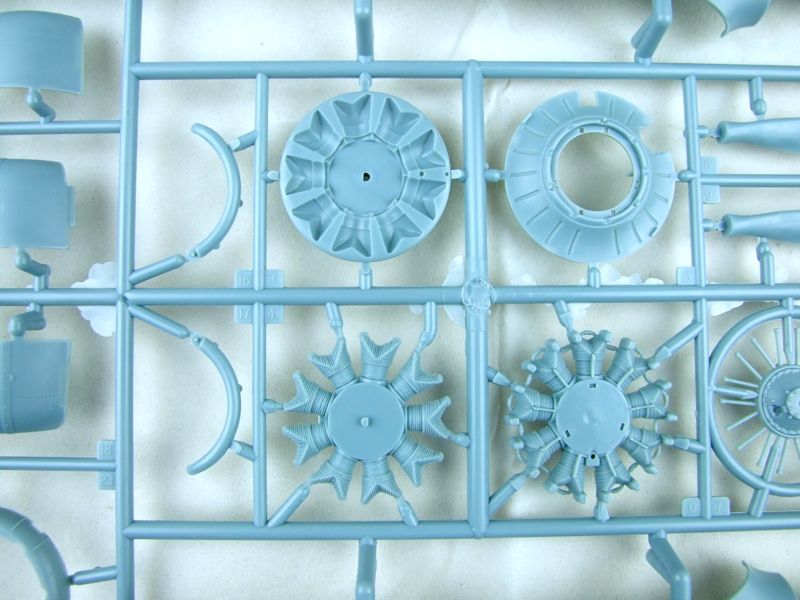 Speaking of the engine parts, note how they exhibit the crisp and detailed moulding mentioned earlier.
Another interesting aspect of the sprues in this kit is that some of them are actually joined together in 'Siamese twins' fashion. For example, sprues E and F, as well as the two sprues collectively labelled C (containing the wing parts), are joined in the following fashion:
While this of course has no bearing on the quality of the parts or buildability of the kit, it's a curious approach that I don't recall ever seeing in a kit before.
The wing parts themselves feature several prominent stress marks on the outer surface of the parts, created by some seemingly overly-aggressive ejector pins: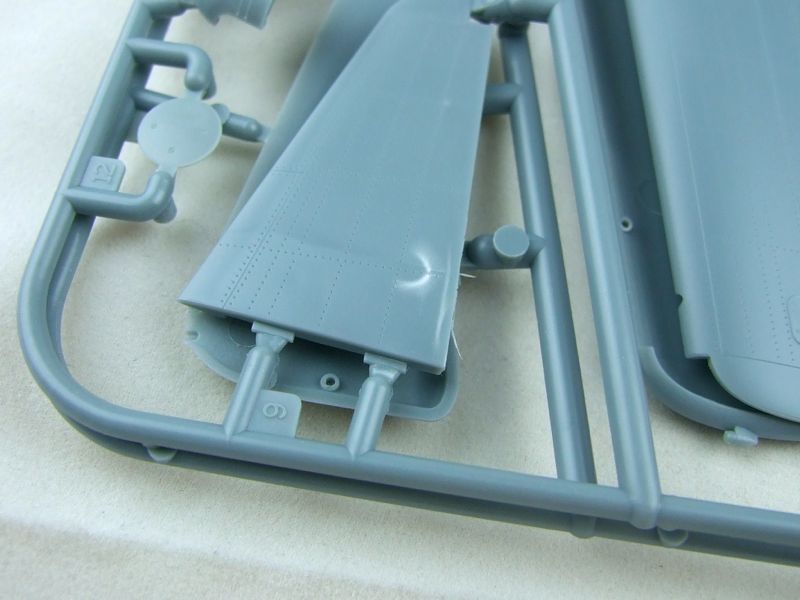 Again, these shouldn't pose a problem to the overall finish, but I'd recommend verifying that with a coat of primer first.
Some More Detail Photos from Saúl García
Thanks to LSP member Saúl García for permission to use his extensive set of close-up photos of the kit. They can also be found in Saúl's discussion thread on the LSP forums.
---
Clear Parts
In another innovative move that I don't recall seeing in another kit before, the clear parts sprue is packaged in its own separate cardboard box: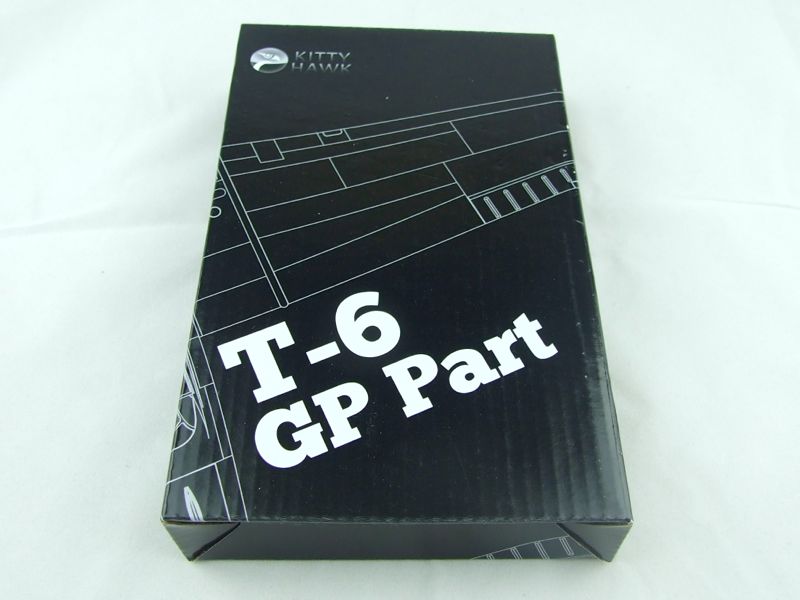 This is both thoughtful and brilliant in my opinion, especially since the large, expansive, multi-part canopy is a central feature of the T-6 series and its derivatives. Providing this level of protection for these important parts really speaks to Kitty Hawk's considered approach here.
Once removed from its box, we find that the clear parts sprue has additional protection in the form of its own plastic bag. This makes eminent sense, as the last thing you want after protecting the clear parts with their own box, is for them to be scuffed by the insides of the same box. The clear plastic bag should prevent that nicely.
The clear sprue itself is very nicely moulded, with no visible flaws, flash or distortions: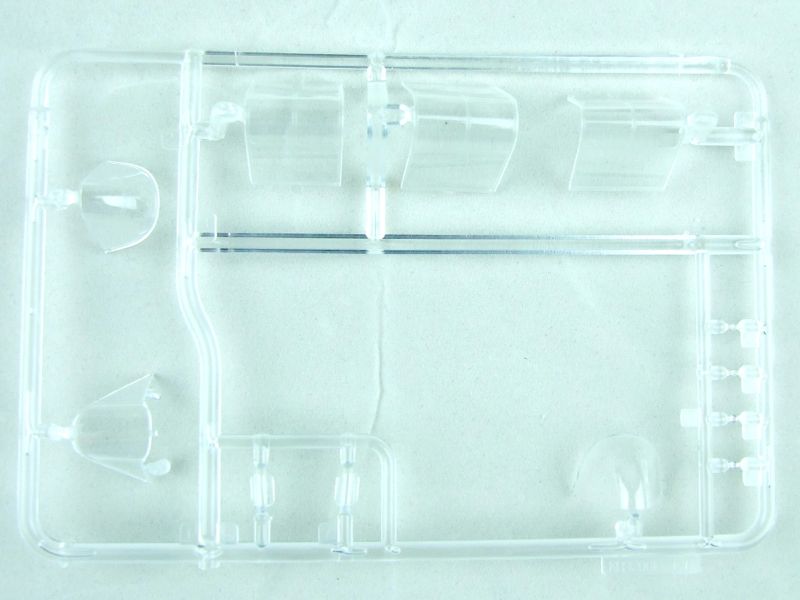 The plastic is impressively thin, clear and distortion-free: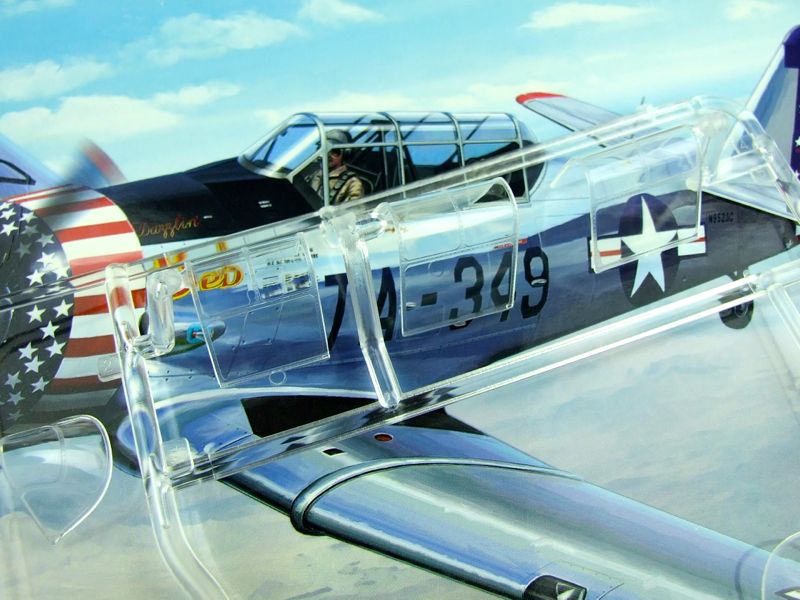 Photo-etched Parts
The kit supplies two identical photo-etched frets containing seat belt parts. They are duplicated to cater for the front and rear occupant positions.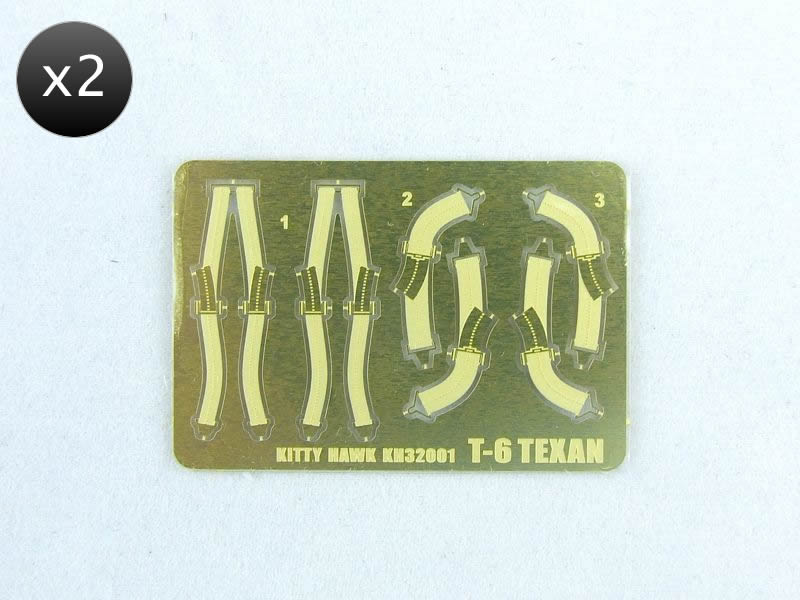 Some variation between the two would have been a nice touch, but many folks will opt for aftermarket seat belts where available anyway.
Decals
The kit decals provide markings for no less than eight aircraft on two main sheets, covering service use by the US, Germany, Canada, South Africa and Italy. A small third sheet contains some stencilling and decals for the instrument panels.
---
No printer's name is given, so the projected performance of the decals is unknown. In any case, this subject is likely to attract about as much attention from aftermarket decal producers as any non-Luftwaffe subject can, so if you're wary of the kit decals, or don't like any of the provided options, there should be a plethora of alternative choices before long.
The decals feature yet another aspect of this kit that I haven't seen elsewhere. The main markings sheet (containing the national markings) and the small sheet of stencils are both protected by a thin plastic film: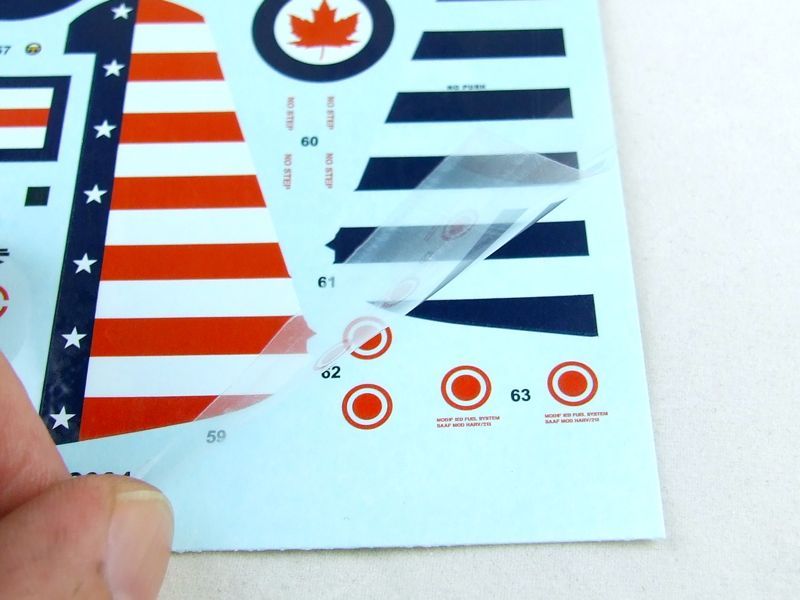 This film is all but invisible, and I didn't even notice it at first. Curiously, the large sheet containing the codes and serial numbers lacks this protective film, and it was only the different in reflectivity between the two that alerted me to the film's presence. I think this is an excellent idea, and would have liked to see it used on all the sheets.
Instructions
The instruction booklet supplied with the kit is a robust, saddle-stitched affair covering 24 pages.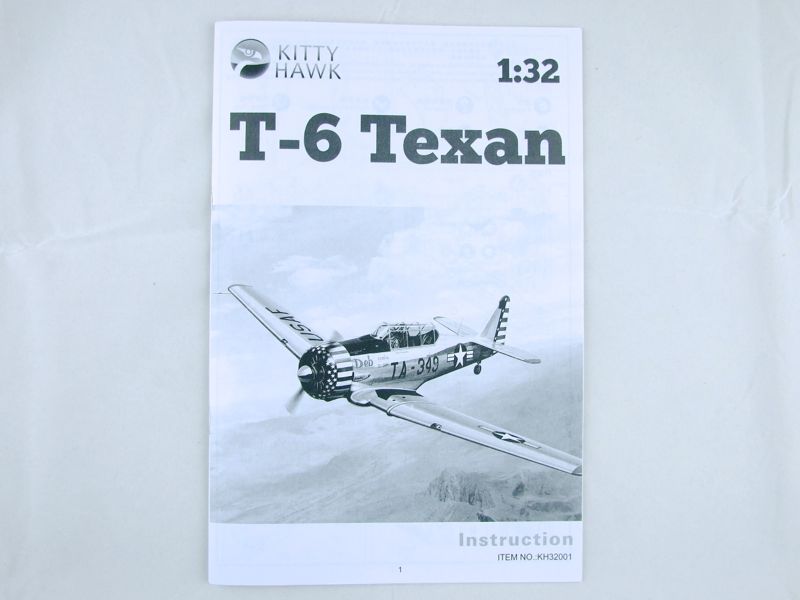 The bulk of its contents comprise standard exploded-view drawings, with inline paint call-outs and optional assemblies marked where applicable: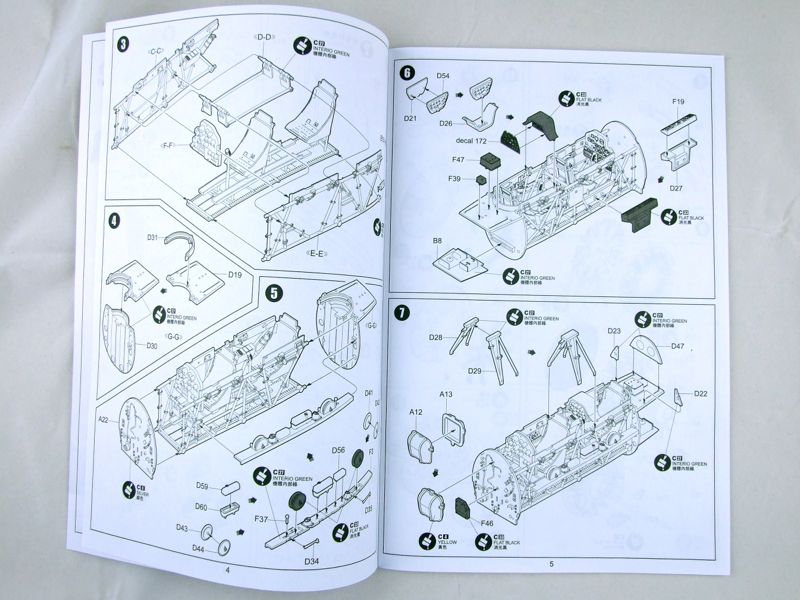 Once again we see a feature that I don't recall seeing in other kits, in that there is an almost old-fashioned 'colour plate' section in the middle of the booklet, which features full-colour painting and markings guides for all the included options, printed on glossy paper (see the example scans above):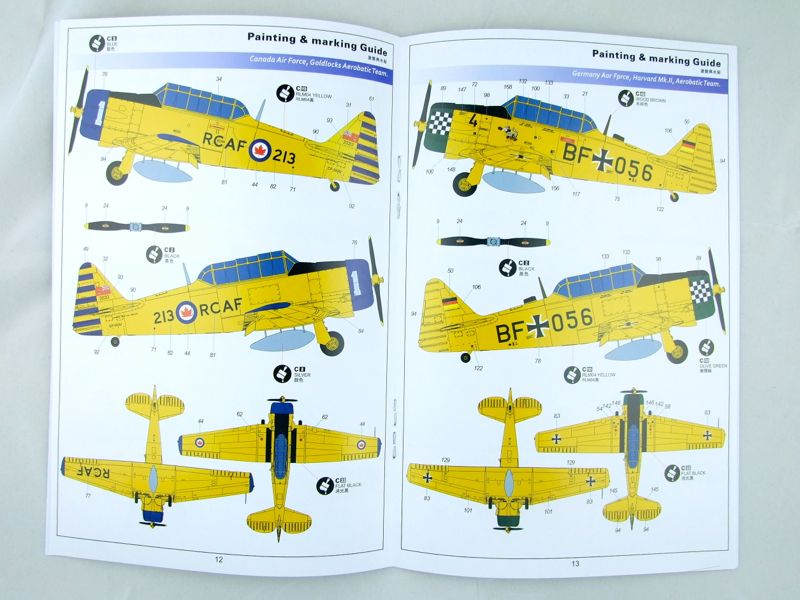 It's certainly nice to see the painting guide in full glossy colour, but its placement does break the flow of the instructions somewhat. Something Kitty Hawk might consider is including it as a separate booklet.
My only complaint about the instructions is the presence of several spelling and typographical errors. The colour call-out for interior green is consistently rendered as "INTERIO GREEN", while several of the colour profiles are poorly labelled (for example, "Germany Aor Fprce, Harvard Mk.II, Aerobatic Team" [sic]). This of course is a superficial concern that in no way affects how the model will turn out, but it's definitely something that can be improved upon.
Some Comments from Hubert Boillot
LSP member Hubert Boillot was in the process of developing his own 1/32 resin kit of the Texan when news of the KittyHawk kit surfaced. Sensibly conceding his project to the impending injection-moulded kit, Hubert nevertheless gained enormous knowledge of the subject through his research efforts. Here he generously shares his insights regarding the new Kitty Hawk Texan.
Hubert's comments can also be found on the forums as part of Saúl's discussion thread mentioned above.
Regarding the perceived 'fatness' of the propellor, Harold Offield of AMS Resin is currently developing a replacement set of corrected resin blades for this kit.
Conclusion
Despite a few superficial niggles, this is an impressive large-scale debut from Kitty Hawk. With plenty of well-moulded detail and numerous markings options, this kit should result in a very nice finished model. I intend to commence my out-of-box review build shortly, so we shall see how well everything goes together, and how well the decals perform. Highly recommended!
Thanks to Saúl García and Hubert Boillot for their contributions, and to Kitty Hawk Model for the review sample.
© Kevin Futter 2014
This review was published on Sunday, January 26 2014; Last modified on Saturday, February 27 2016