Valiant Wings Publishing | Airframe Constructor No. 2: Building the Heinkel He 219 'Uhu'
Reviewed by Kevin Futter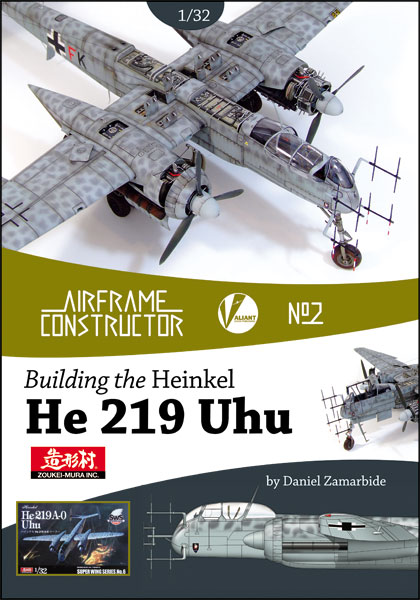 The latest title from Valiant Wings Publishing is number 2 in the Airframe Constructor series, Building the Heinkel He 219 'Uhu'. As with number 1, it's authored by expert modeller Daniel Zamarbide.
The approach taken with this second volume is somewhat less expansive than the first, eschewing much of the non-modelling content and focussing heavily on building the stunning Zoukei-Mura He 219 kit. Given that this title is 32 pages longer than its predecessor, this is a lot of modelling content indeed!
Build Narrative
After a single-page introduction, the book immediately launches into the main event: an 83-page build narrative. This is broken down into logical sequences in much the same way as kit instructions, but the similarities end there. The focus is very much on painting and weathering, rather than construction, but there are still some useful tips to be gleaned regarding this kit's assembly.
In many ways, this book is more about learning Zamarbide's finishing style than it is about building the Zoukei-Mura He 219, and I think this is to its advantage. Zamarbide's painting and weathering techniques produce some stunning results, and can be applied to any model, not just the kit in question. And thankfully he provides great insight into his approach, with high-quality photographs supported by succinct annotations and explanatory text.
---
The build narrative concludes with a 4-page gallery of the finished model, which is simply amazing.
Appendix 1: Accessories & Decals
This section comprises a single page featuring the aftermarket decals and accessories known to exist at the time of publication, with items listed from AIMS, Profimodeller and Owl Decals. Handy even if you're building the Revell kit rather than the Zoukei-Mura one.
Appendix 2: He 219 Books
This section is once again a single page, with an extensive list of extant reference titles covering the He 219, including a listing of official documents. This information is obviously useful whatever kit of the 'Uhu' you find yourself building.
Appendix 3: Upgrade Parts
The very last page of the book contains a compendium of upgrade parts available from Zoukei-Mura for its own kit. These include figure sets, photo-etched detail sets and landing gear parts, as well as a selection of turned brass gun barrels and radar antennas.
Conclusion
This is one of the more inspirational modelling books I've read, and also one of the most instructive. I'm personally excited to try some of Zamarbide's finishing techniques on my own models. The detailed step-by-step tutorial content is clear and well-sequenced, and doesn't leave you feeling like you've only been told half the story. My only complaint is that the book does exhibit the odd typo, and while disappointing, it has little impact in a title such as this where the pictures tell most of the story.
I highly recommend this book to anyone wishing to learn new techniques, improve their modelling skills or simply become inspired to build better models.
Thanks to Valiant Wings Publishing for the view sample.
© Kevin Futter 2013
This review was published on Tuesday, March 11 2014; Last modified on Friday, August 11 2017