Xtradecal | Gloster Meteor F. Mk 4 Pt.1 - RAF Service
Reviewed by Iain Ogilvie
Gloster Meteor F. Mk 4 Pt.1 - RAF Service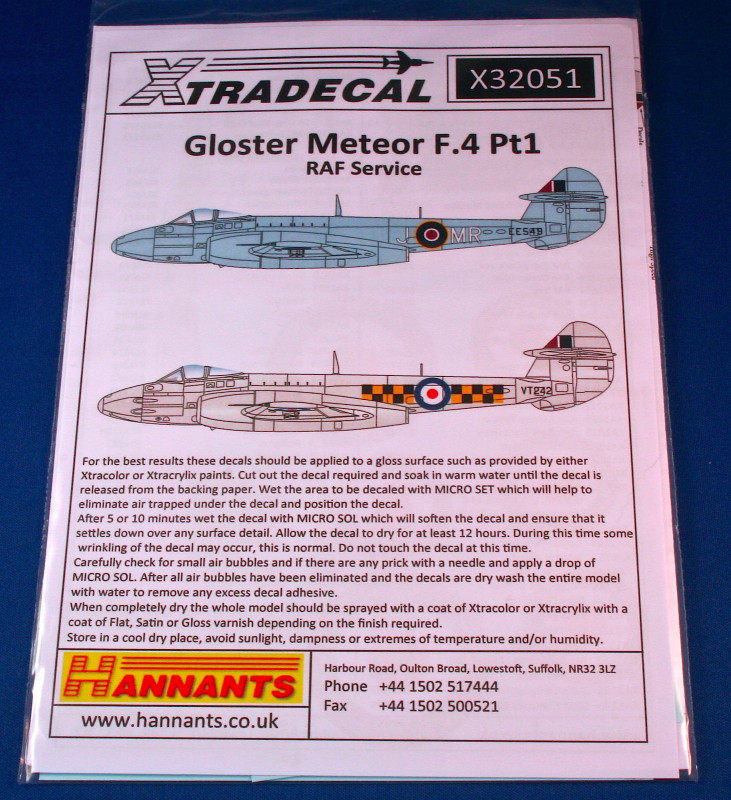 ---
Whilst the release of a 1:32 Meteor kit may have been a surprise to many - it's an incredibly significant aeroplane in terms of aviation development and will, no doubt, prove very popular - certainly here in the UK!
The aftermarket world has been busy already - with Fisher producing their excellent intake sets and other detail sets on the way.
One of the first decal sets to be released is this sheet from Hannants - in their well known Xtradecals range.
Sheet X32051 covers the Gloster Meteor F Mk 4 in RAF service (there is a separate sheet covering export schemes) and features 5 aircraft - 4 in high speed silver - and one in a special pale blue scheme as flown by Air Chief Marshal Sir James Milne Robb from RAF Horsham St Faith in the late '40s (serial EE549).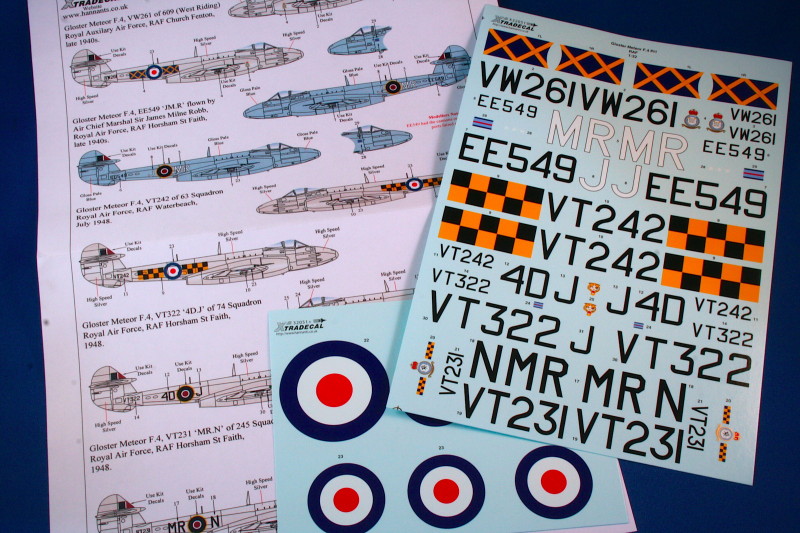 The other four airframes are:
VW261 609 Sqn Royal Auxiliary Air Force, RAF Church Fenton, late '40s (with squadron markings consisting of yellow crosses on blue ground).
VT242 of 63 Sqn, RAF Waterbeach, July 1948 (with black and yellow squadron checks).
VT232 4D-J of 74 Sqn, RAF Horsham St Faith 1948.
VT231 MR-N of 245 Sqn, also at RAF Horsham St Faith 1948.
As well as providing the individual markings for the above aircraft the set provides a second sheet of Type 'D' roundels - I'm not wholly convinced by the proportions of the rings though - the outer blue section looking a little thin compared to the white?
For three of the options the instructions suggest using the kit supplied roundels - all very good for the Type 'C' roundels on the wings - but you'll be left to your own devices when it comes to the fuselage Type 'C.1' roundels with their yellow ring outlines. Fin flashes from the kit are to be used. No stencils are provided - I'm hoping Xtradecal, or other manufacturer, addresses this soon - although I am aware they are provided on one of the Dutch sheets.
Generally quality is excellent print-wise with good register (just a little trim required in places), excellent colour and nice thin carrier film. Noticeably the squadron crests are correctly printed with the correct gold, rather than the often used yellow. It looks like the designer has done their homework too - with differing styles of letters/numbers as appropriate to each scheme.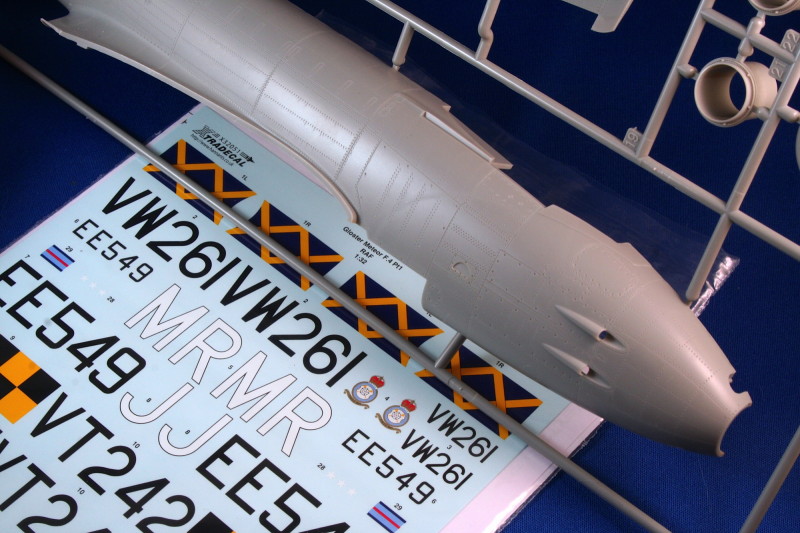 Overall - recommended as a nice set of alternatives to the kit decals and I can't wait to get them on my current build - the 609 Sqn airframe as I'm a sucker for squadron bands - and Royal Auxiliary Air Force squadrons.
The sheet is available direct from Hannants and Xtradecal stockists - price £8.99.
Set proved courtesy of my wallet.
Iain
© Iain Ogilvie 2014
This review was published on Saturday, April 05 2014; Last modified on Thursday, April 10 2014