Eagle Editions | EP#41-32 Focke-Wulf 190D-9
Reviewed by Mark Proulx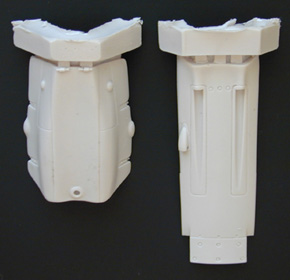 Eagle Editions has released two new corrected gun cowlings for the latest Hasegawa Dora in 1/32nd scale. In this review, we will have a look at the earlier five piece gun cowling.
The new tool Hasegawa 1/32nd scale Dora is a very good model out of the box. However, one problem area is the shape of the gun cowling. This is a feature that plagues many other Dora kits as well. The kit supplied parts have the gun bulges as too "bulbous" and close together. Using original parts as reference, Eagle Editions has corrected this oversight.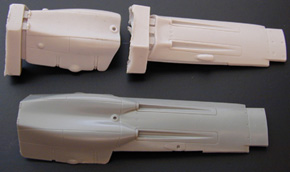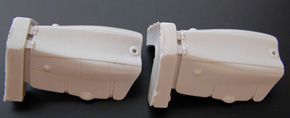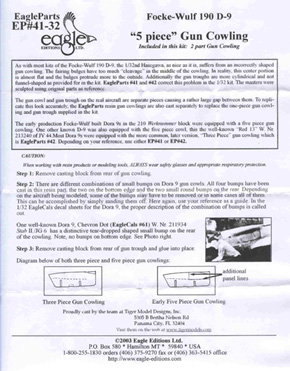 The Dora used two different styles of cowlings. The five piece gun cowling was the first available style and this is what is included with the kit. The later, or three piece cowling, is reviewed here. Examples of this cowling can be seen on early production Doras. This would be aircraft in the 210 Werknummer block, such as "Red 13" of JV-44, available with EagleCals EC#23-32.
The new resin parts are cast by Tiger Model Designs. The parts are flawless and designed to be direct replacements for the kit parts. The gun cowling is cast as two separate items. This enables the modeler to accurately capture the large gap between the forward and aft sections. This was prevalent on the real aircraft. A single large casting block needs to be removed from each part. This should be easy to do with a razor saw and sand paper.
Instructions are included which detail the differences between the cowlings. A single photo, though of poor quality, details some further modifications found on the Dora gun cowl. The different combinations of bumps are also discussed. Modelers should note that EagleCals instructions identify the proper combination. As always, additional references for the specific type should be consulted.
I believe this inexpensive modification will dramatically change the look of the finished model. As the photos show, there are substantial changes to the profile. I recommend this resin set, and others from Eagle Editions to any modeler wishing to build an accurate Dora.
Review sample compliments of Eagle Editions.
© Mark Proulx 2004
This product is available from the following LSP sponsors

This review was published on Saturday, July 02 2011; Last modified on Friday, June 02 2017