Alley Cat | Meteor U. Mk 15
Reviewed by Iain Ogilvie
Alley Cat Meteor U. Mk 15 conversion
Who says Christmas comes just once a year eh?
So far this year not only has one of my favourite aeroplanes been released with the arrival of HK Models Meteor F. Mk 4, but now one of my favourite Meteor schemes too!
It was a rather amazing co-incidence then that, only a day after researching what changes I'd need to make to the HK Models kit to model a drone, along comes A2Zee with an announcement that they were to release a resin conversion and decals. To say I was keen to get hold of one would be a slight understatement!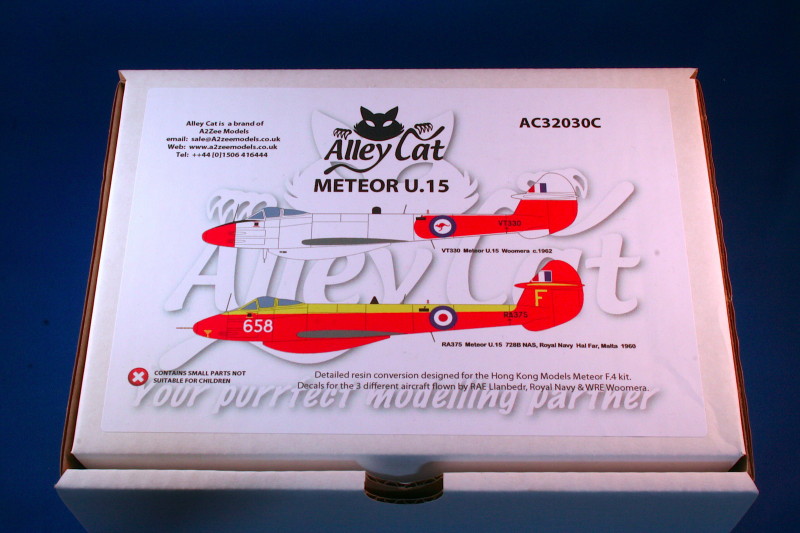 The conversion comes superbly packaged in a sturdy corrugated cardboard box that should stand up to the post nicely. Content is typically Alley Cat with colour instructions outling the modifications, along with colour schemes, decals and a set of cleanly cast conversion parts.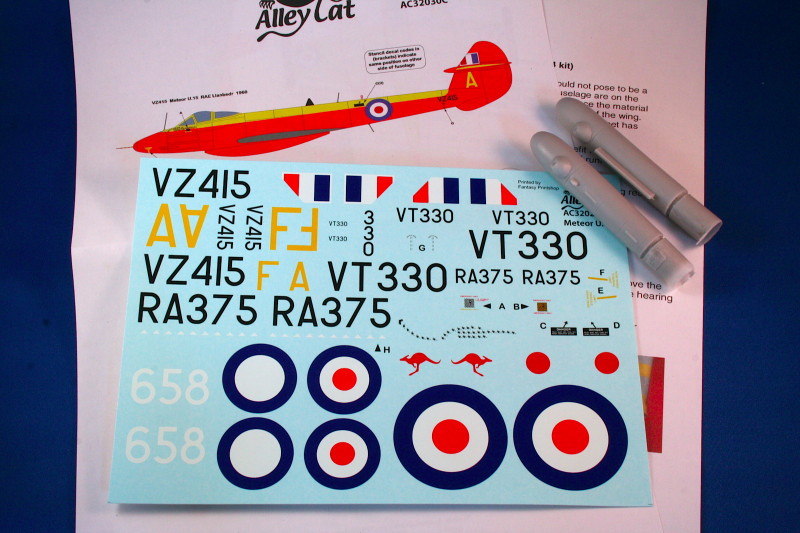 The decal sheet is superb - 3 options, great colour, spot on register and thin carrier film - should be a breeze to use.
The options provided are:
VZ415 Royal Aircraft Establishment (RAE) Llanbedr 1960.
VT330 operated by the Royal Australian Air Force, Woomera 1962.
RA375 728B Naval Air Squadron, Royal Navy, Hal Far, Malta 1960.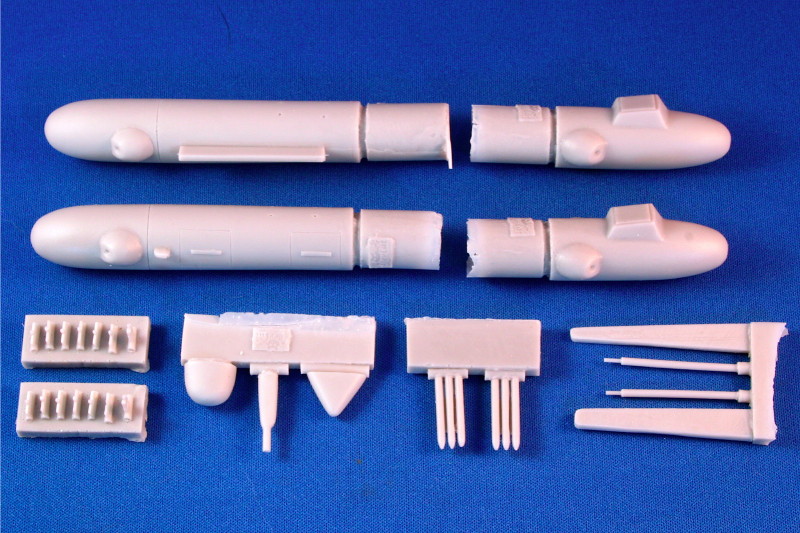 Resin parts are provided for the wingtip pods, associated vortex generators, arials of differing types and flare packs that are positioned near the jet efflux on each side. Cleanly cast in grey resin, the parts are bubble and distortion free and should be a very straightforward fit - watch this space!
For images of Llanbedr Meteors, as well as inspiration by the bucket load, take a look at this superb collection over on Flickr.
This set is available directly fom A2Zee at £19.00 - which, IMHO, represents great value for money - a very different model from the norm at a very reasonable price for the quality. Recommended!
Review copy courtesy of my wallet.
Iain
© Iain Ogilvie 2014
This review was published on Saturday, April 05 2014; Last modified on Saturday, April 05 2014