Eagle Editions | EP#40-32 Dora Series Cockpit Detail Set
Reviewed by Mark Proulx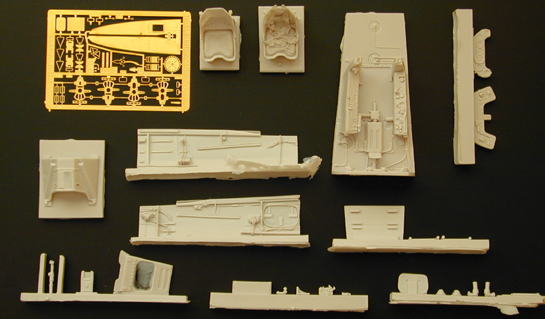 Eagle Editions has released a new 1/32nd scale Dora cockpit for the new Hasegawa Fw 190D-9. In this review, we will examine what is offered.
This cockpit detail set consists of 27 resin pieces, a photo etch fret and instructions. It is shipped in a sturdy plastic container to prevent damage. The resin parts are designed to replace the entire plastic cockpit parts as supplied by Hasegawa. The masters were created for this set using factory manuals and photos of un-restored aircraft. Some modifications and sanding will be required to have the resin parts fall into place. There are a number of optional features included with the set:
Two styles of rudder pedals
Two different boots for installing the control stick in the desired position
Optional chronometer to reflect the fact that this instrument was removed after each flight
Optional seats with or without belts to suit the modeler
Additional bomb control panel for fighter-bomber or JABO roles.
Optional access covers for the MW 50 installation
The instructions are printed over two pages. They make extensive use of text and you would be well advised to study them closely before embarking on the project. Unfortunately, many of the black and white illustrations are small and not of the best quality. The instructions detail the modifications required of the kit. Plenty of sanding and careful use of a motor tool is necessary for proper fit of the new resin cockpit. Painting details are also supplied.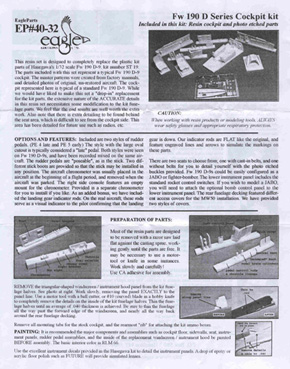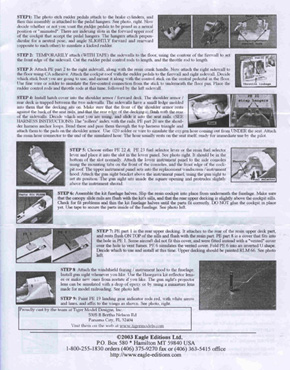 Tiger Model Design performs the resin casting and my example was found to be free of imperfections. Large casting blocks are used to protect some of the more fragile pieces. They appear to work, as I have no damaged parts among some very fragile items. The casting is perfect in every detail. There are minimal amounts of flash and the smallest details are represented.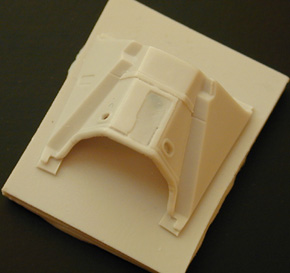 The three piece cockpit tub is a superb example of state of the art resin casting. It is made up of the floor and sidewalls. The majority of details are already cast and require the addition of only a few extra resin pieces. Knobs, wires and even a map mounted in its case are easily identified. Eagle Editions also chose to add extra details aft of the seat. The instructions indicate that future resins sets may be released to detail this area. Some surgery will be required to the fuselage halves, in order to use the new instrument hood panel. Modelers would be well advised to measure twice, cut once! As stated above, you are supplied with a number of optional items to dress up the cockpit to meet any modeler's requirements.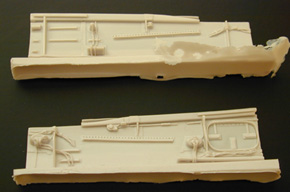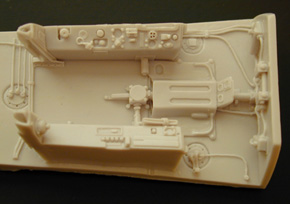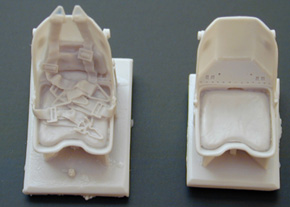 Two types of seats are supplied with this set. Mirroring the quality of the rest of the resin parts, the seats are exquisitely cast. They even install similar to the actual aircraft by sliding down rails. You have the choice of creating your own harness using photo etch parts for one seat. To assist in this task, the instructions lead the modeler to a section called Harness Instructions, which I could not locate. Conversely, the other seat may be used which has the harness already molded on.

The instrument panel is supplied as two pieces with an optional bomb control panel for the fighter-bomber or JABO variant. No instrument decals are provided as they are supplied by Hasegawa. To complete the resin set, a number of smaller cockpit items such as a reflector sight, brake cylinders, canopy crank and fuel selector are included.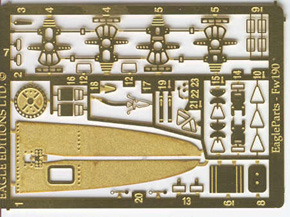 The photo etch parts make up such items as the harness buckles, rear upper deck, optional MW 50 access cover, optional rudder pedals and other fine cockpit details. A piece of .020 solder (not supplied) is required to simulate the oxygen hose.
I wouldn't recommend this resin set to anyone with limited experience, due to the nature of the additional work required. However, for those experienced modelers who are used to dealing with finely cast resin sets, a stunning example of Kurt Tank's fighter should result. Modelers interested in additional Dora details sets and decals can visit the Eagle Editions website here.
Review sample compliments of Eagle Editions.
© Mark Proulx 2004
This product is available from the following LSP sponsors

This review was published on Saturday, July 02 2011; Last modified on Wednesday, May 18 2016