AMS Resin | Mk 82 Snake Eye 500lb Bomb
Reviewed by Paul Woulf
So we as modelers are often only too happy to spend as much if not more then the price of our kits on aftermarket to dress up cockpits, wheel wells, wheels and tires, avionics bays, etc. But what about the green and white lumps that are supposed to represent the bombs and missiles hanging beneath our 1/32 scale works of art? It seems like a lot of posts in the forums have been directed at a certain manufacturers' lack of effort in their kit supplied bombs etc.
Well, now Harold at AMS Resin has come to the rescue with some really outstanding Mk-82 Snake Eye 500lb bombs, as well as "slick" bombs with or without ablative coatings to help us all out!
Here's what you get, The main bomb body, with separate suspension lugs and fuse and an exquisite rear section that shows the "petals" of the snake eye to a level of detail I've never seen before in a resin or injection-molded bomb. Absolutely outstanding work Harold!
---
For comparison's sake, here are 3 different versions of the Snake eye bomb from the rear in 1/32, from left to right Academy, Trumpeter and AMS Resins' new bomb: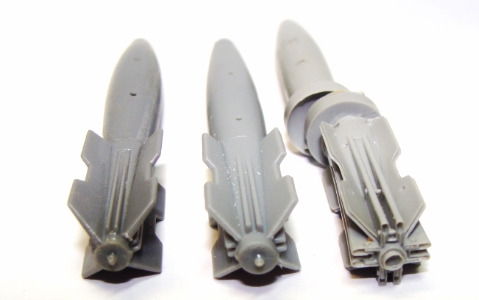 More, the top is Academy, middle is Trumpeter and bottom is AMS: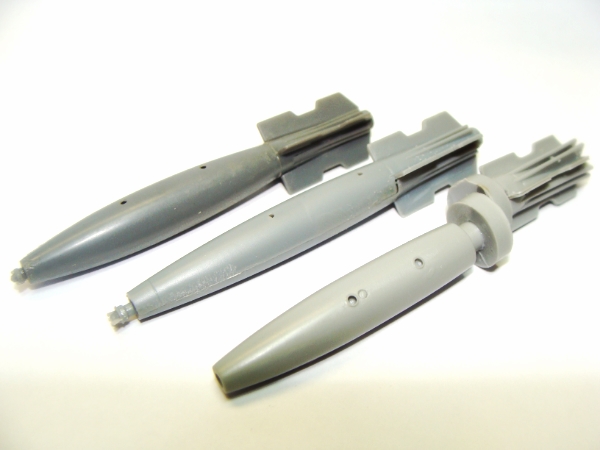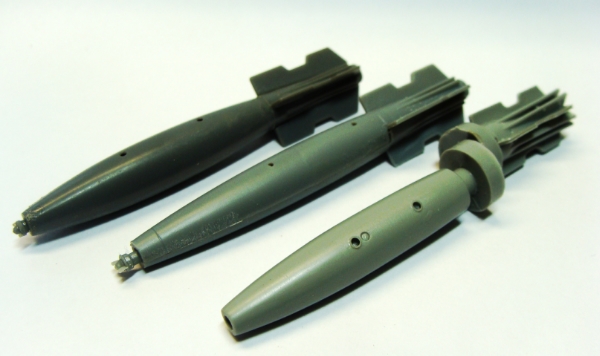 Conclusion
Well, that's it. To me Harold's new Snake eyes are the BOMB!
Thanks to Harold at AMS Resin for the review sample.
© Paul Woulf 2014
This review was published on Friday, May 02 2014; Last modified on Friday, May 02 2014