Wingnut Wings | #32041: 1/32 Roland C.IIa Late
Reviewed by Kevin Futter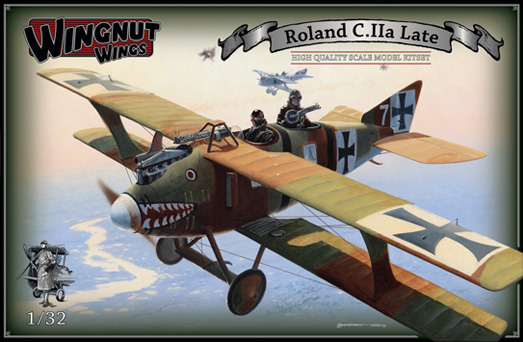 New Zealand company Wingnut Wings continues its prolific release schedule of 1/32 WW1 aircraft kits with a pair of Roland C.II kits. Here we examine kit #32041, the Roland C.IIa Late release. Quoting from the Wingnut Wings website:
Released on 7 April 2014 – High quality Cartograf decal sheet for 5 German aircraft – 330 high quality injection moulded plastic parts – Optional engine cooling louvers, 12.5kg PuW bomb rack, exhausts, gun rings, final production fin, rudder, tailplane struts and diorama accessories – Highly detailed 48 part Daimler-Mercedes D.III engine – 9 photo-etched metal detail parts including lMG 08 Spandau and LMG 14 Parabellum machine gun cooling jackets – Fine in scale rib tape detail – Full rigging diagrams
This is a rather expansive release compared to some of the company's more recent kits, with a much higher parts count. The full contents breakdown is as follows:
9 grey plastic sprues;
2 clear plastic sprues;
1 small photo-etched fret;
1 large decal sheet;
1 instruction booklet.
The Plastic Parts
There are 9 sprues moulded in the familiar mid-grey plastic.
---
The level and crispness of detail is well up to the usual standard from Wingnut Wings, which is among the best in the business. The wings feature subtle fabric effects, with nice stitching detail and an ever-so-slightly textured surface: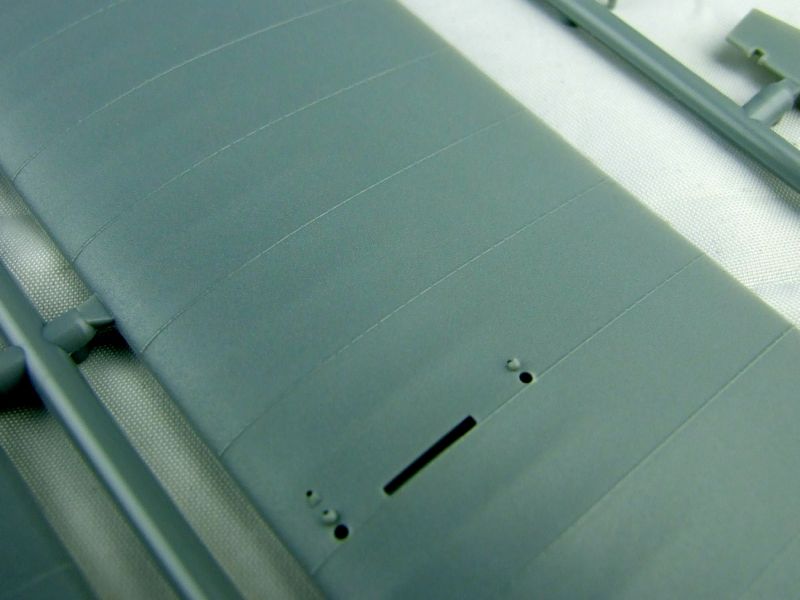 The moulding quality on the guns is impressive, so if you don't feel up to rolling the supplied PE barrel jackets, using the unaltered kit parts will still give you a very decent result: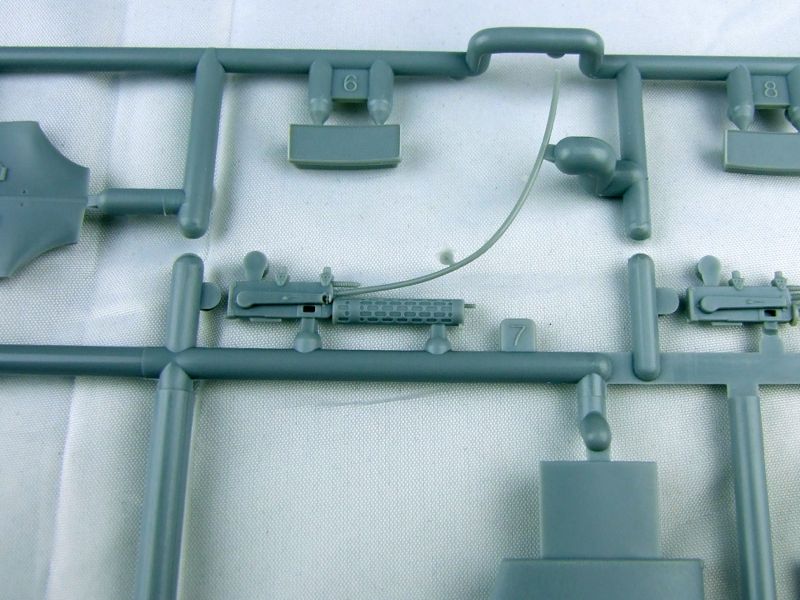 Even more impressive is the compass fairing moulded into the port lower wing: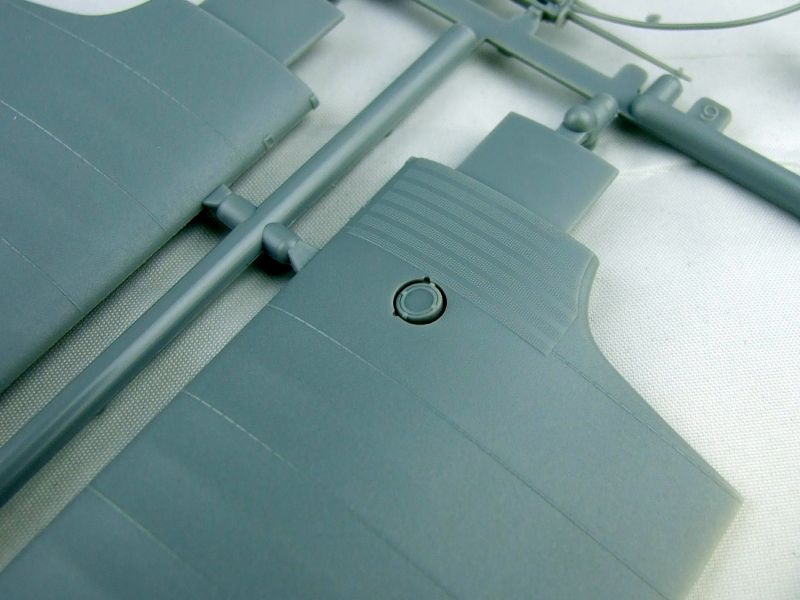 This features a recess with the compass moulded in situ; exactly how this has been done is beyond my knowledge of injection moulding, but it's probably the most impressive example of the art I've yet seen on a plastic kit.
The inside of the fuselage halves feature an odd recessed striation: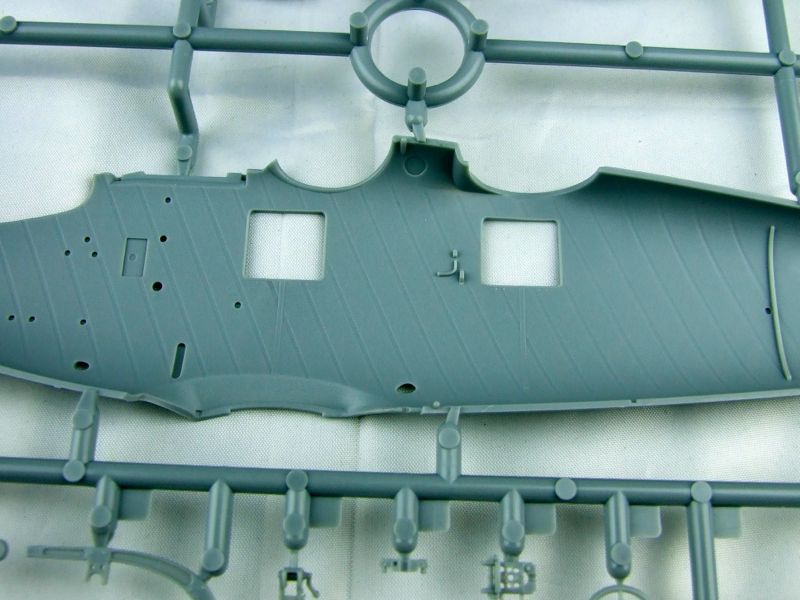 I assume this is a feature of the type. It's very neatly rendered and features the same subtle surface texture as the wings.
The Clear Parts
The clear parts are furnished on two identical sprues: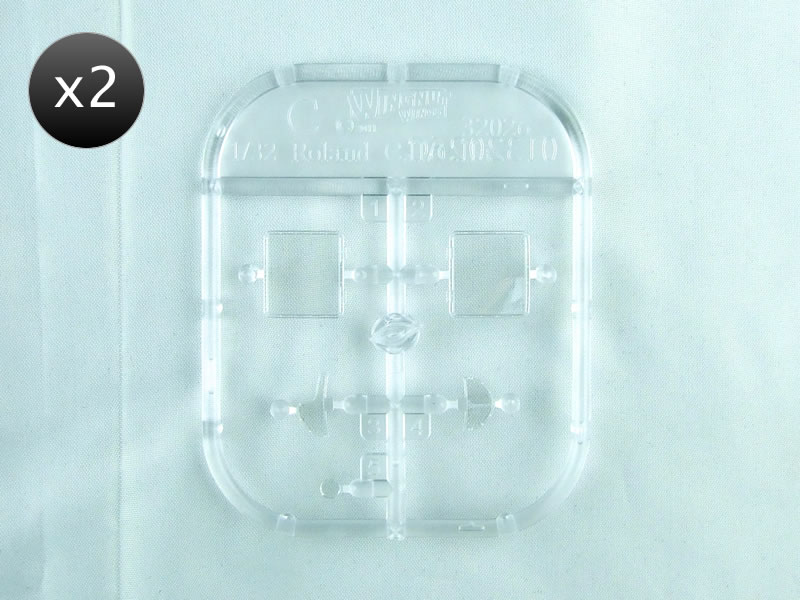 Photo-etched Fret
Housed inside the plastic bag that contains the decals is a small photo-etched fret: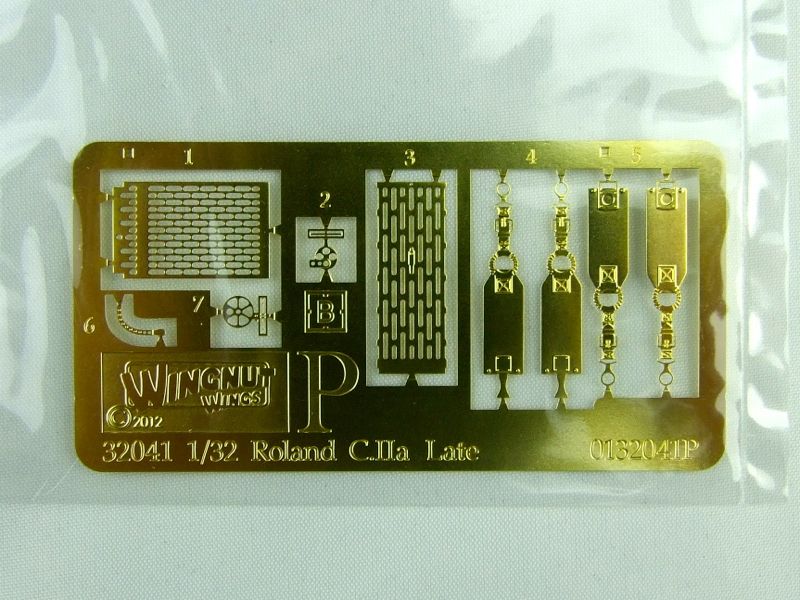 This consists mainly of seat belts and machine gun cooling jackets.
The Decals
The decals are contained on a single large sheet.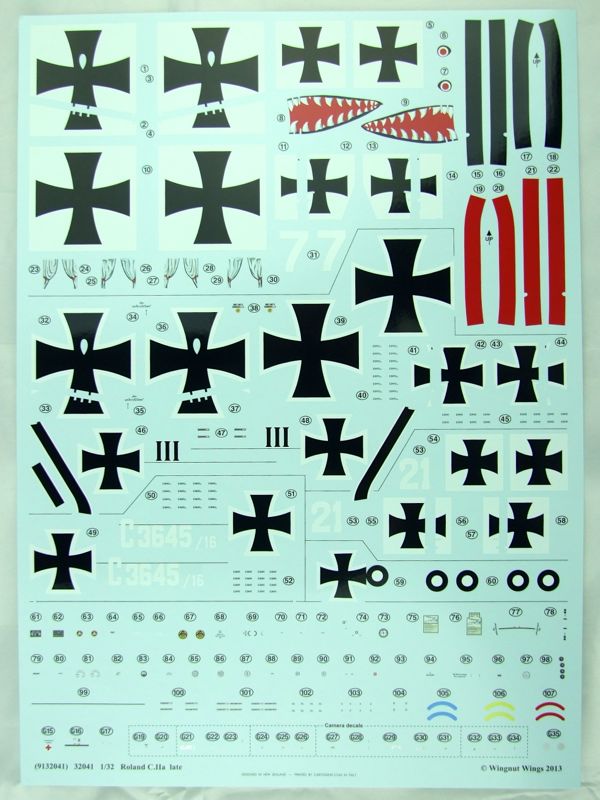 The sheet is printed by Cartograf, and as is customary in a Wingnut Wings kit, markings are provided for five aircraft:
Roland C.IIa, "White 7", Kasta 2, Kagohl 1, Late 1916 - Early 1917;
Roland C.IIa, (Li) "Black III", Vfw Hesse, Schusta 13, Early 1917;
Roland C.IIa (Li) 3645/16, Hans Joachim von Hippel (1 victory), Beobachter Schule Cöln, Early - mid 1917;
Roland C.IIa "White 21", Otto Burgermeister, Kasta 21, Kagohl IV, November-December 1916;
Roland C.IIa "circles", Kagohl II?, late 1916 - Early 197.
The decals are very nicely printed indeed, being crisp, colour-dense and in perfect register.
Instruction Booklet
The instruction booklets supplied in Wingnut Wings kits have become legendary, and with good reason. The production values are equivalent to a glossy magazine, and to refer to them as mere instruction booklets does them a grave disservice.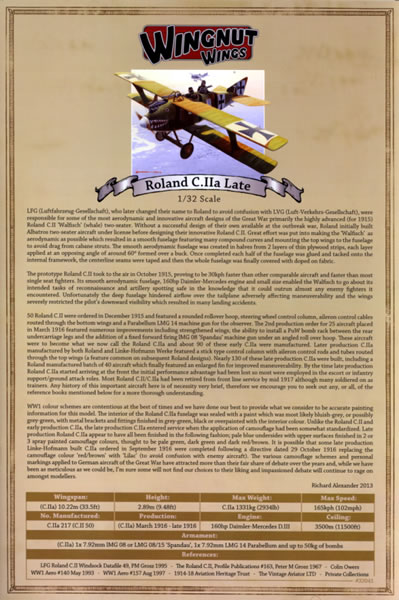 The cover features a potted history of the type, and a specifications table at the bottom. This material is also available on the Wingnut Wings webpage for the kit.
The content features colourful and highly-detailed annotated assembly drawings, complemented by captioned reference photographs and painting instructions.
---
Conclusion
This release represents everything we've come to expect from a Wingnut Wings kit: exceptional moulding quality, excellent detail, superb decals and industry-leading documentation. What more could you ask for? Highly recommended.
Thanks to Wingnut Wings for the review kit.
© Kevin Futter 2014
This review was published on Saturday, May 03 2014; Last modified on Saturday, October 03 2015