AMS Resin | 1/32 Resin Falcon Missiles
Reviewed by Paul Woulf
A couple of weeks ago, Harold from AMS Resin sent me a small box. In it were the parts I needed for my two current builds plus a pair of missiles he is going to release shortly.
Some Background on the Missile
The Air Force deployed AIM-4 in May 1967 during the Vietnam War on the new F-4D Phantom II, which carried it on the inner wing pylons and was not wired to carry the AIM-9 Sidewinder. The missile's combat performance was very poor. The Falcon, already operational on Air Defense Command aircraft, was designed to be used against bombers, and its slow seeker cooling times (as much as six or seven seconds to obtain a lock on a target) rendered it largely ineffective against maneuvering fighters. Moreover, it could only be cooled once. Limited coolant supply meant that once cooled, the missile would expend its supply of liquid nitrogen in two minutes, rendering it useless on the rail. The missile also had a small warhead, and lacked proximity fusing. As a result, only five kills were scored, all with the AIM-4D version. (The Falcon was also experimentally fired by the F-102 Delta Dagger against ground targets at night using its infrared seeker.)
The Model Missile
I found in the parts one main missile body, 4 sets of large fins and 4 sets of small fins, and the rocket motor exhaust section. All parts were cleanly cast in gray resin with excellent detail, especially the locating areas where the fins connect to the body.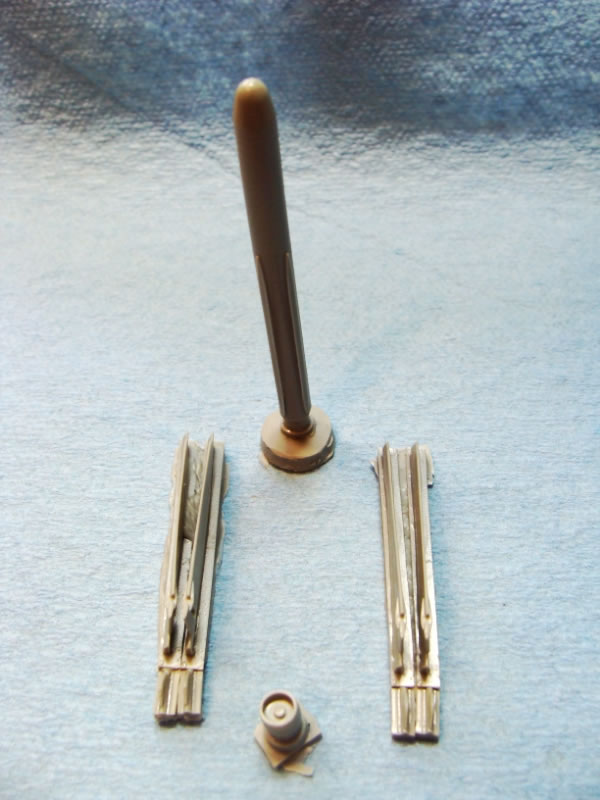 The fins are all attached to mold blocks that have been thoughtfully kept very thin and the parts separated very easily after one pass from a sharp # 11 Blade.I found very minimal warping despite the ultra thin parts and the ones that had a slight warp straightened back out nicely during the gluing process. I tacked the fins to the body with slow setting superglue and then made sure they were straight and aligned, then ran a tiny bead of ultra thin down the joins.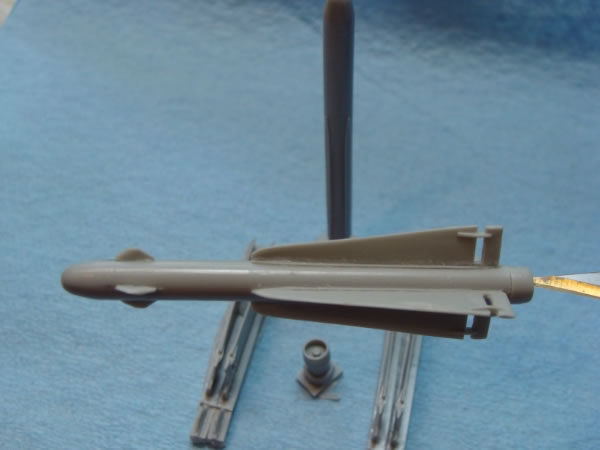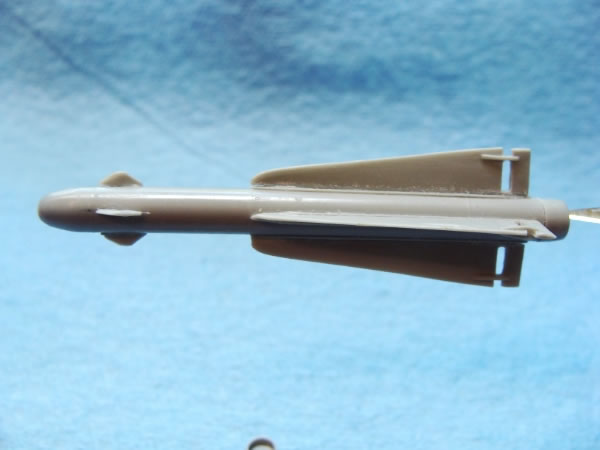 Then I painted the Missile with a couple of coats of Tamiya Fine White Primer: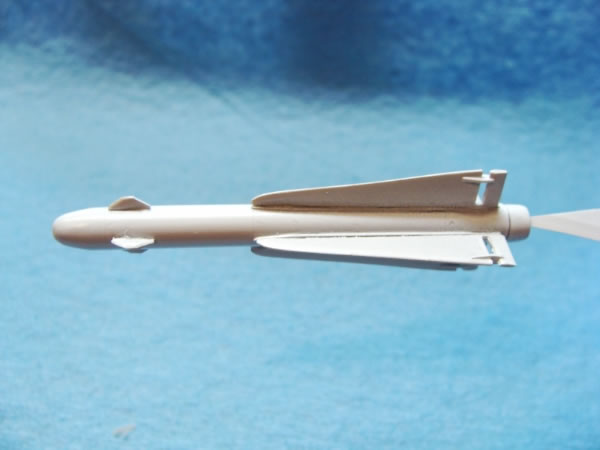 And there you have it! Harold's new Falcon Missiles will be released soon, price to be determined at this point. The launch rails are in the production process and I'm sure will be every bit as well engineered and detailed as the missiles themselves.
Another Great Product from AMS Resin! Thanks to Harold for the review sample.
© Paul Woulf 2014
This review was published on Tuesday, June 10 2014; Last modified on Tuesday, June 10 2014