Silver Wings | 32-015: Stearman PT-13D/N2S-2
Reviewed by Ron Patterson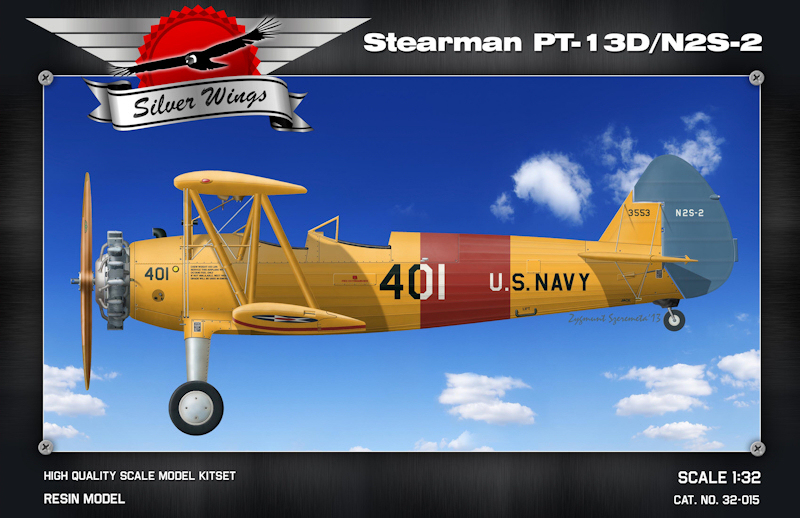 As with many of their kits, the announcement by Silver Wings of a 1/32 Stearman made many of us extremely happy. This kit does not disappoint either.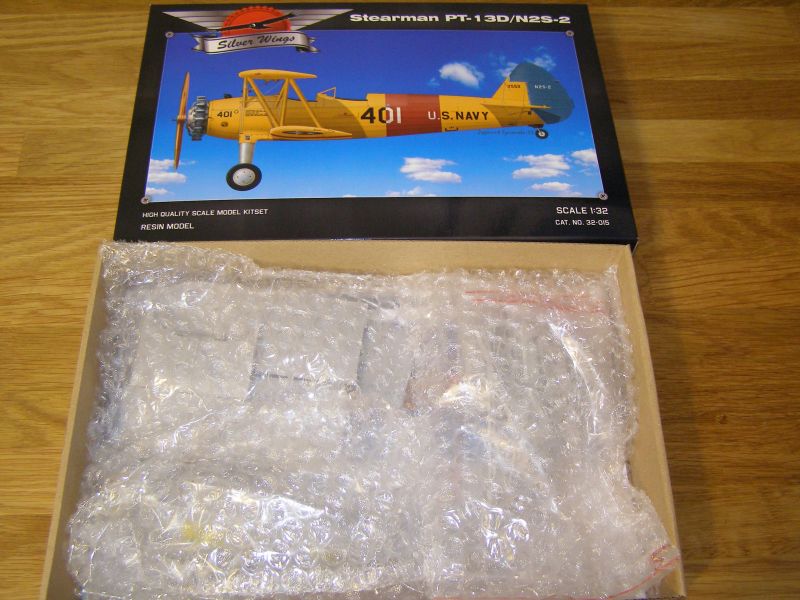 The kit comes in a typical plastic model kit box, inside all contents are carefully bagged and bubble wrapped to insure the contents cannot rattle around the box and damaged from shipment. My kit arrived directly here in Canada all the way from Silver Wings in Poland with no damaged parts.
I should note that Silver Wings resin is a little different than most resin kits. It is almost like cast light grey plastic. From experience, it is a pleasure to work with.
What is in the Box?
Silver Wings kits are cast resin kits but the contents have the feel and look of plastic kits where all the parts have been removed from the sprues for you. This is a fairly complex kit with a lot of detail parts. The break down is as follows:
2 fuselage sides taped together
3 piece upper wing
2 piece lower wing
8 bags of resin components
1 photo etch fret
Instruction booklet
1 Decal sheet
1 printed instrument sheet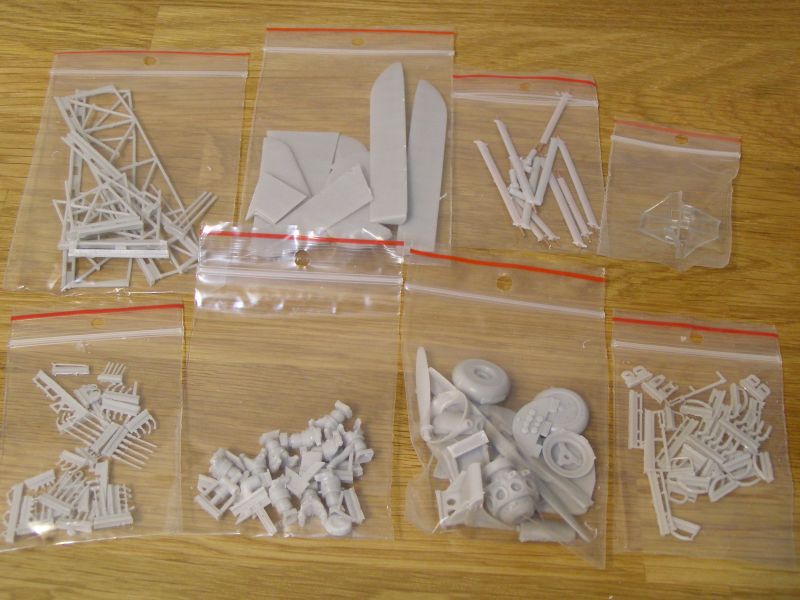 Major Components
---
These are simply beautiful castings. The fuselage is two piece, typical to most model airplane kits. The fit is almost perfect out of the box. The wings are cast with metal reinforcement rods in them that are intended for strength as well as alignment aids, typical to all Silver Wings kits.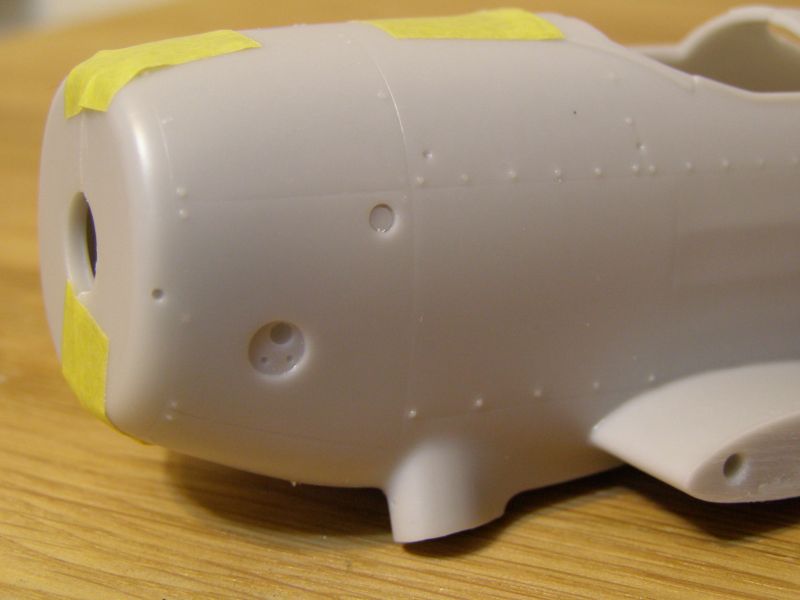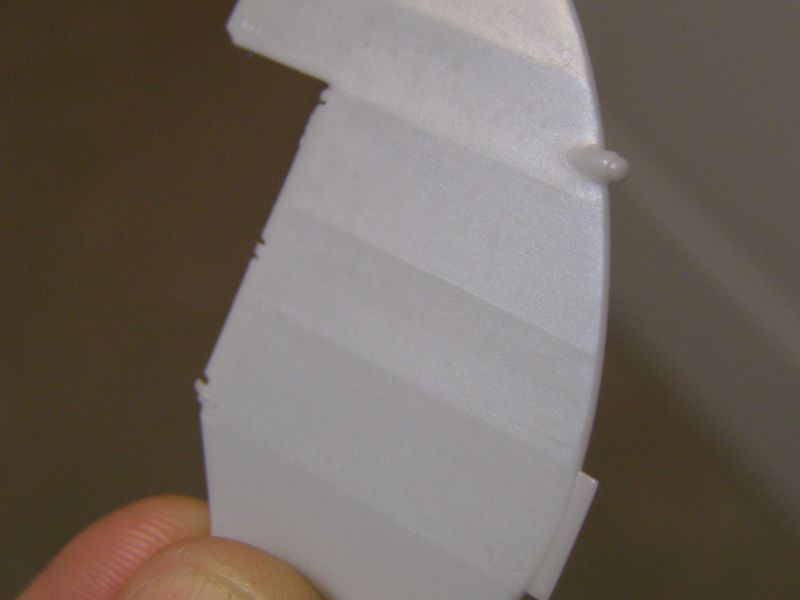 Surface detail is jaw dropping. Very fine detail with exceptional attention to the fabric surface detail. It is very well done, not over done what so ever.
Detail Parts
---
There is a pile of little detail parts in this kit. It's a little daunting actually as none of these have any part numbers. This has to be some of the finest small resin casting I've ever seen. Very small parts perfectly cast. All struts are reinforced with wire, typical to all Silver Wing kits. The Engine is a kit in itself!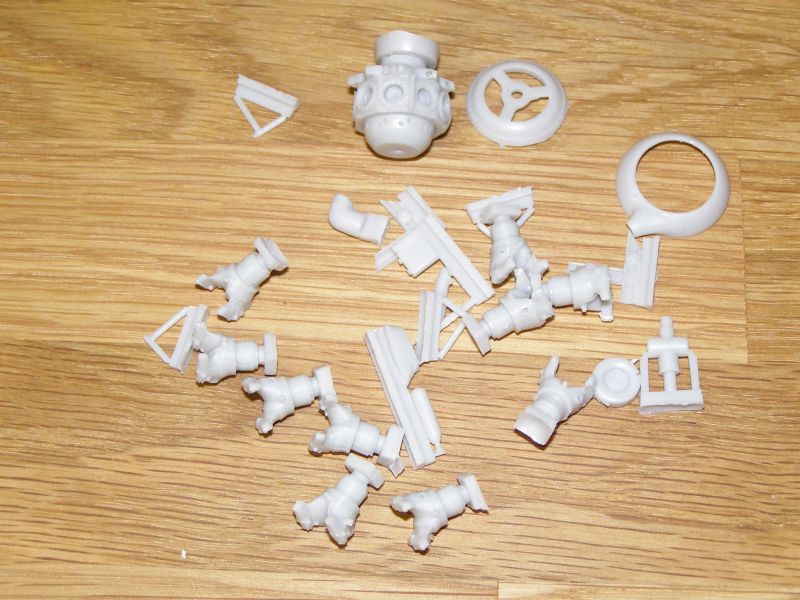 Clear Bits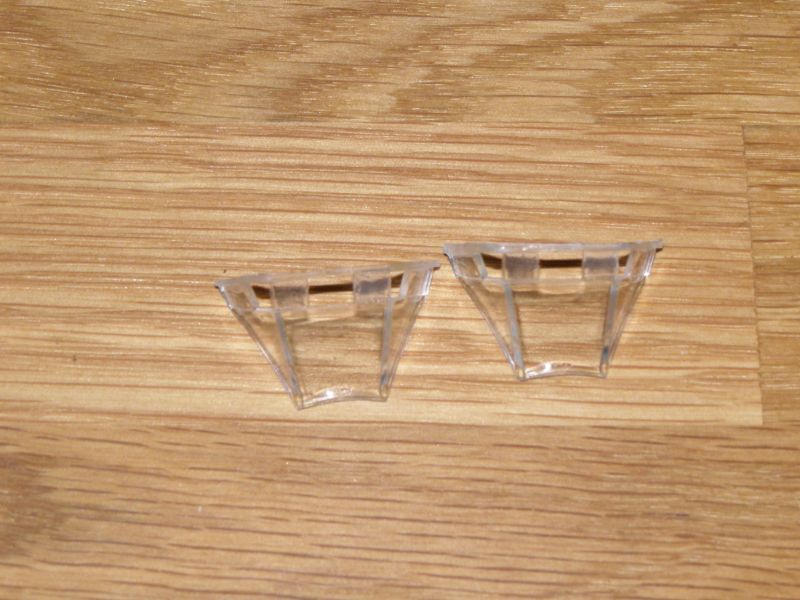 Two wind screens are provided. Very well done clear resin castings, no clear vac parts to deal with here!
Photo-Etched Fret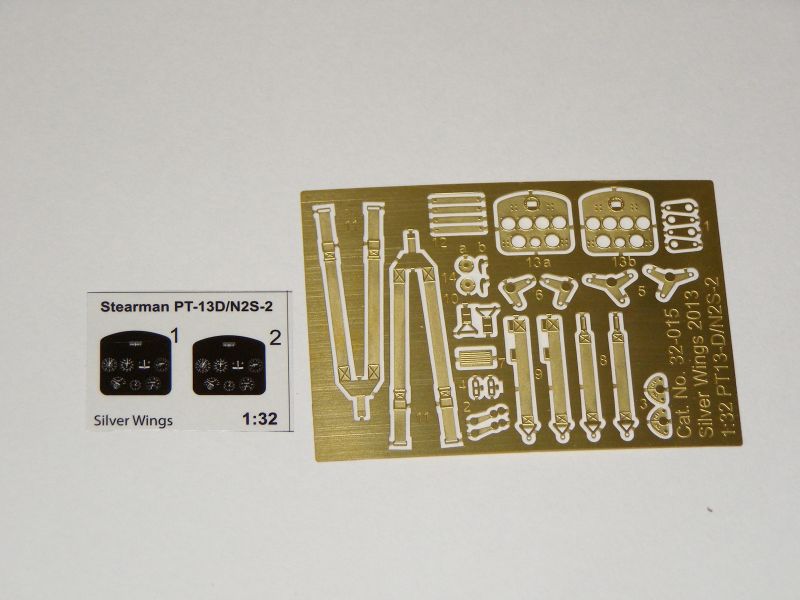 Pretty typical for most resin kits. It comes with seat belts, instrument panels and other bits that appear to all be cockpit related. It is well done although the seat belts are pretty basic and could stand to be replaced with ones with more detail. It also comes with printed instruments on clear acetate which will require the back side to be painted white.
Decals and Markings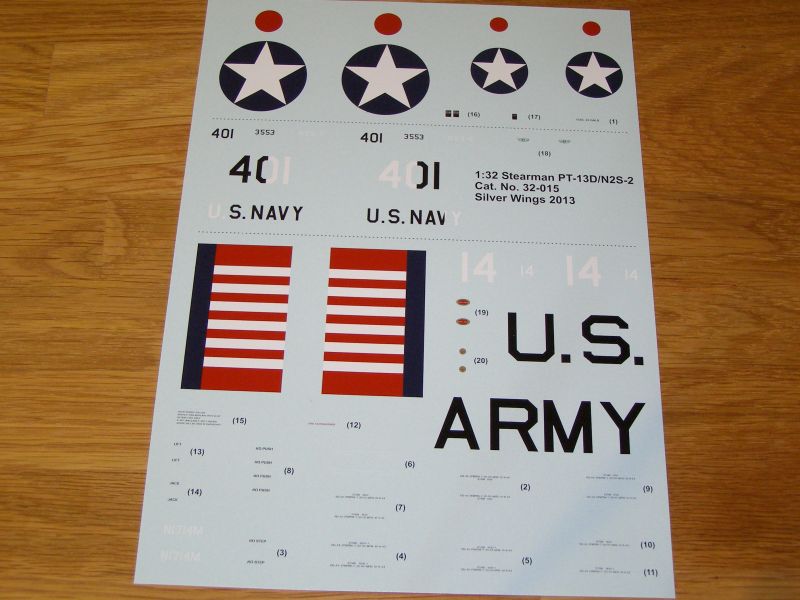 Pretty basic here. The kit provides one Navy trainer scheme and one Army. There is no mention as to the history of either option in the instructions. The decals are in perfect register and appear to be proper color. The rudder red, white and blue bars for the Army version is a nice touch.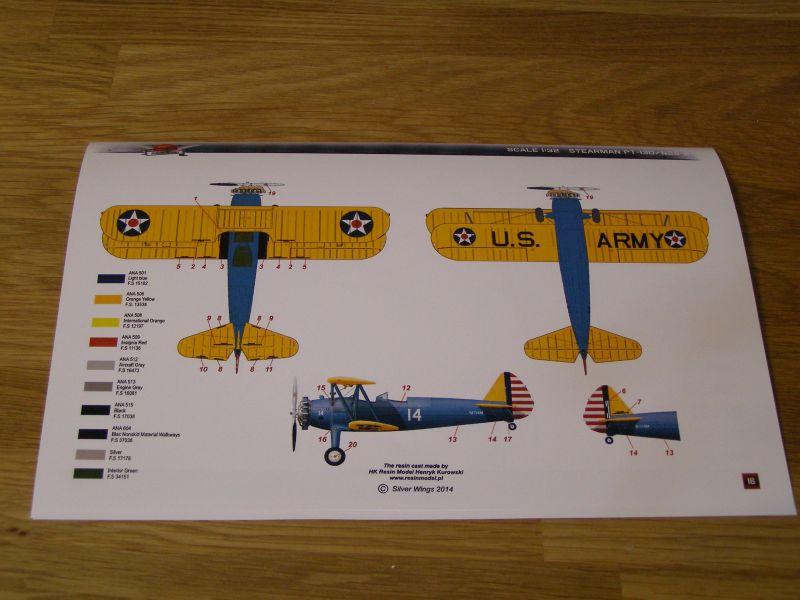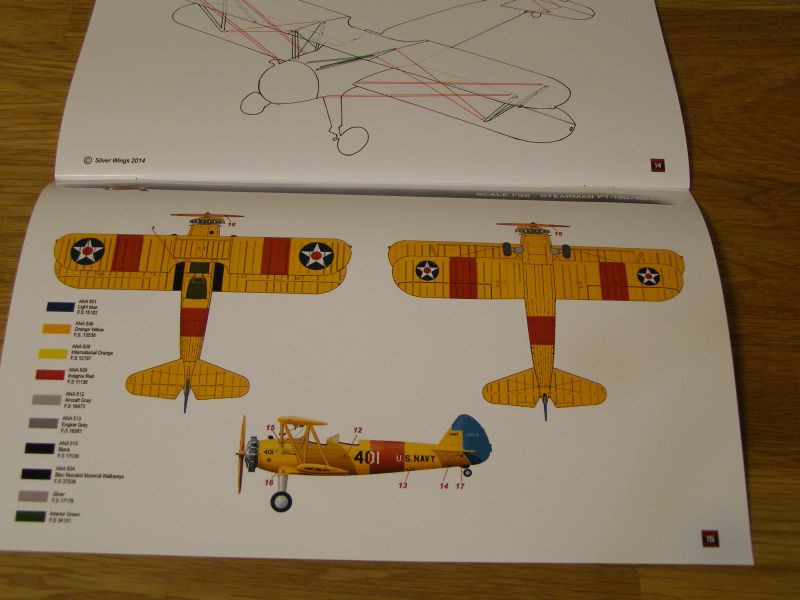 Instructions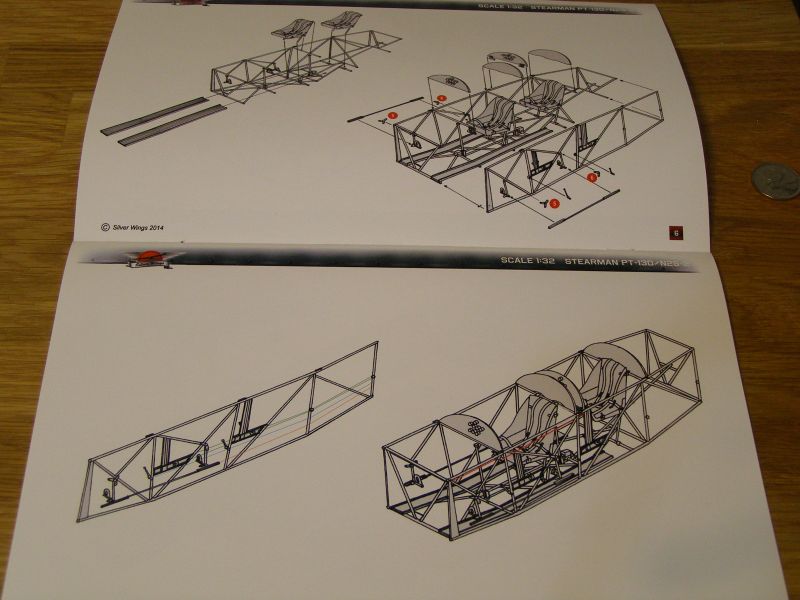 This is likely the only area the kit falls down a little. There is a 15 page color instruction booklet provided but it is all hand drawn. This may prove to be a bit of an issue for part identification and placement. With such small detail parts and no part numbering system one really needs a good idea of what the part looks like. I can see this being the biggest challenge with this kit.
Conclusion
This is a very complete kit that is very well cast and well detailed. I am just itching to build this kit. It is a great subject with a great history. Highly recommended!
© Ron Patterson 2014
This review was published on Tuesday, June 24 2014; Last modified on Monday, July 11 2016