RB Productions | RB-D32016: 1/32 IAR.80M Decals
Reviewed by Andrew Birnie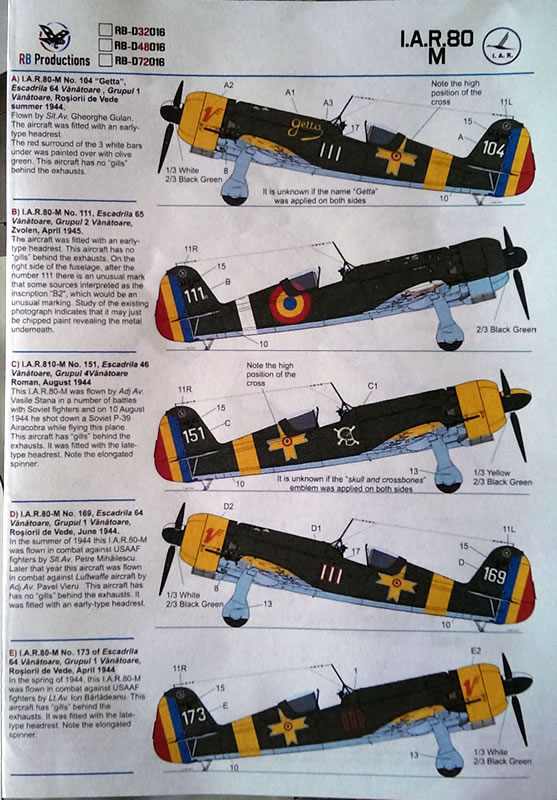 Robert Louis Stevenson has a lot to answer for, would pirates ever be such compelling characters without Treasure Island? - and with it the pirates flag with the skull and crossbones. I recall first coming across a profile of the IAR.80 a few years ago with such an emblem painted on its side, so with the news of the FRROM 1/32 IAR.80 kit I did a bit of research, made very easy with the help of the definitive work on the aircraft by Radu Brinzan; IAR.80 & 81 - Airframe, Systems, and Equipment.
Thankfully there is a profile of said aircraft in the book, though it is a IAR.80-M and not the version produced by FRROM, though the book explains the differences in all the versions, and also provides scale drawings, and additionally 1/32 scale drawings are available from RB Productions, of which I bought a set for the IAR.80-M, by hook or by crook this ia the version I am going to make.
I was delighted to see on the Radubstore website a few weeks ago that there was a dedicated M variant decal sheet available.
---
There are five options provided:
IAR.80-M No. 104 "Getta", Escadrila 64 Vanatoare Grupul 1 Vanatoare, Rosiorii de Vede, Summer 1944
IAR.80-M No. 111, Escadrila 65 Vanatoare, Grupul 2 Vanatoare, Zvolen, April 1945
IAR.80-M No. 151, Escadrila 65 Vanatoare, Grupul 4 Vanatoare, Roman, August 1944
IAR.80-M No. 169, Escadrila 64 Vanatoare, Grupul 1 Vanatoare, Rosiorii de Vede, June 1944
IAR.80-M No. 173, Escadrila 64 Vanatoare, Grupul 1 Vanatoare, Rosiorii de Vede, April 1944
The M - for Mauser, they were retrofitted with 20mm cannon - is different from the kit in that it has a shorter fuselage and shorter wings than that provided by the kit, the instructions provide 1/72 scale drawings of the relevant changes which should be fairly easy to achieve, though options C & E have a longer spinner which hopefully Radu will also release in resin, it does improve the look of an already elegant aircraft.
The decals are printed by Fantasy Printshop in perfect register, the colours are much improved over those in the kit, especially the yellow of the national insignia which for me are too pale and will look off when compared to the RLM 04 painted engine cowl, fuselage band, and undersides wingtips.
A full set of stencils are also supplied as well as comprehensive instructions.
Another classy product from RB Productions.
Review copy supplied by PiggyBanque.
© Andrew Birnie 2014
This review was published on Saturday, June 28 2014; Last modified on Sunday, January 27 2019