Montex | Super Mask K32271 Spitfire Mk IX Tamiya
Reviewed by Sinuhe Hahn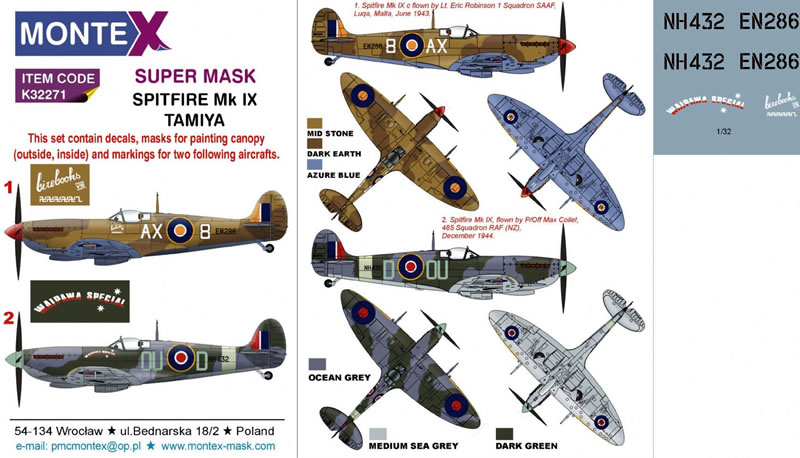 Many Spitfire aficionados are not aware that SAAF operated 10 squadrons equipped with this elegant fighter at the end of WW2. Of these the most famous units were 1 "Billy Boys" and 2 "Flying Cheetahs" squadrons, operating in Northern Africa and then on up through Italy.
I have always had a penchant for Spitfire in desert camouflage schemes, and have been keen to build one of the excellent Tamiya kits in such a manner. When I saw that Montex had released a mask set for a SAAF Spitfire Mk. Vb trop (Mask Set K 32226), for one of the CireCooks machines, I contacted Dariusz at Montex, and asked him if he would be willing to produce a mask set for CireCooks VIII, a Spitfire Mk. IX with 5.5 kill markings. I'm glad to report that Dariusz has now fulfilled my desire, and I can complete my Spitfire in this interesting scheme.
Thanks to the research efforts of Piet van Schalkwyk, author of the "South African Colours and Markings" series, who had access to the original log books, we now know the history behind the CireCooks name and, Lt. McClellan Eric Sutton 'Robbie' Robinson, the pilot who flew these aircraft. Eric joined the SAAF in July 1940, and after initial training as an air gunner, managed to join pilot's school, obtaining his wings in May 1942. After this he was transferred to the MTO for service, joining the ranks of 1 Squadron SAAF from July 1942 till August 1943, flying a series of Hurricanes, Spitfire Mk. V's and IX's. His personal touch to these aircraft was the use of the CireCooks logo, a play of words on Eric in reverse joined with the name of his wife "Cooks".
These aircraft were:
Cirecooks - Hurricane xx957 AX-0
Cirecooks II - ???
Cirecooks III - Spitfire ER214, AX-N
Cirecooks IV - Spitfire ER116, AX-N
Cirecooks V - Spitfire ER874, AX-N
Cirecooks VI - Spitfire JG959, AX-N
Cirecooks VII - Spitfire JG720, AX-N
Cirecooks VIII - Spitfire EN286, AX-8.
He completed his tour with the confirmed destruction of 5.5 enemy aircraft, including half a Ju 87, 4 Bf 109Fs and a Me 210.
He also had the distinction of being shot down by a USAF P-38 Lightning (one of several SAAF pilots), being rescued by the Greek destroyer HHMS Adrias.
Eric returned home to South Africa in 1943, serving as an instructor with 11 OTU, where he unfortunately lost his life in a collision with a Kittyhawk during training.
The set is typical of Montex Mask sets, consisting of 2 large vinyl sheets with aircraft markings, a smaller black vinyl sheet with canopy masks and an additional decal sheet. The other markings cover a ETO scheme of P/Off Max Collet, 458 Sqn RAF (NZ).
I really look forward to using this set, and would like to thank Dariusz from Montex for the review copy.
I'm sure he'll be pleased to know that there is an additional Polish connection to these SAAF aircraft, as this set of six Mk. IXs taken on strength by 1 Squadron SAAF were from the Polish Fighting Team of the Skalski Circus, and although the ZX squadron codes were changed to AX, the individual aircraft code numbers were retained.
A very useful resource on this topic is "South African Colours and Markings Nr. 6" available from the authors at: pietvs@gmail.com, as is the Internet discussion on the SAAF Forum.
© Sinuhe Hahn 2014
This review was published on Wednesday, July 02 2014; Last modified on Sunday, January 08 2017