Profimodeller | #32191: Gloster Meteor Engine Maquette
Reviewed by Kevin Futter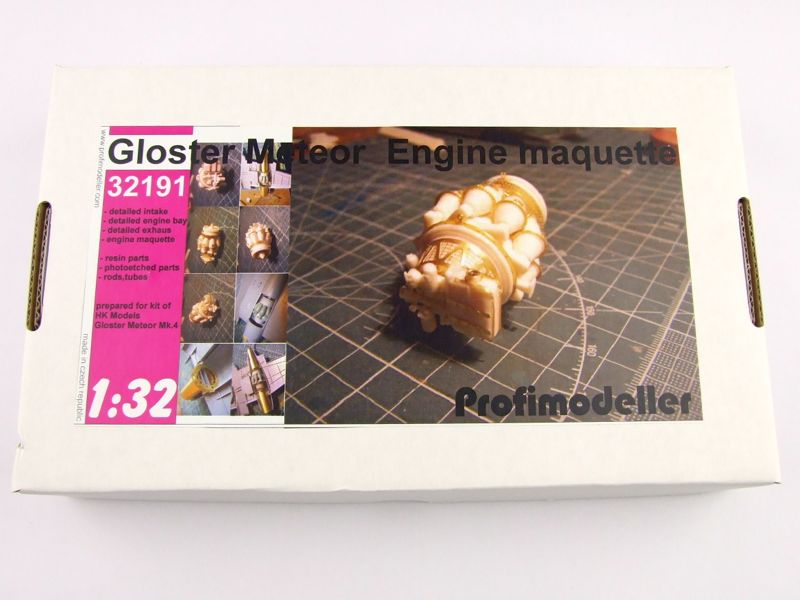 Czech firm Profimodeller has released a complete engine upgrade set for the HK Models Meteor Mk 4 kit. This is an extensive set, consisting of a full Rolls Royce Derwent engine for the port nacelle, plus intake and outlet pipes and details for the starboard nacelle. Upon opening the sturdy box, you're greeted with a resealable plastic bag full of resin parts, another one containing 5 photo-etched frets, a small bag of tubing and wire, and a small instruction sheet.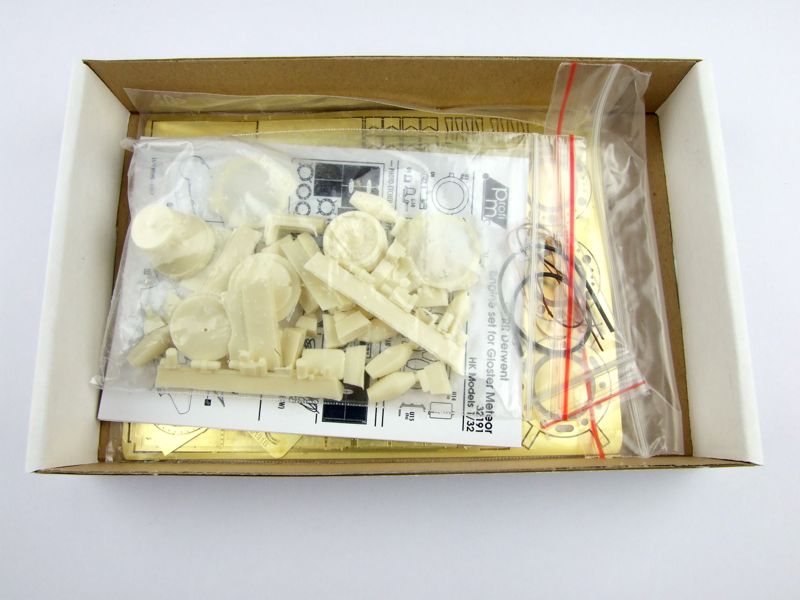 Resin Parts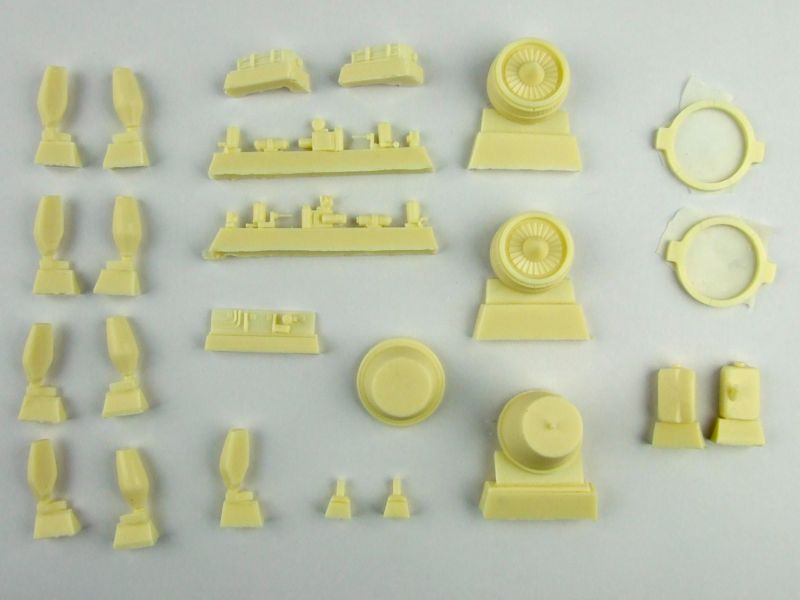 There are around 32 separate resin parts in this set, ranging from small engine details to the main engine core and intake fans. Basically, anything requiring more 3-dimensional bulk that photo-etching allows for is represented here in resin.
---
The casting is crisp, clean, and free from any obvious moulding flaws. Arguably the intake fans could have been provided as photo-etched parts for increased finesse, but the resin ones should look fine with careful painting.
The parts layout in the instructions shows 10 copies of part U5; I could only locate 9 in my sample however, but a quick check of the assembly diagrams indicates that only 9 are required. Phew!
Photo-etched Parts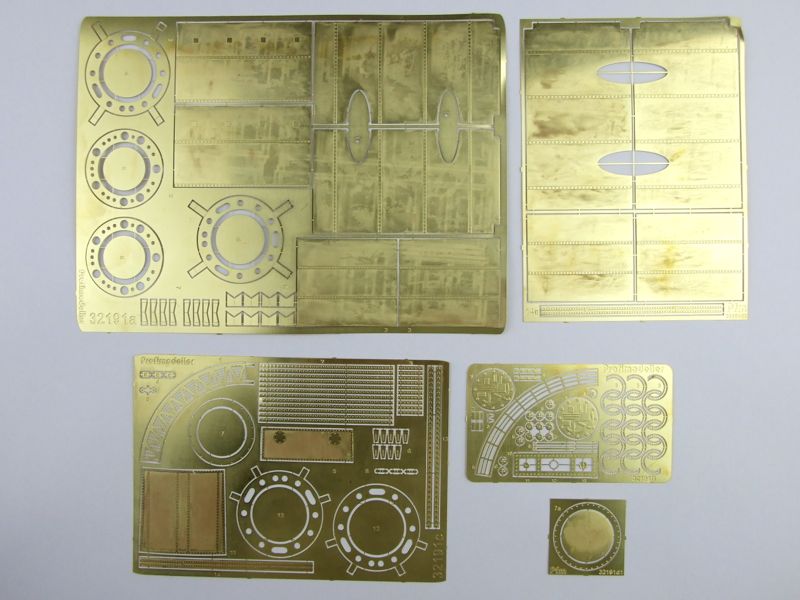 Five photo-etched sheets are provided to make up the remainder of the parts in this set. The majority of these components are bulkheads, framing and ducting, but there's a selection of smaller detail parts too.
---
I suspect the main challenge in working with these photo-etched parts will be getting the inlet and exhaust ducting neatly rolled into tubes from their flat constituent parts. The use of a cylinder to form them around is highly recommended, though you may have to show some resourcefulness in sourcing something suitable.
Wire and Tubing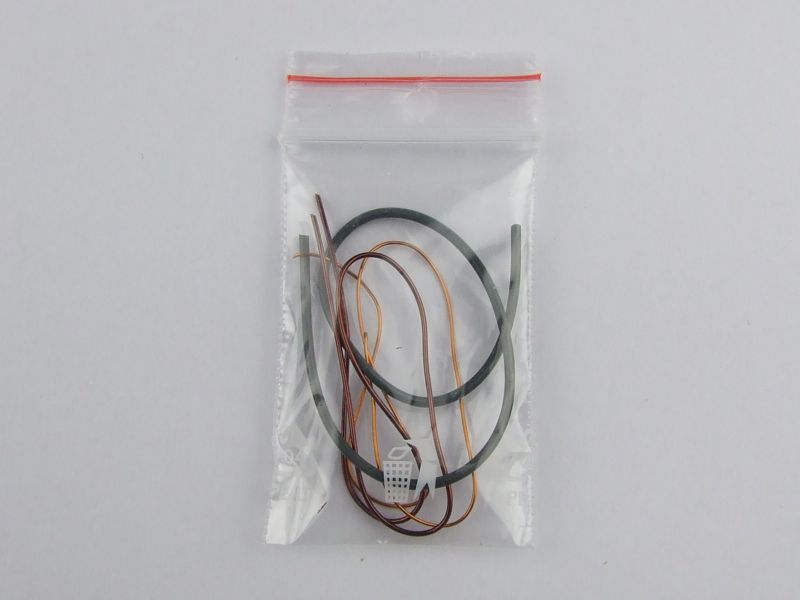 The final set of 'parts' included in this package is a resealable bag of wire and tubing. While the wire could easily be sourced from a number of places, the rubber tubing may prove more difficult to locate, so having them included as part of the package is a thoughtful move.
Instructions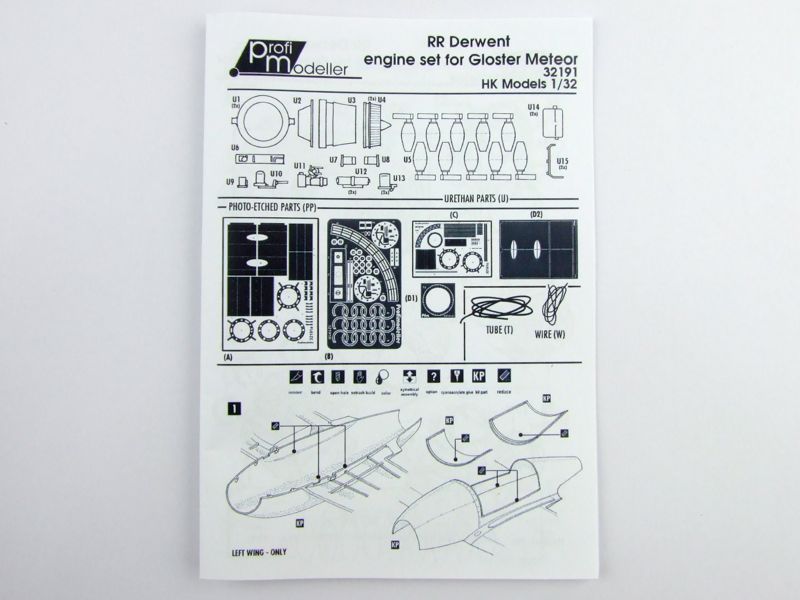 The instructions are provided on both sides of a set of folded A5 sheets, covering 12 pages in all. The assembly sequence is portrayed using the traditional exploded diagram approach, with colour call-outs supplied where applicable. On the front page there's a legend of symbols used in the instructions, but the symbols themselves are a little small and somewhat crudely rendered by what I imagine is either an inkjet or laser printer. Care will need to be taken during assembly to ensure that you are clear at each step what any of the symbols are asking you to do.
Conclusion
This is a substantial set, including not just a full port engine, but intakes and ducting for both nacelles. As such, it represents a significant upgrade to the base kit. The photo-etched parts look daunting, but I suspect once the ducting is successfully rolled into tubes, the rest will be fairly straightforward.
I wouldn't recommend this set to inexperienced modellers, but for more experienced builders wanting to add some serious detail to the engine bay of their Meteor, this set from Profimodeller is highly recommended.
Thanks to Profimodeller for the review sample.
© Kevin Futter 2014
This review was published on Monday, July 28 2014; Last modified on Monday, July 28 2014