Profimodeller | #32199: Profi Set B-25 Gun Ship
Reviewed by Kevin Futter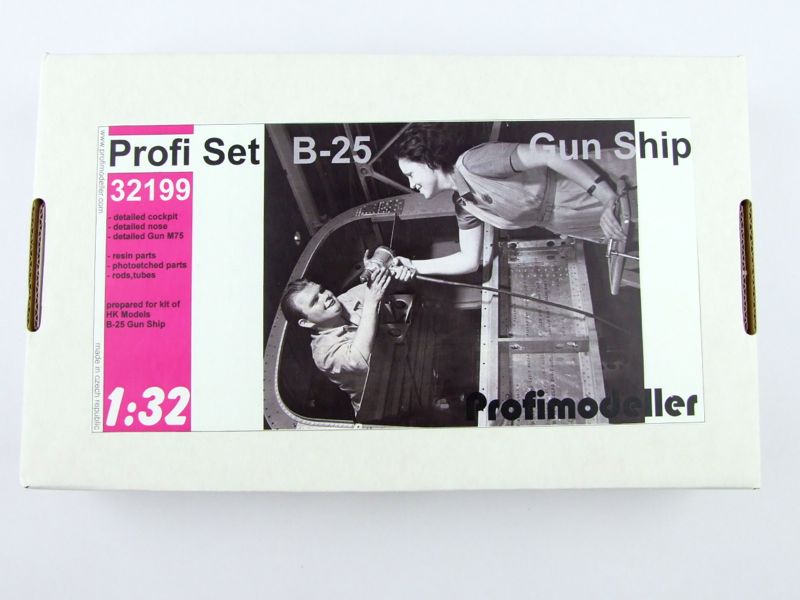 Czech firm Profimodeller has released a major upgrade set for the HK Models B-25H Gunship kit. This set is actually a combination of sets 32196, 32197 and 32198, which between them focus on the cockpit, nose and forward gun bay. Each of these sets is still available individually, so this combo package functions similarly to Eduard's 'Big Ed' sets.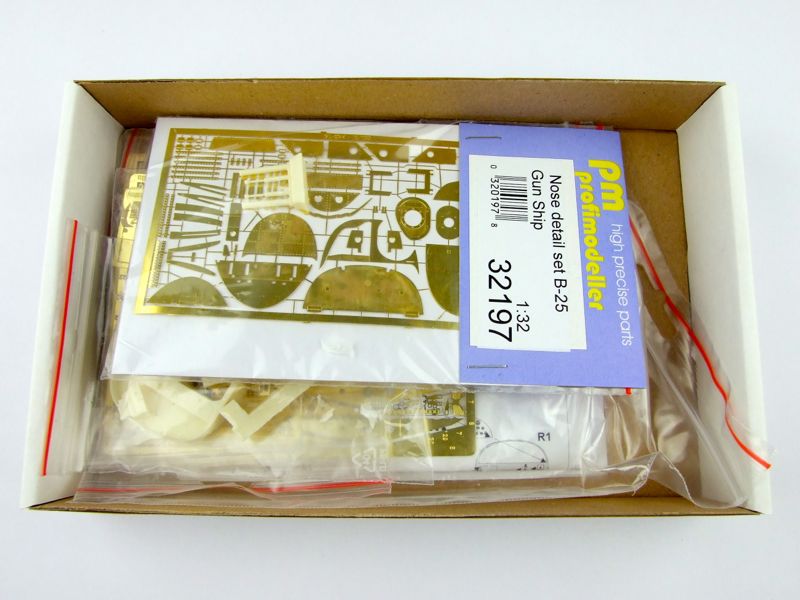 This is a true multimedia upgrade set, being comprised of resin parts, photo-etched parts, turned metal parts and some wire. There are also two segments of acetate and paper respectively with cockpit details printed on them. Each of the constituent sets has its own set of instructions.
---
#32196 - Gun Bay
This is probably the most extensive of the component sets, consisting of 3 photo-etched sheets, a small bag of resin parts, and another small bag of turned metal parts and wires.
---
The photo-etched parts form the bulk of this set, contributing most of the structural elements of the gun bay. At first all these photo-etched parts look daunting, but most of them are quite large, though there are still many smaller details to attend to. A photo-etch bending tool will make assembly much simpler.
The resin pieces are cast in a very dark grey-green resin, which is quite different from the light beige-yellow that Profimodeller normally uses. This actually makes the parts look sharper to the naked eye. They are very nicely moulded indeed, being crisp, clean and with no obvious moulding flaws. There are 10 pieces in all, comprising those elements not suitable for reproduction using photo-etched metal.
The final bag in this set contains some exquisite turned metal parts, plus a couple of lengths of wire. The metal parts consist of a large aluminium barrel for the 75mm gun, and two small 75mm shells in brass. The quality of workmanship is impressive, and turning the large barrel out of lightweight aluminium is a smart move - though perhaps the additional weight provided by brass might have been useful up front to help prevent tail-sitting.
This set represents a substantial upgrade to the kit's gun bay area, though how much can be seen after final assembly is still uncertain. My only criticism would be that I feel the instructions are a little hard to follow, so some careful study and plenty of trial fitting will be required.
#32197 - Nose Detail Set
This set is housed in its original packaging with its own header card, and focusses on the forward nose section of the kit, including the hinged upper gun cover. It consists of a photo-etched fret and 2 small resin pieces.
---
Most of the photo-etched parts in this set don't seem to require any additional bending or forming, so assembly should be pretty straightforward. Care will need to be taken though, to ensure that this set interoperates successfully with the previous one. For example, both sets utilise kit part M53, so some careful planning will be required when combining the two sets.
Being a simpler set, I found the instructions for this one less confusing, and provided the caveat above is taken into account, it should pose no serious problems.
#32198 - Cockpit Set
This set continues the theme of the package, providing 3 photo-etched frets, a small bag of resin parts, and 2 printed sheets - 1 acetate and 1 paper.
---
The photo-etched frets contain some quite fiddly-looking detail, so the assistance of a photo-etch bending tool will be most useful. A new instrument panel is provided, and the printed paper sheet contains instrument dials to go behind it. I tried in vain to locate the parts printed on the acetate sheet in the instructions, so I'm unsure exactly what they're for. The surface detail incorporated into the photo-etched parts is impressive though, with even the North American Aviation logo etched in relief on the rudder pedals.
This set contains the most extensive array of resin parts in the package, moulded in the more usual beige-yellow resin you expect to see from Profimodeller. A couple of the parts look like they'll be a little tricky to remove from their pour stubs, so due care will be required. Once again, they're confined to those elements for which photo-etch is unsuitable.
Conclusion
This is certainly an extensive set, and while inherently multimedia in nature, the bulk of the set is in the photo-etched parts. Careful planning will be required, particularly when using sets 32196 and 32197 for the gun bay. And while I wouldn't recommend this set to an inexperienced modeller due to its complexity, for someone with a modicum of experience working with resin and photo-etched sets, this package provides a significant enhancement over the already decent kit parts.
Highly recommended, but for experienced modellers only.
Thanks to Profimodeller for the review sample.
© Kevin Futter 2014
This review was published on Tuesday, July 29 2014; Last modified on Wednesday, July 30 2014