Linden Hill Decals | LHD32017 Non-aligned Floggers Part 2
Reviewed by Iain Ogilvie
I've been working slowly on Trumpeter's 1:32 MiG-23ML and planning to finish it in Free Libya markings - with the intention of drawing these up in Adobe Illustrator and printing on my ALPS. However, a trawl of the 'Interweb' recently threw up a sheet by Linden Hill that I wasn't aware of: Non-aligned Floggers Part 2 - which includes exactly the markings I want to finish my MiG in!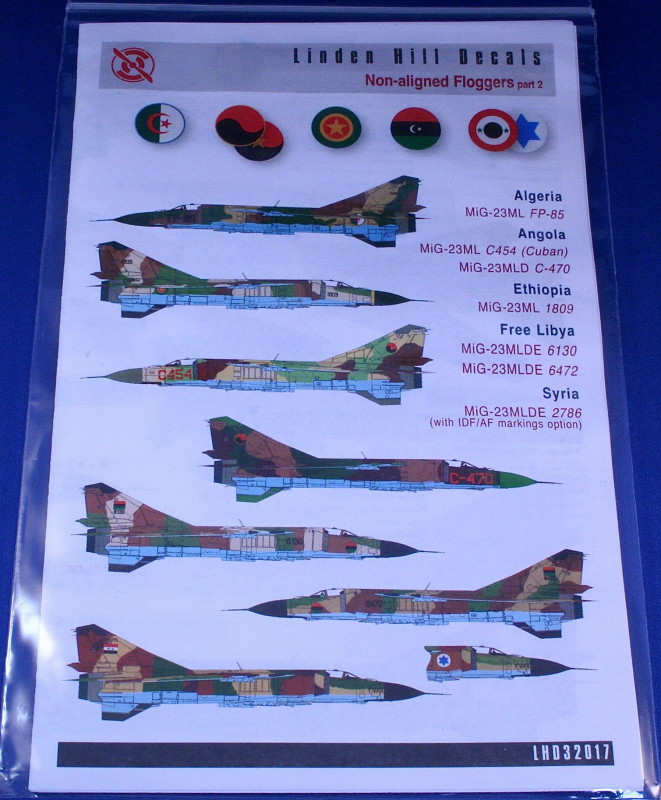 Up to Linden Hill's usual high standards with regard to research, print quality and instructions, these decals really do look good. Colours look great, perfect register and nice thin carrier film.
---
Instructions are very clear and reference the Akan paints range, as well as FS595a equivalents.
7 subjects are covered (8 if you count the additional Israeli markings applied to the Syrian airframe) and are as follows:
MiG-23ML FP-85 Algeria
MiG-23ML C454 Angola (Cuban machine)
MiG-23MLD C-470 Angola
MiG-23ML 1809 Ethiopia
MiG-23MLDE 6130 Free Libya
MiG-23MLDE 6472 Free Libya
MiG-23MLDE 2786 Syria
MiG-23MLDE 2786 - Former Syrian - in IDF/AF markings
---
As well as the Libyan markings I was after - there's quite a spread of nationalities covered and, I'm sure, would be relevant to other aircraft types if you only end up building one of the MiG-23s - national markings for countries hard to find in 1:32 scale.
Conclusion
Recommended!
This decal set is available directly from Linden Hill Decals and Hannants, as well as other stockists.
Review copy courtesy of my wallet.
© Iain Ogilvie 2014
This review was published on Saturday, October 18 2014; Last modified on Saturday, October 18 2014