SAM Publications | The I.A.R.80 & I.A.R.81 - Airframe, Systems & Equipment
Reviewed by Iain Ogilvie
Released three years ago, the SAM Publications title shares the results of many years research into this enigmatic fighter by talented modeller, supplier of aftermarket goodies and historian Radu Brinzan - an active member of LSP.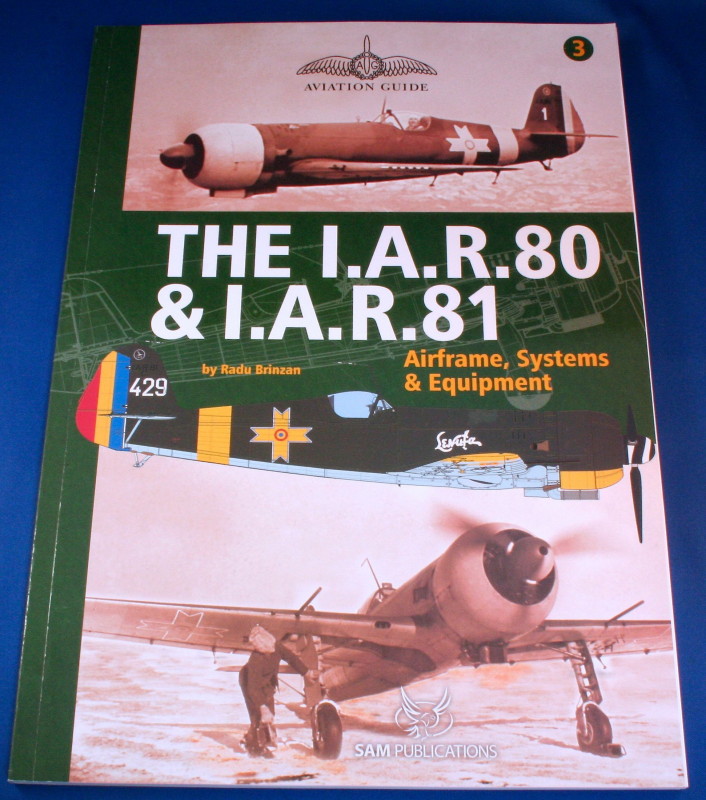 This book was obviously a labour of love - it shows.
As a 'large scale' builder I frequently find myself disappointed by the majority of monographs/reference works for modellers - they always leave me wanting more. Whether it be details of the seat, the instrument panel, the engine, or a variety of other details - monographs that cover every area in great detail - with solid data - are extremely rare in my experience.
This book provides pretty well everything you could need reference-wise to build a superlative I.A.R.80/81 and is, quite simply, one of the best reference works I've ever bought. With Radu's other accessories for the new FRROM kit and this book, I'm in a position I rarely find myself - having a kit, additional detail parts and all the background data I need to finish the model.
Plus the book provides inspiration in spades, from the many subtle changes as the airframe developed, to quite a variety of schemes and national markings; it's all here.
Using a combination of period photographs, period factory technical drawings, modern technical illustrations and a huge number of colour side and three views, the title is broken down into the following chapters:
History of I.A.R. Brasov
Prototype
I.A.R.80 No.1 to 20
I.A.R.80 No.21 to 50
I.A.R.80 No.51 to 75
I.A.R.80 No.76 to 90
I.A.R.81 No.76 to 105
I.A.R.81 No.106 to 150
I.A.R.81 No.151 to 175
I.A.R.81 No.176 to 180
I.A.R.81 No.181 to 200
I.A.R.81 No.201 to 211
I.A.R.81 No.212 to 230
I.A.R.81 No.231 to 240
I.A.R.81 No.241 to 250
I.A.R.81 No.251 to 290
I.A.R.81 No.291 to 300
I.A.R.81 No.301 to 450
I.A.R.80/81 modified with MG.151/20 cannons
Two-seat trainer I.A.R.80-DC
Experimental I.A.R.80 with in-line engine
Evolution of the I.A.R.80 & I.A.R.81
Forward and Rear Fuselage
Cockpit
Wings
Control Surfaces
Engine
Landing Gear
Systems
Weapons
Painting and Camouflage
I.A.R.80 in Colour
Camouflage Schemes
Markings
Theatre Markings and Stencils
Seatbelts
I did say the book was comprehensive!
---
Conclusion
If you've got the new FRROM kit I can highly recommended this book - not only for the fascinating background history, but a superb source of technical information, drawings and photographs that would keep any detail addict happy! For the time being this has to be the definitive work on the I.A.R.80/81 family for the modeller - and I doubt that it will ever be bettered.
The downside? Well - with so much information and inspiration - I need to go and get at least another four FRROM kits!
Available directly from RB Productions at €19.00 plus postage.
Review copy courtesy of my wallet.
Take a look at Kevin Futter's review of the FRROM I.A.R.81C for more information about the target kit.
© Iain Ogilvie 2014
This review was published on Saturday, October 18 2014; Last modified on Saturday, October 25 2014