Barracuda Studios | BR32175: Spitfire Mk I/II Wing Correction Set
Reviewed by Kevin Futter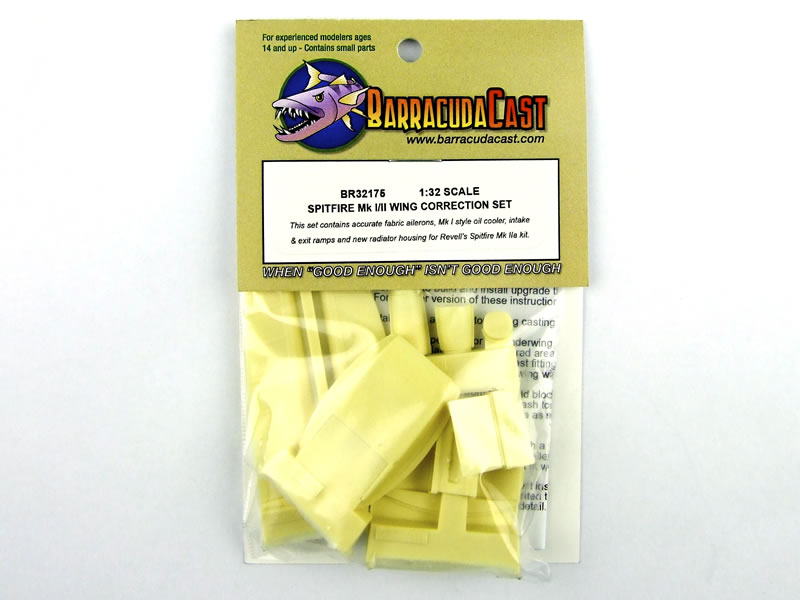 BarracudaCast, out of Roy Sutherland's Barracuda Studios, has just released a range of resin upgrade items aimed primarily at Revell's new Spitfire Mk II kits. Here we take a look at set BR32175, which the packaging describes like so:
This set contains accurate fabric ailerons, Mk I style oil cooler, intake & exit ramps and new radiator housing for Revell's Spitfire Mk IIa kit.
The set consists of eight resin parts for correcting Revell's Spitfire Mk IIa kit as described above. The parts are crisply moulded and feature some impressively fine detail.
Radiator Housing
---
The radiator housing is made up of two separate resin parts: the outer fairing (above), and the radiator insert (below).
---
Installing the radiator insert requires some surgery to the kit's wing, the details of which are outlined in the set's instruction sheet, and this probably represents the most complicated aspect of this set. Note the excellent moulded-in radiator face detail: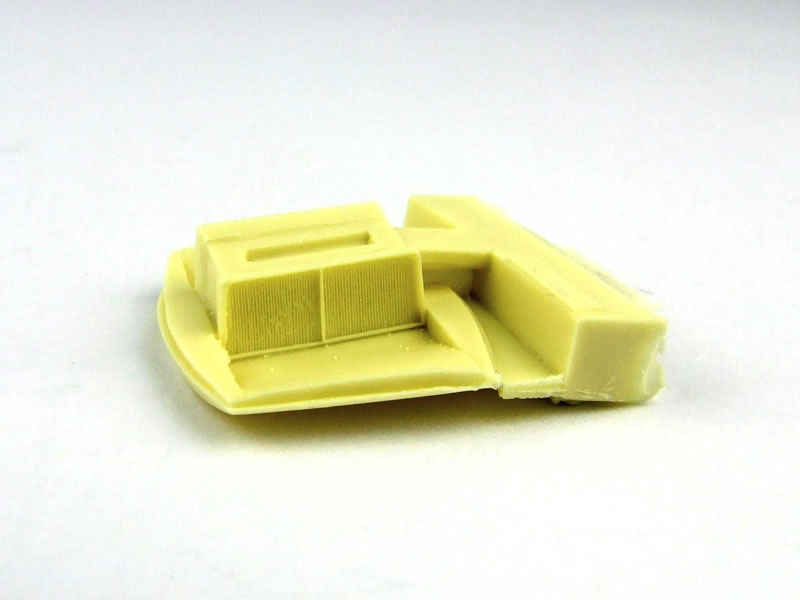 Radiator Exit Ramp
---
This is a separate part to allow it to be posed in the open position. Examining the sides of the part, we can see that it features what look like breakages on each side:
---
I have to confess to being initially unsure about whether this indicates a broken part, or is replicating an aspect of the real thing. I suspect the latter however, as the breaks are neat, even, and identical on both sides.
Ailerons
The ailerons in the target Mk IIa kit from Revell represent inaccurate metal units, and the ones supplied in this set address that issue, being very nicely moulded to represent the fabric-covered variety.
---
Replacing the kit's ailerons with these units should be a pretty straightforward upgrade operation.
Oil Cooler
As with the ailerons, the oil cooler in the Revell Mk IIa kit is representative of one you would find in a Mk V Spitfire, so Barracuda supplies the correct type to replace it. This comes in three parts: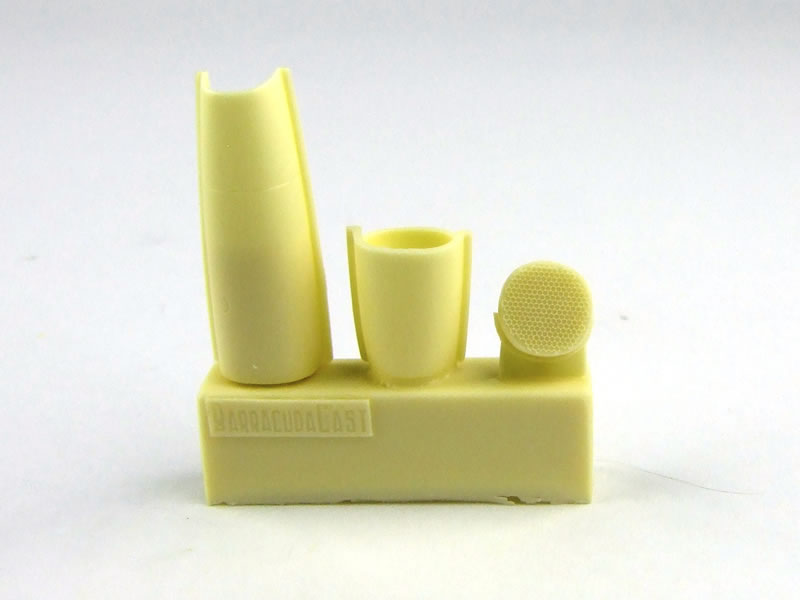 Again, note the fine detail on the round intake face.
Instructions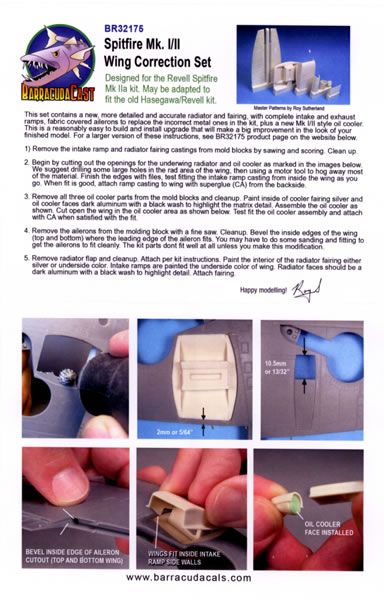 The instructions are outlined in five points that describe the action, supported by six colour photos. They also mention that there's a larger version of the instructions available on the BarracudaCals website, but I failed in my attempts to locate it. The supplied paper instructions should be more than adequate however.
Conclusion
This set is designed to address the most obvious errors on the Revell Spitfire Mk IIa kit, and succeeds nicely in that aim. Due to the surgery required to make some of the parts fit—especially the radiator housing—this upgrade set is best suited to experienced modellers, but it's not so difficult that an ambitious novice couldn't have success with it either.
If you have the Revell Spitfire Mk IIa kit, and would like to make it more accurate, but don't want to modify the kit yourself, then this set practically recommends itself.
Thanks to Roy Sutherland at Barracuda Studios for the review sample.
© Kevin Futter 2014
This review was published on Tuesday, October 28 2014; Last modified on Saturday, March 26 2016