Wingnut Wings | #32036: 1/32 Hansa-Brandenburg W.12 Early
Reviewed by Kevin Futter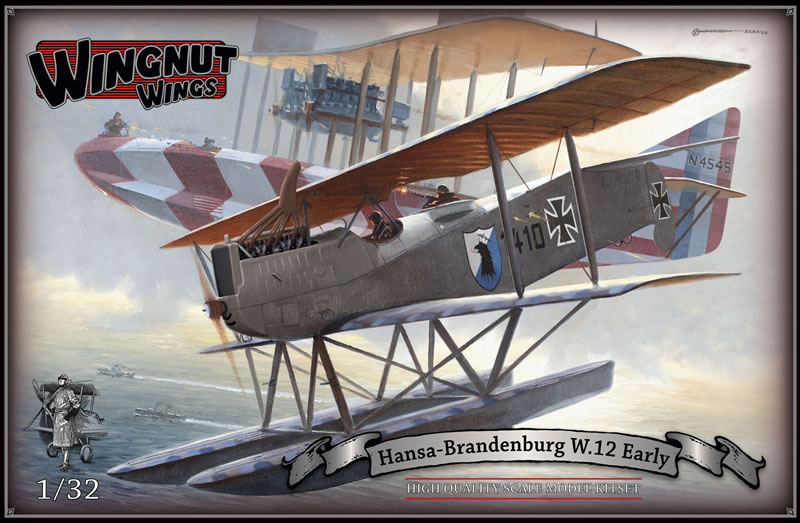 New Zealand firm Wingnut Wings continues its prolific output by releasing a Hansa-Brandenburg W.12 kit. This kit is labelled as the early variant, which suggests that a "late" variant could well be on its way too. By my reckoning that's at least seven kit releases from Wingnut Wings in 2014 so far!
The kit ships in the standard sturdy box, adorned with the usual stunning box art. Such is the standard that Wingnut Wings sets in all areas of its kit production, that these fantastic elements seem merely commonplace and expected these days. We are truly spoiled! One difference that's immediately obvious with this box though, compared to most of the company's previous releases, is its extra depth: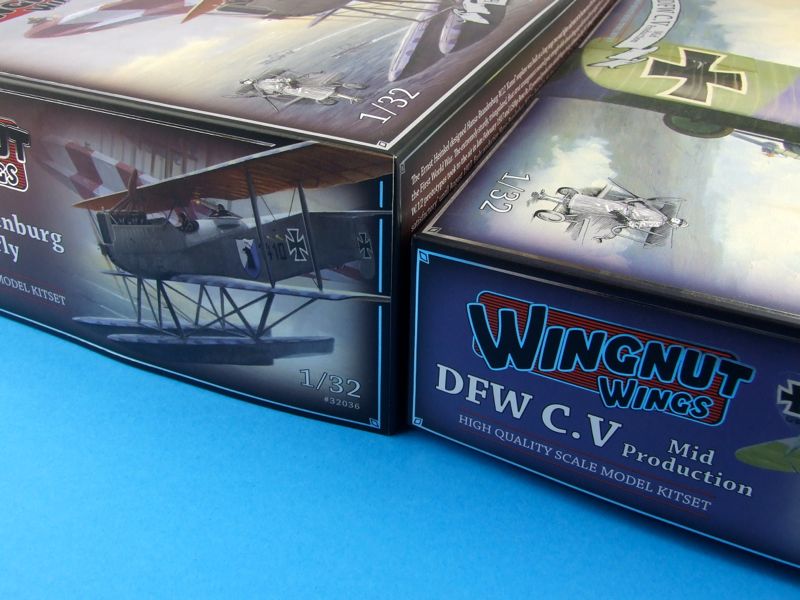 Inside this outsized box, we find the following components:
9 grey plastic sprues
1 clear plastic sprue
1 photo-etched fret
2 large decal sheets
1 instruction booklet
Plastic Sprues
---
Wingnut Wings has long been known for taking a modular approach with its kit sprues, and it's interesting to note that of the nine grey plastic sprues in this kit, four of them are not specific to it. For example, the two sprues comprising the beaching dolly (D) are actually from the earlier W.29 kit: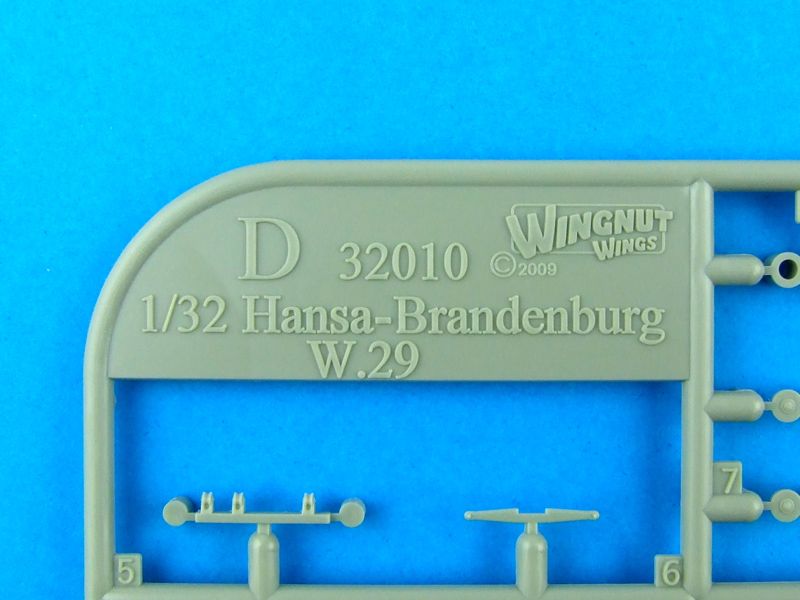 In the same vein, the sprue containing the Bz. III engine (E) is generic, as is the one containing the parabellum gun assembly (G). Sprues D (x2) and E are actually moulded in a slightly differently-coloured plastic, suggesting they've come from existing stockpiles and inserted into this kit. Interestingly, the remaining sprues specific to this kit are all dated 2013. It looks like Wingnut Wings has been sitting on this kit of at least a year!
The detail is every bit as good as what we've come to expect from this company's products. Check out the moulding finesse on these louvres: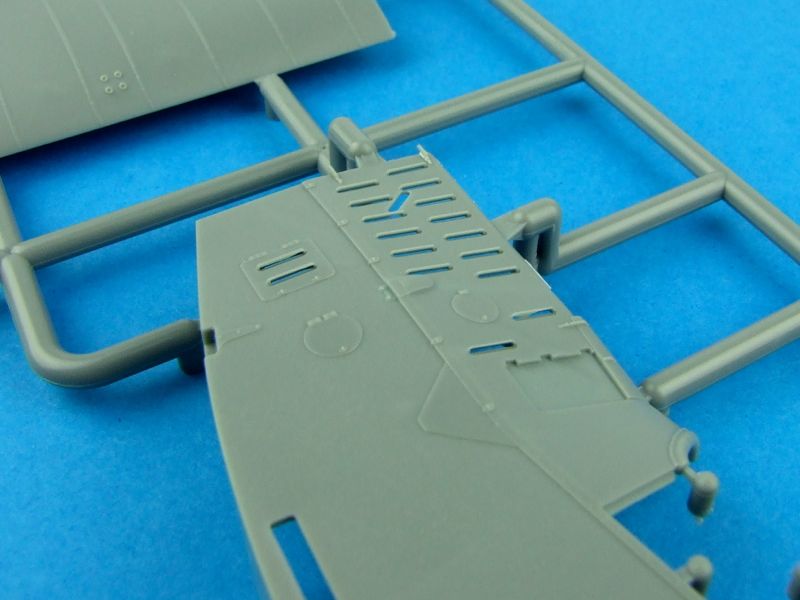 Or the crisp countersunk detail on the wing: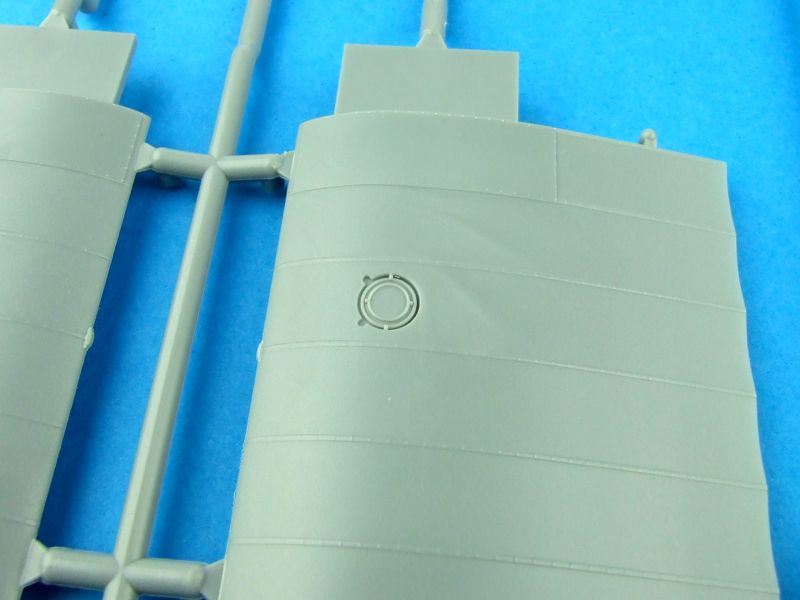 The exhausts have hollow ends, and are exquisitely moulded: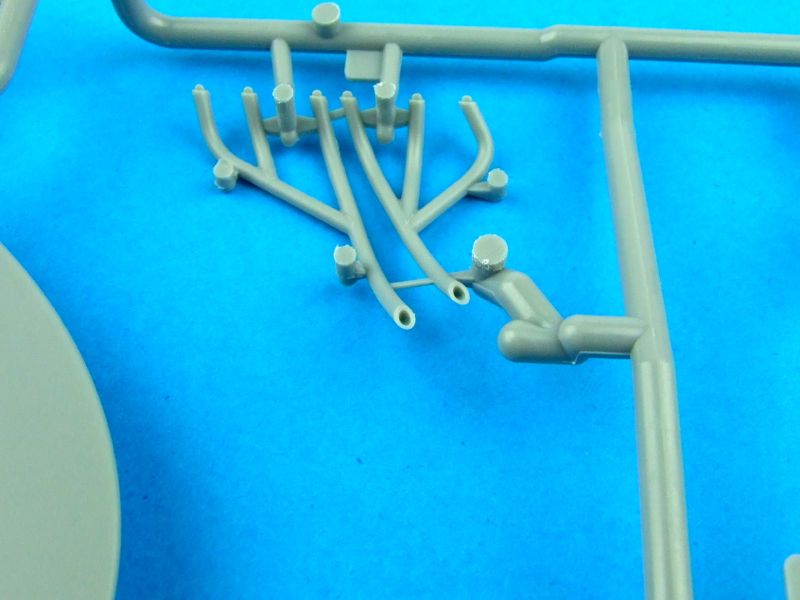 Here are some more close-up detail shots to drool over:
---
Clear Parts
In common with most World War One kits, the clear parts sprue in this one is a limited affair, though more extensive than most.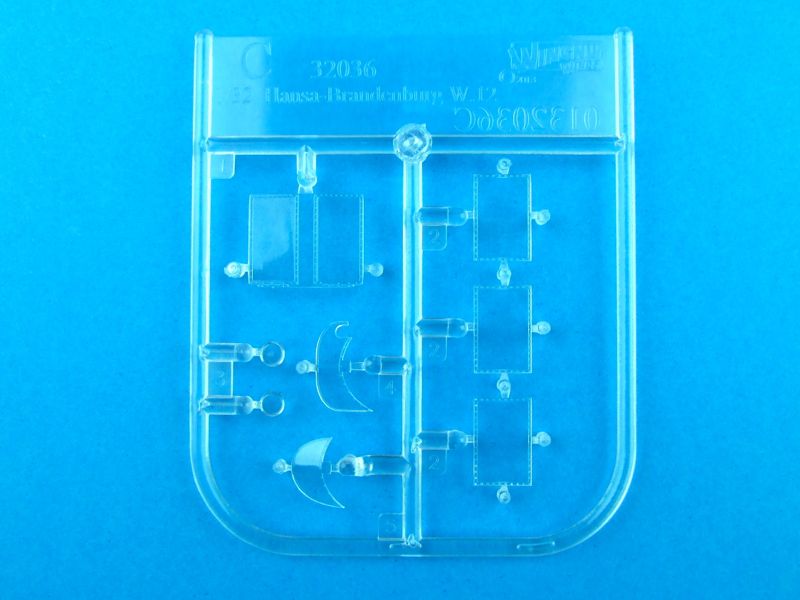 They're clear and very-well moulded.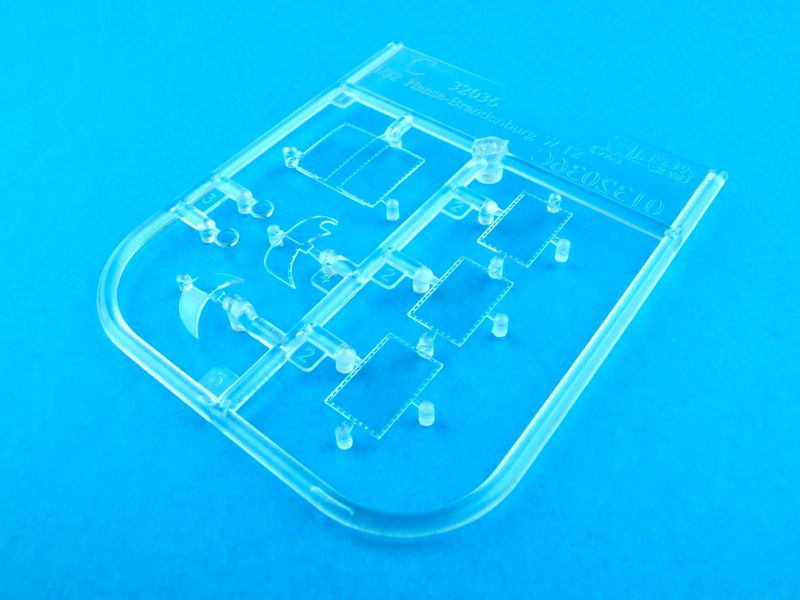 Photo-etched Fret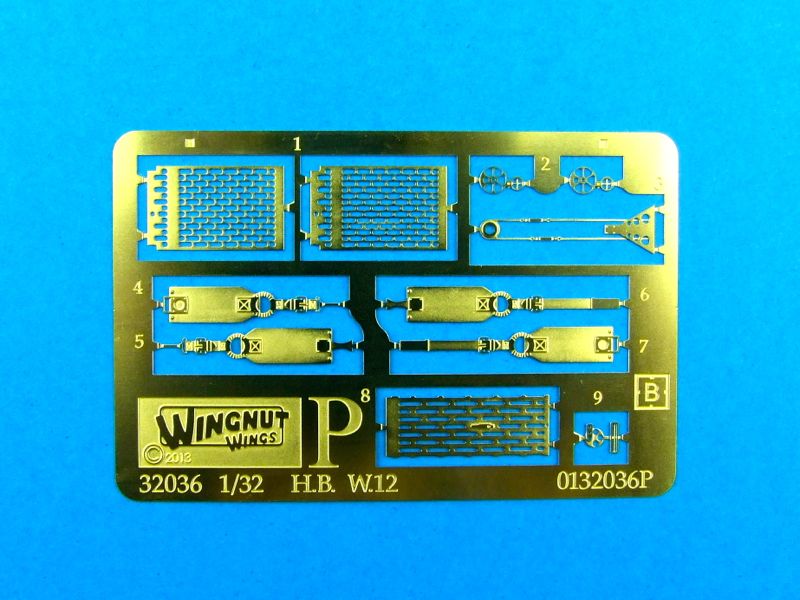 The photo-etched fret supplies mainly seat belts for the cockpit, and a cooling jacket for the machine gun. The use of the latter is not obligatory, as an alternative machine gun with the jacket moulded-in is supplied on the plastic sprues. Using the photo-etched jacket will produce a far superior result however, and a tool is supplied (part G18) to assist with rolling it into the required cylindrical shape.
Instruction Booklet
The instruction booklets supplied in Wingnut Wings kits have become legendary, and with good reason. The production values are equivalent to a glossy magazine, and to refer to them as mere instruction booklets does them a grave disservice.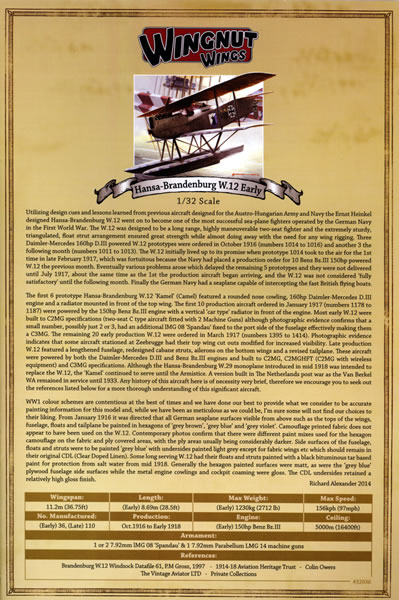 The cover features a potted history of the type, and a specifications table at the bottom. This material is also available on the Wingnut Wings webpage for the kit.
The content features colourful and highly-detailed annotated assembly drawings, complemented by captioned reference photographs and painting instructions.
---
One small but useful change I've noticed with these instruction booklets, is that they're now much easier to lay and keep flat in the open position. I'm not sure what has changed to induce this improvement, but it's most welcome!
Decals and Markings
This kit features two large decal sheets, with one sheet containing all the specific aircraft markings, and the other containing the lozenge decals. The decals themselves are printed by Cartograf, and are exquisite:
---
There's an extensive paint chart on the inside cover of the instruction booklet, with paint colours listed from the Tamiya and Humbrol ranges. The painting and decalling guide begins on page 17, and features the following five aircraft:
Hansa-Brandenburg W.12 1184 C3MG, Fl.Mt.Urban, Lt.Ehrhardt, C-Staffel, Zeebrugge, December 1917
Hansa-Brandenburg W.12 1395 C2MG, C-Staffel, Zeebrugge, late 1917 to early 1918
Hansa-Brandenburg W.12 1401 C2MG, Sylt, mid 1918
Hansa-Brandenburg W.12 1407 C2MG, Norderney, July 1918
Hansa-Brandenburg W.12 1410 C2MG, Zeebrugge, February 1918
Check out the Wingnut Wings website for colour profiles of these schemes.
Conclusion
This release represents everything we've come to expect from a Wingnut Wings kit: exceptional moulding quality, excellent detail, superb decals and industry-leading documentation. What more could you ask for? Highly recommended.
Many thanks to Wingnut Wings for the review sample.
© Kevin Futter 2014
This review was published on Saturday, November 22 2014; Last modified on Saturday, October 03 2015