Zotz Decals | ZTZ32/063: F-4E Phantom II from the 388th TFW Part I
Reviewed by Kevin Williams
As are many in the world today that have a love of aviation, I too am a confirmed Phantom Phanatic. I can still recall the days when I first began to see the Phantoms flying around here in St Louis, being eventually flown in force by the 131st TFW, MOANG. My initial reaction was, what an ugly beast, but as time wore on, I learned to love the old girl, and began to really appreciate her unique style. Unbeknownst to me, she was destined to go down in the historical record as a truly remarkable and capable airframe, being pressed into service for fighter, interceptor, reconnaissance, tactical bomber and close air support missions, all roles where she was regularly flown with great success.
These two sheets from Zotz, (this and 32/064), being dedicated specifically to the E model Phantom, are welcome additions to the decal market, as there have been precious few sheets (in my opinion), dedicated solely to the SEA E series versions of this iconic workhorse aircraft.
Two large sheets are included, and they look very comprehensive. Initial reactions are quite favorable, as opacity and thinness seem to be to an acceptable standard, and printing also seems to be perfectly in register, with minimal carrier film where allowable. A fair amount of stenciling and other miscellaneous bits are also included, including wing walk areas and turbine warning stripes.
The instructions are well detailed with research contributions from several sources. These are printed on heavy gloss paper, and are very nice, adding a certain element of class to the overall presentation. Painting, stencil and decal placement details are included. Information pertaining to individual aircraft and detail notes, are provided where applicable. These markings are bound to be popular for use on the Tamiya kit. They should also be suitable for the older Revell kit. With such a huge selection of markings, I doubt that modelers will need to look any further for aftermarket decals for their E type Phantoms!
The Packaging
Sheets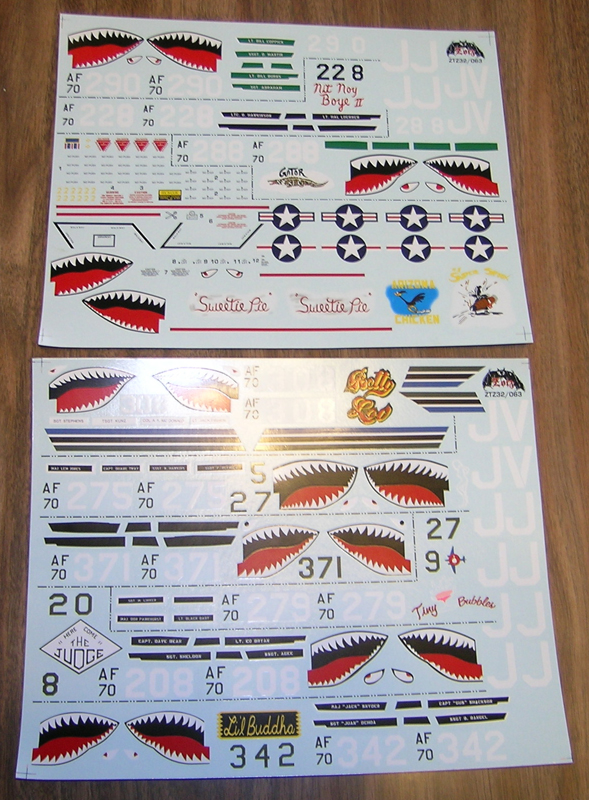 Instructions and profiles
No less than nine different airframes are depicted on this set, those being (in no particular order):
67-0288 "Gator", 388th TFW, 469th TFS
70-0308 'Betty Lou", 388th TFW, 469th TFS
67-0275 "Sweetie Pie", 388th TFW, 469th TFS
67-0371 "Arizona Chicken", 388th TFW, 469th TFS
67-0279 "Tiny Bubbles", 388th TFW, 34th TFS
67-0208 "Here Comes The Judge", 388th TFW, 34th TFS
67-0342 "Lil Buddha", 388th TFW, 34th TFS
67-0290 "Super Spook", 388th TFW, 34th TFS
67-0228 "Nit Noy Boye II", 388th TFW, 34th TFS
All are shark mouth examples, and two (67-0279 & 67-0275), appear to have FS30219 (light tan) radomes.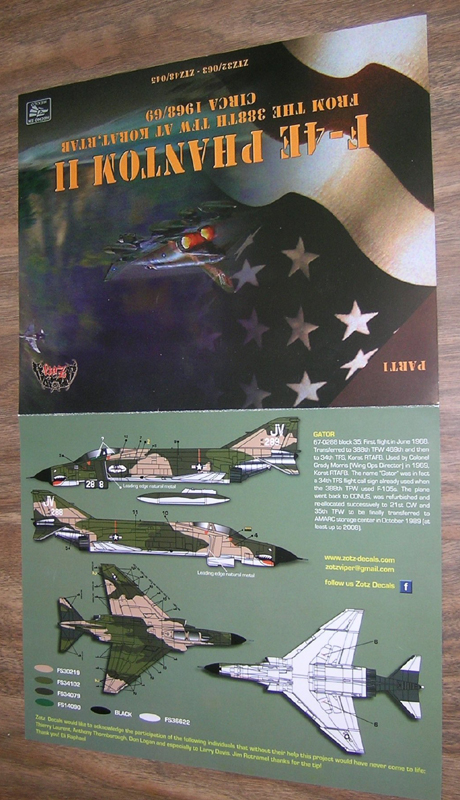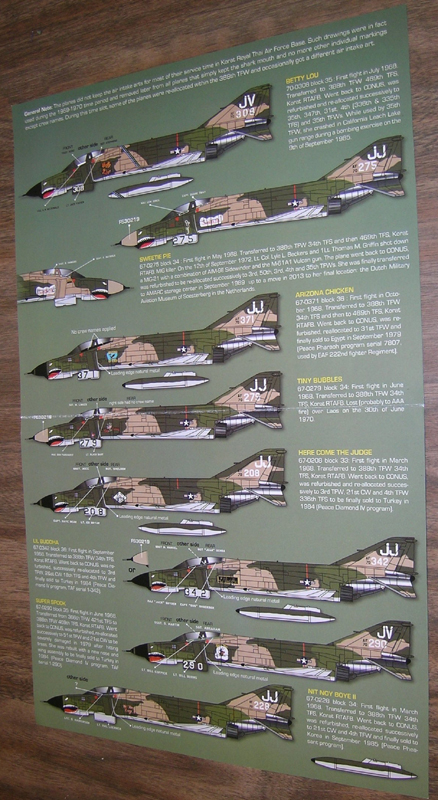 (At this time I must confess that I'm reviewing these without having consulted any references, as I would typically only do that when undertaking modeling a particular subject from the sheets, which I will do when the time comes.)
Overall, I'd say that if you have a 1:32 F-4E in need of some seriously cool decals, and enjoy the SEA paint schemes, then I can highly recommend using this set as a great addition to your Rhino.
Recommended Reading/Reference Material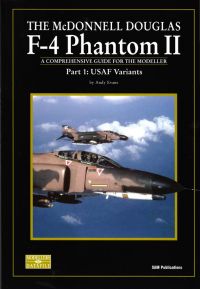 ---
© Kevin Williams 2014
This product is available from the following LSP sponsors
This review was published on Friday, December 19 2014; Last modified on Sunday, August 28 2016