Xuron Corp. | 2175ET: Professional Sprue Cutter
Reviewed by Kevin Futter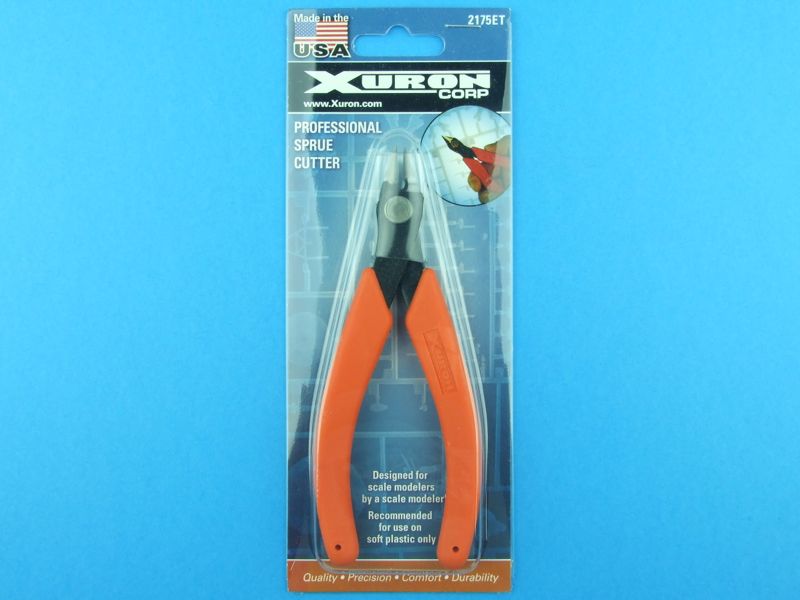 US-based Xuron Corp. is a well-known maker of hand tools for modellers and hobbyists, with an extensive range of shears and cutters for every conceivable use case. Here we take a look at the company's 2175ET Professional Sprue Cutter. This tool is described in Xuron's product catalogue like so:
Designed by a scale modeler for scale modelers who need a tool with added reach and maneuverability. Longer, low-profile cutting blades easily get into tight, confined spaces and our Micro-Shear® blade bypass cutting action leaves clean, smooth cuts with no pinch or damage to parts. Handles are longer and shaped with a slight curve to fit comfortably in larger hands allowing for greater stability and control. Recommended for use on soft plastic only.
The modeller mentioned as the designer is in fact Gerald Voight (aka Hawkeye), a well-known figure in the modelling community. It's impressive that Xuron is willing to engage with its users in helping to design and deliver the best possible product.
The business end of these cutters is protected by a chunky sleeve, made from soft, clear plastic: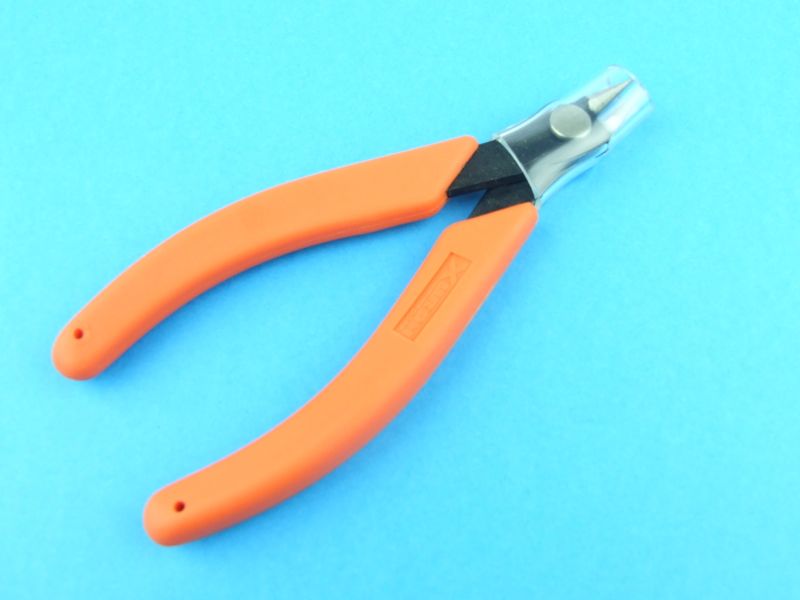 The cutting tines are relatively short, and taper to a fine point. One side is flat to enable flush cutting, while the other side is wedge-shape to form the cutting edge: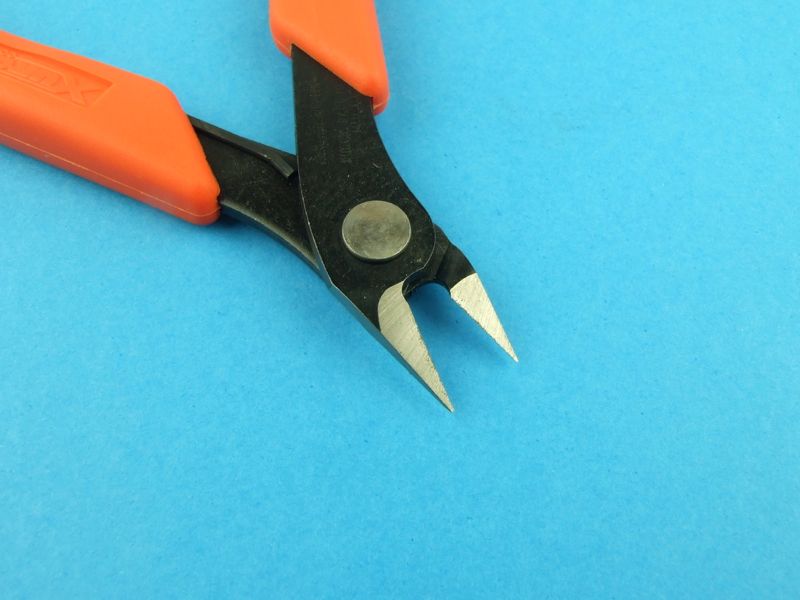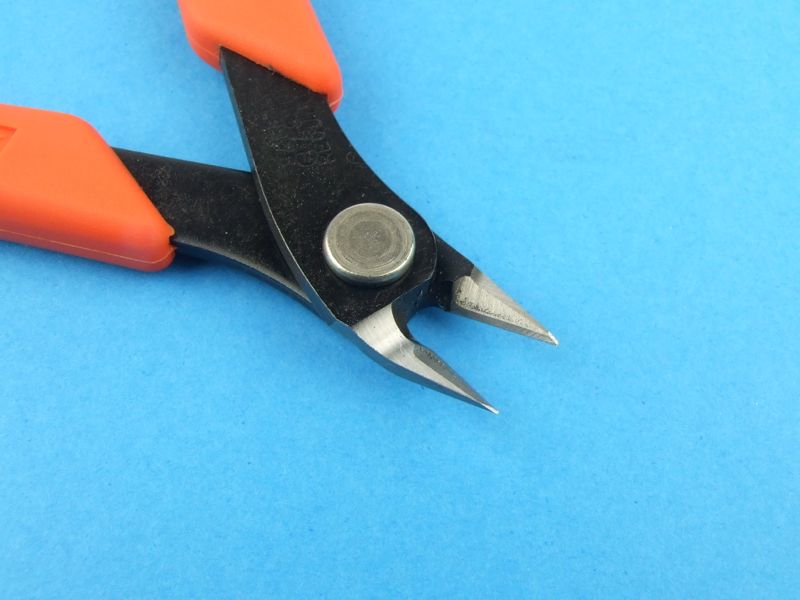 My go-to sprue cutters at the moment are the black-handled ones from Tamiya, so I thought it would be interesting to perform an A/B test, comparing the Xuron and Tamiya tools: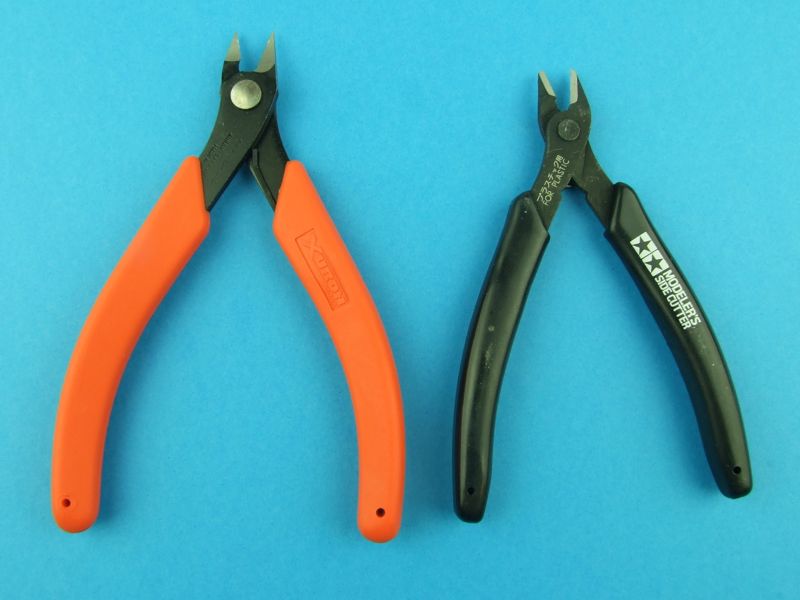 The Xuron cutters are larger than the Tamiya ones, and have a stiffer action. I found both tools quite comfortable to use, though the Xuron set allowed for more force to be applied, which may be useful for thicker sprue gates. My test subject was the wing from Trumpeter's 1/32 F4U-1 kit: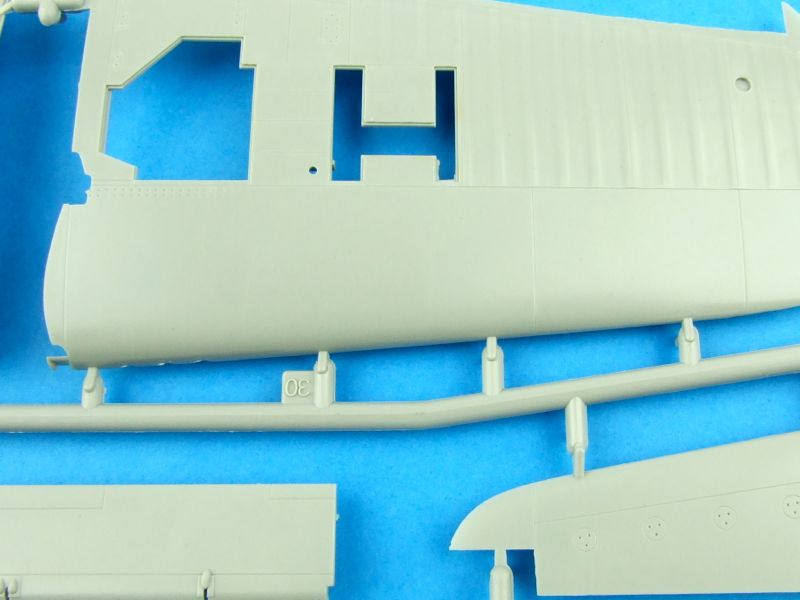 The sprue attachment points are solid, and encroach slightly over the part itself. I made the first sprue cut using the Tamiya cutters, and the rest with the Xuron tool: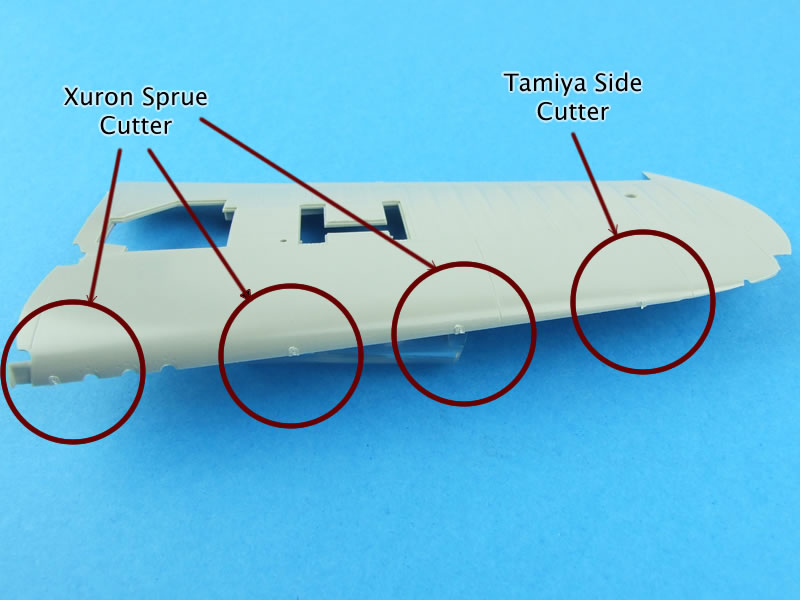 In practice, both tools produced a very similar result, and I'll refer you to the close-ups below for a better look: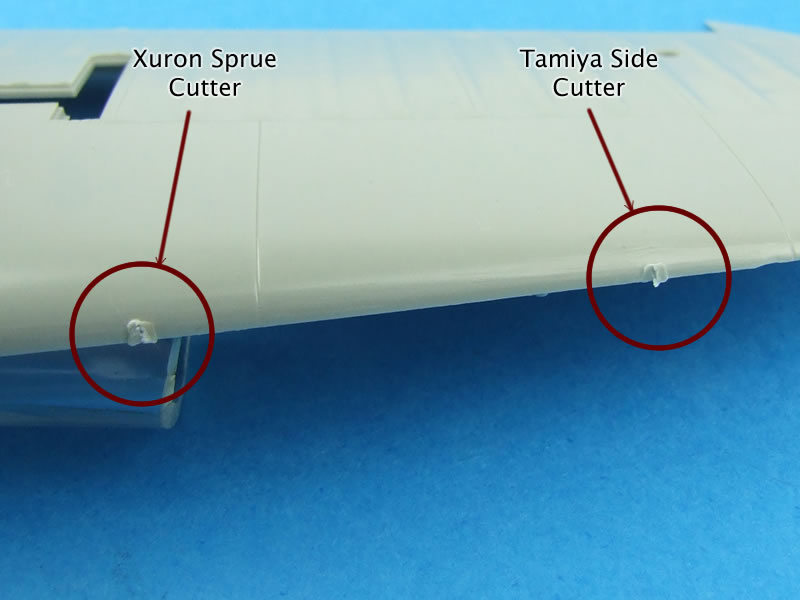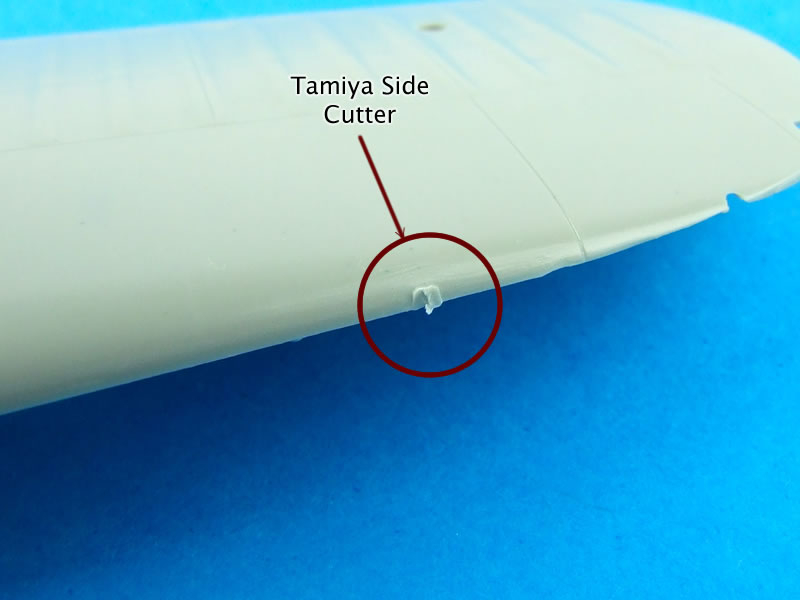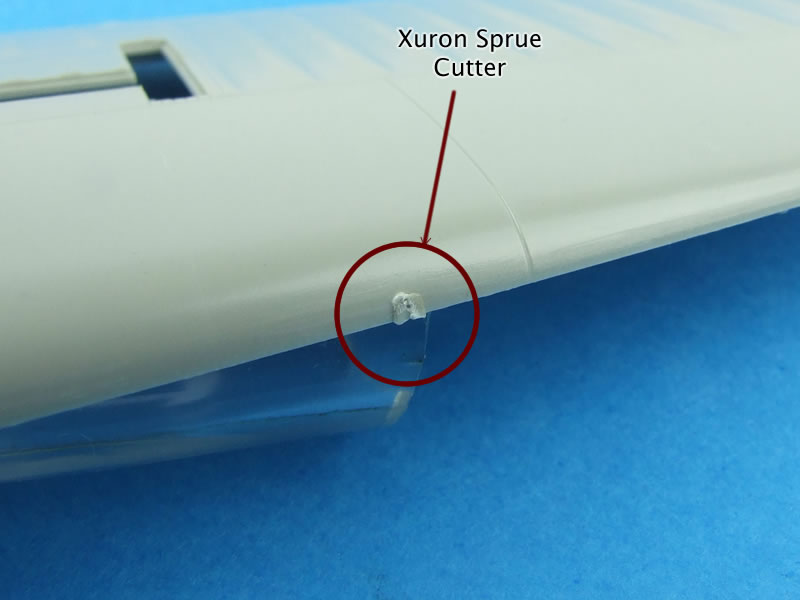 No sprue cutter was ever going to be able to produce a flush cut on a curved surface such as this wing leading edge, so in each case there's some residual plastic to clean up. The Xuron tool seems to produce slightly less compression damage than the Tamiya cutters, but there's not much in it. Note that the attachment point handled by the Tamiya cutters was the smallest of those along the leading edge of the part. And it's useful to remember that this hardly constitutes exhaustive testing.
Conclusion
When compared the Tamiya tool, these Xuron sprue cutters more than hold their own, and have the advantage when it comes to larger or thicker attachment points. The Tamiya cutters, while effective, feel flimsy by comparison. Considered on their own, the Xuron cutters are a quality tool with no compromises, and I can highly recommend them!
Thanks to Xuron Corp. for the review sample.
© Kevin Futter 2015
This review was published on Friday, January 16 2015; Last modified on Friday, January 16 2015