Eagle Editions | EagleCals EC#153: Ju 88 A-4
Reviewed by Kevin Futter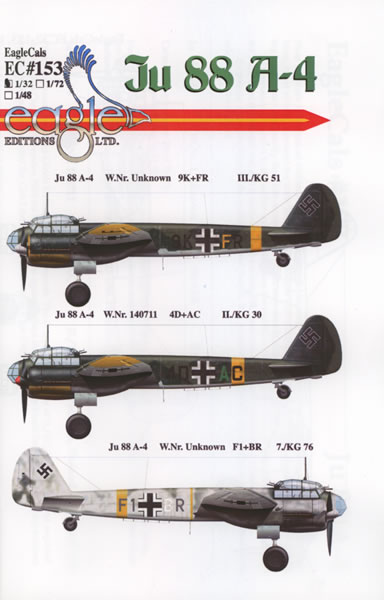 Revell's 1/32 scale Ju 88A-4 kit was released in 2013, and Eagle Editions followed shortly after with this replacement decal set for it. The package contains two superbly-printed decals sheets, featuring excellent registration and colour density. The decals themselves sport a glossy finish, and excess carrier film has been kept to an absolute minimum. Notably, there is no printing house credited on either sheet.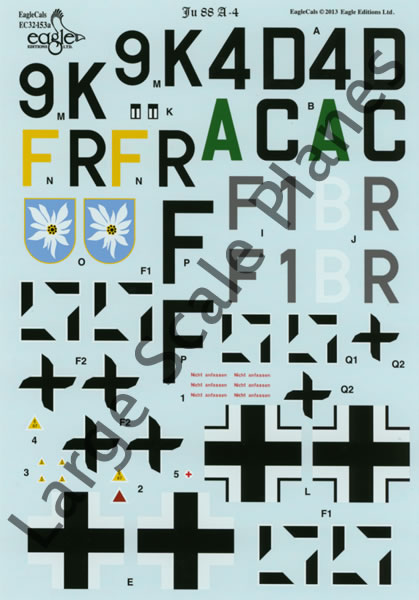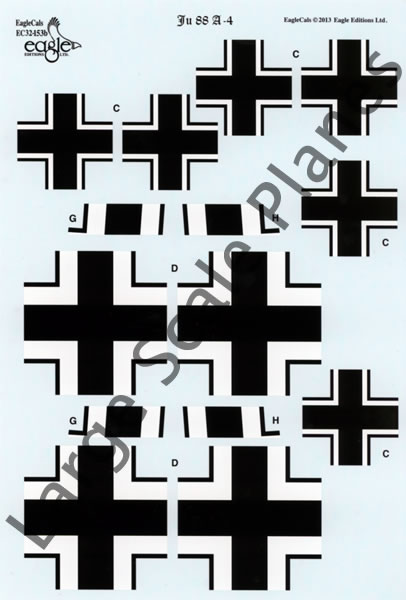 Note that the swastikas are each provided in two parts to comply with German law, and will have to be assembled on the model. The breakdown is slightly unusual, and not an approach I've seen before. It looks to be quite cleverly done.
The supplied booklet is also beautifully printed in full colour, and is actually a single fold-out sheet. Contained within are colour profiles with decal placement guides, a separate 3-view stencil placement guide, and a description of each aircraft depicted.
There is a note in the text describing how to backdate the late-style rudder found in most kits, to the early-style used in one of the options in this set (9K+FR). I was unfamiliar with the term 'rudder horn', and had to look it up before I understood the explanation correctly. I think a small diagram here would avoid any confusion, and add a significant amount of clarity to the situation. This is only a very minor gripe, however.
The three schemes included are:
Ju 88 A-4, W.Nr. Unknown, 9K+FR, III./KG 51
Ju 88 A-4, W.Nr. 140711, 4D+AC, II./KG 30
Ju 88 A-4, W.Nr. Unknown, F1+BR, 7./KG 76
The first two options feature standard Luftwaffe camouflage of 70/71 over 65 undersides, with yellow theatre markings in the appropriate places. The last scheme features a white distemper winter finish over the standard camouflage, which should be pretty eye-catching in this scale.
Conclusion
This package is a worthy alternative to the kit-supplied decals, and provides some interesting schemes. The decals themselves look to be of great quality, and I can highly recommend them.
Thanks to Eagle Editions for the review sample.
© Kevin Futter 2015
This product is available from the following LSP sponsors

This review was published on Saturday, January 17 2015; Last modified on Thursday, March 03 2016