AK Interactive | Aces High Magazine Issue 3: The Empire of Japan
Reviewed by Kevin Futter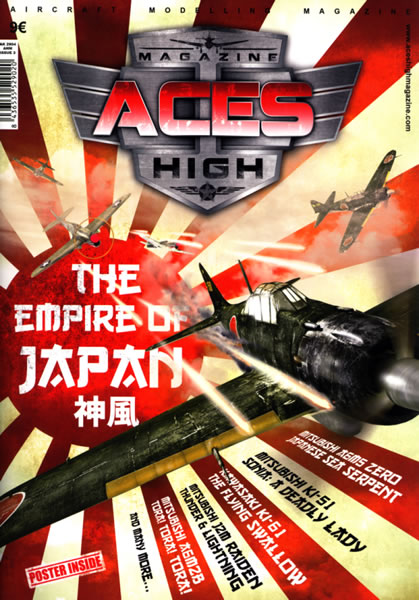 Spanish firm AK Interactive has, in a relatively short space of time, become quite well-known for its finishing and weathering products, of which it sports an extensive range. In 2014, the company branched out with the launch of its own aircraft modelling magazine, entitled Aces High. Here we examine issue number 3, dedicated to Japanese aircraft of World War 2.
The magazine itself is very stylishly produced, with the covers printed on light card stock, and the contents on heavy, glossy paper. The design is busy, with lots of stylistic conceits that occasionally interfere with readability (the cover itself is a good example).
The body of the magazine consists of five major build articles, plus two bonus rounds at the end:
Japanese Sea Serpent - Tamiya 1/32 A6M5, by Juan Villegas
Sonia: A Deadly Lady - Nichimo 1/48 Ki-51, by Jose Luis Etxaide
The Flying Swallow - Hasegawa 1/32 Ki-61, by Pablo Montero
Thunder & Lightning - Hasegawa 1/32 J2M3, by Daniel Zamarbide
Tora! Tora! Tora! - Tamiya 1/72 A6M2, by Joaquín G. Gazquez
Mind the Gap - Corso Models 65mm Kamikaze Pilot, by Roberto Ramírez
Mind the Gap - Tamiya 1/48 Type 95 Car, by Francisco J. Martínez
---
Each of these builds is truly exceptional, with fantastic detail and meticulous paint work, with the focus of each article placed squarely on the finishing techniques employed. It's fair to say that, being a Spanish magazine, the finishing style of each model belongs to what is colloquially known as the 'Spanish School' - a stylised approach that exaggerates certain elements of the finish to create a dynamic impact on the viewer. When used judiciously, this style can produce truly wondrous results, but when taken to extremes, the resultant model can look like a caricature of the subject.
The models featured in this magazine all tend toward the extreme end of the spectrum, with Pablo Montero's Ki-61 showing the most restrained approach. Joaquín G. Gazquez' 1/72 Zero is heavily weathered, but quite effective. And while I'm normally a fan of Daniel Zamarbide's exquisite models, I thought his J2M3 looked a little silly, quite frankly. This is a direct reflection of my own personal tastes, however, and not in any way a criticism of the considerable skill with which all of these models have been finished.
Judgements of taste aside, there's no doubting that there is much to marvel at and learn from in the pages of this magazine. Even those finishes our personal aesthetic my deem overdone, offer insight into the techniques used to create them, and these are still eminently useful in creating a more restrained result on your own models.
The two smaller, non-aircraft articles at the end of the magazine round at the content. The article on the kamikaze pilot offers a useful primer on painting pilot figures, with some very useful hints and tips. The build of the Japanese vehicle feels a little more like filler, but is an interesting article nonetheless.
It's worth noting that in all cases, the photography is clear and crisp, with each image supporting the explanatory text nicely. Only in the Sonia article are the photos perhaps a little dark, but not the detriment of the article itself.
Conclusion
This is my first encounter with Aces High Magazine, and I'm duly impressed. It's not perfect, and the featured finishing style will not be to everybody's tastes, but the quality of the modelling on show transcends such subjective considerations. There is much to admire and learn here, and the impressive production values make it a visual feast. What's more, the centre pages consist of a bonus poster, featuring a piece of artwork by Luis David. Overall, I think it's a great effort, and will only improve in subsequent issues. Recommended!
Thanks to AK Interactive for the review sample.
© Kevin Futter 2015
This review was published on Thursday, January 22 2015; Last modified on Sunday, January 03 2016