Wingnut Wings | #32066: 1/32 Felixstowe F.2a Late
Reviewed by Kevin Futter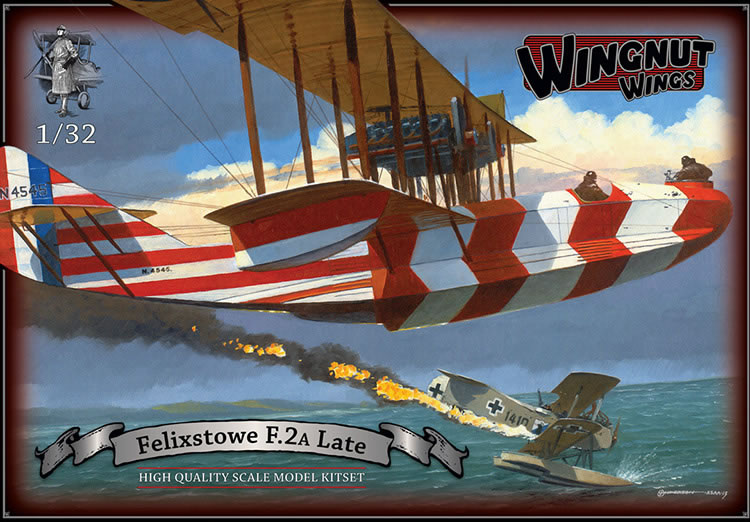 New Zealand firm Wingnut Wings continues its prolific output by releasing its largest kit yet: a Felixstowe F.2a flying boat. In fact, the company has released two versions of this monster: a 'late' version and an 'early' version. Here we examine the Felixstowe F.2a Late version.
The first and most obvious thing that strikes you about this kit is the sheer size of the box: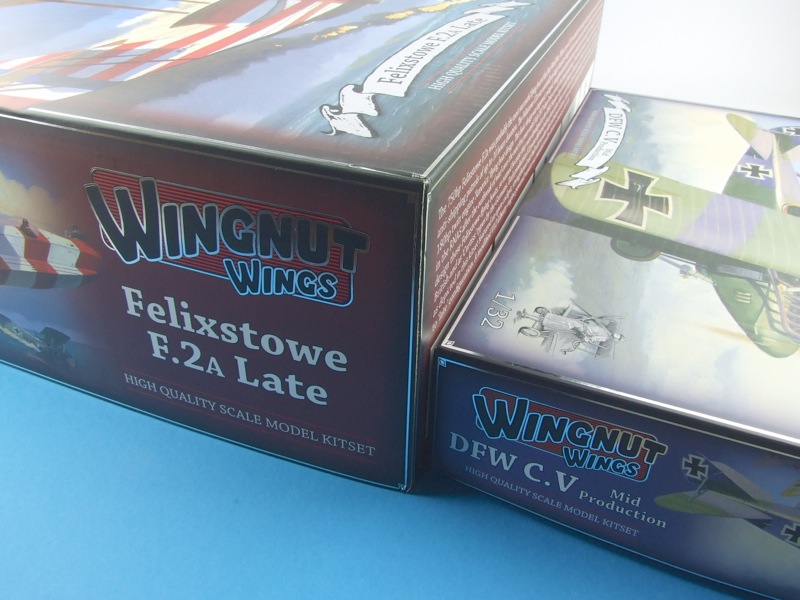 It's a full 15cm deep, and the only kit in my stash that rivals it for depth is the Trumpeter 1/32 Avenger, but the Felixstowe's box is markedly wider. In other words, it's huge!
Inside this outsized box, we find the following components:
11 grey plastic sprues
1 clear plastic sprue
1 photo-etched fret
2 large & 2 small decal sheets
1 instruction booklet
Plastic Sprues
---
Sprues E (RR Eagle engine) and D are duplicated. The sprues that hold the main airframe and hull structures are among the largest I've seen in a plastic model kit, with several only just squeezing into the already huge box, and really testing the limits of my photo studio!
Most of the sprues are labelled with the part number for the company's 'Early' kit (#32050), with only sprues K (upper hull and ailerons) and C2 (clear parts) being labelled as specifically for this 'Late' version.
The moulding quality and level of detail is every bit as good as what we've come to expect from this company's products. Here is a random selection of close-up detail shots to drool over:
---
There are a couple of minor surprises though, with regard to Wingnut Wings' usually impeccable moulding. Firstly, the underside of the hull roof parts are peppered with prominent ejector pin marks: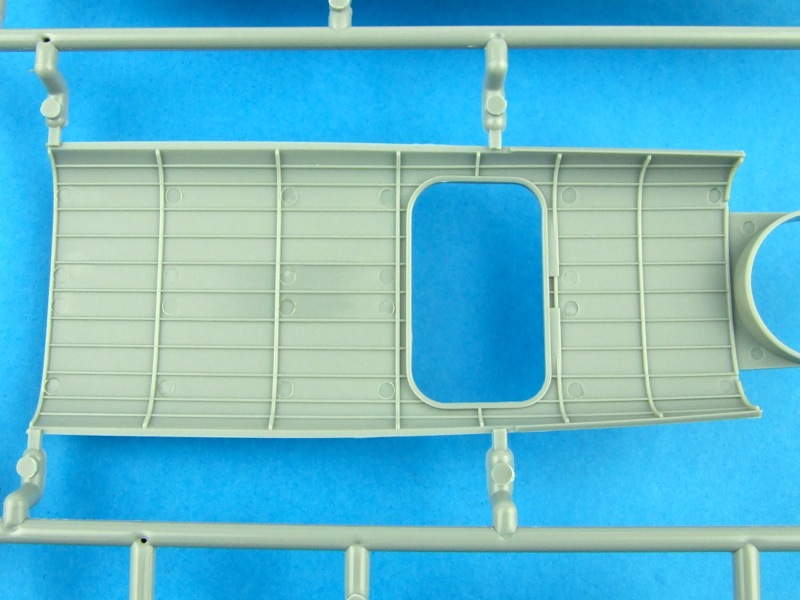 This is hardly a real problem, however, as these will be difficult (if not impossible) to see on the completed model. They're still rather curious though, given how immaculate the company's moulded parts normally are.
In the same vein, the inside of the hull features what I like to call 'ejectites': odd pillars of plastic created by the mould ejection process: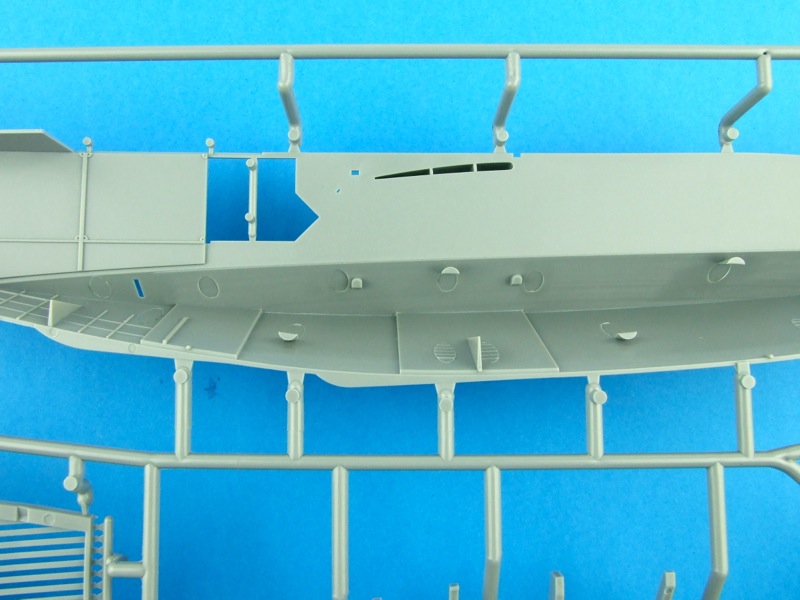 It remains to be seen whether these will require removing, or can simply be ignored. But this is certainly the first time I've ever seen these types of moulding artefacts on a Wingnut Wings kit. They wouldn't even rate a mention on another manufacturer's kit, and they're certainly not an issue here.
Clear Parts
In common with most World War One kits, the clear parts sprue in this one is a limited affair: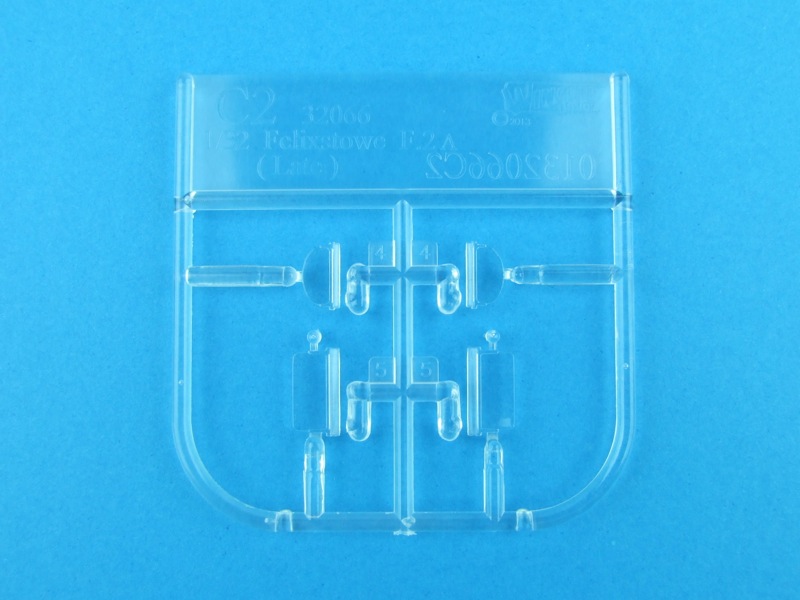 They're clear and very-well moulded.
Photo-etched Fret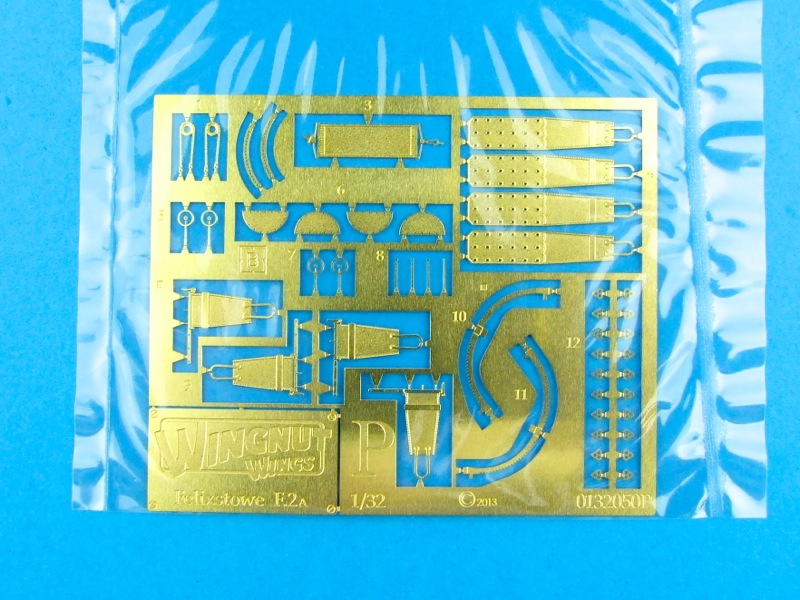 The photo-etched fret supplies mainly seat belts for the cockpit, as well as a few sundry detail parts. It also contains (bottom left) a removable name plate that could be used to adorn a base of some kind.
Instruction Booklet
The instruction booklets supplied in Wingnut Wings kits have become legendary, and with good reason. The production values are equivalent to a glossy magazine, and to refer to them as mere instruction booklets does them a grave disservice.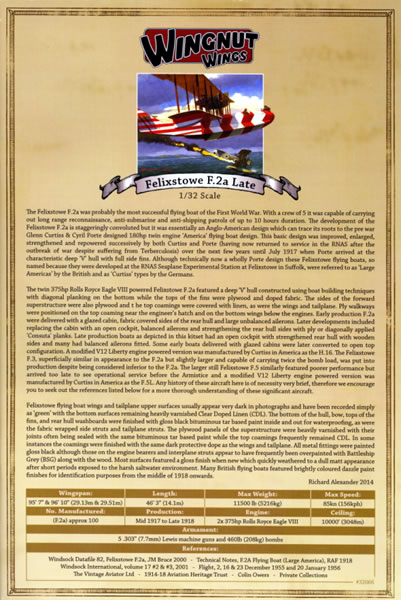 The cover features a potted history of the type, and a specifications table at the bottom. This material is also available on the Wingnut Wings webpage for the kit.
The content features colourful and highly-detailed annotated assembly drawings, complemented by captioned reference photographs and painting instructions.
---
Decals and Markings
This kit features one large and two small decal sheets, with all three beautifully printed by Cartograf:
---
There's an extensive paint chart on the inside cover of the instruction booklet, with paint colours listed from the Tamiya and Humbrol ranges. The painting and decalling guide begins on page 26, and features the following five very colourful aircraft:
Felixstowe F.2a N4296, SE Saunders built, Felixstowe, Late 1918
Felixstowe F.2a N4297, SE Saunders built, Felixstowe, November 1918
Felixstowe F.2a N4545, AMC/May, Harden & May built, 230 Sqn RAF, Felixstowe, August 1918
Felixstowe F.2a N4099, SE Saunders built, Felixstowe, Late 1918
Felixstowe F.2a N4465, SE Saunders built, Killingholme, Late 1918
Check out the Wingnut Wings website for colour profiles of these schemes. Each of these schemes, save for the last one, features gaudy colours and various types of bright striping on the hull. They are all certainly very eye-catching! And if they're just a little too much, the last option is a more restrained and traditional-looking wood-and-fabric coloured machine.
Conclusion
This release represents everything we've come to expect from a Wingnut Wings kit: exceptional moulding quality, excellent detail, superb decals and industry-leading documentation. The markings options are all very striking, and even the relatively plain option is gorgeous. The obvious drawback with this kit is its sheer size, and with a 92cm wingspan fully assembled, it certainly is a monster. It's a great kit of a rarefied subject though, and if you're interested in the type, and have the room (or are prepared to stash it until you do) it's a must-buy. Highly recommended!
Many thanks to Wingnut Wings for the review sample.
© Kevin Futter 2015
This review was published on Wednesday, February 18 2015; Last modified on Saturday, October 03 2015