Kitty Hawk Model | KH32007 1/32 F-86D
Reviewed by LSP_Paul
Hot on the heels of its latest 1/32 scale offering, the OV-10 Bronco series, Kitty Hawk bursts into the mainstream marketplace once again with a classic '50s fighter that is sure to provide many hours of entertaining building, painting and detailing and turn heads for a closer look at a contest or in your display case.
I don't generally make blanket statements about a model I haven't built yet, but they have clearly outdone their previous fine efforts to produce one hell of a kit!
The Prototype
An intelligence warning in 1948 prompted the U.S. Air Force to hurriedly develop an all-weather interceptor. Starting with the basic airframe of its F-86A, North American incorporated two unprecedented concepts into the F-86D (initially designated the F-95). First, a highly sophisticated electronic system replaced the second crew member carried by other interceptors of the time. Second, the F-86D became the first production single-seat fighter to which air-to-air missiles replaced the classic gun armament.
With its air intake reshaped to make room for the enclosed radar, the F-86D -- nicknamed "Sabre Dog" -- presented a distinctive profile. The interception radar (from Hughes Aircraft Co.) and associated fire-control computed the target's position, guided the aircraft on an intercept course to within 500 yards of the target, lowered the retractable tray of 24 rockets, and fired the rockets automatically. The effect of these weapons would have been devastating to an enemy bomber because each 2.75-inch Mighty Mouse folding fin aircraft rocket (FFAR) contained the power of a 75mm artillery shell. The first prototype (YF-86D) flew on Dec. 22, 1949, and North American delivered 2,506 F-86Ds before production ended in September 1953. Although the U.S. Air Force had phased out its F-86D by June 1961, Japan and other nations continued flying them.
YF-95A

Prototype all-weather interceptor; two built; designation changed to YF-86D (North American model NA-164).

YF-86D

Originally designated YF-95A.

F-86D

Production interceptor originally designated F-95A, 2,504 built.

F-86G

Provisional designation for F-86D variant with uprated engine and equipment changes, 406 built as F-86Ds.

YF-86K

Basic version of F-86D intended for export with rocket tray replaced by four 20 mm cannon and simplified fire control system, two conversions.

F-86K

NATO version of F-86D; MG-4 fire control system; four 20 mm M24A1 cannon with 132 rounds per gun; APG-37 radar. 120 were built by North American, 221 were assembled by Fiat.

F-86L

Upgrade conversion of F-86D with new electronics, extended wingtips and wing leading edges, revised cockpit layout, and uprated engine; 981 converted.
The Plastic
The plastic is all a nice medium hardness slightly velvety gray styrene and features outstanding detail as far as panel lines, rivets and fasteners are concerned. All of the NACA intakes and ducting as well as the large intakes on the upper rear fuselage are open with very nicely thinned edges . The Plastic itself should lend itself well to any of the available methods of reproducing a natural metal finish with minimal preparation of the surface. I will be using Alcald II over a gloss black polished base coat on mine, and I see very few if any imperfections on the exterior surfaces that will slow the process down.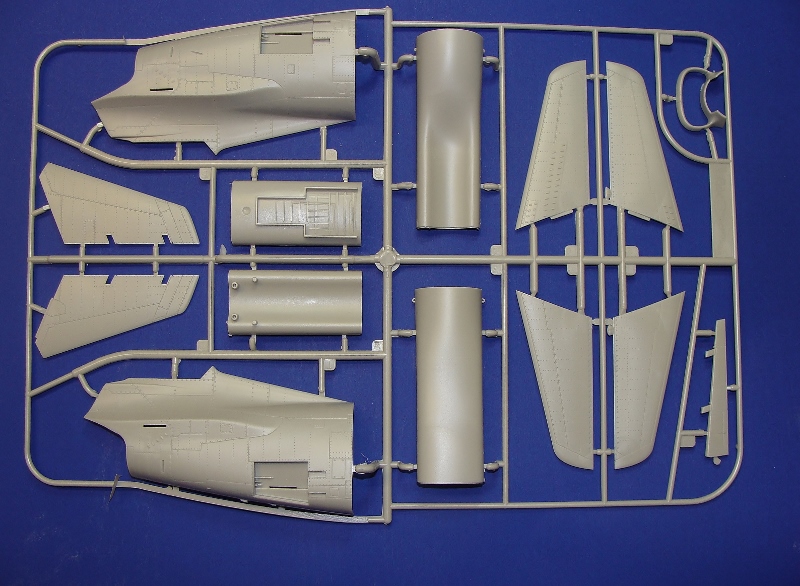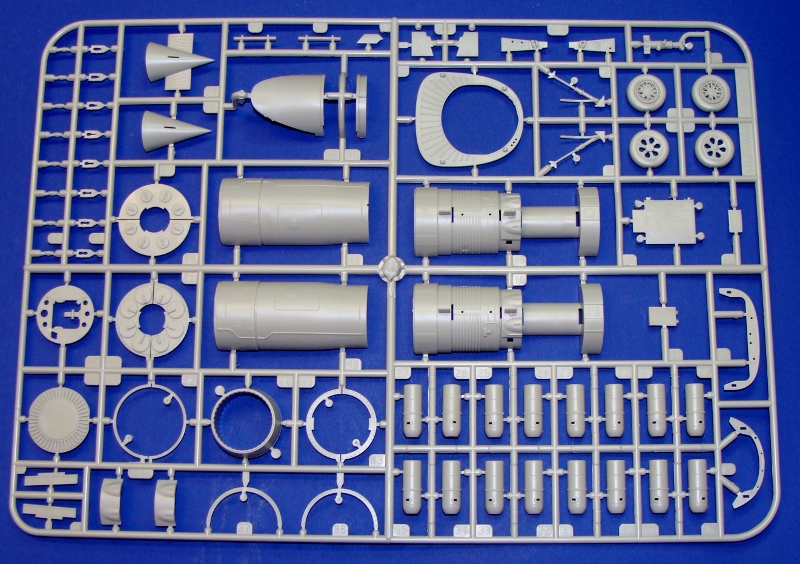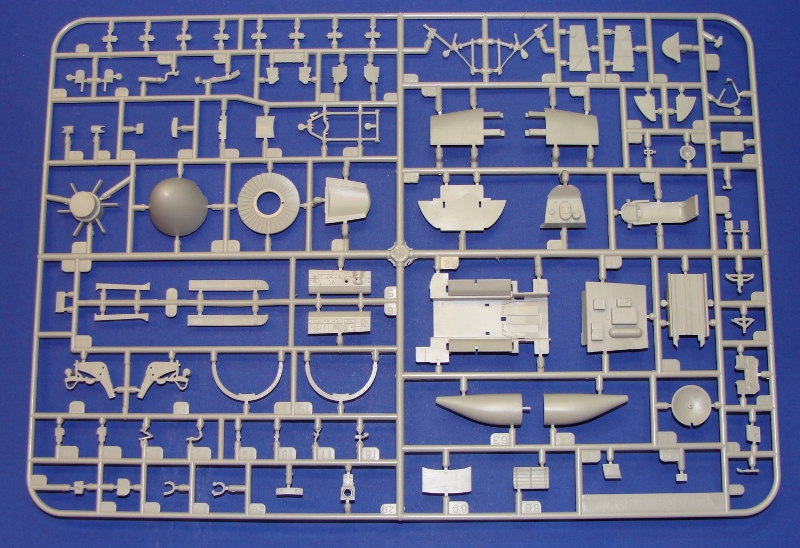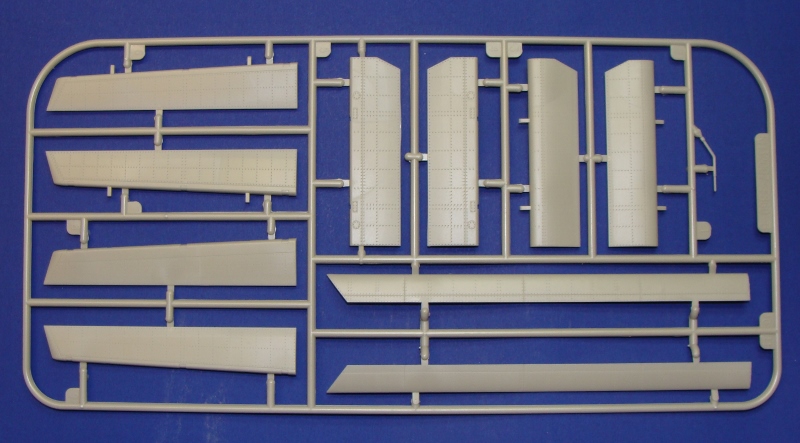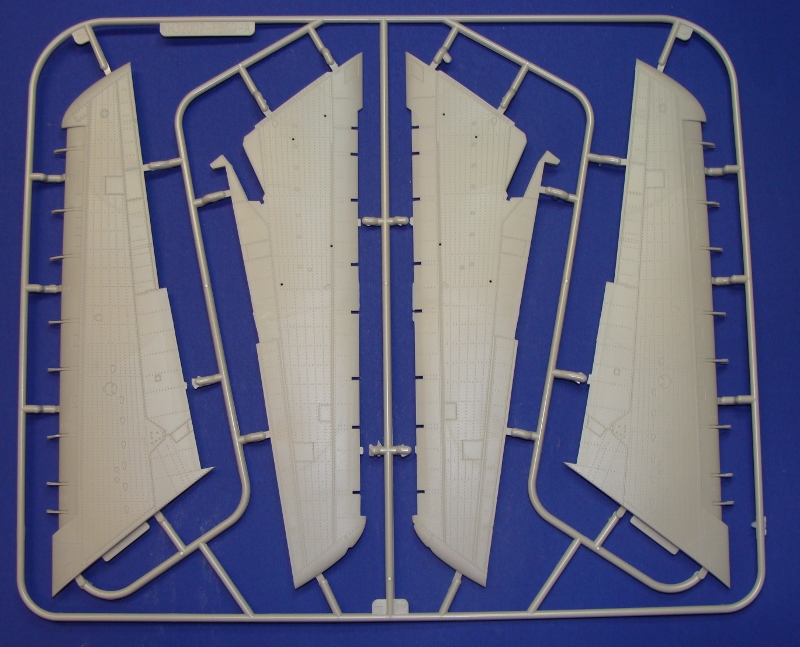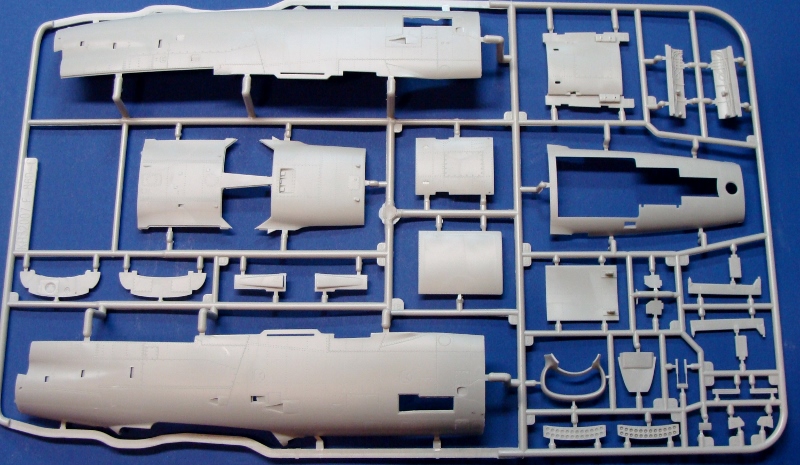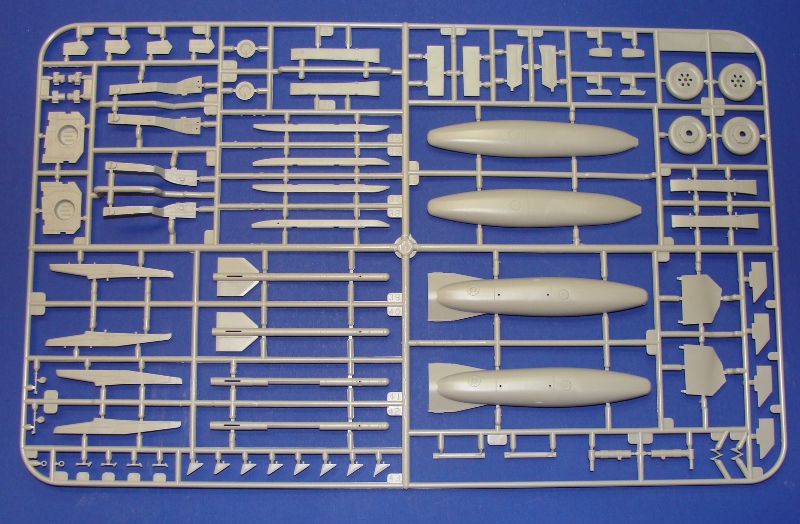 Two different style nose landing gear wheels and tires options are provided, as is an option to display the ventral launch tray in its deployed position below the forward fuselage.
You are provided with a complete engine, and full length intake trunking, and the option to build the aircraft with its tail removed, however, there is not a wheeled dolly to display the separated rear fuselage on, so you will have to improvise if you decide to go that route.
There are some rather heavy ejector pin stubs inside the intake halves and ejection seat sides as well as a few ejector pin knock outs, but with some patience they should clean up well and present a nice representation of both items. The cockpit side wall and tub detail as well as the seat appears very comprehensive and nicely done, with details being subtle yet authentic in appearance. The option to paint the instruments and panels or use a decal is provided, a combination of the two methods would probably yield a very realistic looking front office, and that is what I will do when I build mine.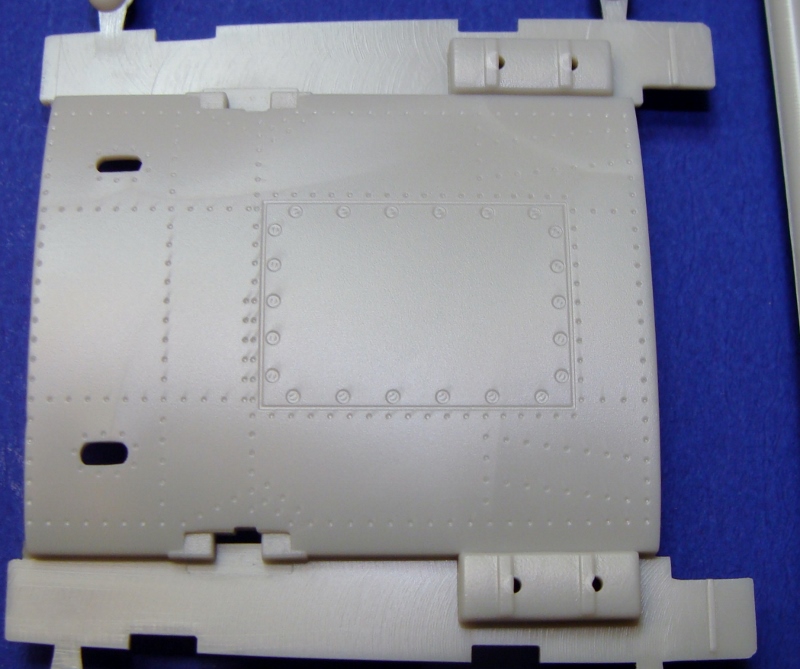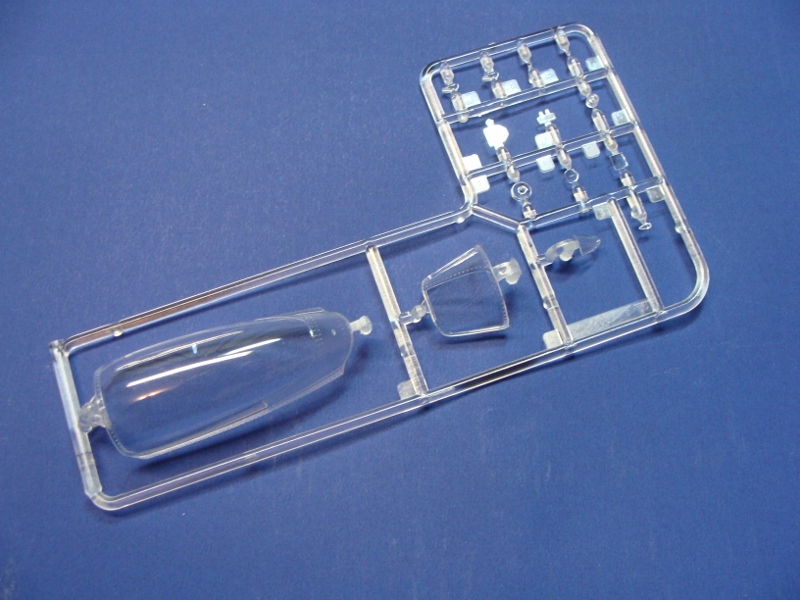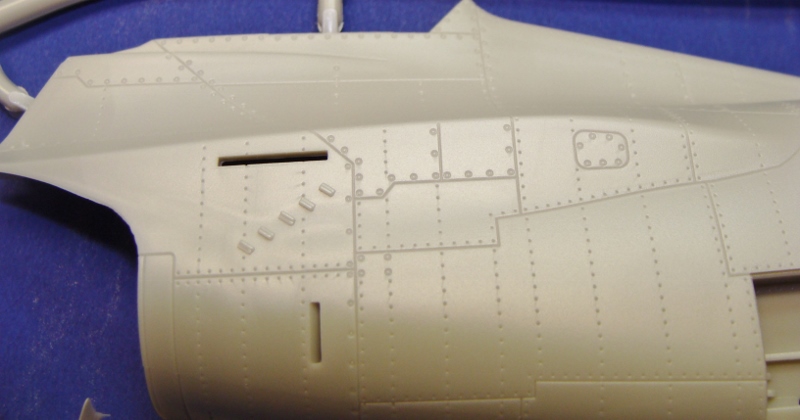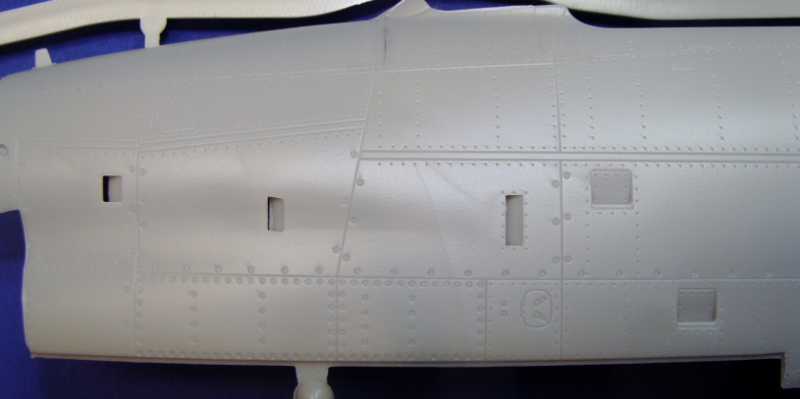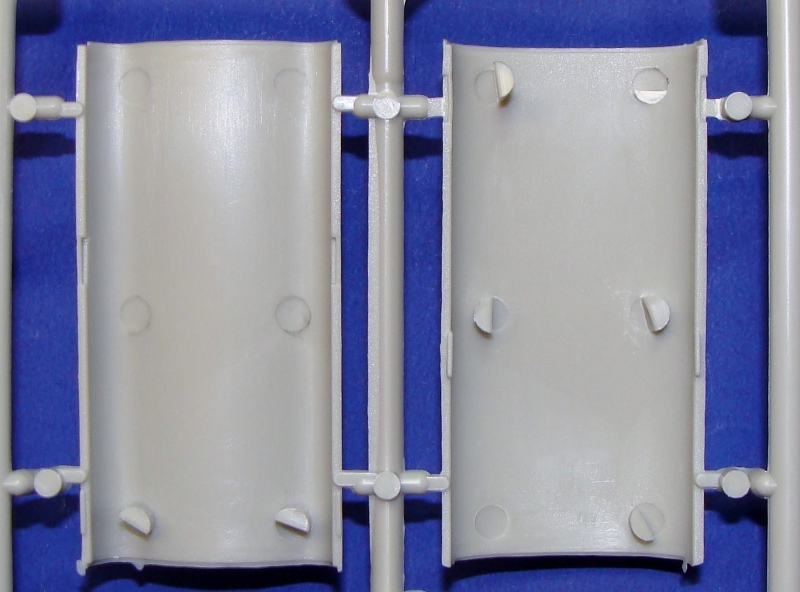 A set of brass seat belts is provided as well to enhance the overall look of the very detailed ejection seat.
Thankfully, very few ejector pin locations are molded in visible areas, there are some inside the areas previously mentioned and a few on the inside surfaces of the leading edge slats but none on the gear doors or anyplace that should detract from an overall fantastic building experience and presentation of the final model. I would give the overall detail of the parts a 9.8 out of 10, its really that well done.
The parts breakdown and assembly sequences are well thought out, with major and minor assemblies coming together on natural panel lines. This should make for a very clean construction process and being a natural metal aircraft will prove very helpful.
The Instructions
In a word, superb! Full color, nicely laid out, detailed and non ambiguous in both parts and decal locations, just what an instruction sheet should be.
There are color call outs for paint given in FS numbers, so you can chose your own paint manufacturer accordingly. Full color 4 view instructions are given for each markings option as well, a very much appreciated touch!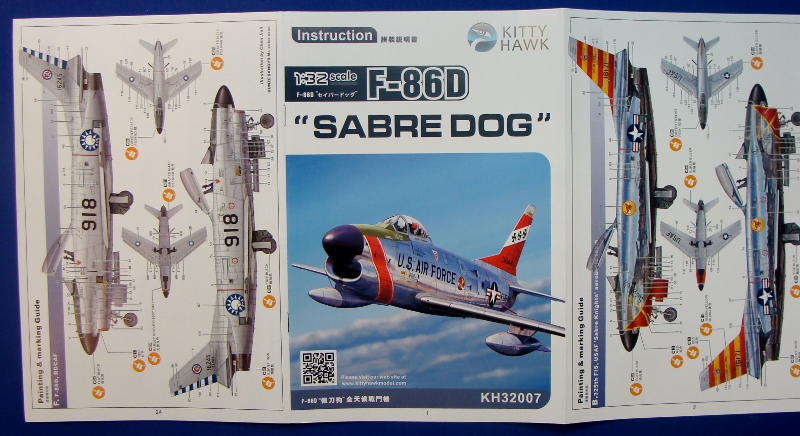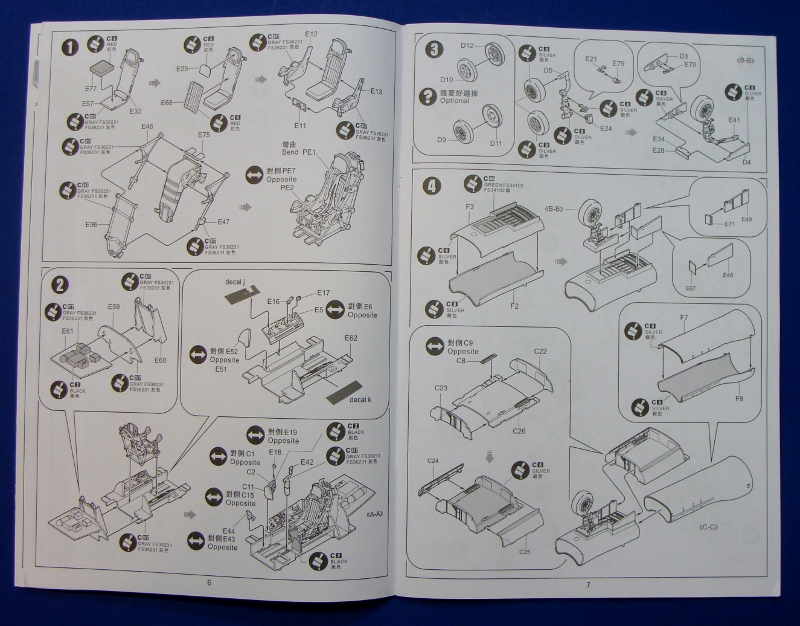 The Decals
All of the markings options for the various aircraft and data stencils are laid out on a large sheet, with a smaller sheet containing a few that wouldn't fit and the cockpit detail decals. The sheets appear to be clearly printed, in register and their colors opaque. The carrier film is quite minimal and the markings themselves are in a flat finish, I am curious to see how they turn out over a natural metal finish and sealed under a semi-gloss.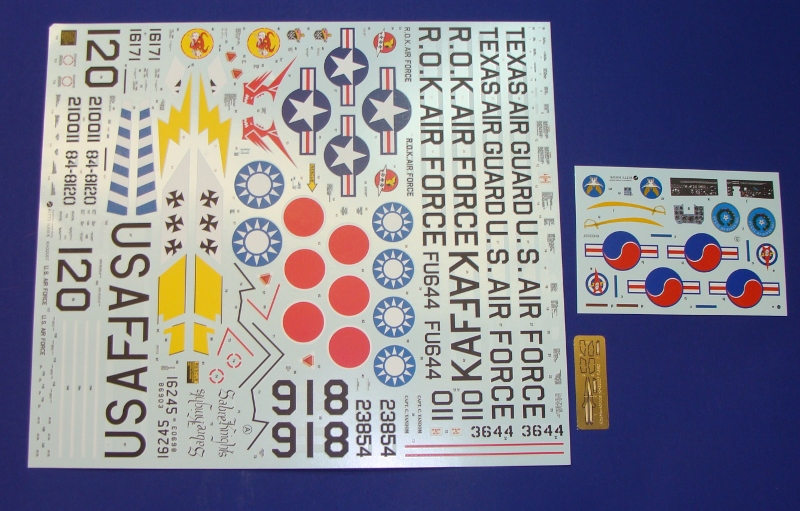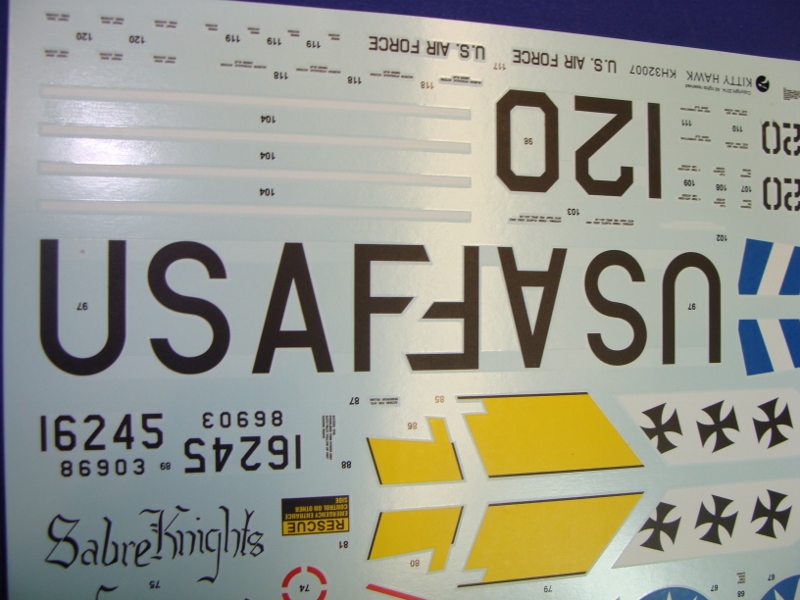 Conclusion
Kitty Hawk has in my humble opinion set not just a new standard for themselves with this kit, but the rest of the industry producing 1/32 scale kits should take notice that there is a new major player in the world of large scale planes.
I will be building this one as a build review as well, so check the Works in Progress section of the LSP forums soon!
Thank you to Glen at Kitty Hawk Model for the review sample.
© LSP_Paul 2015
This review was published on Saturday, February 21 2015; Last modified on Monday, April 25 2016