Puszer Aneh Productions | Generic TUDM Insignia and Codes
Reviewed by Kevin Futter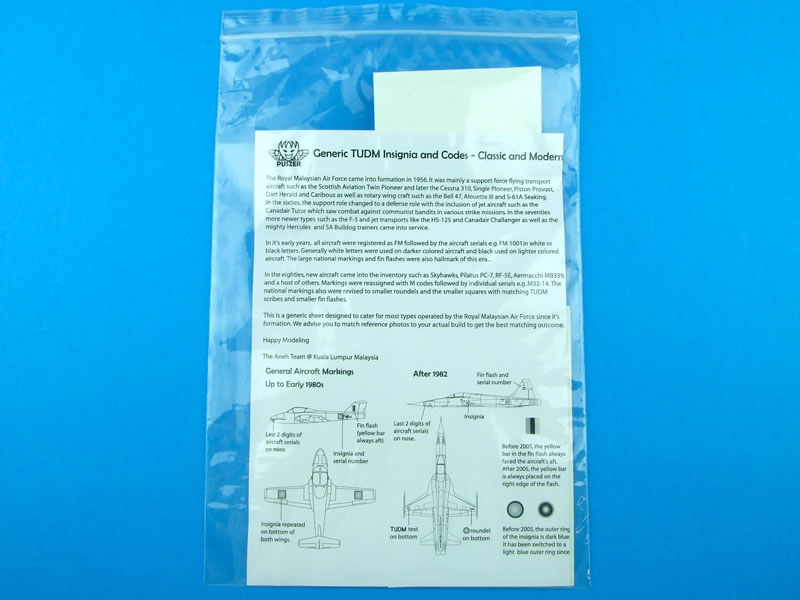 There are aftermarket decal sheets for all manner of subjects these days. So much so, that it often comes as a surprise when we discover that our particular subject of interest hasn't been covered. LSP member Brian Param obviously made a similar discovery when seeking to build aircraft of the Royal Malaysian Air Force, so he has set about rectifying that omission himself. The result is a set of generic insignia and codes, applicable to all types flown by the RMAF from its inception in 1956, until the present day.
There's no indication of scale on any of the four decal sheets in the package, or on the included information sheet, but the insignia and codes are printed in a range of different sizes, so it's a matter for the modeller to choose the most appropriate size for his or her subject and scale.
Sheet 001 contains black code letters and numbers in a range of sizes: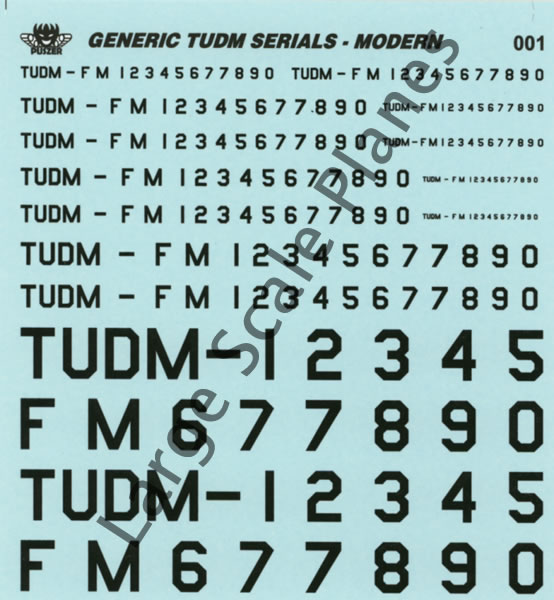 Sheet 002 is a duplicate of 001, but printed in white: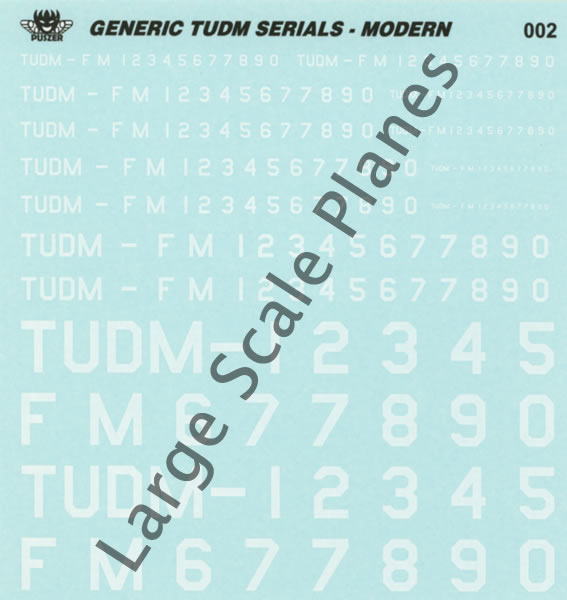 Sheet 003 contains black code letters and numbers in a range of sizes, but in a different style:

Sheet 004 is the most colourful, containing national insignia in various styles and sizes: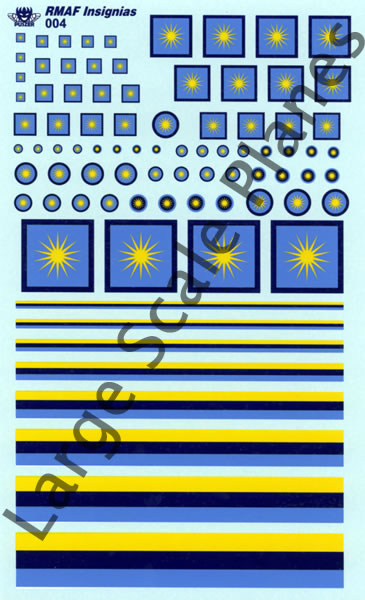 The smaller codes on the first three sheets are printed on a string of continuous carrier film, while the larger codes are printed individually on separate carrier film. Print quality is uniformly excellent, and registration on sheet 004 is flawless, except for some white backing playing peekaboo on the bottom-left of each set of horizontal stripes. No print house is credited.
The large horizontal stripes just mentioned are for use as fin flashes, and are printed in a continuous fashion to allow the modeller to trim them to any required length (height). It also caters for the fact that the fin flash changed orientation after 2005.
All of this is neatly explained in the included instruction leaflet, which consists of an A4 sheet folded in A5 booklet fashion. One side contains a potted history of the included codes and insignias, while the other is a list of aircraft types and their applicable periods and serial number groups. Very handy!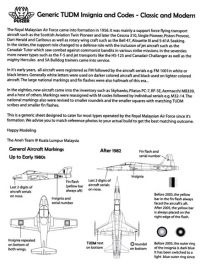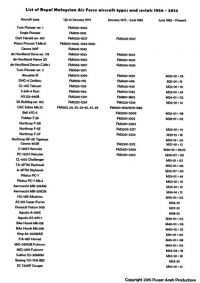 ---
Conclusion
While not specifically for LSP scales, this is nevertheless a very handy set of decals for anyone interested in modelling aircraft of the RMAF. And apart from the minor registration issue already mentioned, it's also very nicely produced. I can't vouch for how the decals will perform in practice, but on the basis of what's in the package, I can still heartily recommend them.
The set is currently priced at US$20, with postage at cost, and payment via PayPal. To purchase, contact Shah Zain (captainscarlet69@gmail.com) or Brian Param (alfasud15@hotmail.com).
Thanks to Brian Param for the review sample.
© Kevin Futter 2015
This review was published on Saturday, February 28 2015; Last modified on Saturday, February 28 2015