Wingnut Wings | #32034: 1/32 AEG G.IV Early
Reviewed by Kevin Futter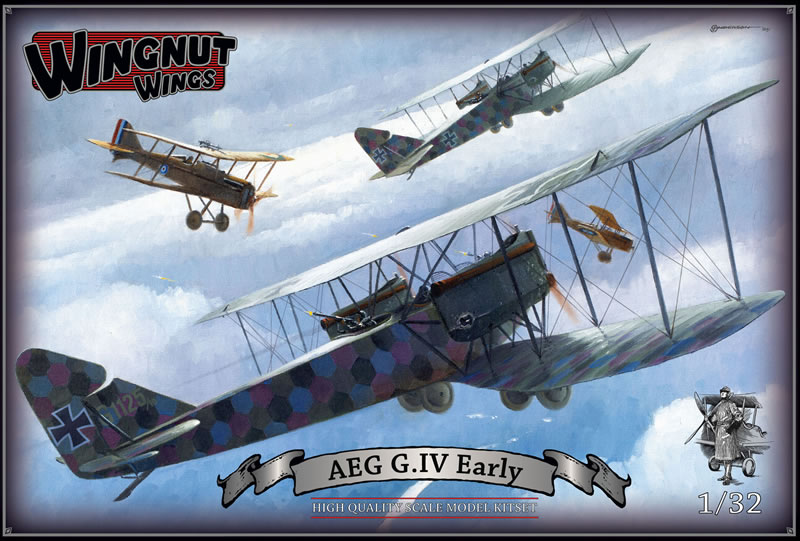 Hot on the heels of its astounding pair of Felixstowe kits, New Zealand firm Wingnut Wings has released a pair of AEG G.IV models - an 'early' and a 'late'. Here we examine the 'early' release, kit #32034. While not as massive as the British flying boat, this is still a sizable twin-engine bomber, as evidenced by the size of the box: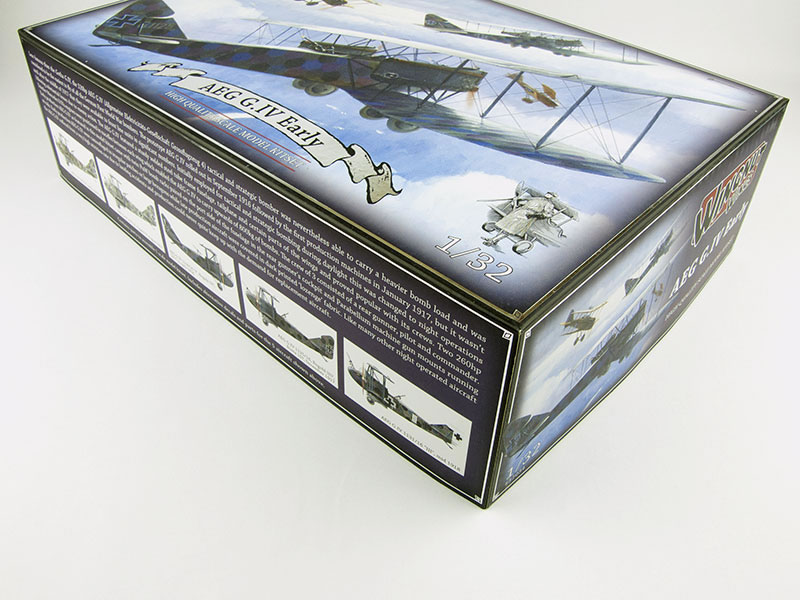 Inside this outsized box, we find the following components:
17 grey plastic sprues
1 clear plastic sprue
1 photo-etched fret
5 large decal sheets
1 instruction booklet
Plastic Sprues
Several of the sprues are duplicates, with Sprue G (parabellum) included three times. This makes for 17 grey plastic sprues in all, which is, by my reckoning, the most yet included in a single kit from Wingnut Wings. Note that in the photos below, Sprues K & L are joined in the middle, and shown in the same image.
My apologies too for the lens distortion in some of the photos; many of the sprues are so large that I needed to use a wide-angle camera setting to capture them!
---
The moulding quality and level of detail is every bit as good as what we've come to expect from this company's products. Here is a random selection of close-up detail shots to drool over:
---
Curiously, my sample features a small cut or scratch on one of the lower wing parts: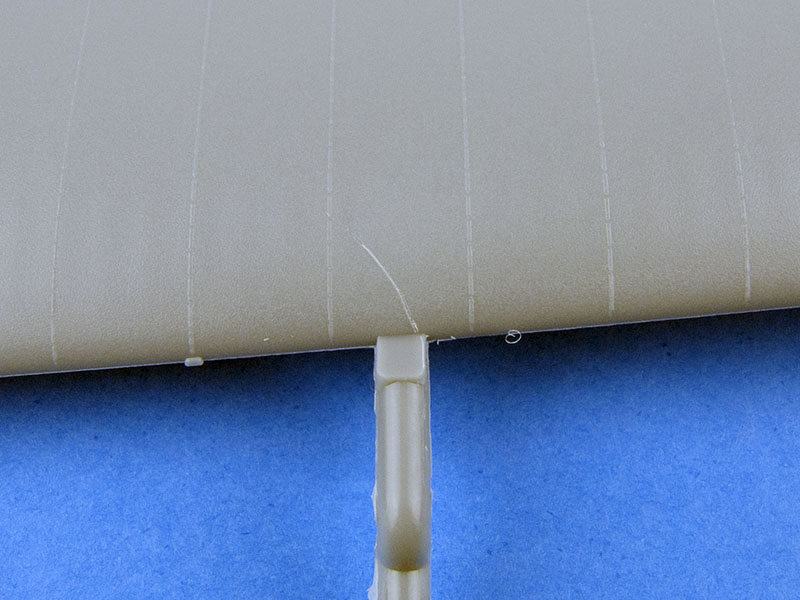 This is the first time I've ever seen any kind of defect or flaw in a kit from Wingnut Wings, so I suspect this is a one-off, and certainly not something to be concerned about.
Clear Parts
In common with most World War One kits, the clear parts sprue in this one is a limited affair, though it does feature a large piece for the rear gunner's clear trapdoor on the bottom of the fuselage: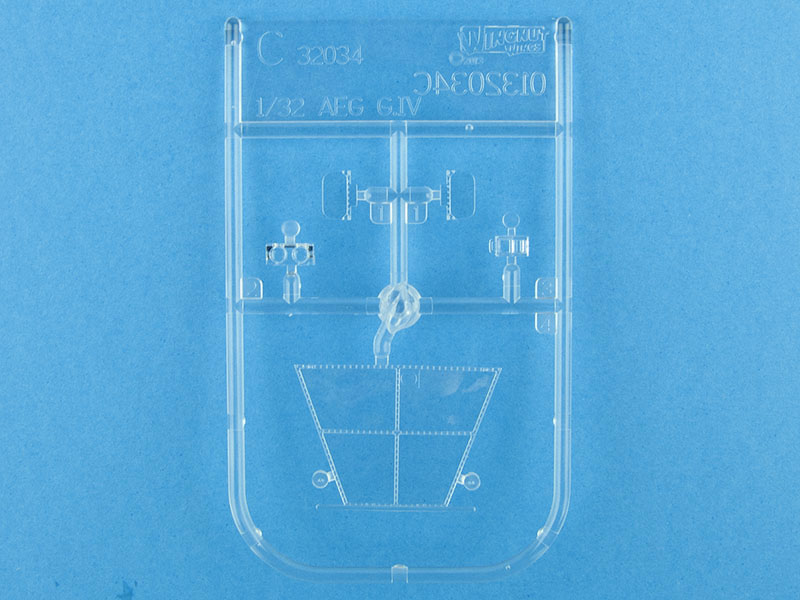 This clear trapdoor part features an amazing ripple effect, so subtly moulded that I had trouble picking it up with the camera: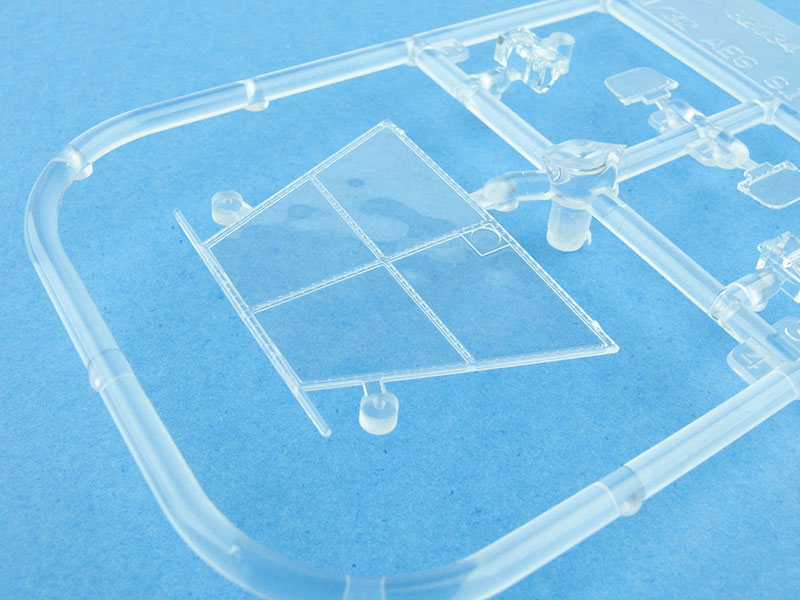 I'm not sure exactly what this feature is designed to replicate, but it's an amazing piece of mould design and tooling execution.
Photo-etched Fret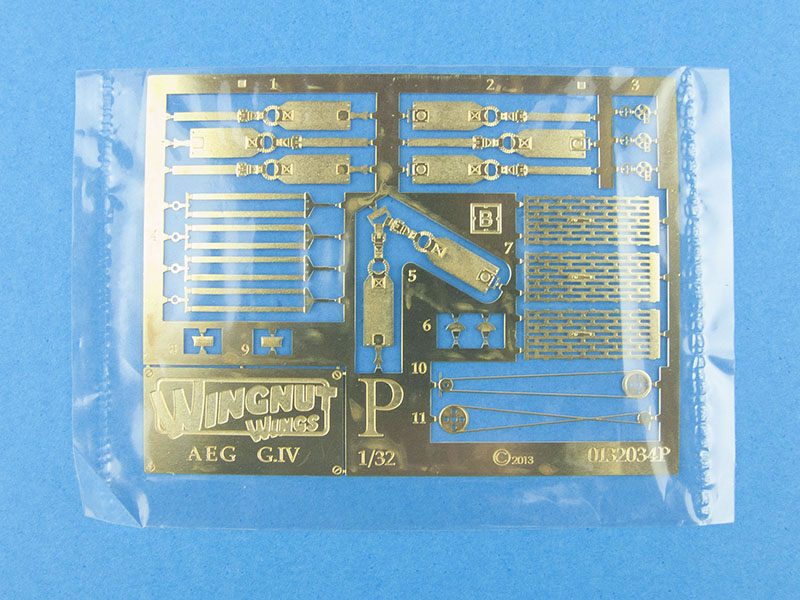 The photo-etched fret supplies mainly seat belts for the cockpit, as well as a few sundry detail parts. It also contains (bottom left) a removable name plate that could be used to adorn a base of some kind.
Instruction Booklet
The instruction booklets supplied in Wingnut Wings kits have become legendary, and with good reason. The production values are equivalent to a glossy magazine, and to refer to them as mere instruction booklets does them a grave disservice.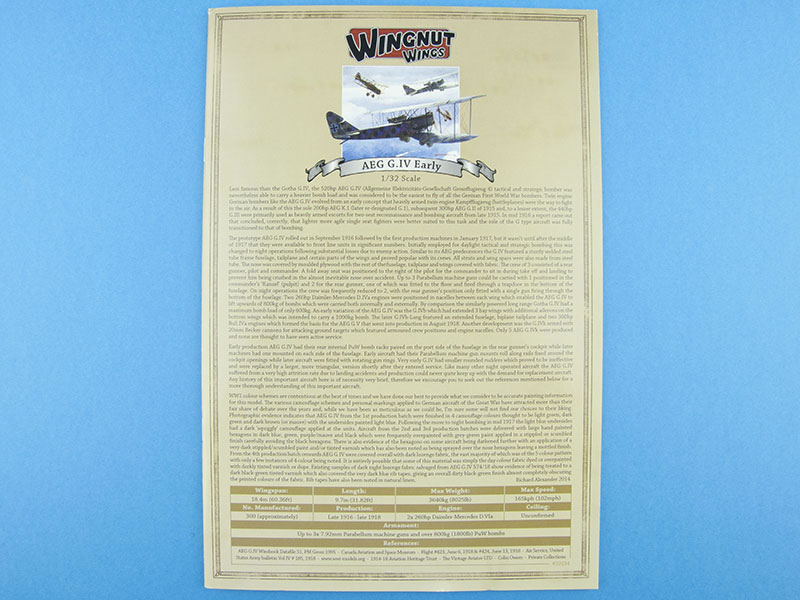 The cover features a potted history of the type, and a specifications table at the bottom. This material is also available on the Wingnut Wings webpage for the kit.
The content features colourful and highly-detailed annotated assembly drawings, complemented by captioned reference photographs and painting instructions.
---
Something that caught my eye in the instructions is the following correction: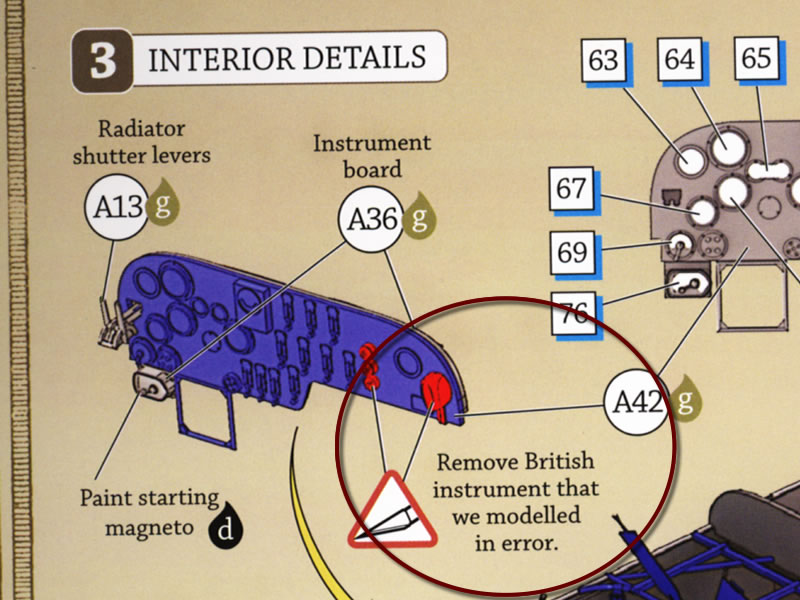 This is an ironclad testament to not only Wingnut Wings' commitment to accuracy, but also the company's willingness to confess to an error on its part. I think this small correction neatly symbolises the Wingnut Wings ethos.
Decals and Markings
This kit features five large decal sheets, all beautifully printed by Cartograf (again, apologies for some lens distortion):
---
As you can see in the photographs, one decal sheet holds all the main aircraft markings, while the other four concern themselves with the lozenge patterns for covering the airframe. Some of the lozenge sheets contain indications to cut the decal at particular locations; certainly, trying to apply them in full would be quite a difficult challenge.
Here's a close-up of the lozenge pattern: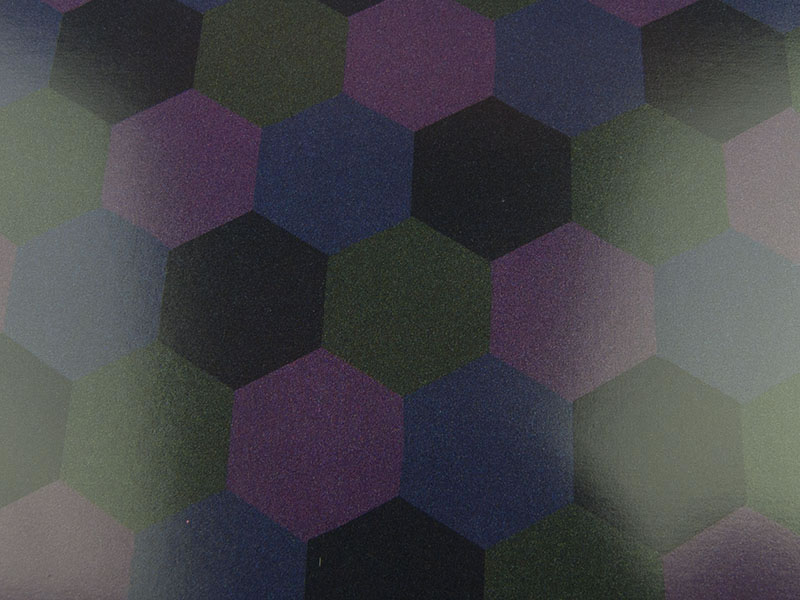 The decals are very glossy, as can be seen by the reflectivity in the photo above. The printing of the tiny stencils has to be seen to be believed: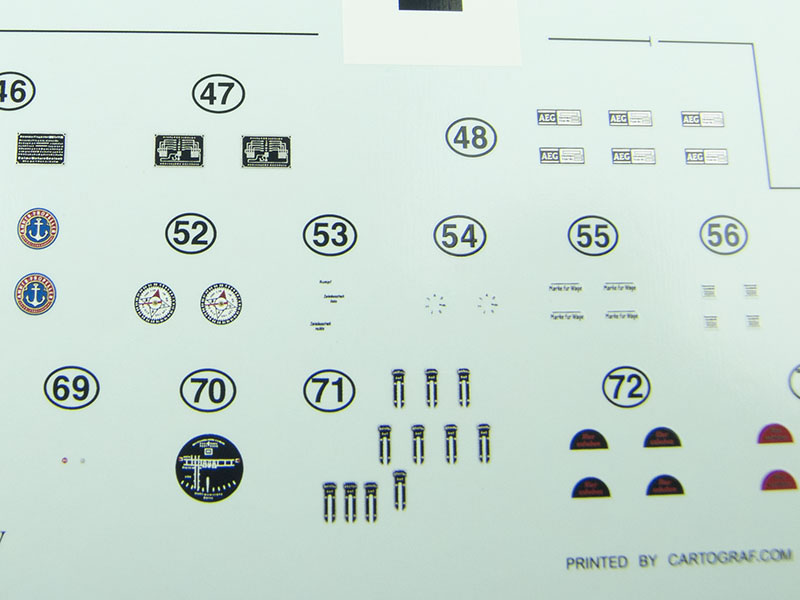 There's an extensive paint chart on the inside cover of the instruction booklet, with paint colours listed from the Tamiya and Humbrol ranges. The painting and decalling guide begins on page 23, and features the following five aircraft:
AEG G.IV 155/16, early to mid 1917
AEG G.IV 157/16, Kagohl IV, August 1917
AEG G.IV 1118/16 'V', Bogohl IV?, 1917 to early 1918
AEG G.IV 1125/16, Bogohl III?, Bosta 15?, December 1917
AEG G.IV 1131/16 "III", mid 1918
Check out the Wingnut Wings website for colour profiles of these schemes.
Conclusion
This release represents everything we've come to expect from a Wingnut Wings kit: exceptional moulding quality, excellent detail, superb decals and industry-leading documentation. This should build up into an impressive and imposing model, though the lozenge camouflage decals will be a challenge to apply. All in all, though, it's highly recommended!
Many thanks to Wingnut Wings for the review sample.
© Kevin Futter 2015
This review was published on Saturday, March 21 2015; Last modified on Saturday, October 03 2015