AoA Decals | 32-003: The Intruders' Sandbox
Reviewed by LSP_Paul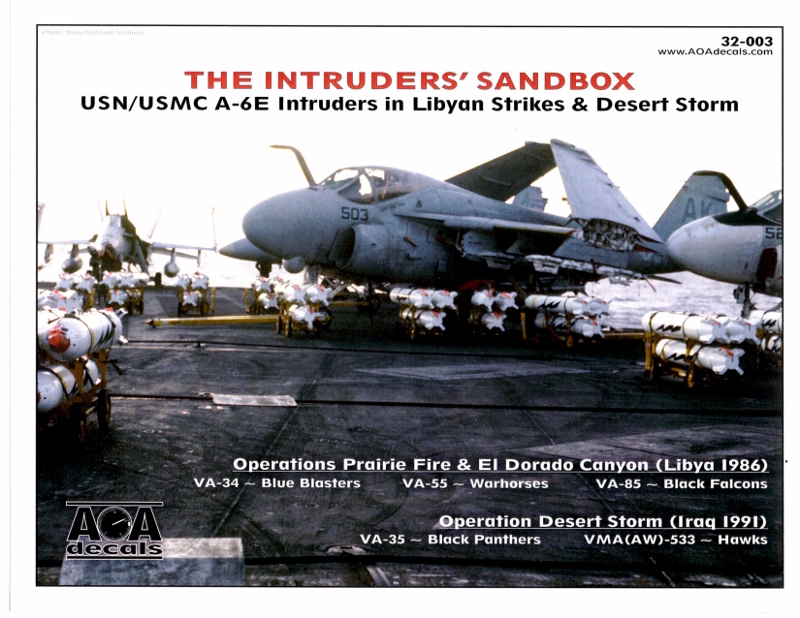 AoA Decals Does it Again with The Intruders' Sandbox!
This incredibly well researched and detailed decal sheet covers all three Intruder squadrons involved in the strikes against Libya in March and April 1986 during Operation Prairie Fire and Operation El Dorado Canyon. But wait....there's more! You also get decals for two squadrons in 1991 from Operation Desert Storm AND Decals for crew helmets, fuel tanks, ejection seats, VA-35 MERs, and VA-55 ordnance special markings. The decals come sealed in a clear zip lock bag and the printed materials help keep the actual decal art work nice and flat for shipping and storage.
What's in the Package
1 option for VA-34 Blue Blasters, USS America, Operations Prairie Fire & El Dorado Canyon (1986)
1 option for VA-55 Warhorses, USS Coral Sea, Operations Prairie Fire & El Dorado Canyon (1986)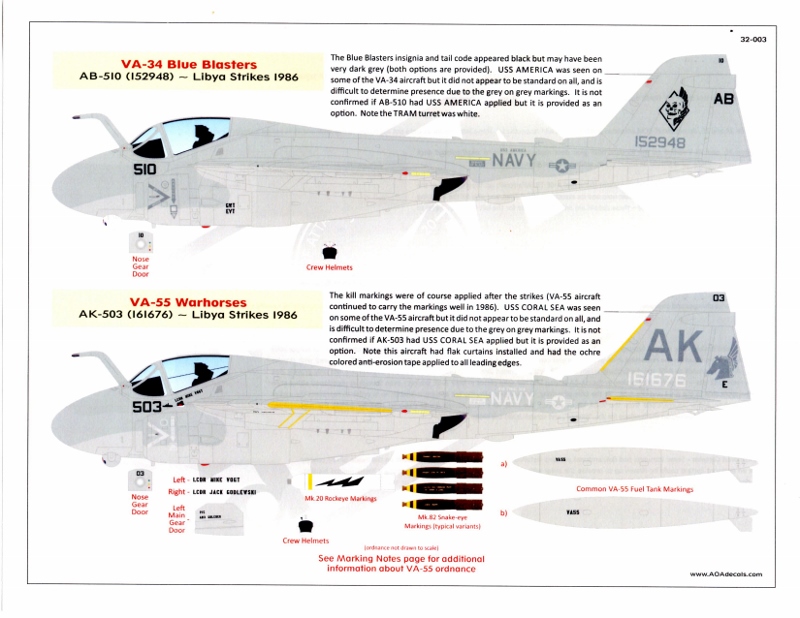 1 option for VA-85 Black Falcons, USS Saratoga, Operations Prairie Fire & El Dorado Canyon (1986)
2 options for VA-35 Black Panthers, USS Saratoga, Operation Desert Storm (1991)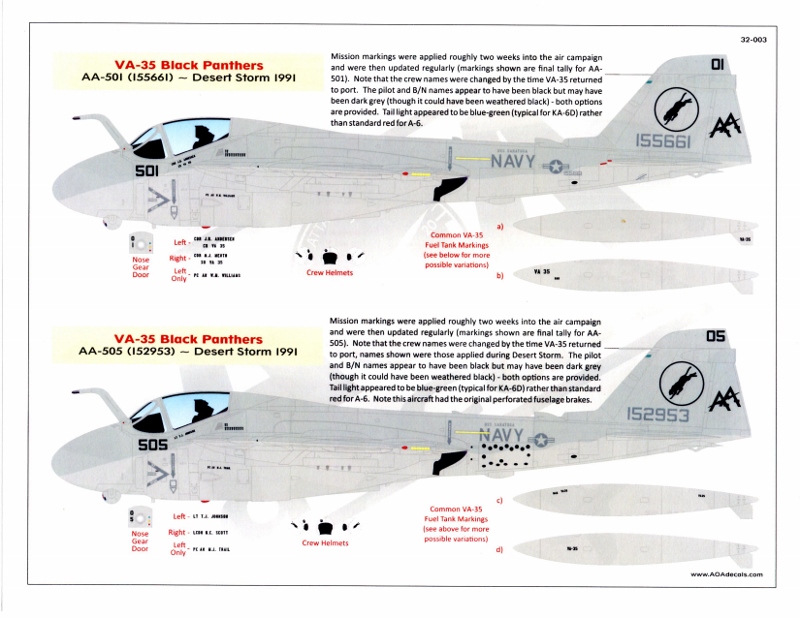 2 options for VMA(AW)-533 Hawks, Sheikh Isa Air Base (Bahrain), Operation Desert Storm (1991)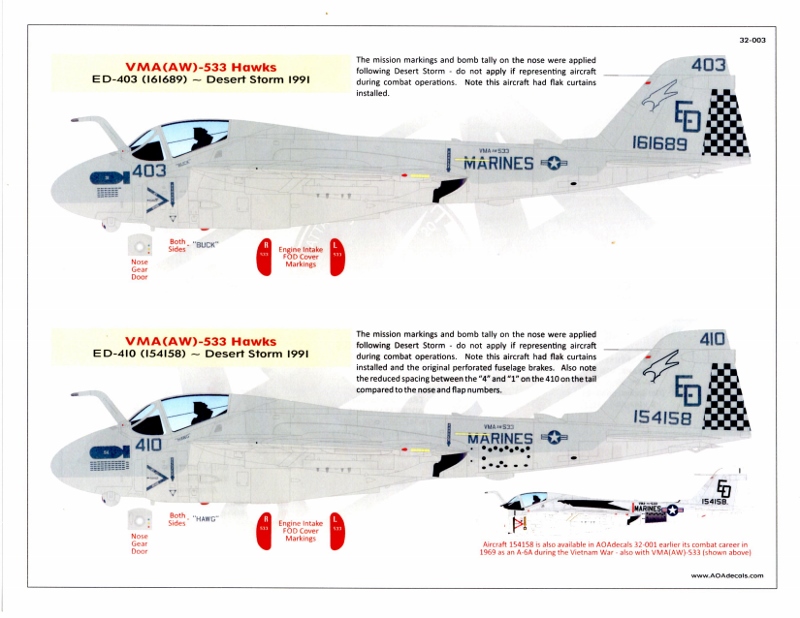 There is an incredible amount of detailed information contained on the printed material to help the modeler get the last detail right on the first try, and it's also an interesting read for history buffs and A-6 Geeks like me.
The Decals
Printed by Cartograf, you can tell by looking at the sheets they are printed in absolutely the highest quality resolution, in register and appear very thin with minimum carrier film.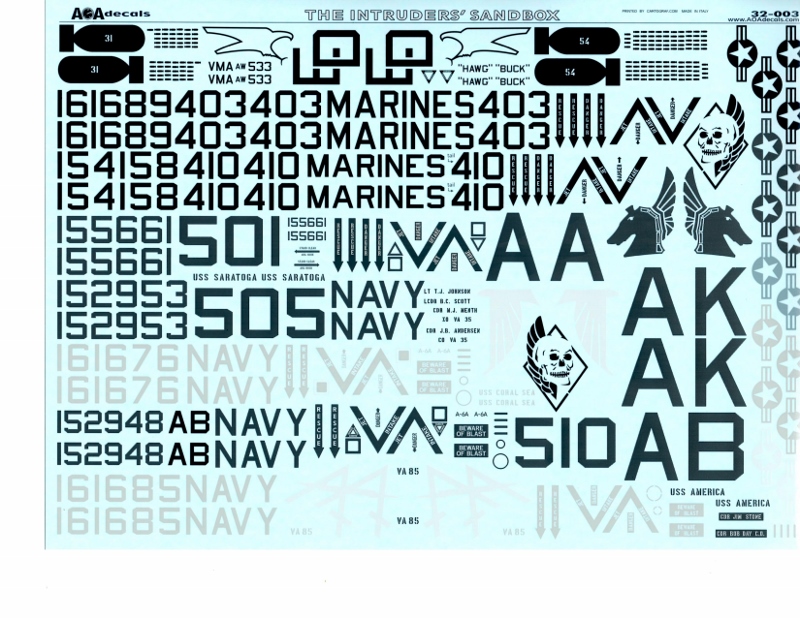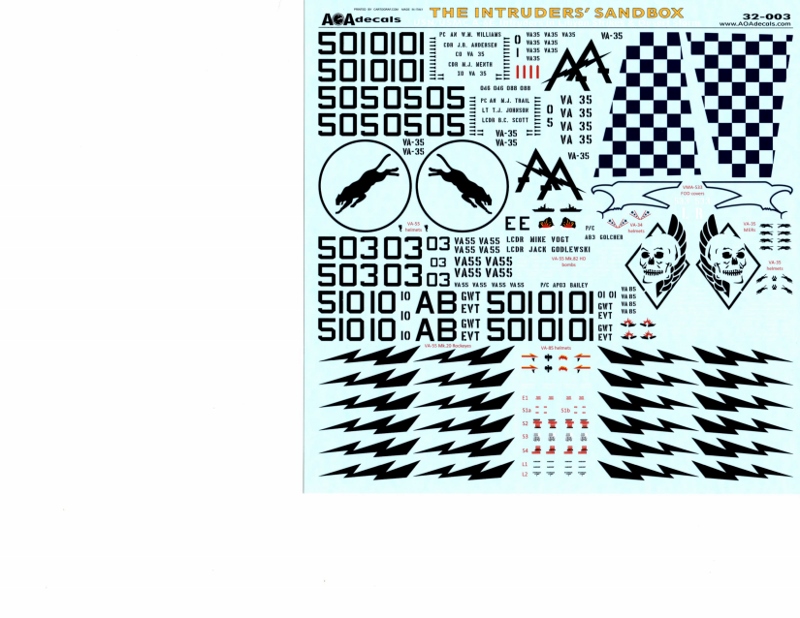 Conclusion
To anybody looking for extremely high quality A-6E/TRAM decals of interesting and historically significant subjects, I HIGHLY recommend you get yourself a set of these decals. With all the research and beautifully executed art work AoA has done on this wonderful decal sheet, It seems it would be hard to chose just one Intruder to model! This sheet is definitely a must have for fans of the A-6 Intruder.
My Thanks to Steve at AoA Decals for the review sample.
© LSP_Paul
This review was published on Monday, May 18 2015; Last modified on Tuesday, May 19 2015