HpH Models | #32030R: 1/32 Fw 189A-1
Reviewed by Kevin Futter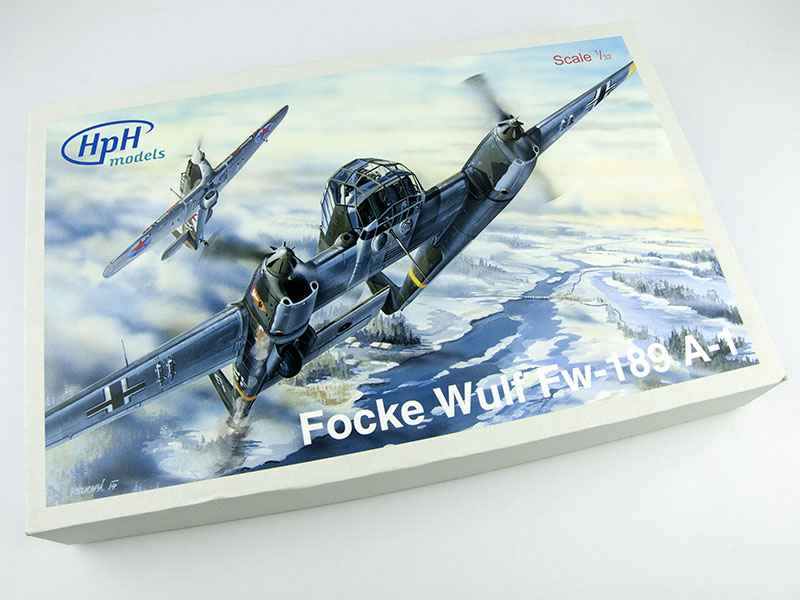 HpH Models hails from the Czech Republic, and produces an extensive range of resin aircraft kits in a variety of scales. The company has a particular focus on 1/32 scale, and one of its latest offerings is an impressive Focke-Wulf Fw 189A-1.
The kit ships in a petite, but robust, plain cardboard box. In a break from the company's usual colour-profile-based artwork, the box top takes a more traditional approach with a painting of the aircraft in action. And very nice it is, too! Internally the box is divided into five main sections, each densely but neatly packed with one or more bubble-wrapped sets of components.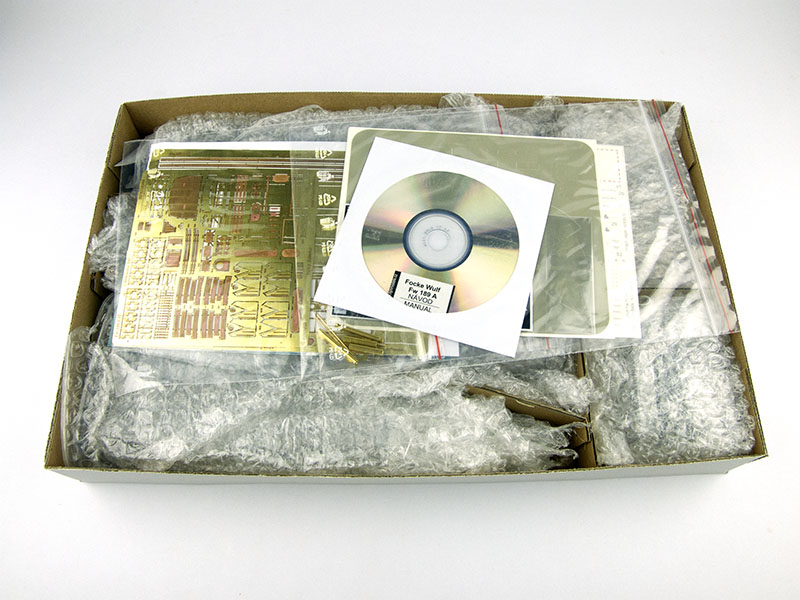 Also present is a pair of resealable bags containing the decals, canopy masks, seat belts and photo-etched sheets, as well as a set of turned brass components. The instruction manual is provided on CD as a series of JPEG images. With many of its previous releases, a PDF version of the instructions has also available on HpH's website, but I couldn't locate one for this kit. This could pose a problem for Mac users who possess a computer without an optical drive, so it would be handy if HpH could address this oversight quickly. Missing from the contents is HpH's famous inclusion of a Belgian chocolate. The end of an era, perhaps?
Major Components
Being of a slightly unconventional (for the time) twin-boom design, the breakdown of the major components in this kit is somewhat more complex than the norm. Each tail boom is made up of two halves, while each wing consists of an upper and lower half. The central section for the lower wing is supplied as a separate component.
Tail Booms
One of the boom halves in my sample has a bad warp at the tail (second from the top in the photo):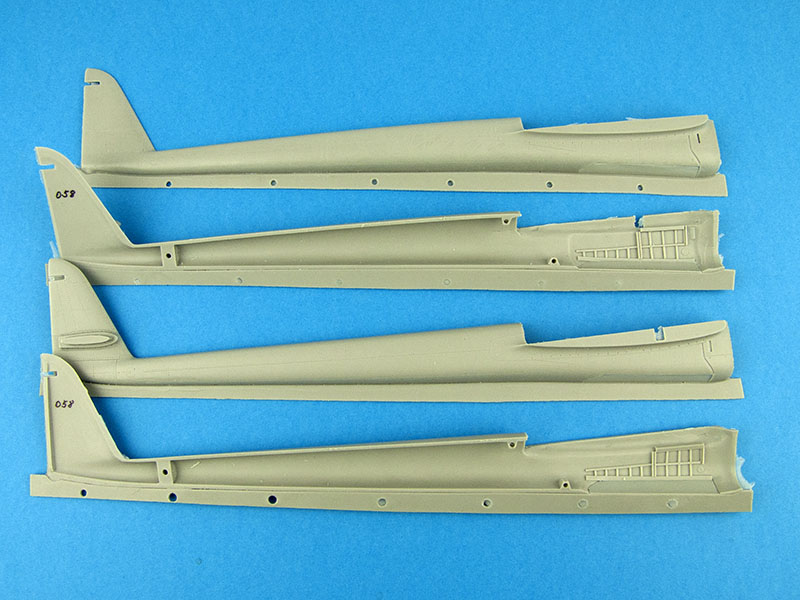 This should, in theory, come good with a dunk in some very hot water. This is, unfortunately, the nature of the beast with large resin kits. The surface detail is, however, very nice indeed: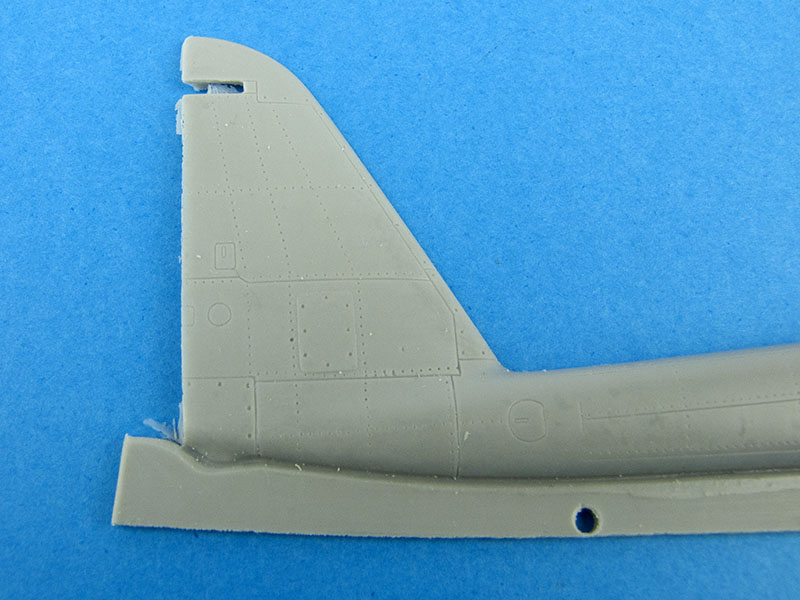 The forward section of each boom half features some internal structural detail for each main wheel bay: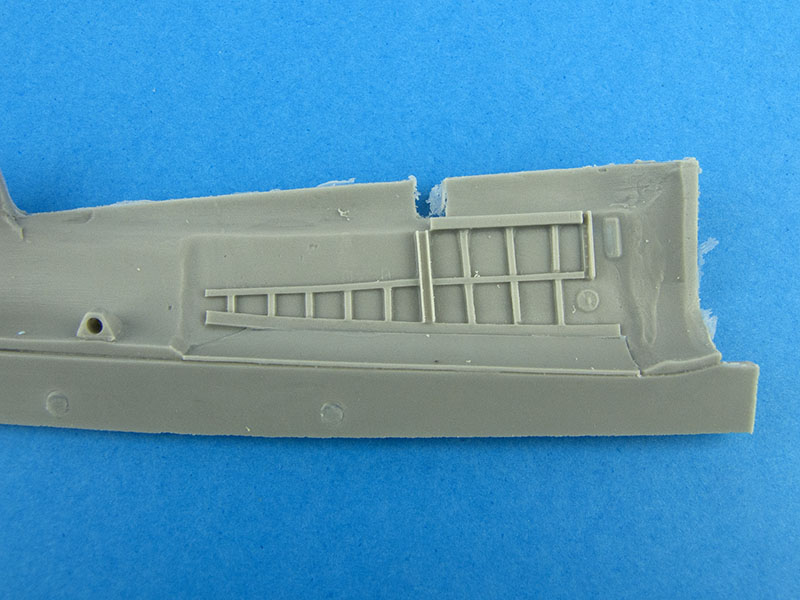 Wings
As mentioned earlier, the wings are supplied in four pieces, plus a central lower section:
---
Once again, the surface detail is extremely well done, though some of the riveting is a little inconsistent: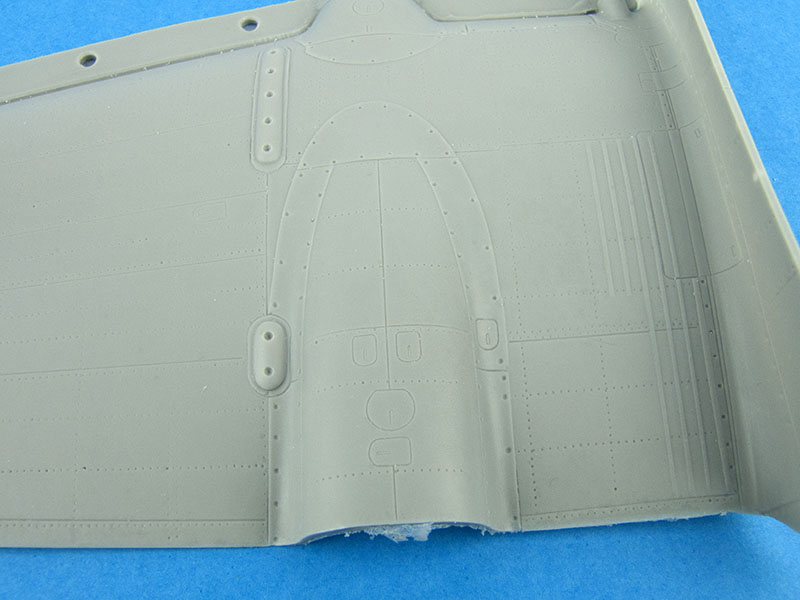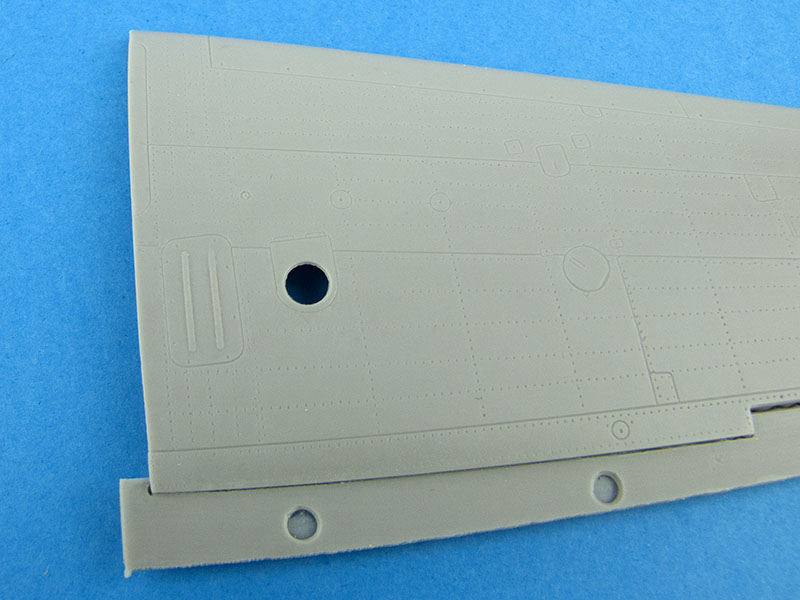 The lower sections of the cockpit pod are integrally moulded into the wing roots, and in my example, the forward section on the port side was not fully moulded: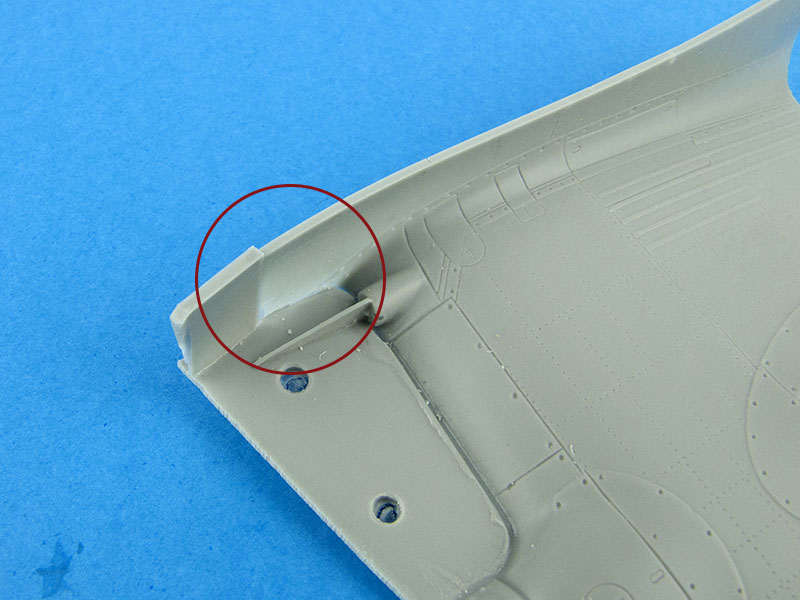 This will require some remedial work during the build process, but again, that's the nature of the medium. It's disappointing, but hardly a show-stopper.
I also found this wafer of parts lurking at the bottom of the box: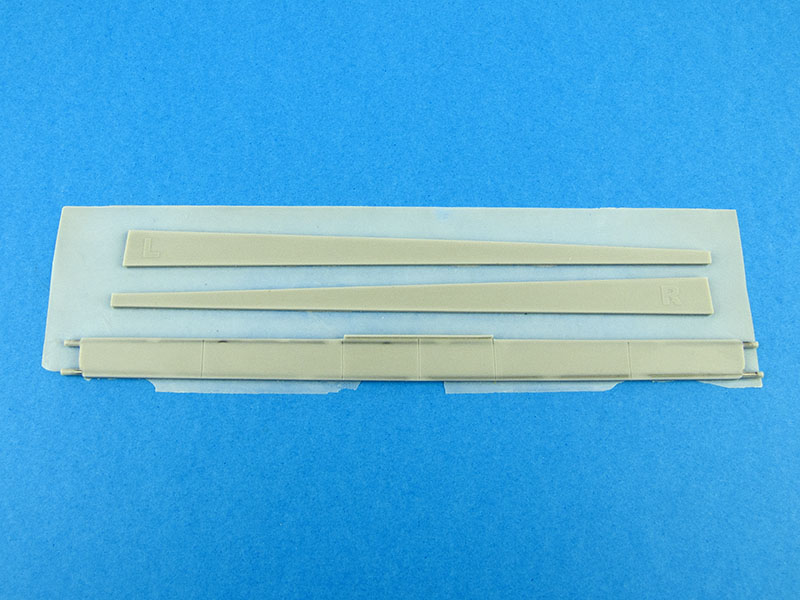 Detail Components
This is where things get serious with this kit. The breakdown is as follows:
3 large resealable bags of resin components
1 large resealable bag of canopy components in clear resin
3 photo-etched frets of detail components
1 set of laser-cut seat belts from HGW
1 set of pre-cut vinyl canopy masks
1 small resealable bag of turned brass barrels and photo-etched sights
Resin Bag #1
Flaps, rudders, ailerons, engines, propellors, bombs, wheels and landing gear parts.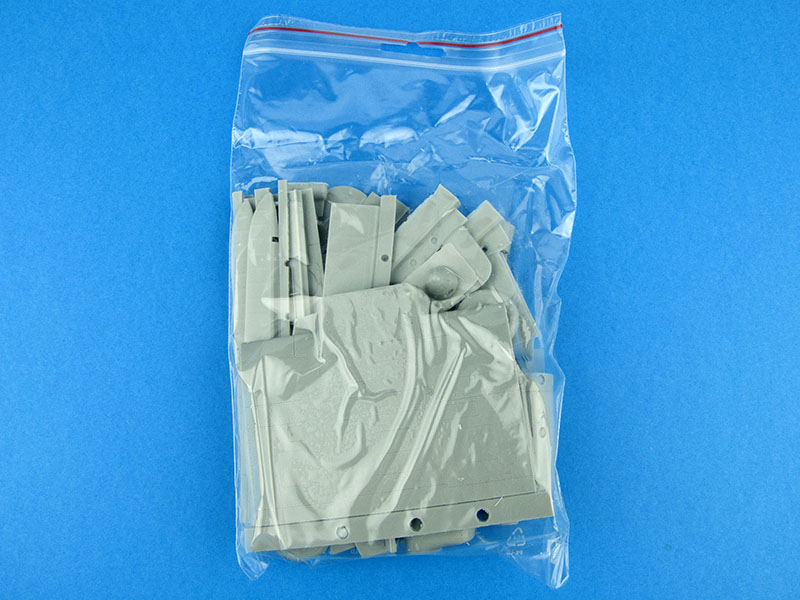 ---
There's a bit of flash to deal with on the front of the engine cowlings: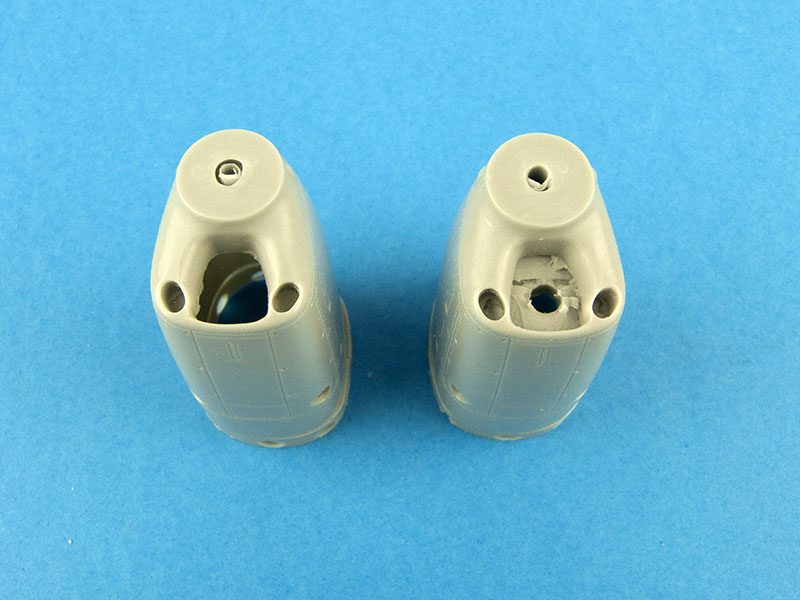 ---
But check out the detail on these landing gear parts!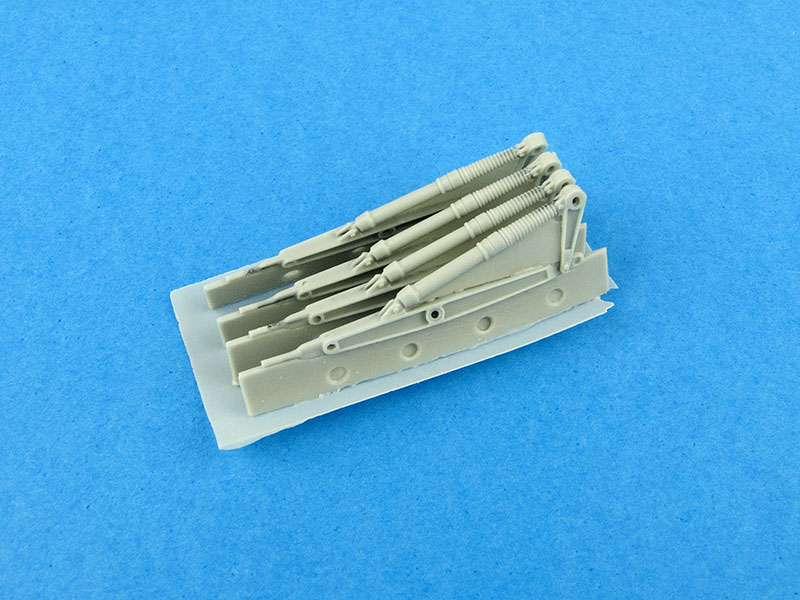 They'll certainly be a challenge to remove from their casting forms. The supplied bombs are nicely done too, but one of mine was broken at the tip: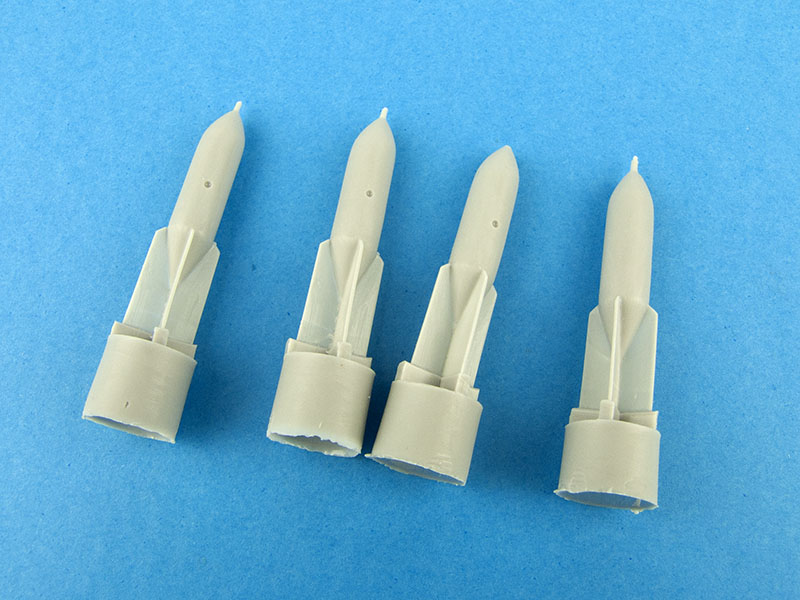 This should be easily fixed with some styrene rod.
Resin Bag #2
Engine bays, engine parts, cockpit details, miscellaneous structural and detail parts.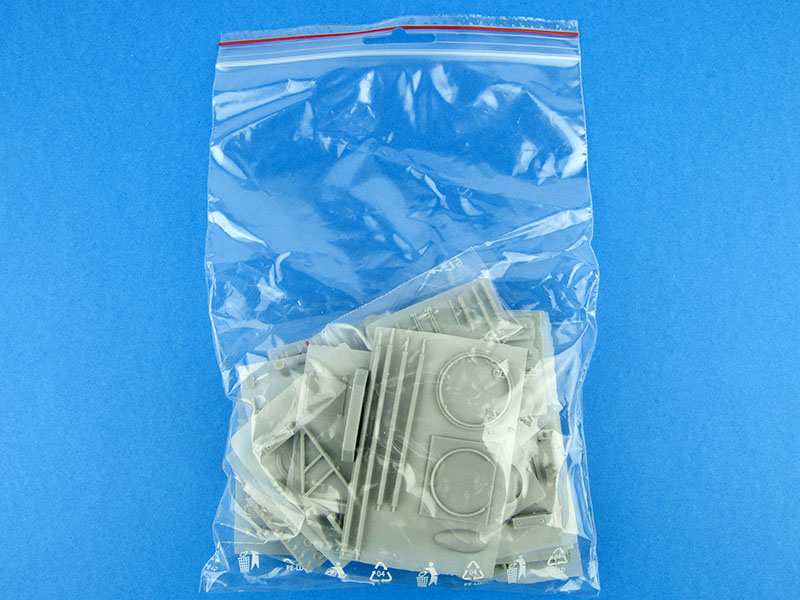 ---
Resin Bag #3
More cockpit and landing gear parts.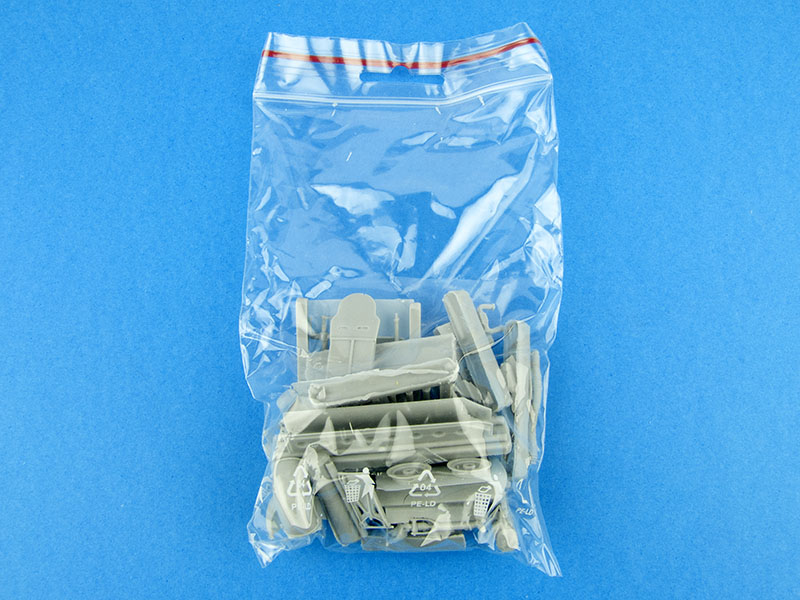 ---
There appears to be a part missing on the following casting block: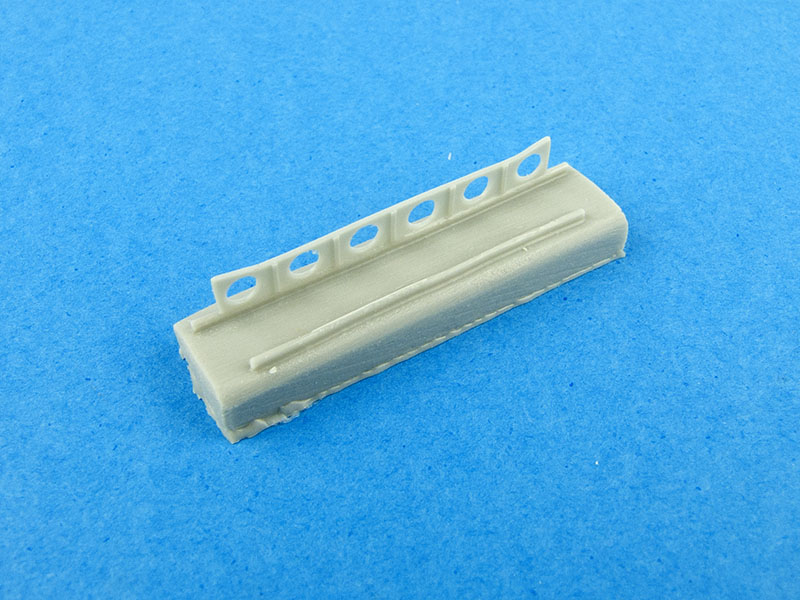 The parts map in the instructions shows it to be #109, but I can find no reference to part #109 anywhere in the build sequence, so this one remains a bit of a mystery. In any case, the part that's actually present (#110) is definitely used, so perhaps there's been some kind of error here.
The Clear Parts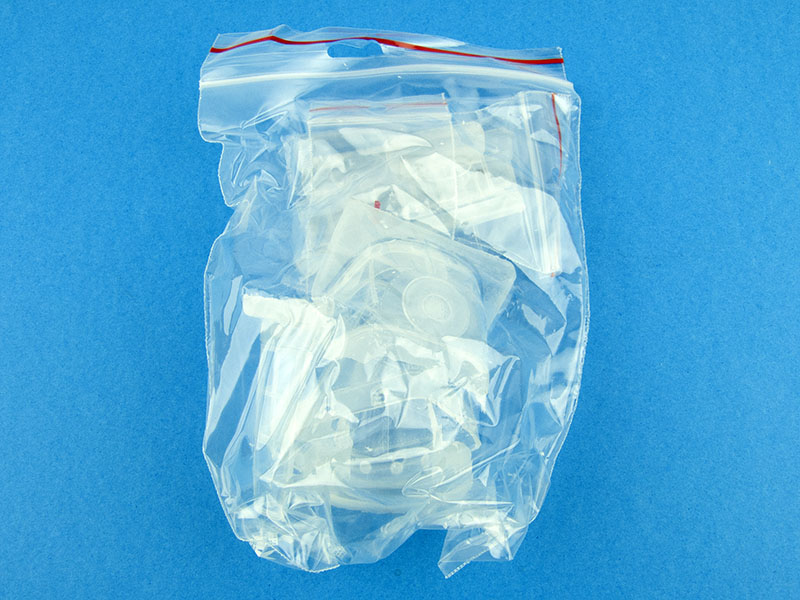 The clear parts are all cast in clear resin, aside from a pair of red and green wingtip lights. As expected, these parts are extensive, and at first glance, a little bit scary! But they're also beautifully moulded, and seem to be quite strong.
---
And finally, the clarity test: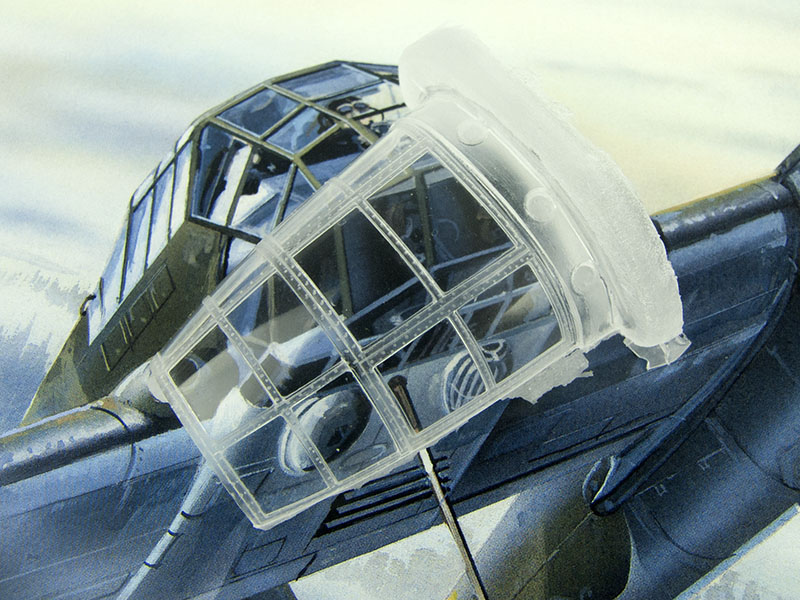 They're not quite as crystal clear as the very best injection-moulded parts, but they're still very impressive. This area of the build will be crucial to a successful overall result, so we can only hope they fit together as well as they look. They're sure to be a challenge in any case!
Photo-etched Parts
The kit provides three frets of photo-etched parts by Eduard. The first is a pre-coloured set specifically for the cockpit, and features instrument panels and console details. The second sheet is dedicated to the landing flaps, and is quite extensive. The third sheet contains exterior details.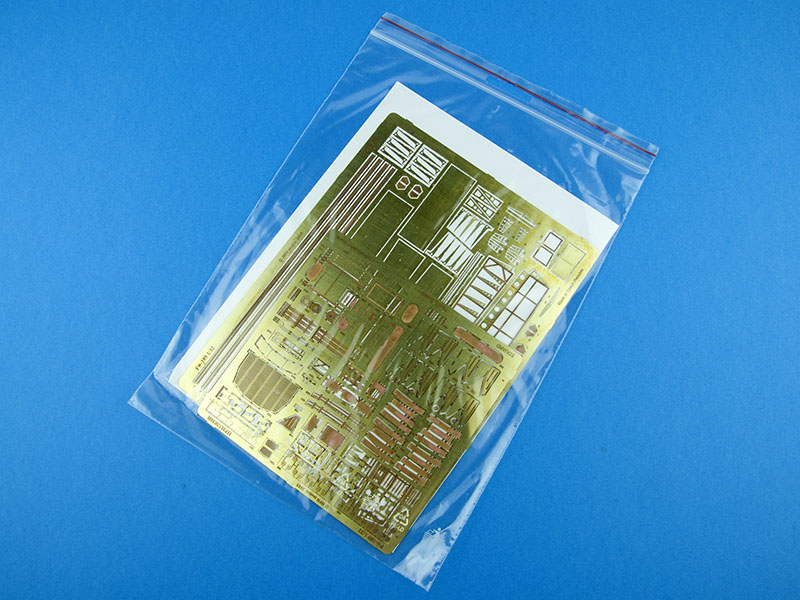 ---
Canopy Masks
A full set of pre-cut vinyl masks is provided for the canopy, which should make masking the extensive canopy parts a great deal easier. There is no indication on the sheet that this has been provided by a third party, so I'm assuming it's an in-house production.
Seat Belts
A set of custom laser-cut seat belts has been provided by HGW, which is a very nice touch. It would have been easy for HpH to simply add seat belt parts to one of the photo-etched frets, but these laser-cut textile harnesses provide a much better result, and HpH is to be congratulated for their inclusion.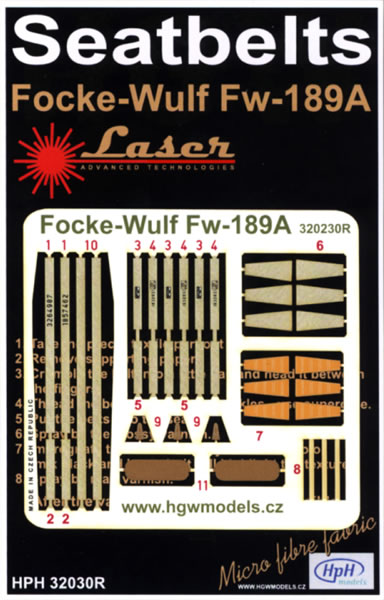 The photo-etched buckles for these seat belts are provided on the Eduard pre-coloured fret.
Decals and Markings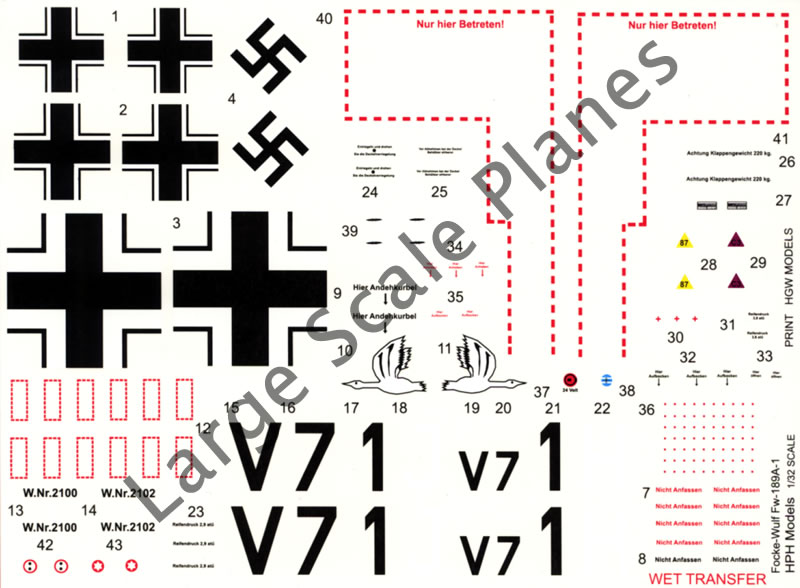 In a slight departure from previous releases, HpH has extended its partnership with HGW for the decals in this kit, which are now provided using the latter company's 'wet transfer' technology. With this approach, the carrier film is over the printed artwork, rather than under it. The decals are applied normally like traditional waterslide transfers, and once dry, the carrier film is carefully peeled off the model, leaving what in effect looks like a dry transfer. HpH has posted on its website a useful tutorial on working with these decals.
Decals are provided for three machines:
Focke-Wulf Fw 189A-1, 1.(H)32, Pontsalenjoki airfield, Finland, 1943
Focke-Wulf Fw 189A-1, 1.(H)32, Finland, 1942-1943
Focke-Wulf Fw 189A-1, 1.(H)32, Finland, 1943
---
Each is finished in a radically different way, so there's some nice variety on offer. The choice will not be easy!
Instructions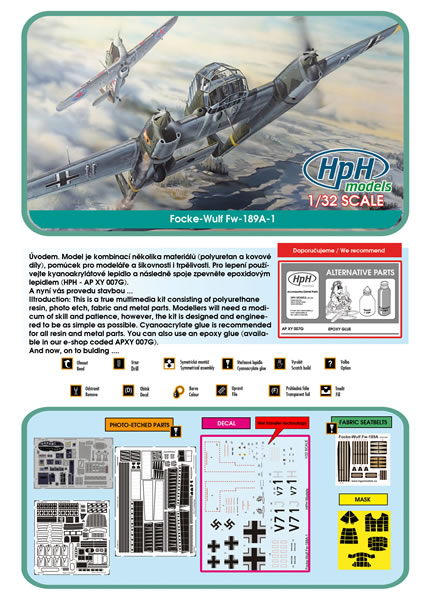 As noted earlier, the instructions are provided in digital format for reading and printing from your computer. They are comprised of 54 pages rendered as individual JPEG images, and put the efforts of some mainstream manufacturers to shame. The assembly sequence is shown using a combination of photographs of the actual kit parts, and diagrams. Each sequence is extensively labelled and annotated, with warnings, hints and tips aplenty.
---
This instruction booklet has been very thoughtfully produced, and is a real testament to the approach HpH takes with its kits.
Conclusion
While it's true that, by its very nature, this kit will be a challenging build, HpH has done everything possible to ensure that it's as straightforward and trouble-free as possible. Sure, it's an expensive kit, but if you want it and can afford it, the combination of top-shelf resin parts and best-of-breed accessories makes it a must in my opinion.
I couldn't (and wouldn't) recommend this kit to a beginning modeller, but for everyone else, and especially those who desire a 1/32 scale Fw 189, it gets my hearty recommendation.
© Kevin Futter 2015
This review was published on Saturday, June 06 2015; Last modified on Saturday, June 13 2015