Tamiya | 1/32 De Havilland Mosquito FB Mk.VI
Reviewed by Kevin Williams
Like many, the news that Tamiya were to release a Mosquito (and a FB Mk VI no less), brought shivers up my spine. I've long considered the Mosquito to be a tremendously iconic machine, and to hear that it would be getting the Tamiya treatment, thrilled me to pieces, as it's one of my all-time favorite WWII British machines, rivaled only by the marvelous Hawker Typhoon. When I first received the kit, I was somewhat taken aback by the sheer heft of this thing. To say it's crammed to the rafters with parts, is a major understatement.
Note:
This will be an in-box review only, focusing on quantity and quality of parts depicted, accuracy issues will not be discussed here, as to do so would require another two weeks of effort, and would defeat the purpose of an expedient review time-frame. For the most part, I'll let the images speak for themselves, and there are a lot of them.
General
First, we'll take a cursory look at the wealth of information that's packaged separately as instructions, painting guide overview and a booklet covering several different iterations of the Mosquito airframe.
Brochure
This is a nice touch from the folks at Tamiya as I see it, additional information being given as regards standard airframe deviations and various marks: an interesting digest of sorts.
---
Assembly Screws, etc.
Several small screws and other hardware are recommended/required throughout the assembly process, and these are included (along with a tiny screwdriver), to assist with those assemblies.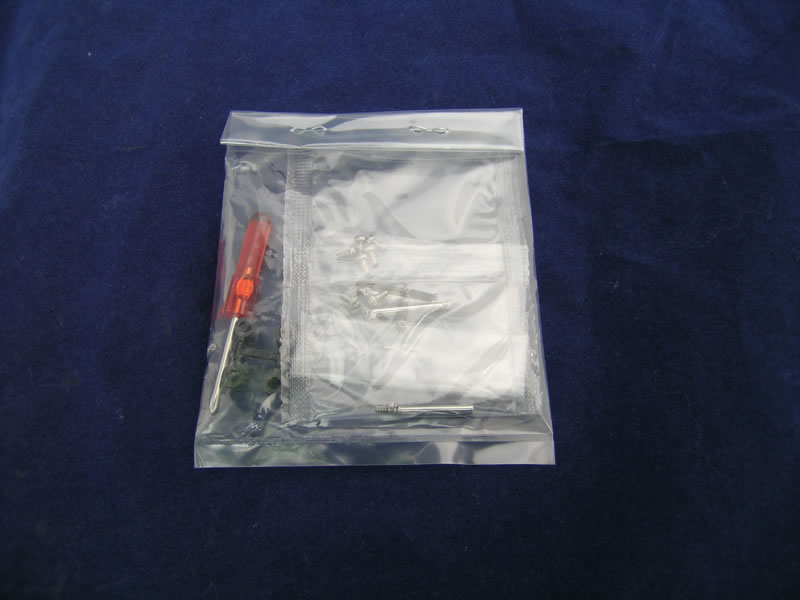 Painting Overview
This is provided as a rather large and nice fold out affair, with standard British colors referenced (dark green and medium sea gray), and their corresponding patterns on airframe, though other (non stated) color options are certainly viable as well, night interdiction, etc.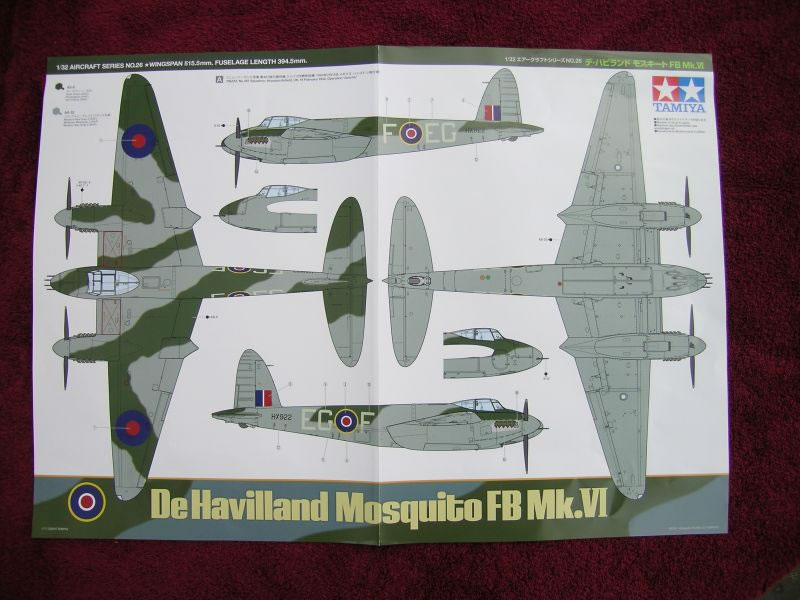 The Instruction Sheet
Though I haven't read this in its entirety, seems very comprehensive, though as with all things modeling related, deviations from the recommended sequences are sometimes desired, so a thorough review of said instructions before beginning assembly, may save some pain later, and is highly recommended.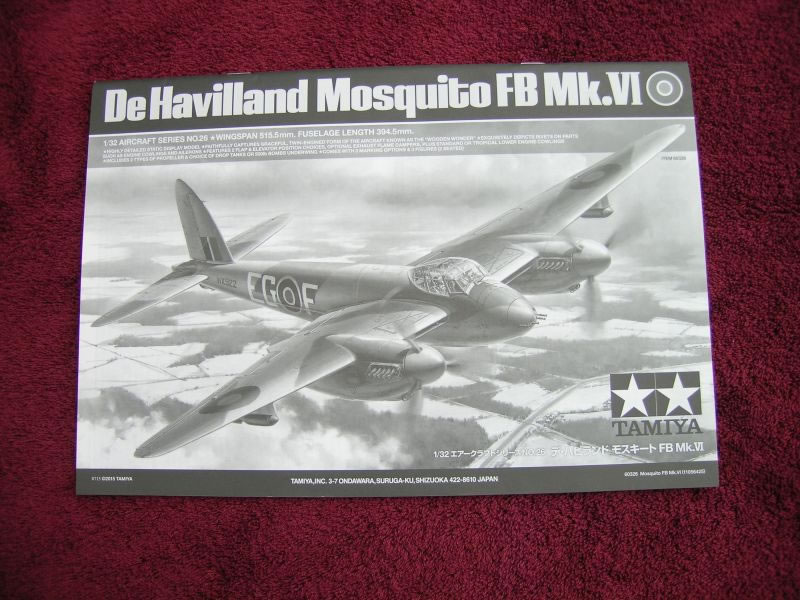 Photo Etch
As noted, two sets of etched stainless steel details are provided, one being considerably beefier than the other, and look quite nice.
---
Errata Sheet
A small errata sheet is included that highlights a painting discrepancy. I can't for sure at this time claim that they're aren't even more undiscovered errors, but thank goodness this isn't a Dragon kit!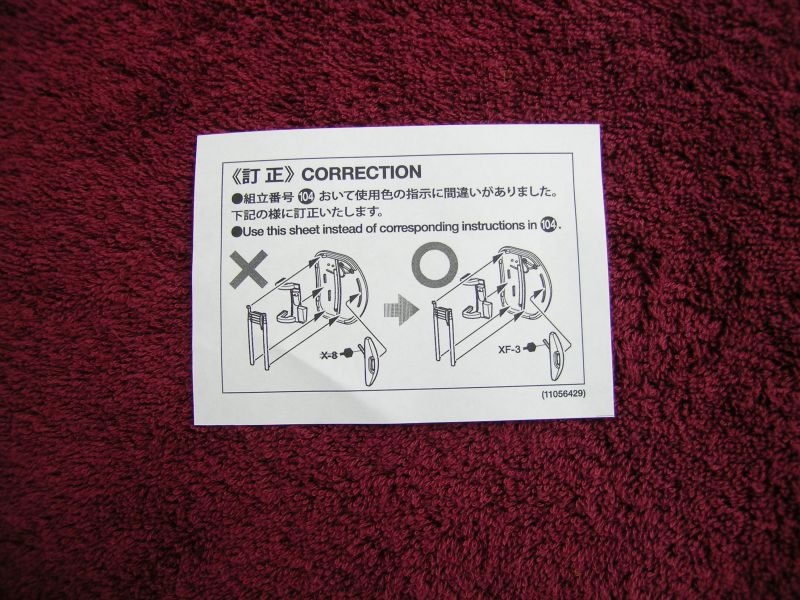 Parts
There are by my count, 27 sprues of parts, some as duplicates (RR Merlin, etc.), and two (L) as clear parts, noted on instructions as one sprue, but actually bagged separately as two. Sprues by count: A (1), B (1), C (1), D (1), E (2) with one being frosted, F (2) with one being frosted, G (1), H (2), J (2), K (1), L (2) see above, N (2), P (2), Q (2), R (1), T (1), U (1), V (1), & Z (1).
Clear Parts
Many smaller miscellaneous parts are molded in clear plastic, light lenses, etc.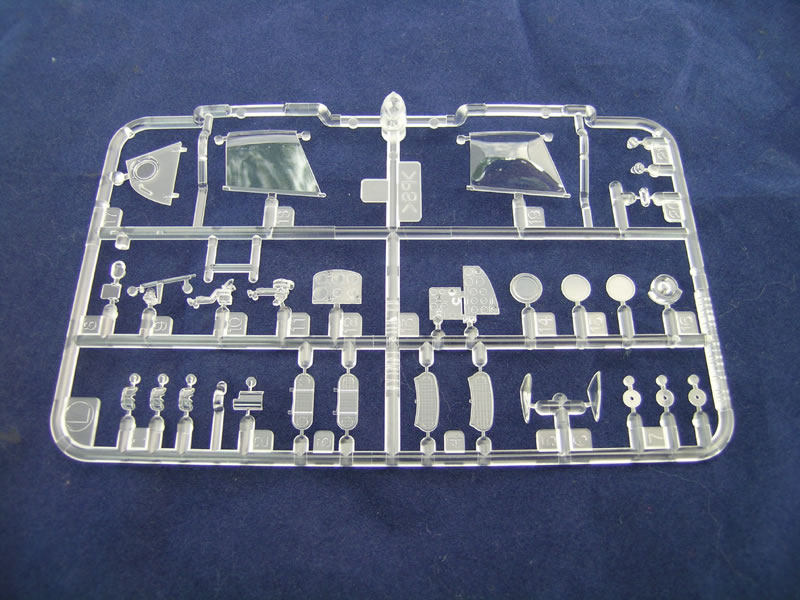 Optional Clear Parts
Though I had assumed the optional clear parts (engine access panels mostly) would have been crystal clear, they're actually frosty in appearance, but still quite transparent…personally, I find this a bit odd. Tamiya recommends clear coating these parts, if used, with (naturally) Tamiya XF-13 clear spray.
---
Wings
Wings are molded with what appears to be appropriate, and in some instances, quite delicate details, ever so slightly raised or recessed as per the original. Not really a lot else needs to be said here, as wings on original are rather bland, a consequence of the manufacturing techniques used at the time for this particular aircraft. Wing box/spar seems very sturdy, and will go a long way toward establishing (and holding) wing dihedral.
---
Fuselage
Fuselage portions again look splendid, with what detail that actually appears beyond the smooth surfaces, being captured in what I believe to be an accurate manner. Really not a lot else to say here.
---
Cockpit
Cockpit seems very well detailed indeed, with all appropriate boxes, switches, levers and knobs, and when painted will undoubtedly be very impressive. Shoulder and lap belts are included as P.E. pieces, though personally I would have preferred them molded on, but that's just me. Instrument panels are a combination of kit parts, photo etch and decals, all laminated into a three dimensional representation of the real McCoy.
---
Canopy
What can I say, I'm not really sure it's physically possible to get any clearer than this: just beautiful, and with very delicate details (fasteners and such) molded in. No fasteners are depicted on inside areas of canopy frame proper, but that may be a bit too much to hope for anyway, even in this scale, as the tubular portions of frame are actually a very small diameter to begin with.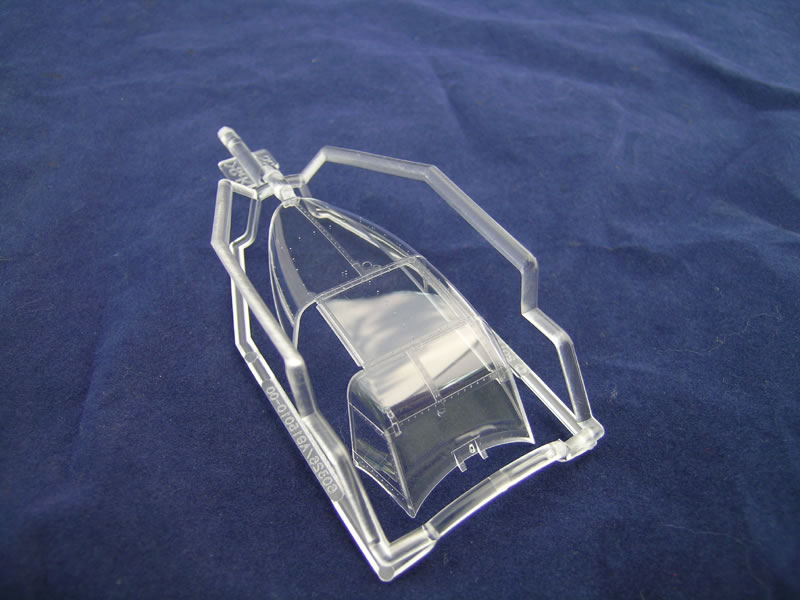 Landing Gear/Wheels
Landing gear wells are a comprehensive gathering of parts, and once assembled, should provide a nice overall appearance, for those that are drawn to this area. Landing gear legs are very nice indeed, with very realistic looking details. Tires are superb, going so far as to capturing the delicate ribbing of the sidewalls. As to the individual tread segments, it is my hope that these will go together without major fit issues, but that remains to be determined: they certainly look the part though, even including the anti-shimmy trailing wheel.
---
Engines/Propellers/Spinners
Two complete Rolls Royce Merlin engines are included, and are just beautiful and quite comprehensive models unto themselves, begging to be displayed so that one can appreciate all the fine molding. (If I can get away with it, I may build one of mine as a separate item to be displayed alongside the kit, as I'm really a cowlings closed sort of guy.) Engine intakes are given as standard, as well as tropical. Two types of propellers (needle and paddle) are included, as are two different style spinners to accommodate same. Exhaust shrouds are also thoughtfully provided by Tamiya, so that open or shrouded exhausts can be depicted, depending on airframe specifics.
---
Tail
I've dumped the tail assembly in here along with the flaps and ailerons, as there's really not all that much to tell, save for the very fine rib tape details where appropriate.
---
Weapons
20mm cannon barrel ends are a rather simplified affair, but aside from the muzzle tips, will never be visible anyway. The gun assemblies themselves however, are fairly comprehensive, including ammo boxes and flex chutes, and should look excellent from below, should the modeler choose to depict them with belly weapons bay doors open. The .303 nose gun assemblies are again a rather sophisticated assembly, with full blown convoluted ammo feed chutes and firewall detailing: excellent if one chooses to display this area uncovered. (4) 500 lb bombs are included, two for the bomb bay and two for wing pylon mounting. One thing of note is the inclusion of the four delicate strips between bomb fins that are frequently overlooked, giving the bombs a more complete look, though no nose fuses are provided. Decal stencils, data and nose rings are thoughtfully included for all four bombs. (I had hoped for a 4,000 lb "cookie" to also be included, but am not entirely sure the FB version of the Mosquito ever carried them anyway.)
---
Figures
Two crew figures are included, and seem to be sculpted/posed rather well, though the faces look a bit odd to me.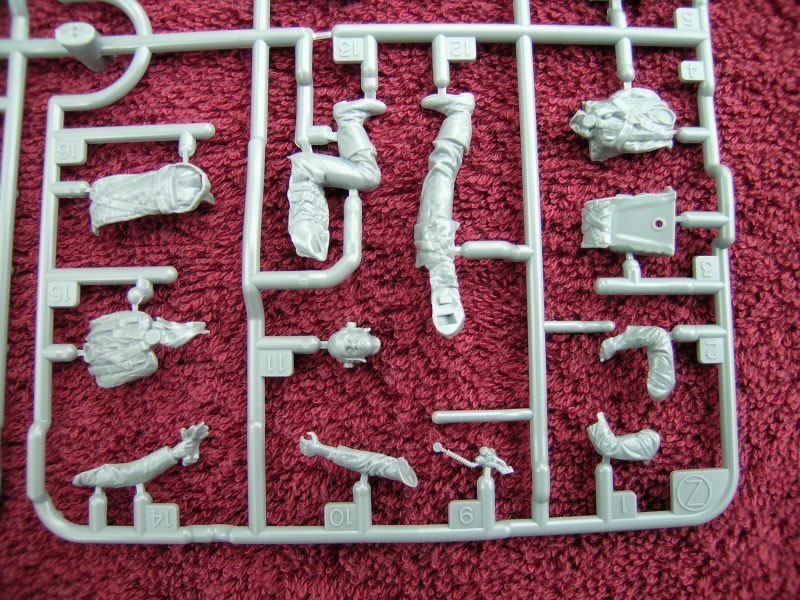 Decals
One set of general data and one set of specific airframe markings are included, depicting three different machines: No. 1 Squadron RAAF, No. 305 Polish Squadron of the RAF & No. 487 RNZAF. Again, I find this just a bit odd, a purely British subject, but with no purely British unit specific markings being included. Decals seem quite opaque, well in register and minimal carrier film, but also appear to be typically Tamiya thick. No big deal really, as I'll undoubtedly be using aftermarket decals anyway, when the time comes for me to actually build this beast.
---
Canopy Masks
These appear to not be laser cut, but instead have to be cut out individually and applied as needed. I'd imagine that Eduard is busily working on a mask set right now, as the clear canopy begs to be properly masked so that all the delightful interior details of the cockpit can be properly appreciated.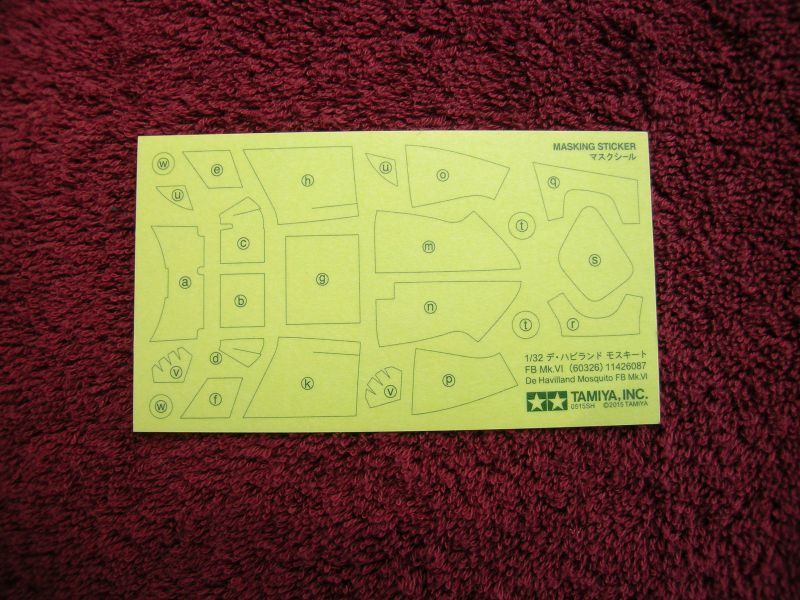 Summary
All things considered, if you're looking for a very nice 1:32 Mosquito, there is little to fault with this kit. Granted, there are the occasional ejector pin marks, but for the most part, they're either in impossible to see locations, or are so small and delicate, that a few swipes with a sanding stick, or a tiny dab of filler will rectify, nothing at all that even a moderately competent modeler can't manage. As has already been noted by others, there are no rockets nor provisions for same included in this kit. I find this a bit of an oddity, but it's my understanding that FM&P will soon be releasing some, and MDC also does a gorgeous set, there may be others as well, so the modeler can easily add a set of rockets if he sees fit, still a bizarre omission though, in my opinion.
This product is very highly recommended.
Additional Recommended (by me), Reference/Reading Material
Osprey Mosquito Bomber/Fighter-Bomber Units
---
Squadron/Signal Mosquito Walk Around
---
Sam Publications Mosquito Day and Night Fighters in RAF Service
---
Sam Publications de Havilland Mosquito
---
LSP_Ron also recommends:
SAM Publications Mosquito FB.VI
---
© Kevin Williams 2015
This review was published on Sunday, August 23 2015; Last modified on Monday, May 17 2021