fündekals | P-51D Daddy's Girl
Reviewed by Kevin Williams
fündekals :) has provided here, a very nice set of decals specifically tailored to one particular P-51D: Daddy's Girl, of the 370th Fighter Squadron, 359th Fighter Group, East Wretham, UK, piloted by Major Ray Wetmore. While it's somewhat difficult for me to pigeon-hole one particular P-51D as a favorite, this is certainly an appealing scheme, flown by someone that obviously knew how to to get the best out of his machine, showing at least 23 kills in the latter days of the conflict that is depicted by this sheet.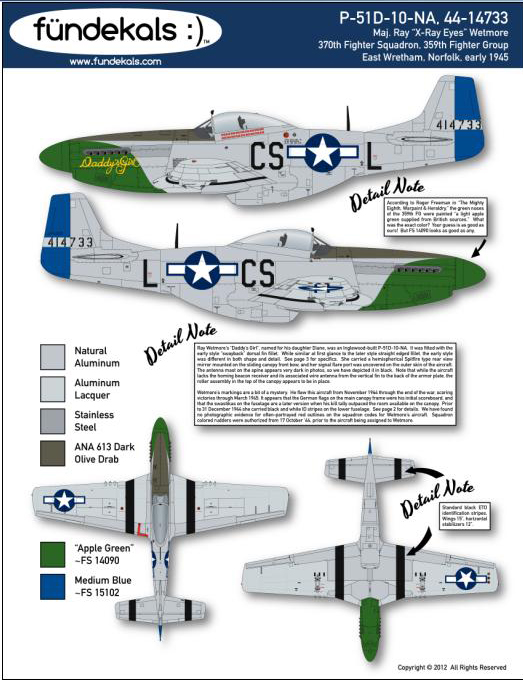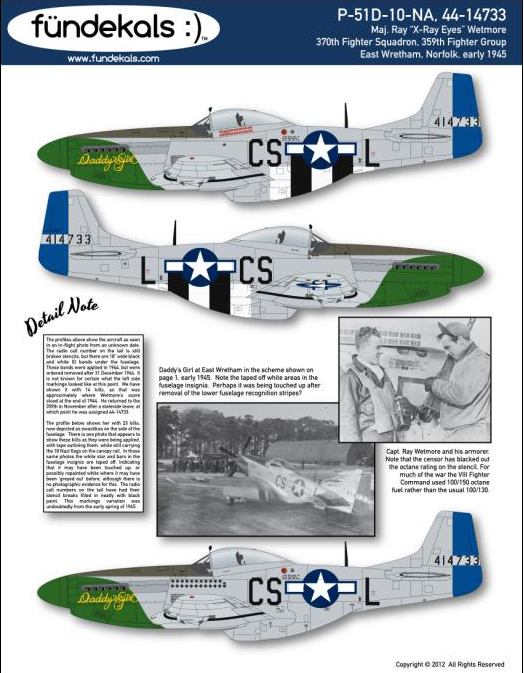 These decals (wonderfully printed), are really quite interesting, appearing to be in perfect register, very thin and quite opaque. Given the apparent fine quality of the printing, I see no need to dwell further on this particular aspect. When used in conjunction with the fündekals :) P-51 Mustang stencils set (where applicable), a very complete in appearance airframe is very doable.
Note
No national insignia is provided in this set, though those can easily be sourced elsewhere, so no big problem there really, and the green nose, blue tail, anti-glare shield and applicable wing stripes will need to be added by the user, but this is not at all unusual, and fündekals :) has thoughtfully provided color recommendations for the aforementioned blue and green.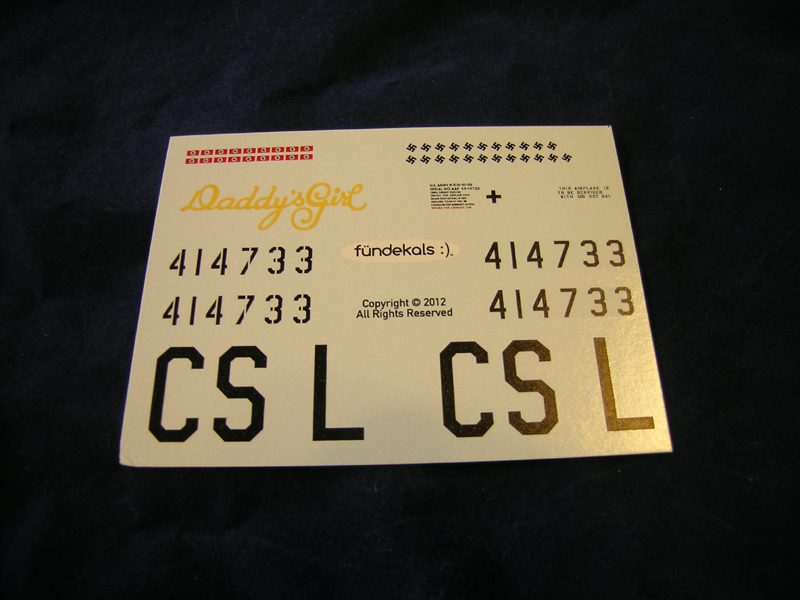 fundekals :) also offers up downloadable instructions, that are very often great references unto themselves, with illustrative examples of the products featured, as well as a breakdown on the interpreted data depicted, a very nice touch indeed, and may be an industry first, as I know of no other decal companies that go to such great lengths to provide the modeler with such in depth documentation. This approach undoubtedly saves on overall expenses, and that's always a good thing.
Note
fundekals :) also includes information on the "swayback" fillet, and though it's somewhat difficult for me to differentiate between the two general styles, is also a nice touch, as this particular machine was apparently fitted out with that early style "swayback" fillet, so that's another nice touch. Other notable inclusions in this set are alternate tail numbers (both split and solid stencil), as well as two different sets of kill markings, depicting earlier and later configurations of these markings and their corresponding locations.
Summary
All things considered, if you're looking for a unique set of markings for your P-51D (more than likely the Tamiya kit, since that's the best extant kit there is on the market), these may just fill the bill for you quite nicely, as the combination of colors and details, will create a very interesting visual depiction of a very specific 359th FG Mustang
This product is highly recommended.
Thanks to fündekals :) for the review sample.
Additional recommended (by me), reference/reading material:
Squadron/Signal P-51 Mustang
---
Osprey 359th Fighter Group
---
Squadron/Signal P-51D Mustang Walk Around
---
Kagero Topshots P-51D Mustang
---
© Kevin Williams 2015
This review was published on Monday, August 24 2015; Last modified on Wednesday, February 24 2016