fündekals | F6F-5 Hellcat VBF-12
Reviewed by Kevin Williams
fündekals :) has provided here, a very nice set of decals specifically tailored to one particular F6F Hellcat: a machine of VBF-12, USS Randolph, piloted by Lieutenant (JG) Daniel Carmichael. While specific and unique markings are provided for this machine, there are no national insignia, so those will need to be sourced elsewhere. By definition, markings with no insignia blue outlines or roundels might be a good choice (if they can be found), so as to assure not having mismatched blues on airframe, otherwise trimming blue from standard insignia might prove to be a viable option. White/blue tail stripes will also need to be painted by the modeler, but should prove to be a fairly straightforward exercise for those with a modest amount of ability. 13 kill marks were proudly displayed on starboard side of aircraft, and are included in this sheet, though 16 are actually included for reasons unknown (spares?), but instructions and photo show 13 as actual count (better too many than too few though, at least that's my view anyway). The small number 59s (in black), for the vertical tail area are also included.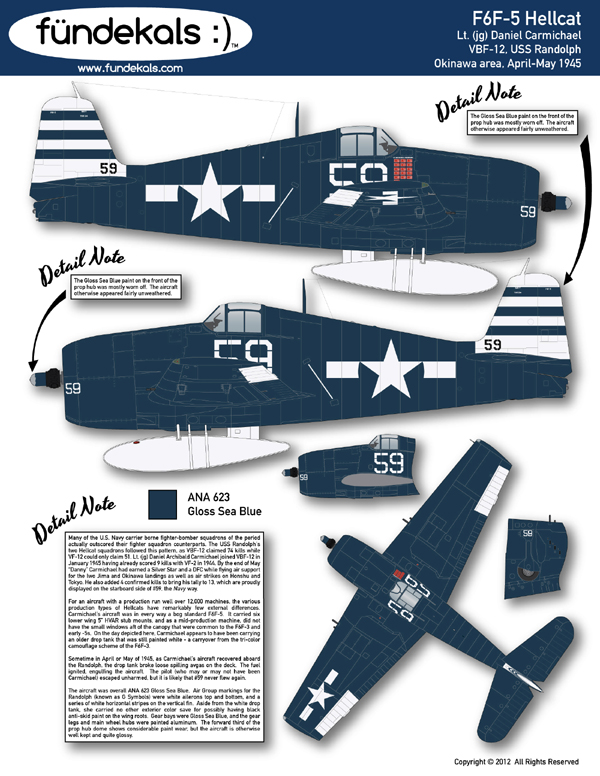 Note
One oddity that quickly becomes apparent (to me at any rate), is the inclusion on page one of the instructions, a note that duplicates the same note regarding the prop hub, but in one instance, points at the rudder of the profile view below. What's being discussed is still readily apparent though, so no big deal really, and of course in no way adversely affects the decals themselves. (I'm sort of an amateur proof reader, so these things just seem to pop out to me.)
These decals (wonderfully printed), are really quite interesting, appearing to be in perfect register, very thin and quite opaque. Given the apparent fine quality of the printing, I see no need to dwell further on this particular aspect.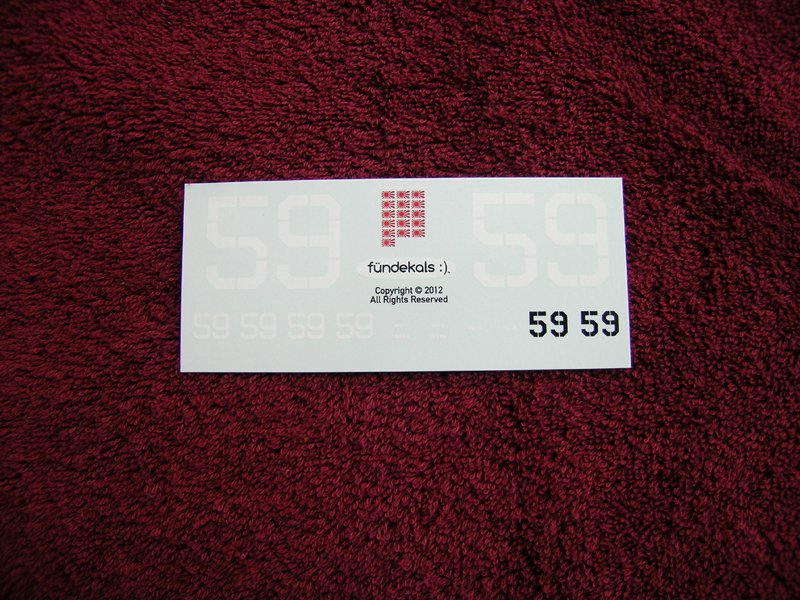 Note
fundekals :) also offers up downloadable instructions, that are very often great references unto themselves, with illustrative examples of the products featured, as well as a breakdown on the interpreted data depicted, a very nice touch indeed, and may be an industry first, as I know of no other decal companies that go to such great lengths to provide the modeler with such in depth documentation. This approach undoubtedly keeps the overall costs down, which is never a bad thing.
Summary
All things considered, if you're looking for a unique set of markings for your Hellcat, these may just fill the bill for you quite nicely, as the combination of colors and details, will create a very interesting visual depiction of a very specific and colorful F6F-5, flown by a pilot that was obviously able to master his aircraft in combat with the enemy.
This product is highly recommended.
Thanks to fündekals :) for the review sample.
Additional recommended (by me), reference/reading material:
Detail & Scale F6F Hellcat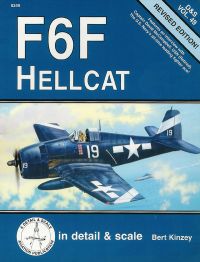 ---
Kagero Grumman F6F Hellcat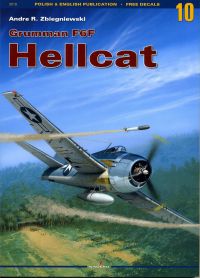 ---
© Kevin Williams 2015
This review was published on Sunday, August 30 2015; Last modified on Wednesday, May 04 2016