fündekals | Spitfire Mk.Vb Finucane
Reviewed by Kevin Williams
fündekals :) has provided here, a very nice set of decals specifically tailored to one particular pair of Spitfire Mk.Vb's of No.452 Squadron, RAAF, RAF Kenley, UK, Numbers AB852 & AB972, piloted by F/L Brendan "Paddy" Finucane. (There are three pages to the rather nice instructions, though only two are shown here.)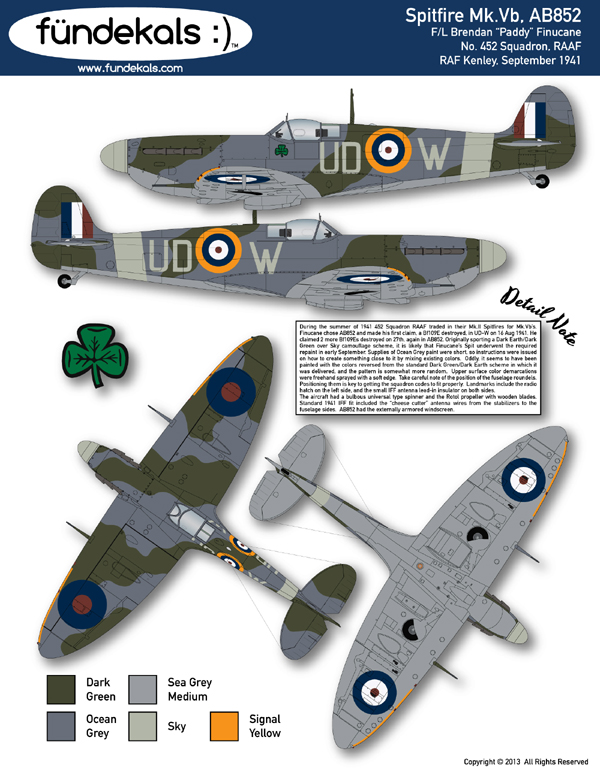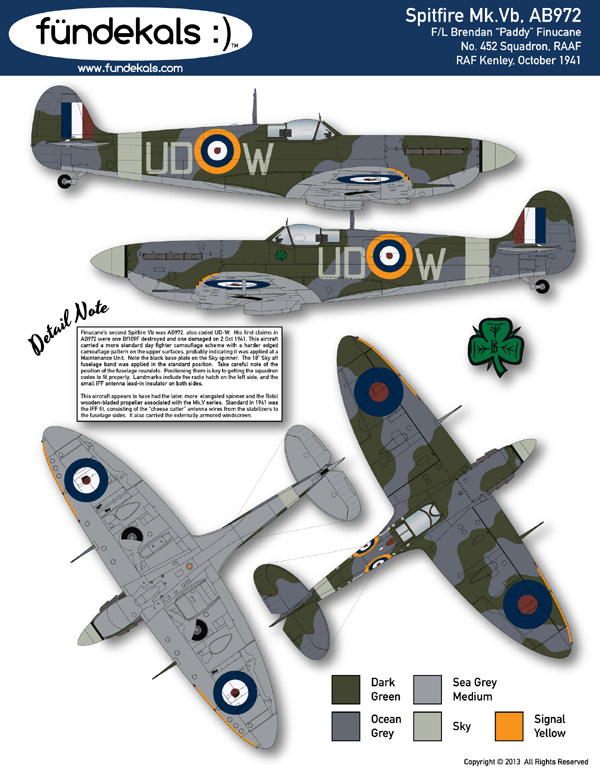 These decals (wonderfully printed), are really quite interesting, appearing to be in perfect register, very thin and quite opaque. Given the apparent fine quality of the printing, I see no further need to dwell on this aspect. All national insignia are included, and appear to have captured the colors of same, quite well. "Paddy's" personal emblem of a cloverleaf, is also included, a reflection no doubt, of his Irish heritage.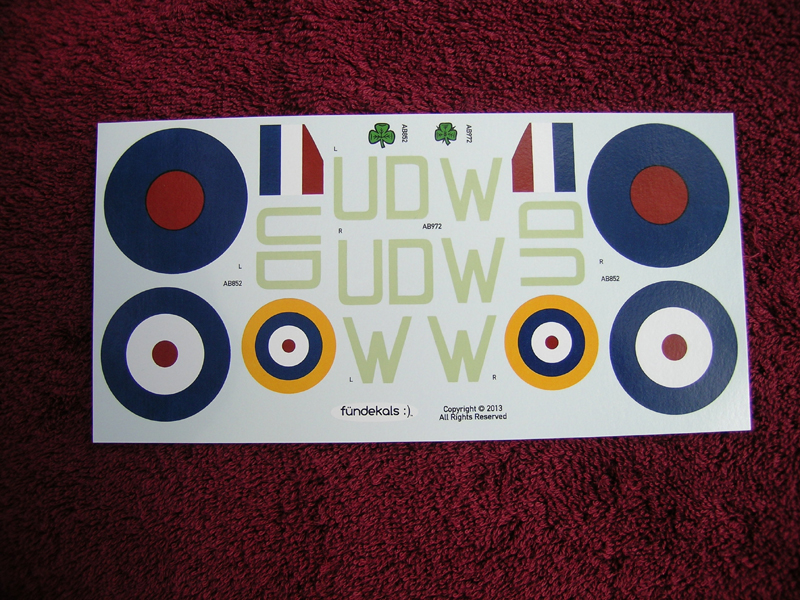 ---
Note
To me, what sets these apart from the norm, is that both aircraft depicted, are variations of the dark green/ocean gray/medium sea gray scheme, vs the dark green/dark earth top colors that are so otherwise typical, and are my preferred color scheme for the Spitfire. There are somewhat minor differences between the two airframes, and these differences are noted appropriately on the instructions. (I'm going to go out on a limb here and say that I suspect the Hobby Boss Mk.Vb may be the best kit out there in this scale at the moment, and with some "help", can be made into a real head turner.)
fündekals :) also offers up downloadable instructions, that are very often great references unto themselves, with illustrative examples of the products featured, as well as a breakdown on the interpreted data depicted, a very nice touch indeed, and may be an industry first, as I know of no other decal companies that go to such great lengths to provide the modeler with such in depth documentation. This approach undoubtedly saves on overall expenses, and that's always a good thing.
Summary
All things considered, if you're looking for a unique set of markings for your Mk.Ib Spitfire, these may just fill the bill for you quite nicely, as the combination of colors and details, will create a very interesting visual depiction of two very specific Spitfires.
This product is highly recommended.
Thanks to fündekals :) for the review sample.
Additional recommended (by me), reference/reading material:
SAM Publications The Supermarine Spitfire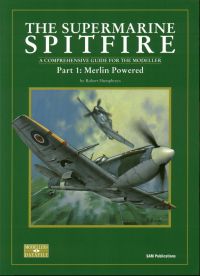 ---
Aero Detail Vickers-Supermarine Spitfire Mk.I-V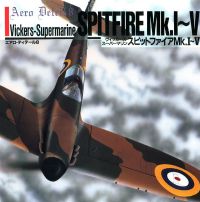 ---
© Kevin Williams 2015
This review was published on Monday, August 31 2015; Last modified on Friday, September 04 2015