fündekals | Royal Navy Corsairs
Reviewed by Kevin Williams
fündekals :) has provided here, a very nice set of decals specifically tailored to three separate (2) Mk.II and (1) Mk.III Corsairs of the British Royal Navy.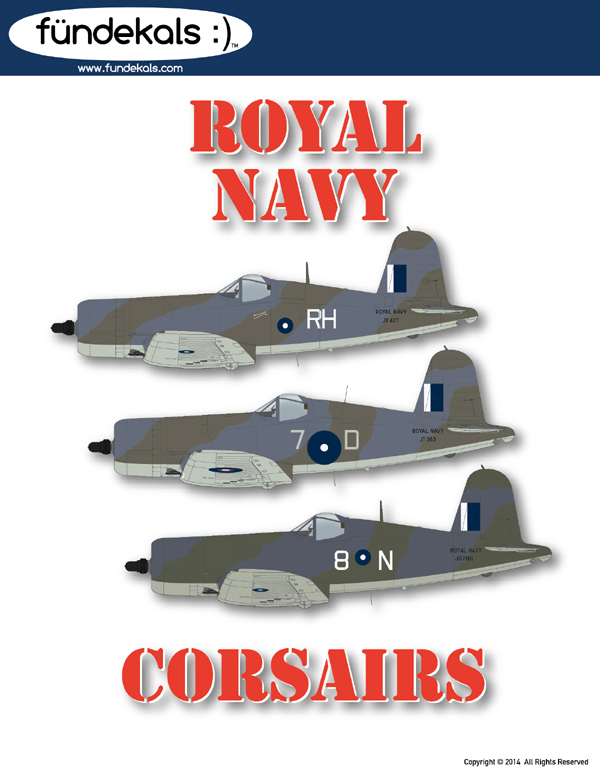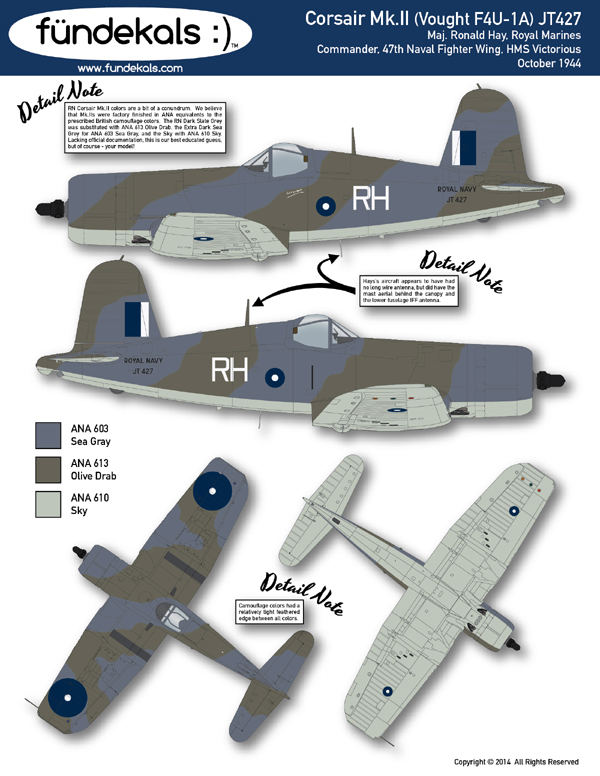 These decals (wonderfully printed), are really quite interesting, appearing to be in perfect register, very thin and quite opaque. Given the apparent fine quality of the printing, I see no need to dwell further on this particular aspect, save to say that the overall quality appears to be consistent with other quality decals.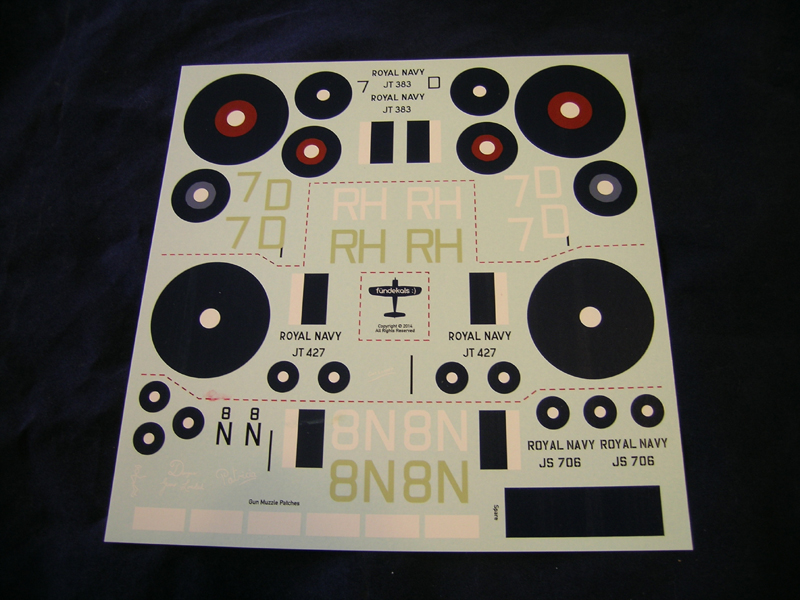 All required national insignia are provided in this set, with colored roundels as required for any one of the three Corsairs, at the modelers discretion. The downloable PDF version of the instructions is a whopping 8 pages long, but I have only illustrated two pages here.
Unique markings are provided, as stated, for three machines (all clipped wing variants): 1. JT427, Major Ronald Hay, Royal Marines, HMS Victorious 2. JT383, Sub Lieutenant Leslie Durno, 1834 Squadron, HMS Victorious 3. (Corsair Mk.III) JS706, 1836 Squadron, HMS Victorious, pilot unknown. Detail notes/text abound, and care should be taken to review these notes carefully, as several smaller details might otherwise go unnoticed. Color notes and patches are also given here.
Note
Instructions contain duplicate text (all three airframes) as regards taped over cartridge chute openings in lower wings, and all three seem to refer to a specific photo, but I can only see the photo in question, on one page, at least as far as I can discern. This is not a deal breaker though, as the one photo, once identified, clarifies what is being discussed/disclosed.
fündekals :) also offers up downloadable instructions, that are very often great references unto themselves, with illustrative examples of the products featured, as well as a breakdown on the interpreted data depicted, a very nice touch indeed, and may be an industry first, as I know of no other decal companies that go to such great lengths to provide the modeler with such in depth documentation. This set is no different from previous offerings, save for the wealth of data included as regards fleet Air Arm corsairs in particular, and should readily answer any questions the modeler may have regarding these three machines. This approach undoubtedly saves on overall expenses, and that's always a good thing.
Summary
All things considered, if you're looking for a unique set of markings for your Corsair (more than likely the Tamiya kit, since that's the best extant kit there is on the market), these may just fill the bill for you quite nicely, as the unique (to me) nature of the colors and markings, will create a very interesting visual depiction of a very unique (again, to me), subject. While RN subjects in general are really not my bag, were I to do one, it would probably be one of these Corsairs, as they really are rather Royal in appearance (no pun intended).
This product is highly recommended.
Thanks to fündekals :) for the review sample.
Additional recommended (by me), reference/reading material:
Squadron/Signal Fleet Air Arm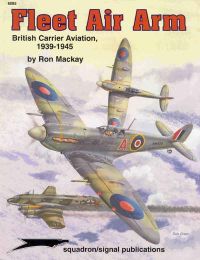 ---
Detail & Scale F4U Corsair Part 1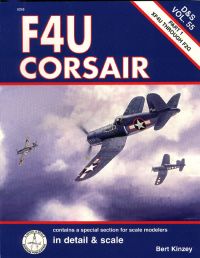 ---
Kagero Chance Vought F4U Corsair Vol. 1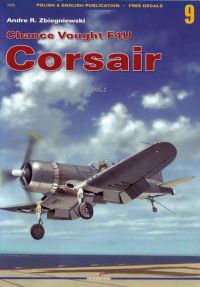 ---
© Kevin Williams 2015
This review was published on Monday, August 31 2015; Last modified on Friday, September 04 2015